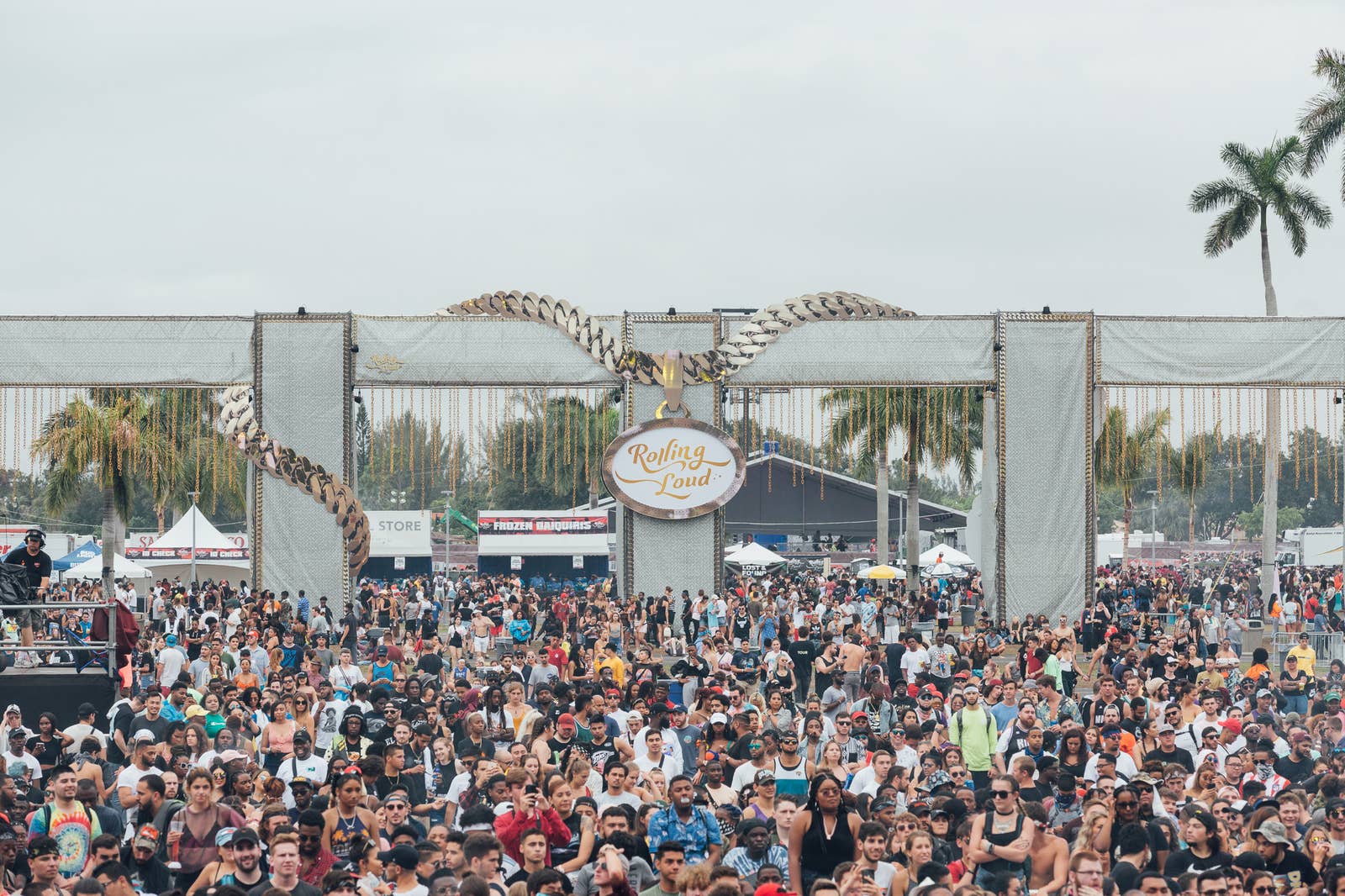 If you want to see human adaptation at work, watch the fans streaming into Hard Rock Stadium in Miami for Rolling Loud, a three-day hip-hop festival that has completely shut down Don Shula Drive. More specifically: Watch aspiring rappers try to pass those attendees mixtapes and demos on CD. Rolling Loud has garnered a reputation—partly by design and partly by geographical accident—as a festival on the cutting edge of hip-hop. It's a meeting place for the luminaries of SoundCloud rap, which sprang largely from South Florida. Whether these festival-goers are Lil Pump fans or not, many of them are still in high school, and the men who braved the heat for a chance to be noticed by those in the know might as well be shilling floppy disks. The kids stroll by without so much as an "I'm good." Too Short selling tapes out of his trunk by the bundle this isn't—the rappers might as well be phantoms.
Inside the Dolphins' stadium, on Friday afternoon, fans crawl through endless will-call lines to pick up wristbands. A group of young men around my age (25) are waiting in front of me; they're recapping the Canibus-LL Cool J beef from '97 and '98. (If this seems like the kind of thing I would make up to give context and color to a glut of people waiting to get into a hip-hop festival, I can assure you that the heat sapped me of any ability to imagine scenarios involving Canibus.) Everyone is drenched in sweat. One man is wearing some of the Virgil Abloh Nikes with "SHOELACES" printed on the shoelaces. He has a portrait of a fat Pablo Escobar tattooed on his left shin.
The LL conversation drifts to modern New York rap. The consensus is that Dave East is "lyrically" impressive, but is not as "creative" as other artists—one of the examples Escobar gives is Tory Lanez. I'm reminded that on the way to the stadium, I passed, on I-95, a billboard reading, "TORY LANEZ THE GREATEST ARTIST IN THE WORLD."
After an interminable time near the front of the line, a guy in what his friend rudely clowns as "a Prince-ass shirt" offers the group his spot at the VIP window. "I know the owners, bro," our Prince-ass friend assures everyone. "I can get you in quick."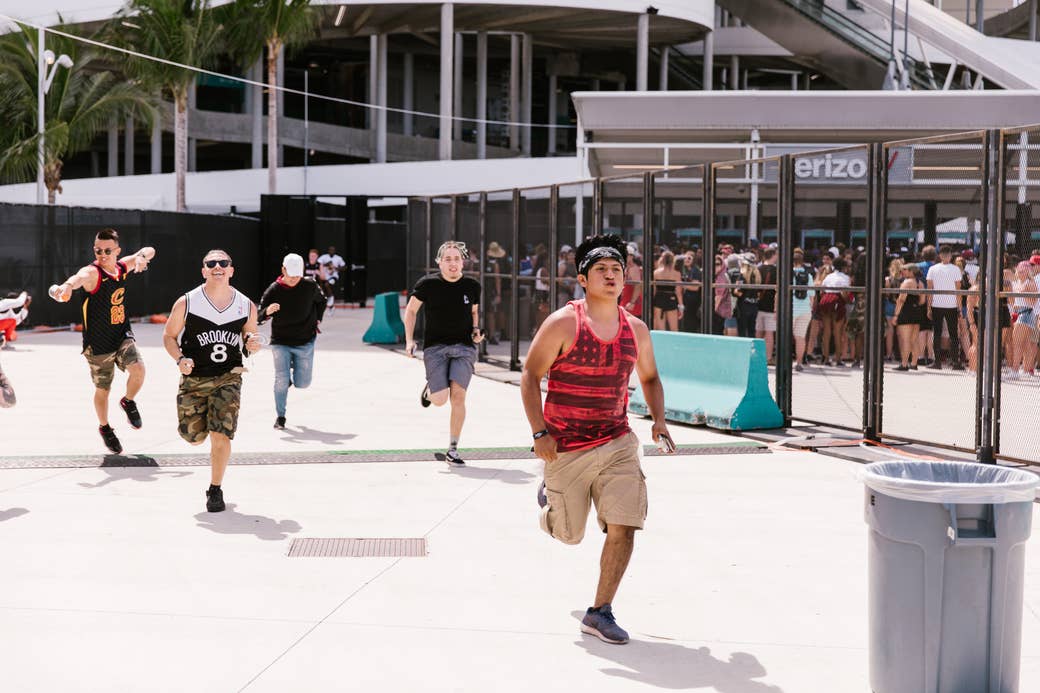 Matt Zingler and Tariq Cherif are "the owners"—the co-founders of Rolling Loud—to whom the guy referred. Zingler recently turned 30, and Cherif is closing in on the milestone. They've known each other for two-thirds of their lives, since meeting in a Hollywood, Florida, elementary school. "When you're in lower school, everybody's cliqued up," Zingler says. But he and Cherif had interests in common, including skateboarding and surfing. (Zingler calls this "a lot of synergy.") Cherif, being a few months younger than his classmates, would get razzed by the other guys; Zingler calls it "initiation," while Cherif laughs and says, "They used to kick my ass."
The two have an easy chemistry. Cherif is quiet and considered. Zingler is also serious when it comes to business, but can be loud and boisterous. Of course, being loud and boisterous sort of is his business: While Cherif, a married father, spends more time hunkered down, evaluating new musical talent, it falls to Zingler to keep the partners visible in the Miami music and nightlife scenes. If there's one thing Matt Zingler is—lanky and heavily tattooed, with a shock of red hair—it's visible.
They started by throwing parties in high school, sometimes at Cherif's grandmother's house. Along with some friends (and with the aid of a local proprietor whose name they conscientiously exclude), they would secure enough alcohol to make the parties go. Sometimes this meant getting creative, like when they would steal keg shells—you aren't going to make a quick getaway with a full keg—and use the empties to bolster the credibility of their fake IDs.
The music at those parties leaned heavily on a mix of Southern and Midwestern rap: Ying Yang Twins, Chamillionaire and the rest of that brief Houston boom, Nelly and St. Lunatics, the Hot Boys.
Their first foray into professional live music was a 2010 after-party, headlined by Rick Ross, that fell apart; the event left Cherif distraught, Zingler bloody and stitched up, and both out tens of thousands of dollars. Instead of cutting their losses, the friends threw themselves into their new line of work, booking rappers big and small for dates all around Florida. They took note of the way EDM shows captivated audiences across the state in a way rap shows often didn't. Then they came up with the name Rolling Loud, snatched up the social media handles and domain names, and waited for an idea to match the moniker to come along.
In the meantime, their fortunes ebbed and flowed. They were able to build an impressive network of tour workhorses and budding young stars, but when those young stars outgrew the 2,000- or 2,500-capacity rooms that were then the friends' ceiling, they would graduate to bigger booking apparatuses. (Later, Cherif will tell me about driving a pre-fame SZA around Art Basel in a Tahoe in 2013.)

Eventually, Cherif and Zingler built the infrastructure necessary to cash in on those early connections. The first one-day Rolling Loud Festival was held in February 2015, with headliners including Schoolboy Q, Juicy J, Currensy, and Action Bronson. It was hampered by long rain delays and a series of logistical hang-ups, but was warmly received and was the catalyst for Rolling Loud to grow exponentially, to the point that this year, as many as 60,000 fans are expected on each of the festival's three days. It's quickly become one of the biggest rap-only festivals in the world, with offshoots already taking place in Northern and Southern California and expansions to Europe and Asia in the works.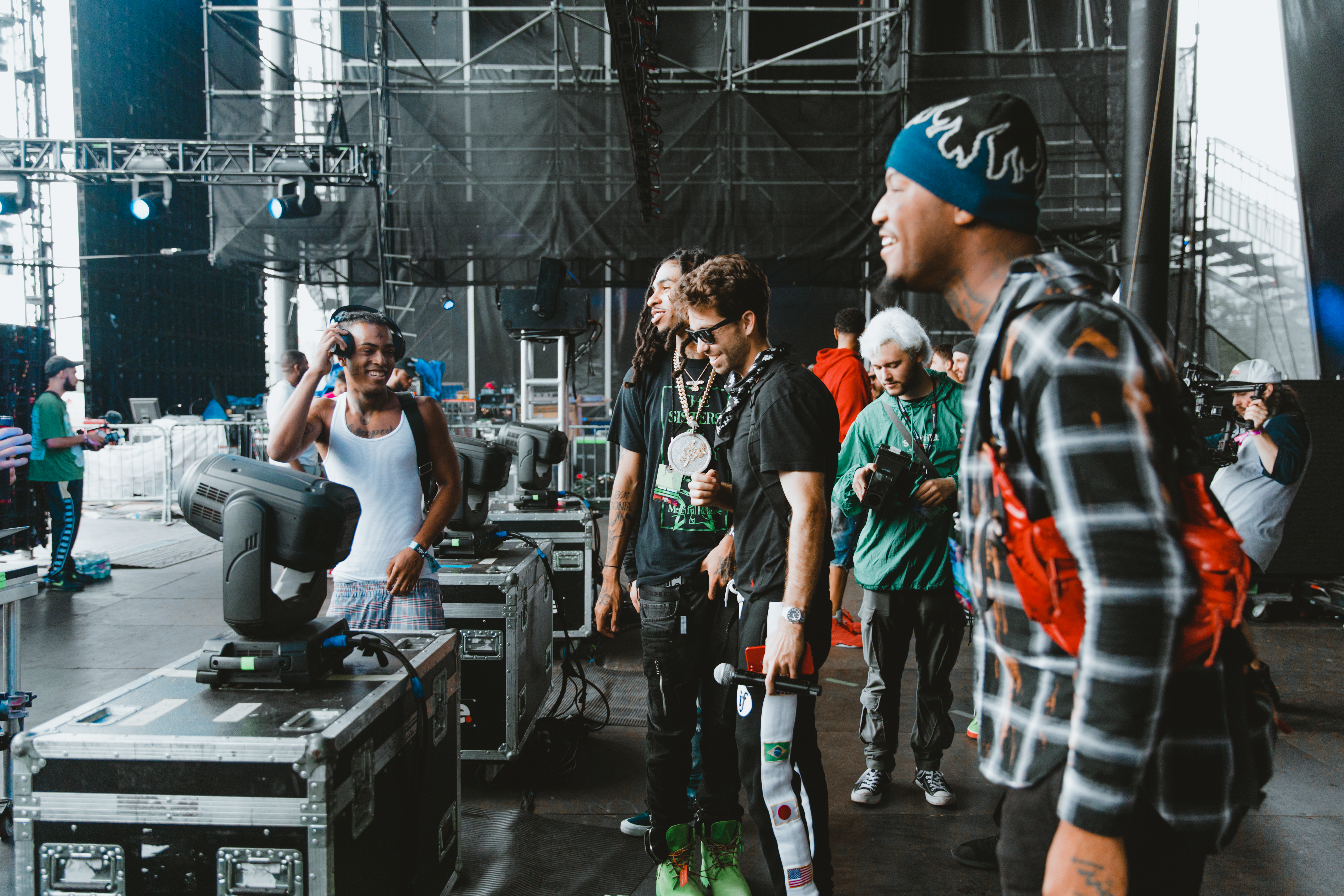 It has to be said that this year's Miami edition is a remarkable weekend of live rap: Juvenile and Dipset are slated to play, as are artists far younger than them, like BlocBoy JB, Young Thug, and Lil Uzi Vert. The Rolling Loud founders throw around words like "brand" and "content," and have aspirations of making the name as recognizable as Advil or McDonald's. They also manage a few artists and have an ownership stake in an Orlando club—"a diverse portfolio," says Zingler. At one point, he utters the 10 words that, when taken collectively, are the fifth element of hip-hop: "We just started our own liquor brand—it's dropping soon."

The pair have obvious (and obviously divergent) talents and seem single-mindedly committed to growing their, well, brand. They also take a certain pride in putting together such Florida-heavy lineups. They were the first festival to capitalize fully on what was bubbling on SoundCloud; it can't be ignored that, without that wave—or if the most bankable SoundCloud stars were from, say, Phoenix—Rolling Loud itself might not have been as immediately distinctive. "It wasn't really about, 'Hey, let's create a festival,'" Zingler says of the early vision for what Rolling Loud could become. "It was, 'Hey, let's throw a bigger party than we've ever done.'" It just so happened that the biggest party had to be in Miami.
Four days ago, on May 7, the vice president for student affairs at Duke University demanded that two baristas be fired for playing Young Dolph's "Get Paid" at a campus coffee shop. During his Friday night set at Rolling Loud, Dolph mocks that VP, summons the fired baristas from backstage, and gives each of them $20,000 in cash. Young Dolph is the social safety net.
It's Saturday afternoon at Rolling Loud Miami 2018, and Tariq Cherif is not dressed to party. He's wearing an array of black and grey Nike clothes that you might wear to the gym, inconspicuous black Ray-Bans, and a sort of pack-less backpack that has pockets for walkie-talkies and a cell phone. He has one cordless earbud permanently in his left ear, to field calls from managers and stagehands and booking agents and assistants and so on. He rarely looks flustered, but he's in perpetual motion.
"It wasn't really about, 'Hey, let's create a festival.' It was, 'Hey, let's throw a bigger party than we've ever done.'" —Matt zingler
For most of the festival, Cherif troubleshoots and coordinates and generally acts as point man on...well, everything. But for a moment on Saturday afternoon, he slips out of his usual mode and into one that seems to bring him at least as much satisfaction—manager to the Palm Beach-bred rapper Wifisfuneral. During Wifi's set, Cherif bobs and weaves and grabs a microphone to give unseen ad-libs from behind the DJ booth. At the end of the set, Cherif takes a strip of green masking tape and covers up Wifi's name on the laminated schedule.
(If you believe that observing a phenomenon necessarily changes it, you should know that every move Cherif makes is captured by a personal videographer—as in he works for Tariq directly, rather than the festival—who tells me that he and a bigger team are collecting footage to make a documentary.)
Though he should really be more of a fringe member, given the classicist bent of his writing and delivery, Wifi is part of the SoundCloud rap wave that rose up from South Florida. As mentioned, Rolling Loud has succeeded, in part, by catering to that scene and its ravenous, notably young fans. This year alone, you could catch Wifi, Lil Pump, Ski Mask the Slump God, Trippie Redd, Suicideboys, and countless others, up to and including Playboi Carti, the patron saint of streaming platforms. (The fest also puts on for Florida artists who predate the SoundCloud wave. Robb Banks—who missed out on untold dollars and opportunities by being two years early to the party—has performed every year, and this go-round included a Trina and Trick Daddy set that was a highlight of the weekend.)
Rolling Loud serves as a reminder that, while internet music platforms have made it easier than ever to discover music from around the country and around the world, they have also, in certain ways, reinforced rap regionalism. It's hard to fathom an earlier era in which the budding Los Angeles group Shoreline Mafia would get such a thunderous response from a Miami crowd so early in their career. Not only has SoundCloud allowed Florida kids to discover and embrace Shoreline, but it's heightened the group's popularity by positioning them alongside other Angeleno stars, like 03 Greedo and Drakeo the Ruler—a scene that has momentum locally but wouldn't cross state lines through analog means.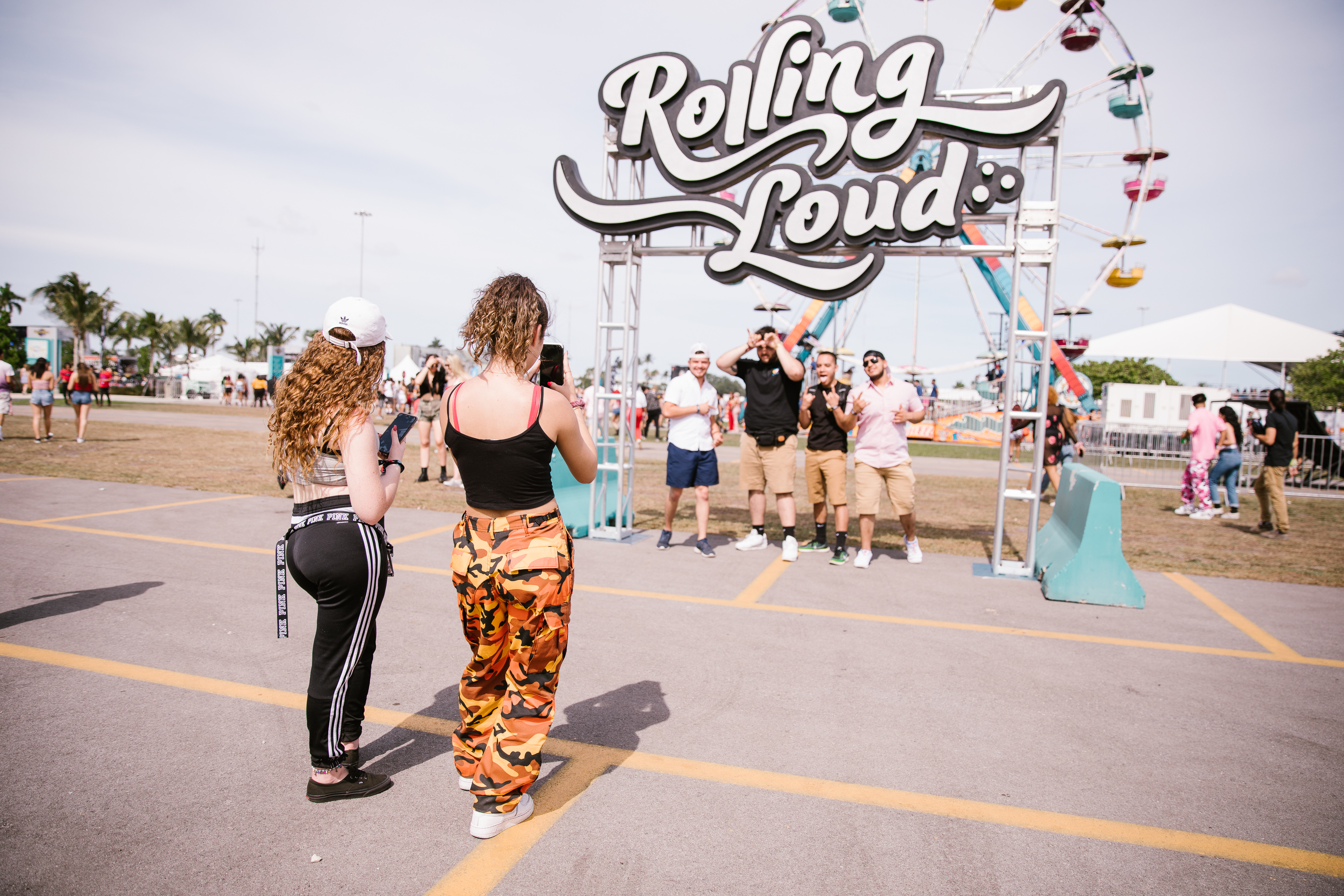 Matt Zingler must have been the kind of kid who inspires rumors and legends in middle- and high-school hallways. Maybe that's because he already had one foot out the door, working in nightclubs and at restaurants and "doing stuff on the side." ("School was just something to keep you busy during the day," he says.) He was inked up from an early age and, by 2004 or so, was already scoping out events like Bonnaroo, enamored of the way a festival is like a little, hermetically sealed alternate universe. "I really enjoyed the atmosphere of being able to do whatever you wanted," he says. "I was definitely experimental."
Too experimental, per his own admission. That's the reason he gives for his not finishing high school with his class. (Zingler would later get credentialed and graduate from the University of Florida with a degree in biological sciences.) Through college, he stuck a tentacle into every crevice of the nightlife world, bartending and promoting and doing everything else imaginable. After getting his degree, he managed more than 100 employees at a 3,000-capacity venue.
Zingler occasionally lapses into breezy, idyllic visions, but finds himself grounded by jargon and business aphorisms. After he explains the grit and know-how and mental fortitude it takes to persevere through hardships, he'll dismiss those who can't do so as "not true entrepreneurs." Or he'll relay the following advice from a mentor: "If your life is focused on numbers, numbers are infinite, so you'll never be happy; it's really about the experiences and the things that you can see that don't necessarily require money." Then he'll identify the mentor as "a billionaire."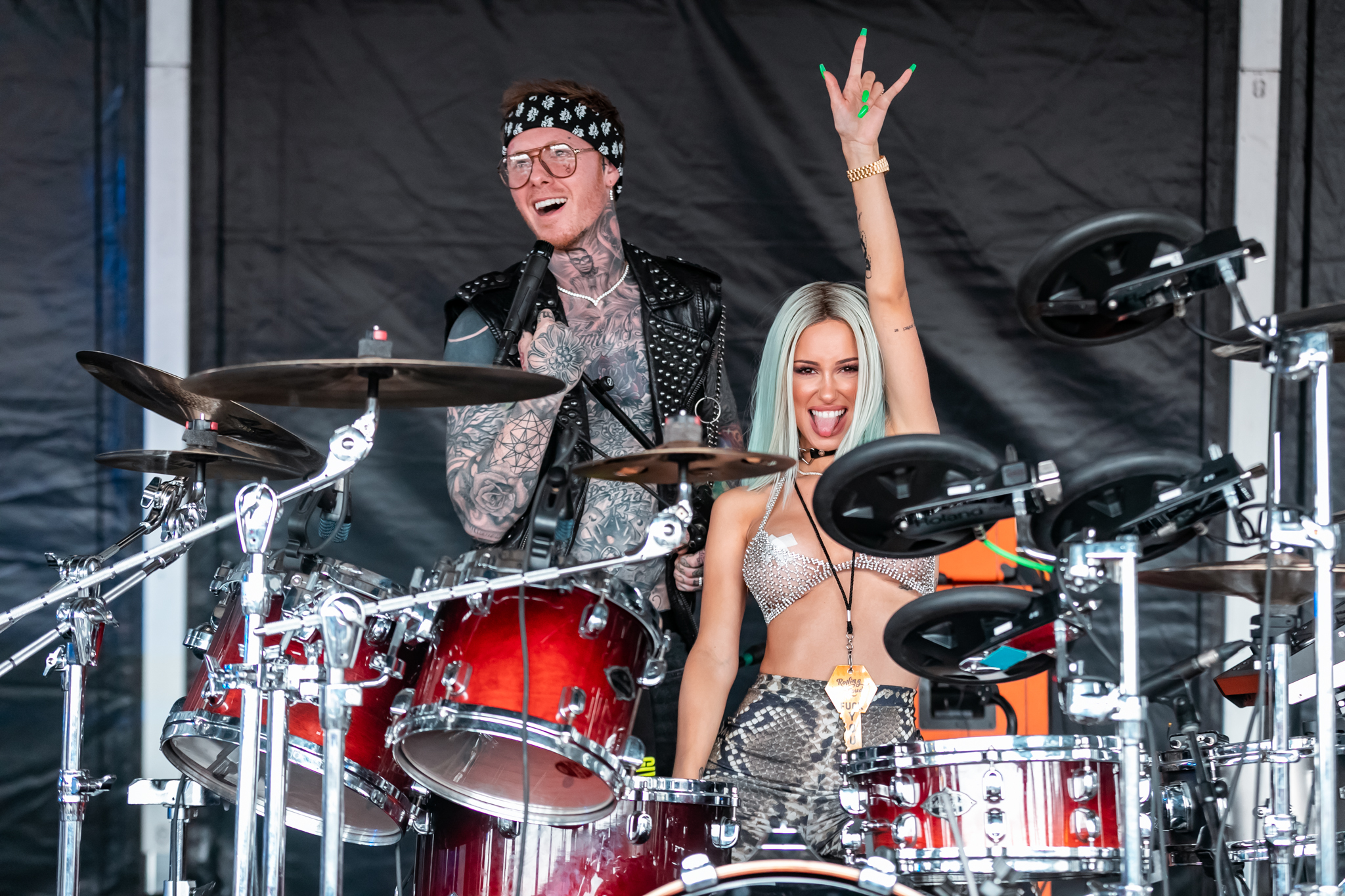 While Cherif is clearly the one who gets more granular on the musical side of the operations, Zingler seems to give Rolling Loud its raucous, devilish ethos. In conversation, he's a sort of underworld polyglot, speaking grimly about his and his security detail's firearm needs or matter-of-factly about the flow of porn talent from Miami condos to the San Fernando Valley. When he speaks about music, he takes a manager's view, weighing the approaches taken by Post Malone and The Weeknd for their latest efforts and trying to parse the commercial strategy.
Throughout the weekend, Zingler is dogged in attempting to solve a slew of problems. But as everyone who works for or with him agrees, his real domain is in the VIP areas, including and especially the ultra-VIP riser operated by the Miami nightclub LIV. He tells me he likes to "keep people out of places they shouldn't be," but what he really seems to excel at is identifying the relationships he needs to nurture in order to succeed and then giving people a good time of cartoonish proportions.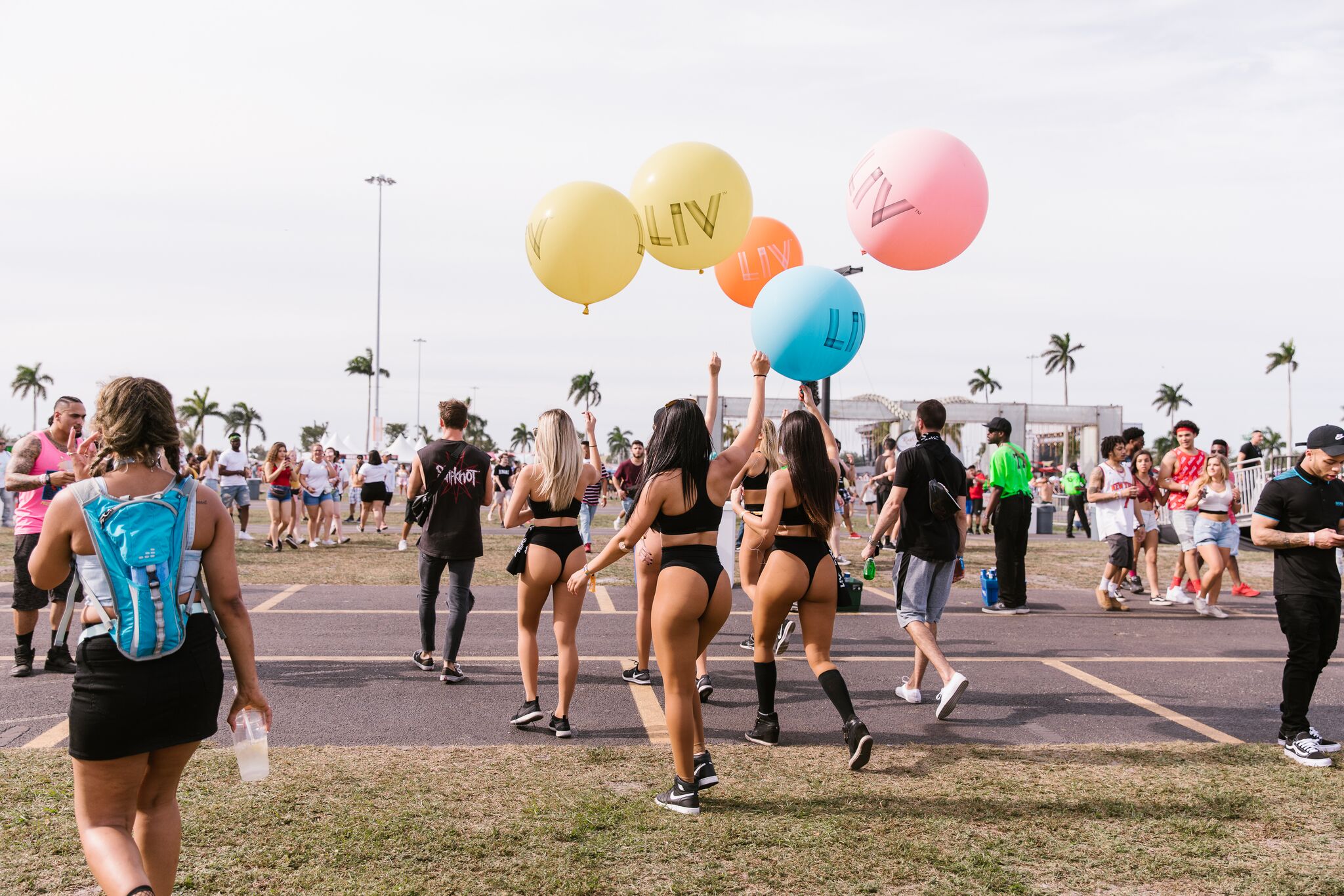 While IndigoChildRick, one of Zingler and Cherif's management clients (they split duties on all of their ventures), performs, Zingler does about a dozen different things, including acting as a hype man and photographer, ducking out to take phone calls, and being summoned by a Supreme-clad photographer to take a picture making out with his girlfriend at the back of the stage. The only time he slows down is when Rick, glistening with sweat, sits down on a folding chair following his performance, at which point Zingler pauses next to him, offering quiet congratulations and, from the look of it, reassurance.
You get the sense that workaholism trumps all here, but Zingler does express some regret at the pace of his professional life. He likes to travel, and he loves tattooing. (His own body art is so personality-defining and constantly changing that one of the festival's publicists notes that press photos need to be constantly updated to represent Zingler's current appearance.) "There's certain things in life where time doesn't exist," Zingler says. "All of a sudden you'll be doing something, and then two or three hours go by and you're like, 'Wow, I didn't even know that happened.'"
In between sets at the one of the two smaller stages, on the video screen: David Banner talking about the meaning of hip-hop, referencing a conversation he recently had with KRS-One.
Saturday night's surprise guest, filling in for a pregnant Cardi B, who's two months away from giving birth, is Meek Mill. (When Cardi pulled out, Cherif and Zingler scrambled to find a contact in Meek's camp, then waited patiently for his travel restrictions to be lifted—which they would be, just in time for him to fly to Florida.) It's his first performance since being released from jail, and his set is preceded by a genuinely moving video package that includes a much younger Meek rapping on Dru Major DVDs (which makes you wonder how many kids in the audience own DVD players). There are also extraordinary captions for certain clips, like "NYPD: [Inaudible]." Finally, the screens show him walking, in real time, toward the stage like a boxer, ski goggles askew on his head. The Dreams and Nightmares intro is, of course, the main event, but the most gut-wrenching moment arrives when he raps about Lil Snupe's death on "We Ball."
Rolling Loud is an all-ages festival, which is good because it ensures all the artists can get in. The crowd seems much more racially diverse than any of the mainstream music festivals that might book two or four or 10 of this weekend's artists; anecdotally, the audience's white contingent skews youngest. This is not yet an Instagram destination, per se, so there's considerably more concert merch than there is diligently curated festival wear.
The grounds are easily navigable: The main stage is on the extreme east end of the grounds and faces west (beyond the crowd, performers can see a frozen daiquiri stand and something like a giant, temporary SoundCloud Arc de Triomphe). The two auxiliary stages are near one another, and both face south. Fans move quickly from act to act, and while there are certainly one or two acts who have their own, self-contained audiences—Machine Gun Kelly, please pick up the white courtesy phone—there's remarkably little fragmentation in how the bulk of the kids experience the fest. I talk to fans each day who are perfectly happy to camp out at one stage and see acts they might only know in passing. The lineup spans generations and styles, but seems to breed consensus rather than build coalitions.

The security guards nod their heads. The chicken shish kabob stand, in earshot of one of the side stages, is manned by two men in gold fronts who rap animatedly along with many of the performers.

On Saturday morning, I tweet:
A few dozen people respond with their tweaks and additions to the list. The prevailing sentiment is that I forgot Allen Iverson Sixers jerseys, but the truth is I'm not sure how many people here remember the '01 Finals.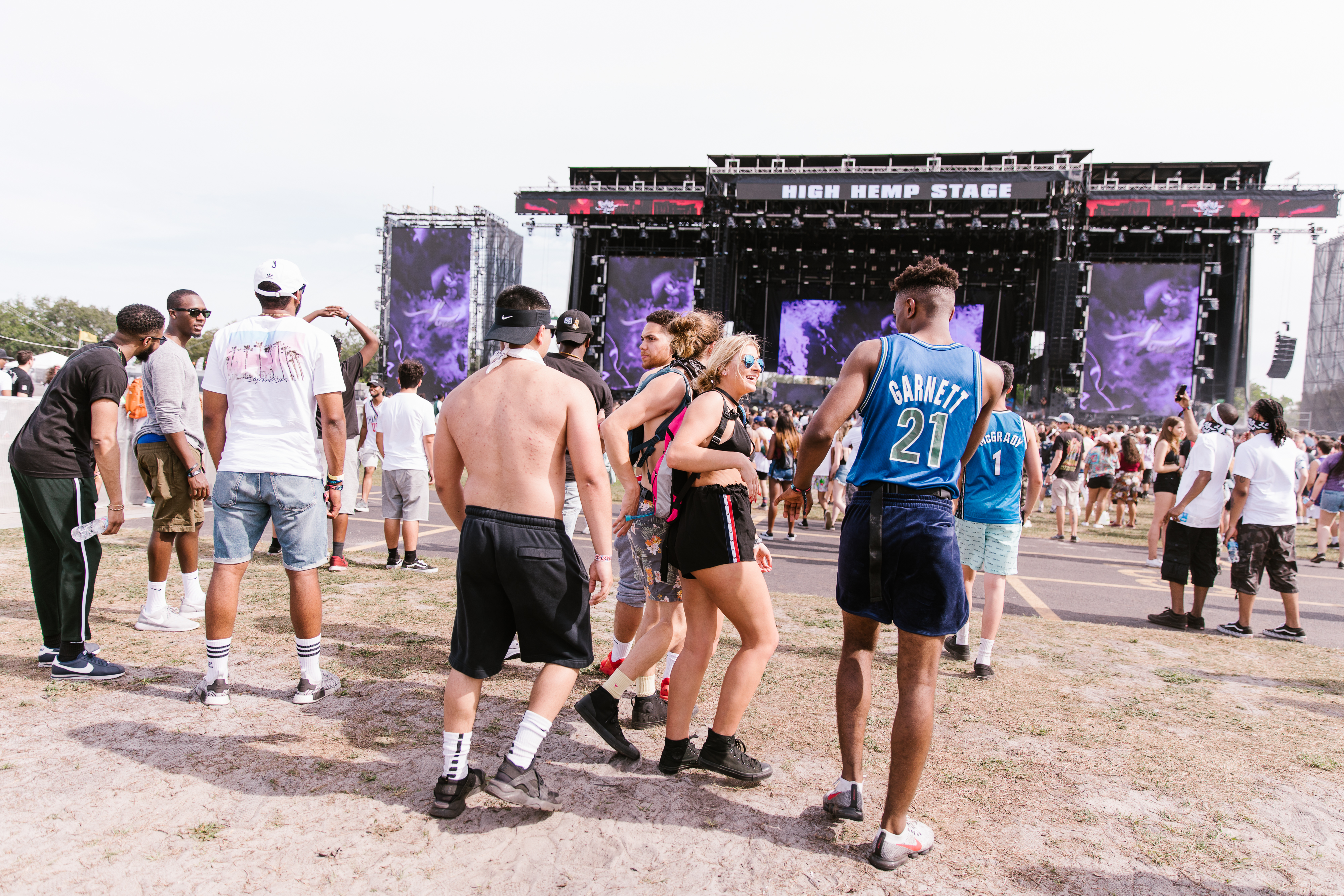 On April 22, a man who previously told police he was being stalked by Taylor Swift and (in a separate incident) had been arrested by the Secret Service walked into a Waffle House in Nashville and shot six people, killing four. It could have been even worse, but a man named James Shaw Jr. rushed the shooter and wrestled the gun away, burning his right hand on the AR-15's barrel. During the N.E.R.D set on Friday night, Pharrell invites Shaw onstage.
On Sunday morning, Cherif and Zingler are relaxing on a tour bus stocked with Fiji waters and fruit. We're talking about the charges that, in prior years, Rolling Loud booked too few women. Cherif says that the "whole team" was aware of the negative reaction. "It's not that we're not trying—we never didn't try to book women," he says. "Some of my favorite MCs are female MCs. Lauryn Hill is one of the greatest ever. But it just—this year we're proud of having been able to shine a light on more [women]. And next year we hope to shine it even more. Women are on the rise in hip-hop right now, for sure."
Zingler chimes in: "It was also just based on relevance of what's trending in music, and there's just not a ton of, you know, female artists out there that fit this demographic that we're targeting, and, you know, more and more and more are coming and developing—"
Cherif interrupts him: "Maybe there weren't a ton, right? But now—"
"Now that's why you see us—we have, like, six, seven on the bill now."
(My count is 11.)
Cherif again: "If you're going to come at us for our lineups, go look at Rap Caviar. Go check the playlists. Our lineups are in line with a lot of popular playlists and radio stations. So the more noise that female MCs make, the more that are going to show up on the lineup. Same with male MCs, same with lyrical rappers, same with trap rappers. Who's making noise? They're at Rolling Loud."
With that, Cherif pantomimes a small celebration to a publicist who is sitting in on the interview.
The lineup spans generations and styles, but seems to breed consensus rather than build coalitions.
XXXTentacion is late. He's not on today's bill, but he's showing up to reunite with Ski Mask the Slump God during his one-time collaborator's set. He's been texting with Zingler and plans to drop by to say hi. For now, we wait.
In the meantime, a publicist introduces Y, a writer from a very popular rap blog, to the founders. Zingler is warm, but Cherif seems genuinely excited to meet him, telling Y that he reads the site daily and loves what it does for his favorite artists.
A photographer from a New York-based rap magazine shows up outside the tour bus (in what looks to be an original-run 1996-97 Chicago Bulls shirt) to shoot portraits of the founders. While the three men negotiate locations and poses, a security guard discreetly takes out his phone and frames a potential shot that would include the Hard Rock Stadium sign from the structure looming in the distance. When Cherif and Zingler walk in the opposite direction, talking between themselves about how their planned shot might work, the security guard taps the photographer on the shoulder and shows him the stadium-sign backdrop. "That would be cool," the photographer says. "But they wanna do it the way they wanna do it."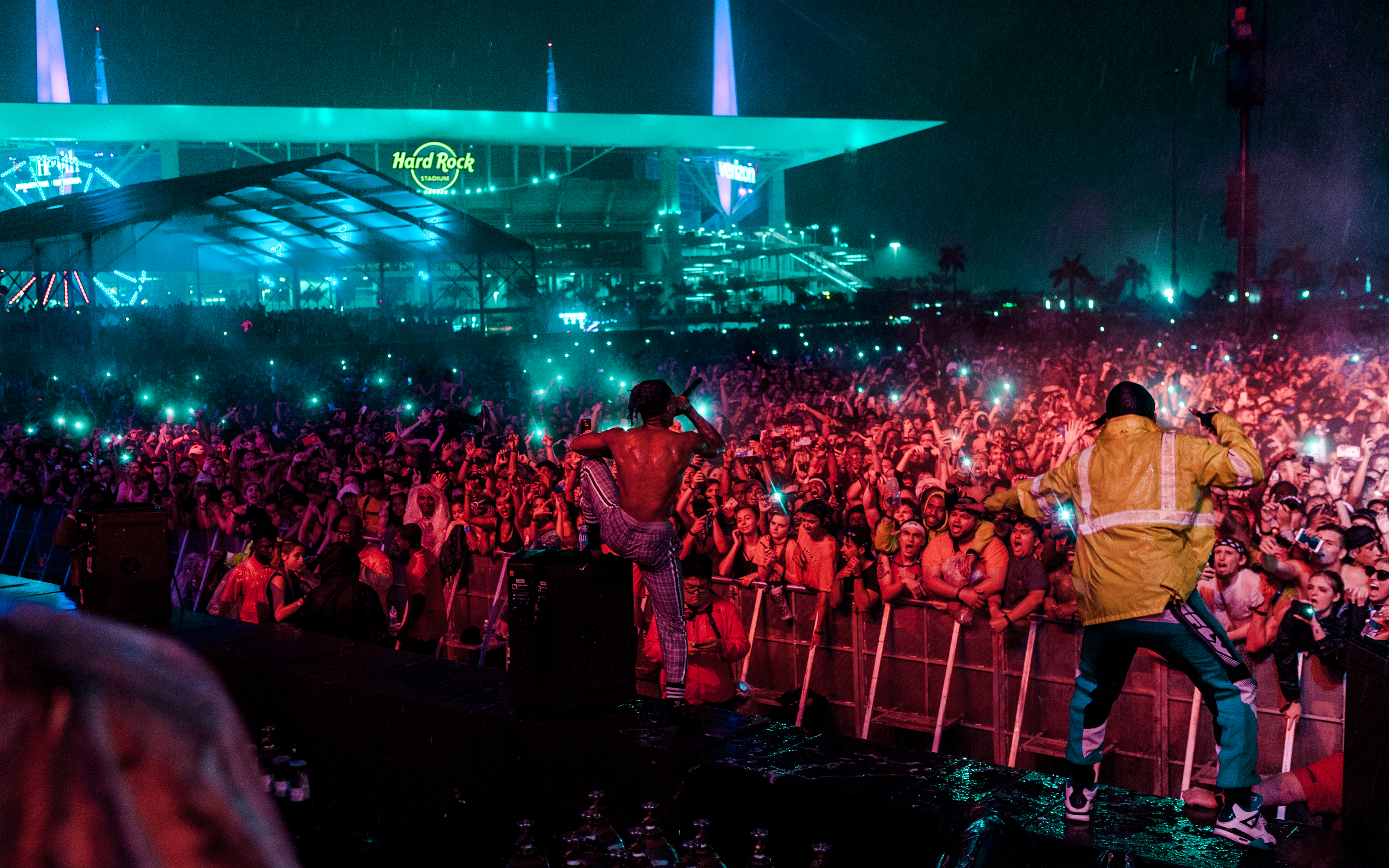 A music-streaming service wants to interview the founders on camera for its new push into video. Zingler and Cherif squeeze into a couch on one of the buses; Zingler has changed, for this and a few other photo and video obligations, into a black leather vest with metal studs. It says "FUCK OFF" on the back. Cherif, on the other hand, doesn't bother to hide the walkie-talkie receiver strapped to his shoulder. They both wear Rolling Loud-branded bandanas.
Starlito and Don Trip, the rappers from Tennessee whose Step Brothers series is one of the boldest, most brilliant running projects in rap, pass through the general admission crowd largely unaccosted. This despite Starlito's near-fluorescent Memphis Grizzlies jacket. They're in their early 30s.
On Sunday night, about an hour before Lil Wayne is scheduled to close out one of the smaller stages, a fire marshal kicks Y and me out of the stage's adjacent (and, importantly, tented) VIP area, either because Y doesn't have the proper wristband to be there or because I laughed too loudly at the cop who was dancing and lip-syncing during Yachty's set.
It's pouring. We search in vain for the transparent ponchos that are covering so many people's hoodies and midriffs and Tune Squad jerseys. A teenaged boy and girl, both topless, hold hands as they squeeze through the soaking crowd.
Wayne never shows. Y and I slip backstage and onto the bus that's become a makeshift headquarters for a music-streaming platform. When we arrive, there's just one person there eating M&Ms and playing 2K; within 10 minutes, the bus is packed shoulder to shoulder, and there's a quarter-inch of water on the floor. A girl in a Hot Boys shirt shows up, dejected. She and I decide to abandon all hope for a late-start Wayne performance and take a golf cart over to the main stage to watch Future's headlining set.
As she backs out the cart and nearly skids, on mud, into a fence, she casually mentions that she doesn't have her driver's license. We careen down the backstage road, toward the sound of "Real Sisters."