The pandemic is still here and supply chain issues have heavily impacted the apparel industry, but brands are still managing to present exciting product and engaging narratives. There are the expected brands that have become mainstays like Stussy, Supreme, and Louis Vuitton that continue to draw in consumers with its core pieces and collaborations. And there are newer brands like 18 East, Denim Tears, and Joe Freshgoods that have carved out a space for themselves with their output that elicits hype, but isn't grounded in it. 
It's expected to push out collaboration after collaboration, but it's harder to do it in a discerning way that's still impactful. With that in mind, these are Complex's picks for the best brands of 2021.
Telfar
Balenciaga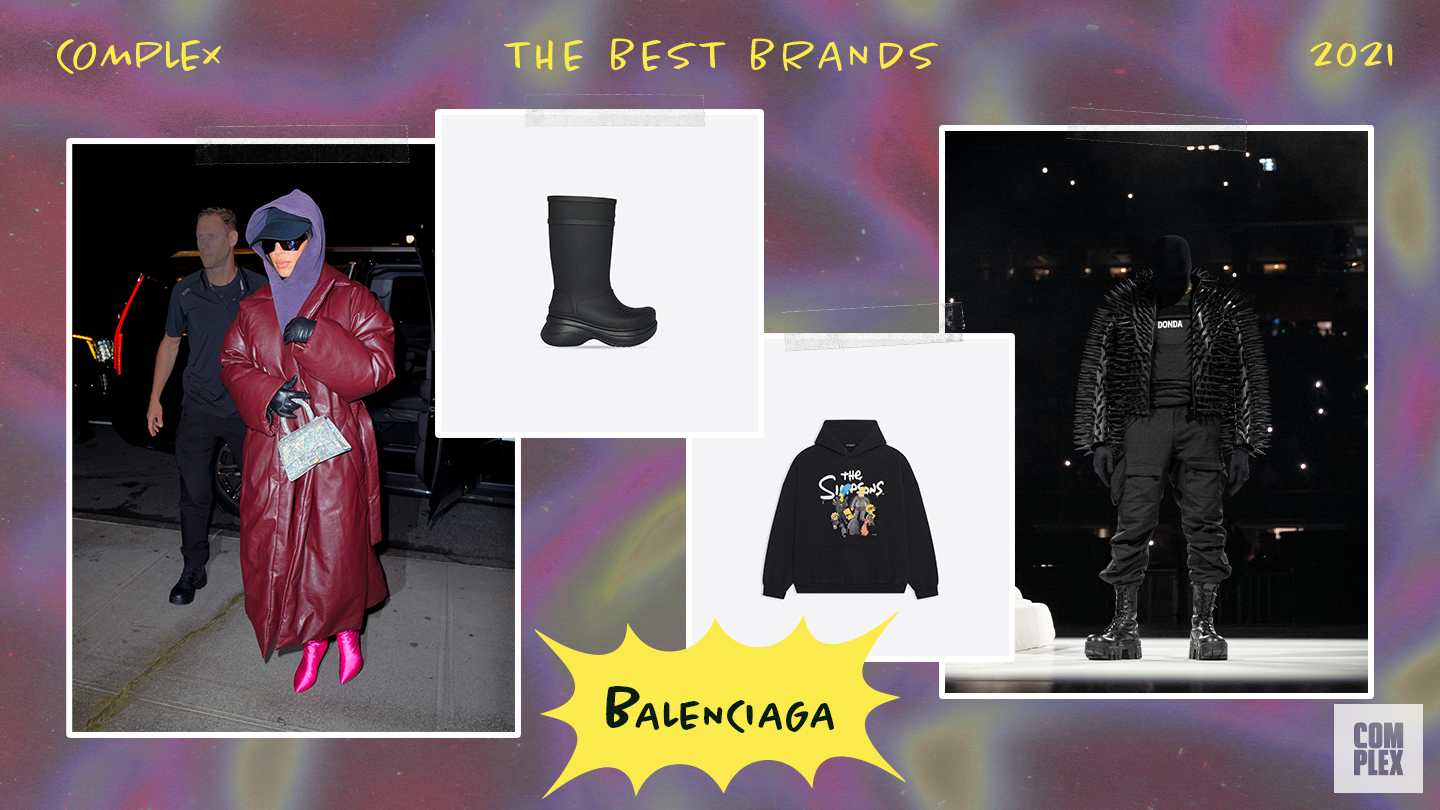 Bottega Veneta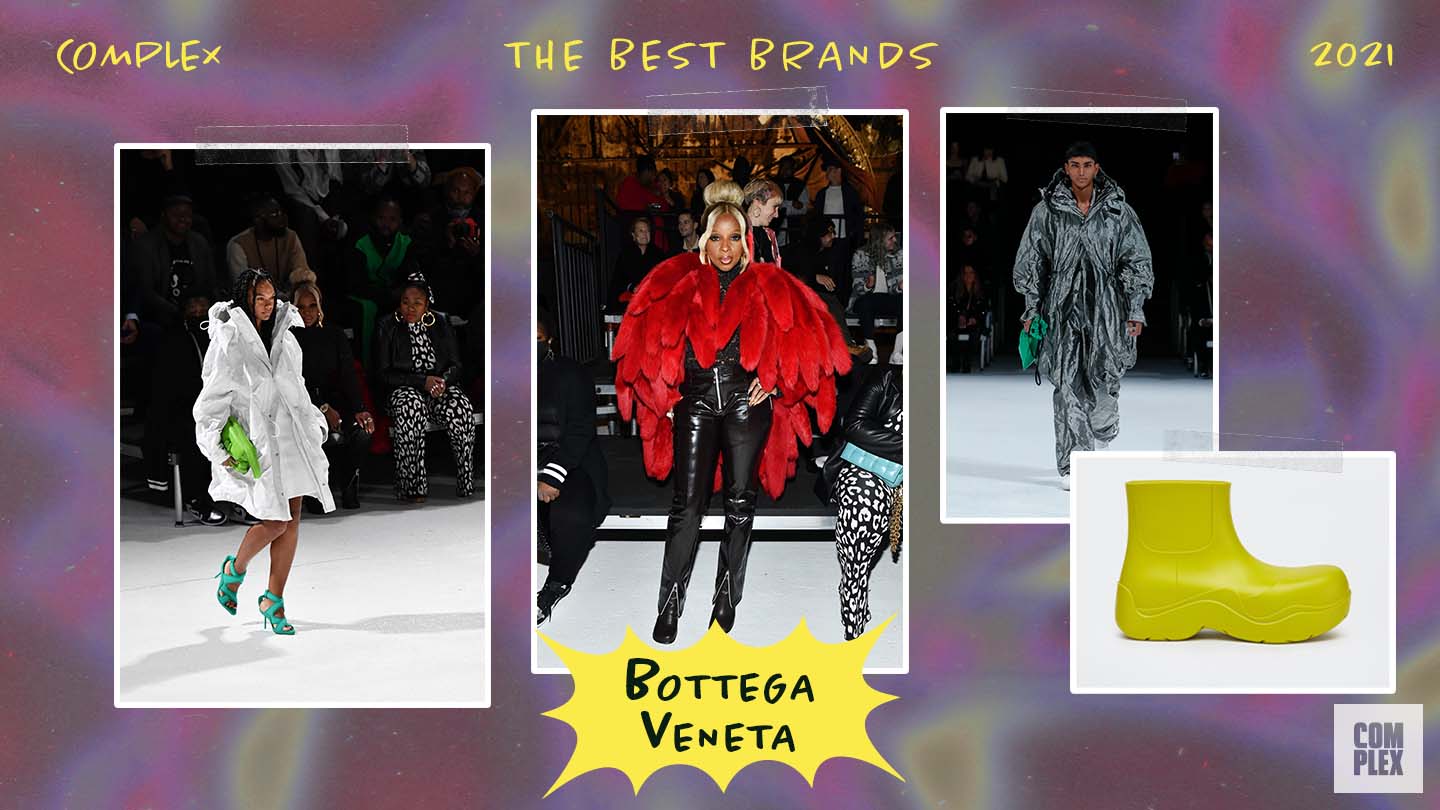 Aimé Leon Dore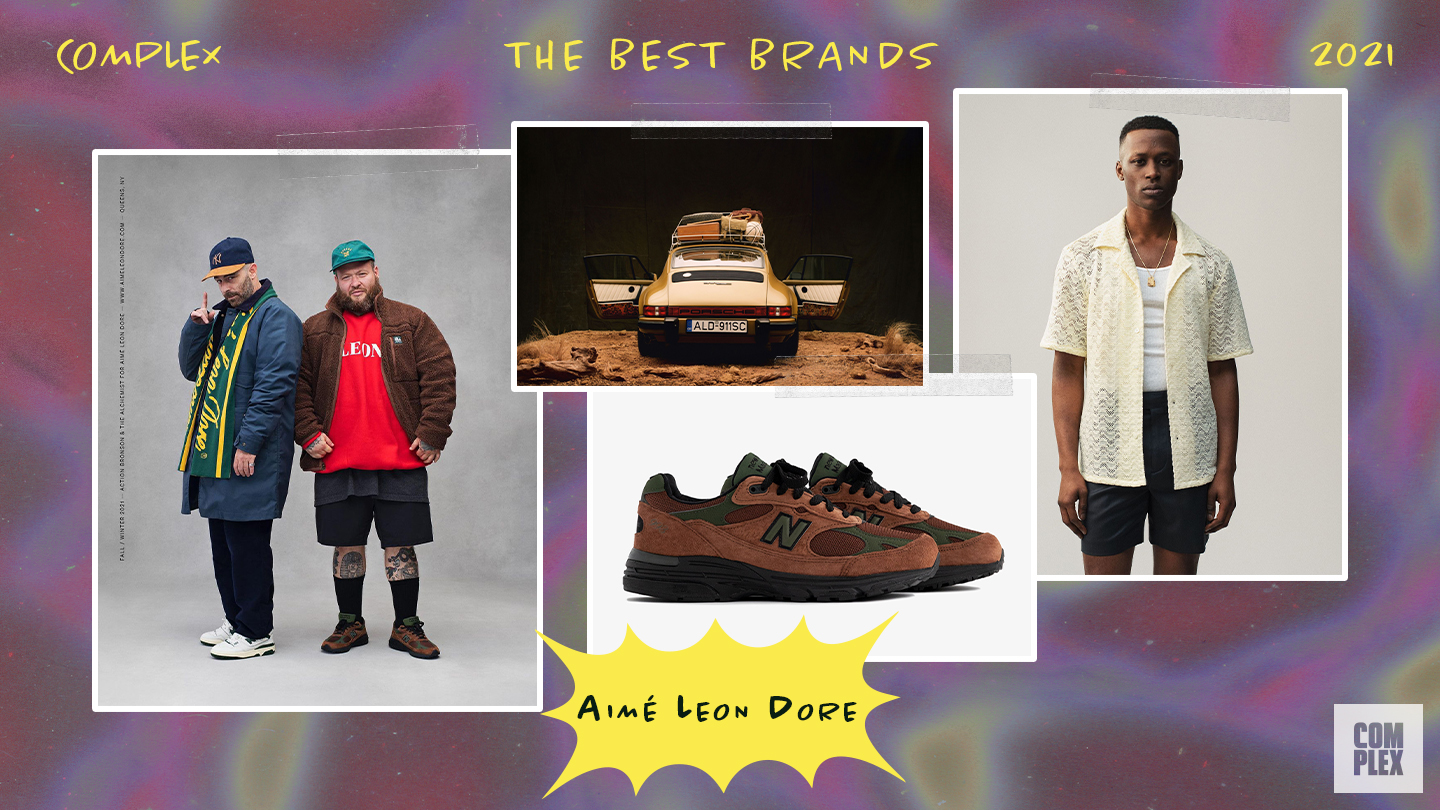 Joe Freshgoods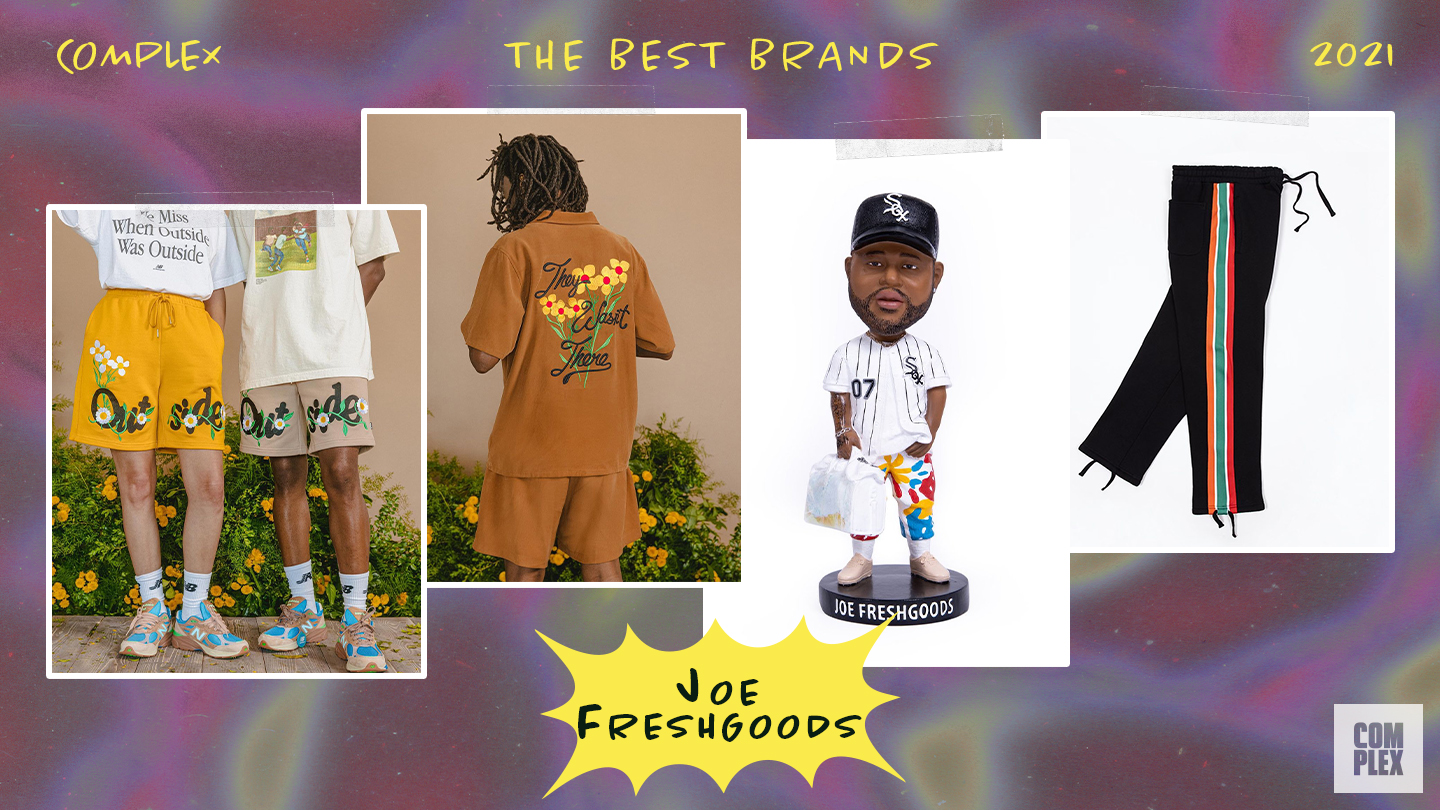 Arc'teryx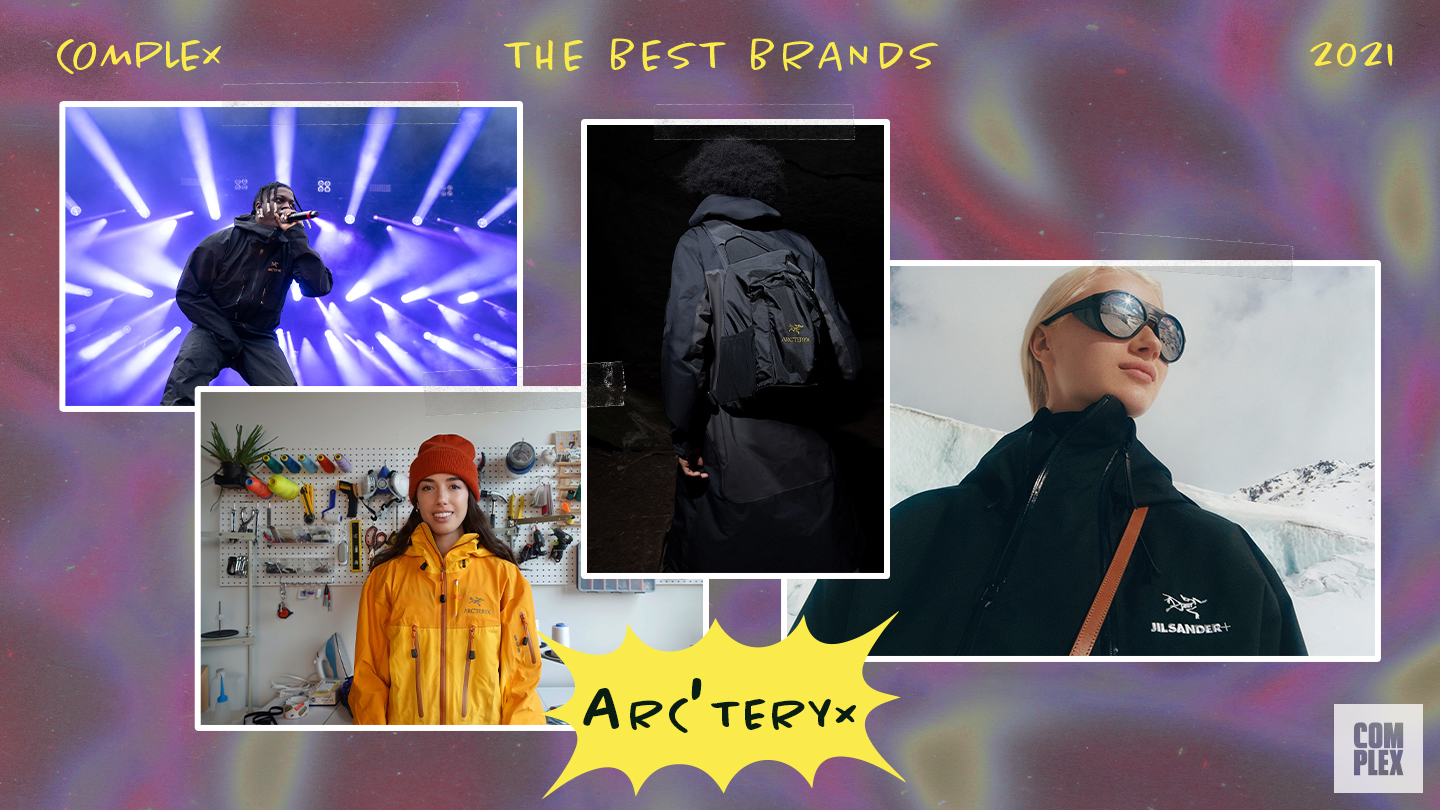 Awake NY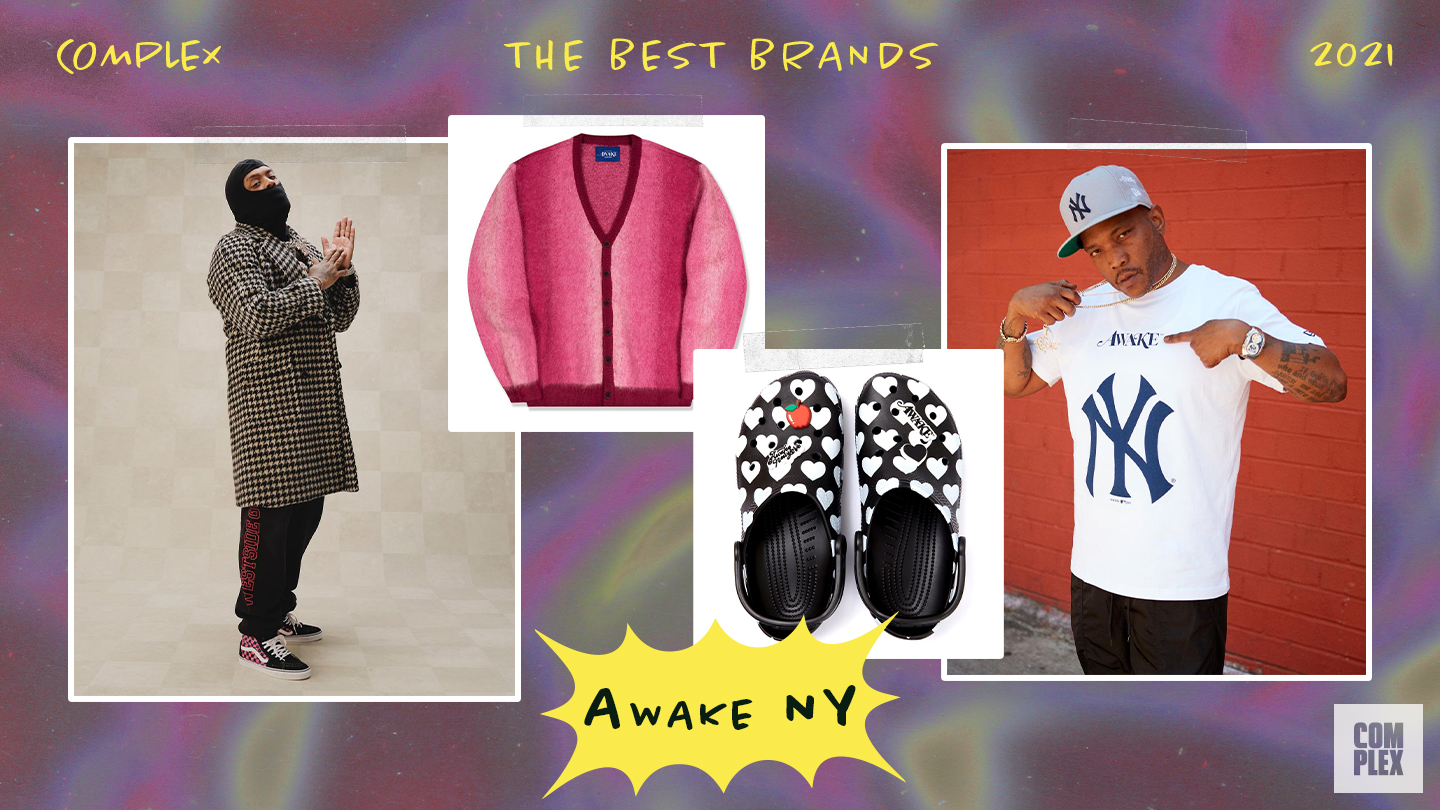 18 East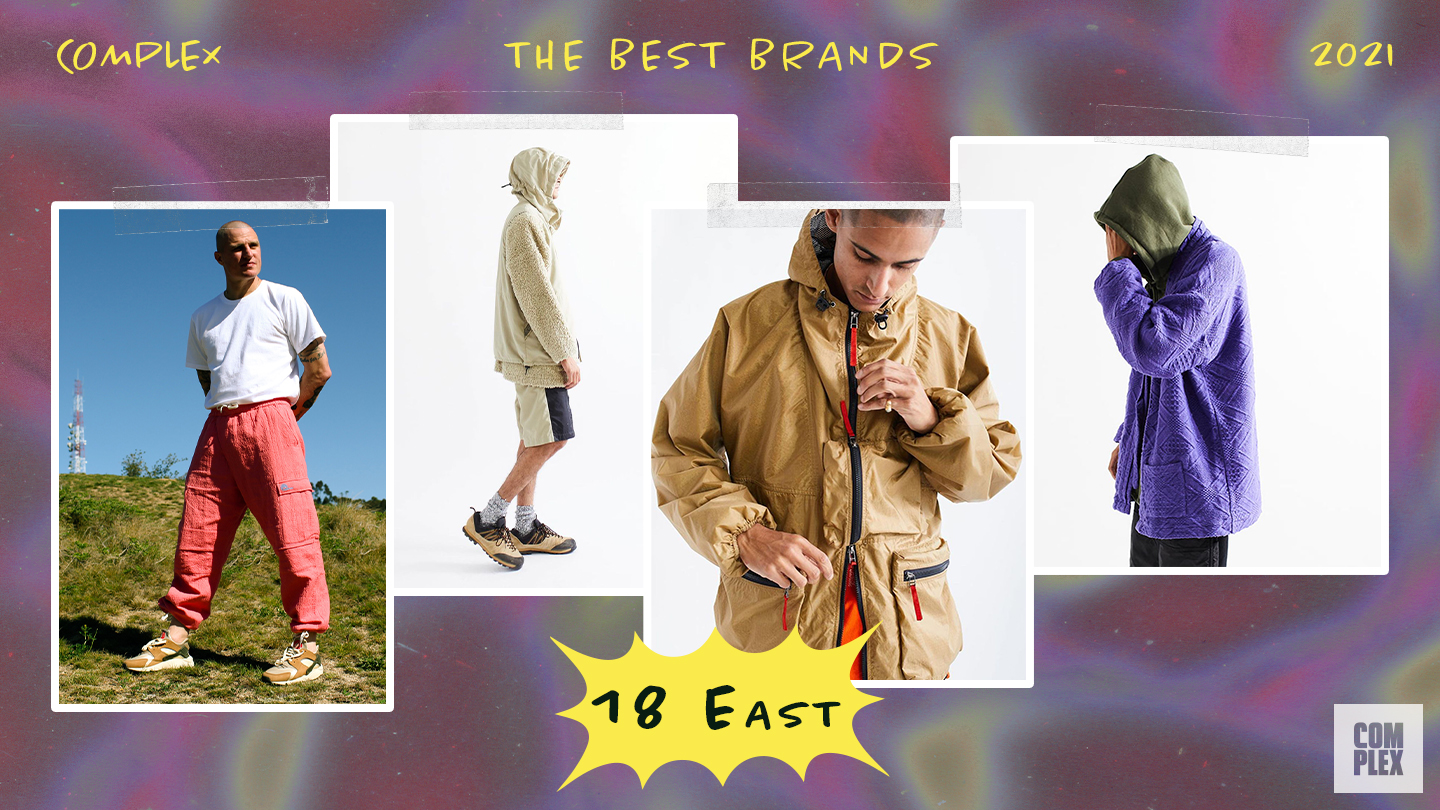 Denim Tears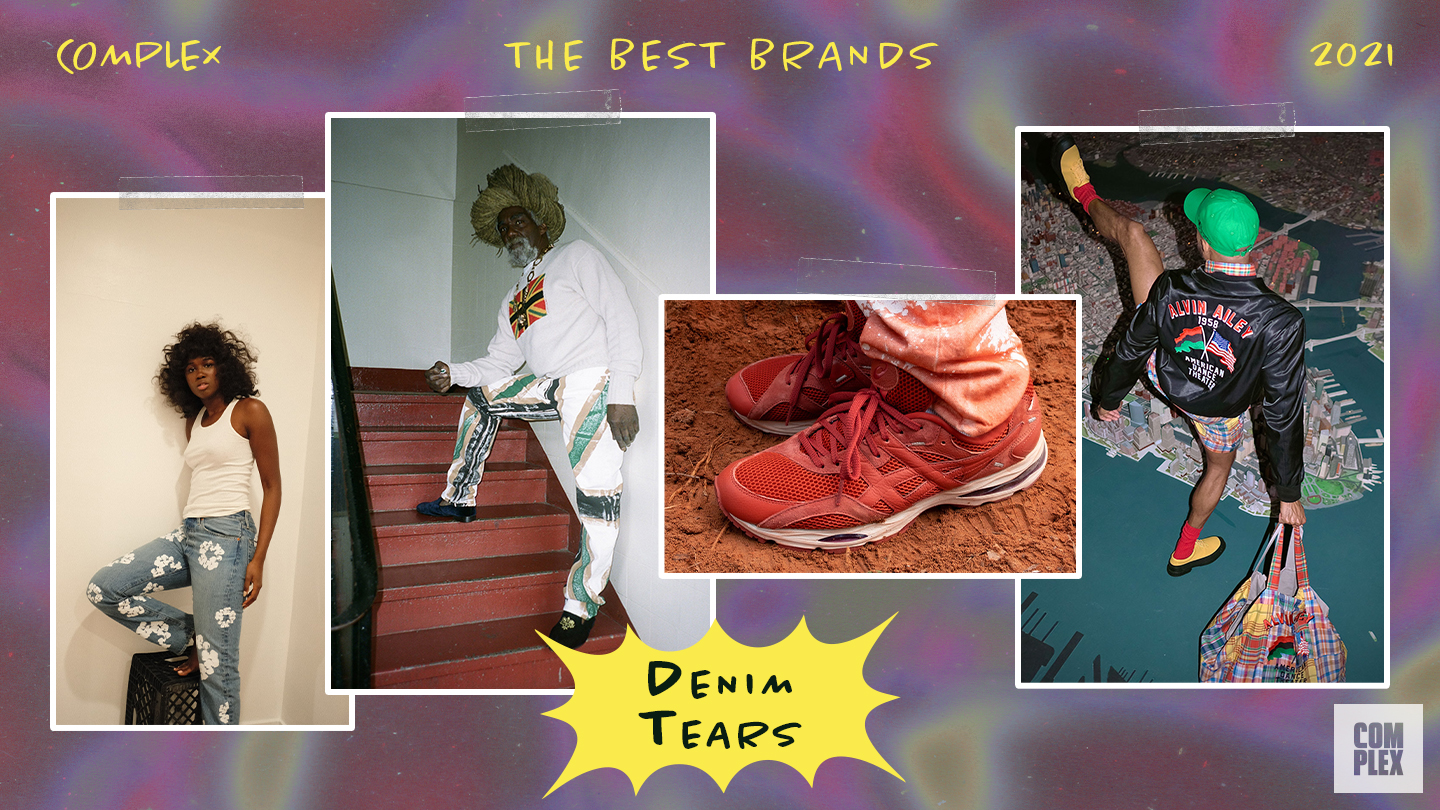 Louis Vuitton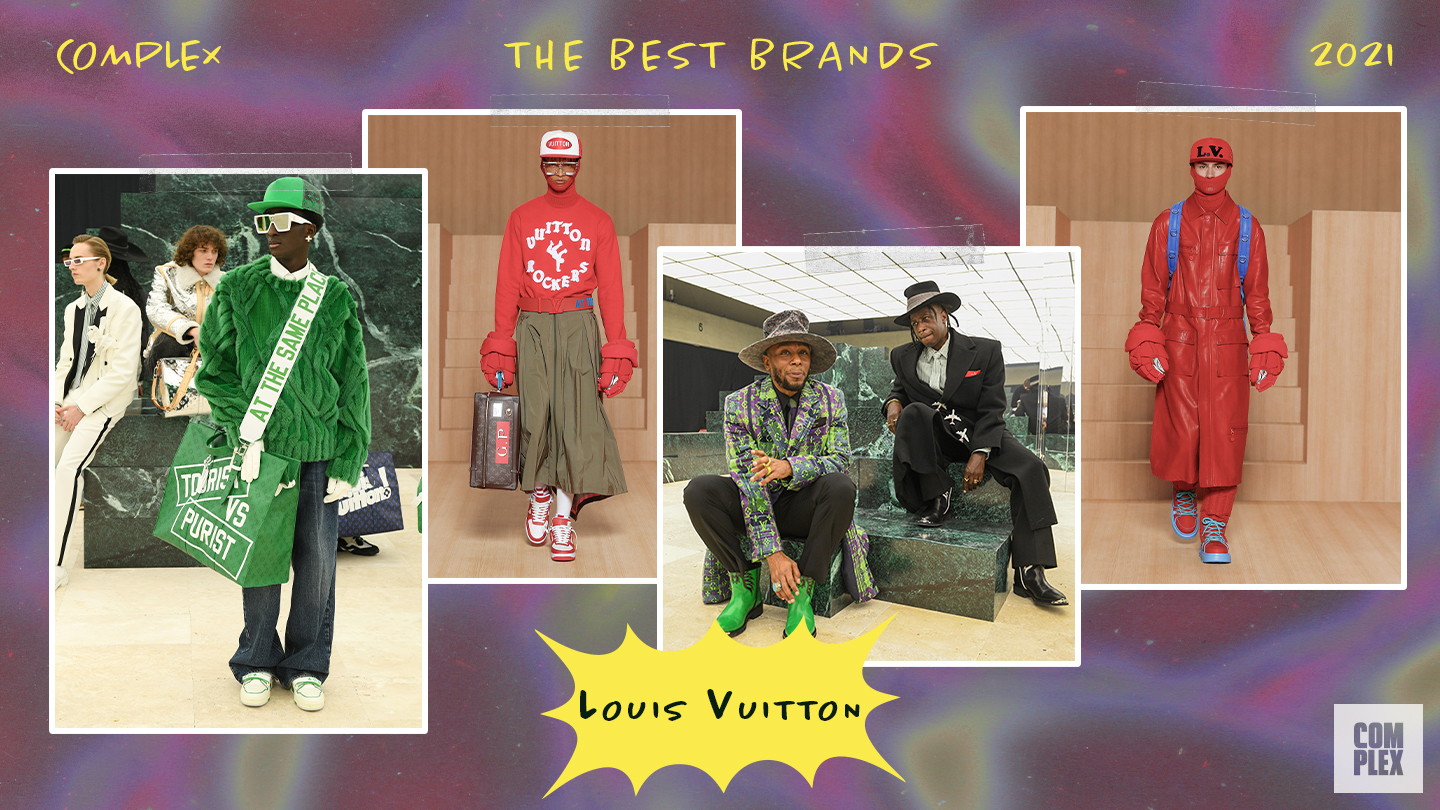 Standout Moments: GZA performing "4th Chamber" off Liquid Swords for Virgil Abloh's final show and Kai Isaiah Jamal becoming the first Black trans model to walk on Louis Vuitton's runway.

Where will Louis Vuitton be without Virgil Abloh? Unfortunately, this year also marks the end of Virgil Abloh's run as the brand's artistic director of menswear. Before the designer tragically passed away at 41 due to cardiac angiosarcoma in November, he left with us two of the best collections he has ever designed during his illustrious career.

His Fall/Winter 2021 collection, titled "Ebonics," was one of his most thoughtful and powerful collections for Louis Vuitton.  The collection was presented through a filmed performance art piece that starred the poet Saul Williams and Yasiin Bey (Mos Def). Thematically inspired by James Baldwin's 1953 essay "Stranger in the Village," Abloh's sixth collection deeply reflected on his position as Louis Vuitton's first Black artistic director of menswear. Abloh took Baldwin's essay, which detailed his experience feeling ostracized as a Black man in Europe and America, and juxtaposed it against his popular "Tourist vs. Purist" mantra. His show notes described it as "society's established structure of outsiders vs. insiders." And as toxic internet commenters showed, many self-proclaimed fashion insiders always saw Abloh as an outsider who was never a "real designer." This notion came to a head last year when Abloh was heavily scrutinized by the Belgian designer Walter Van Beirendonck, who accused Abloh of copying his designs. Despite Van Beirendonck's accusations, some pointed out that Van Beirendonck was guilty of copying himself, culturally appropriating designs in the past.

For his Fall/Winter 2021 collection, Abloh toyed with the classic childhood question: "What do you want to be when you grow up?" It led him to re-envision the dress code of everyday characters such as the artist, the salesman, the architect, and the drifter. Monogrammed bags shaped like airplanes and three-dimensional puffer jackets designed to resemble the New York City skyline were some of the most extravagant pieces Abloh made for the brand. Others included amplified normcore pieces, like elevated bathrobes, denim jackets, and oversized trench coats. But like his other collections for Louis Vuitton, we also saw Abloh proudly celebrating his Ghanian heritage and Black culture throughout the entire collection. There were Kente cloth robes inspired by his grandmother and motorcycle suits inspired by African wax print fabrics from Abloh's mother—one of the Kente cloth pieces was beautifully worn by the poet Amanda Gorman for Vogue's May issue this year. Other designs make subtle references to early-2000s rap fashion such as a pair of trainers inspired by Nike Foamposites and a Pelle Pelle-esque leather jacket.

Abloh followed that up with an equally as impressive Spring/Summer 2022 collection, which became his final collection for Louis Vuitton. Titled "Amen Break," the collection was named after a drum break from the 1969 song "Amen, Brother" that has been widely sampled by both early hip-hop and drum and bass artists. The collection was also presented through a short film and inspired by the "sampling" or reinterpretation of designs through the lens of fashion. What made "Amen Break" one the most memorable collections of Abloh's career was that it holistically represented Abloh's values as a designer who championed both diversity and overlooked subcultures. The setting of the film/collection was inspired by how the Wu-Tang Clan absorbed martial arts into hip-hop culture. There's even a scene where the GZA is captured playing chess while "4th Chamber" off Liquid Swords plays in the background. Garments included Louis Vuitton caps designed by Don C, a designer who sampled vintage snapback hats to give them a luxurious twist that became a must-have item for any New York City kid growing up in the early 2010s. There were also official Louis Vuitton x Nike Air Force 1s, one of the earliest examples of a luxury label being "sampled" to produce elevated bootlegs that were popularized by Harlem's own Dapper Dan and worn by Uptown's own DJ E-Z Rock in the '80s. There were even direct references to music samples via the jungle music pioneer Goldie, who wore a look for the show and had his Metalheadz record label stamped onto a silver LV record trunk. As a designer, Abloh's last collection for Louis Vuitton exemplified what he did best—finding value in art that others have historically found valueless. Whether that was celebrating the work of the street artist Jim Joe—whose art was turned into beautiful suits and Keepall bags—or a reinterpretation of a classic B-Boy crew neck that was originally designed by a New York City breaker in a photo by Jamel Shabazz from the early '80s. For his final collections, Abloh respectfully gave his flowers to those who've influenced his creative vision.

And even during his final months heading Louis Vuitton, Abloh continued to amplify Black voices throughout. He put the spotlight on 21 Savage in his Spring/Summer 2021 campaign. He hired photographer Renell Medrano to shoot the campaign for his collaboration with the NBA in Harlem—a capsule that was also designed alongside Chicago's Don C. Perhaps what best encapsulates what Abloh did for luxury fashion is within this dialogue from his Fall/Winter 2021 collection shared by Kai Isaiah Jamal, the first Black trans model to walk for Louis Vuitton. "As Black people, as trans people, as marginalized people, the world is here for our taking, for it takes so much from us." Abloh never stopped taking Louis Vuitton, and luxury fashion, into the direction it had to go in. And one can only hope that long after his passing, his commitments to diversity and inclusion will continue to influence the rest of the industry—Lei Takanashi
Human Made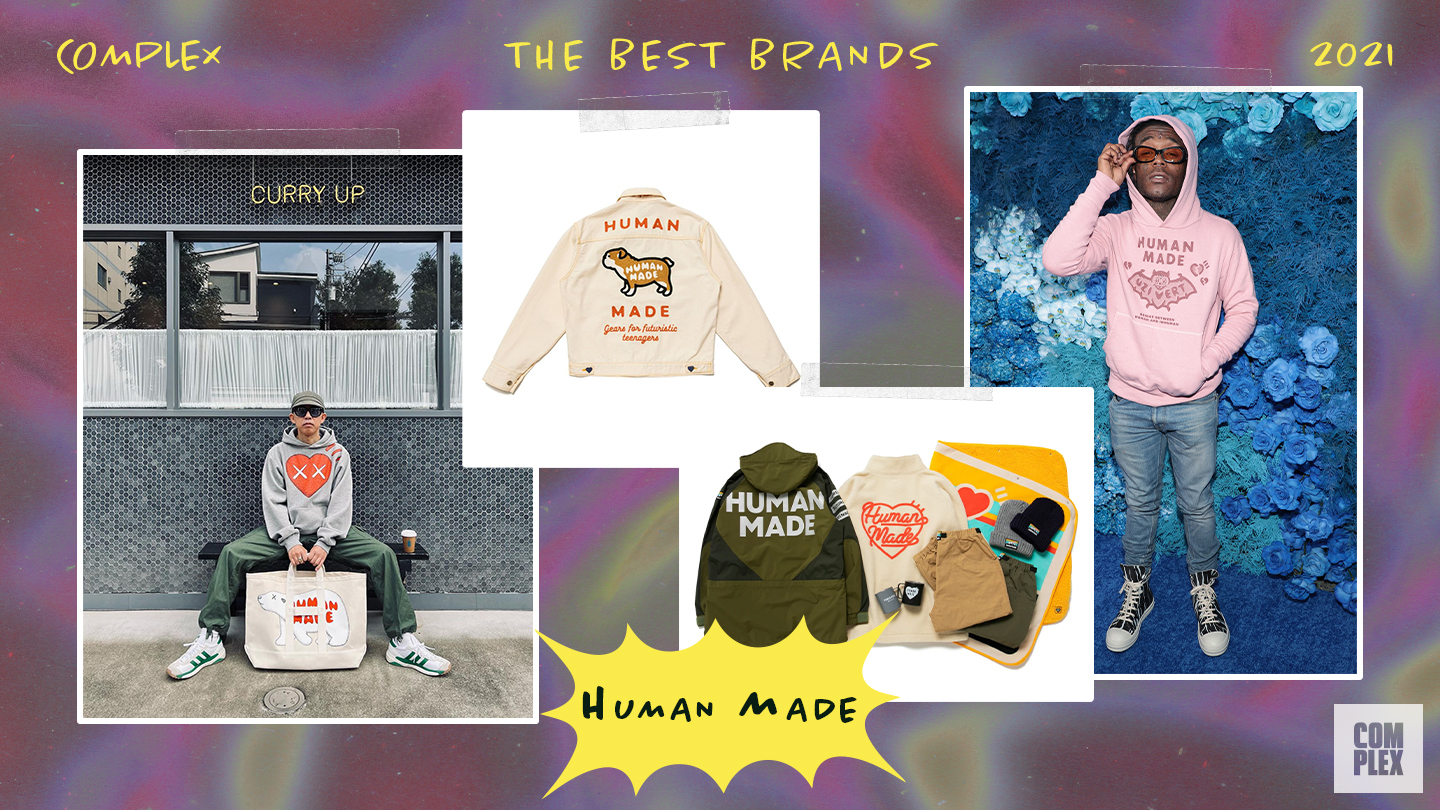 Union Los Angeles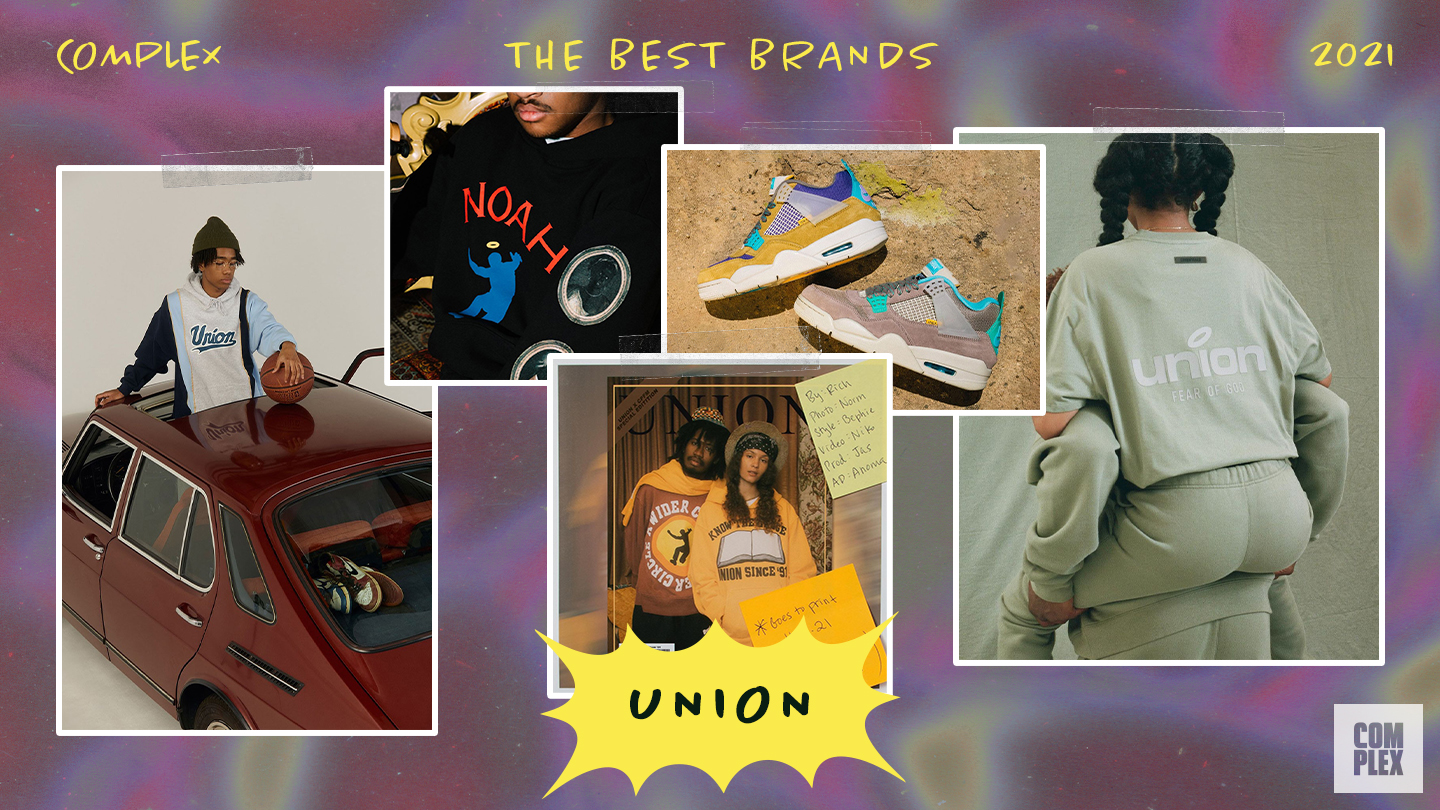 Standout Moments: The brand's collaborations with Vaughn Bodē and Noah. 
There are few folks within the streetwear and fashion space who have the vision that Chris Gibbs has. He's a true veteran who has worked at Union since the '90s back when it was based in New York City and owned by Mary Ann Fusco. And he's kept one of the world's very first streetwear stores alive for decades now. To celebrate its 30th anniversary, Gibbs has pulled out all the stops to make Union one of the most exciting brands this year. Its in-house label continues to grow with offerings like simple selvedge denim jeans made in the United States, boxy heavyweight fleece hoodies, and heavyweight jersey T-shirts that give their product range an elevated streetwear twist. Collaborations with beloved artists like Vaughn Bodē and graphic T-shirts that reference old reggae record labels like Disco 45 show that Union does "Know the Ledge." This year, Union released collaborations with brands like Noah, Awake New York, Born x Raised, Cactus Plant Flea Market, and Fear of God to celebrate its big milestone. Of course, Union collaborated with ​​Stüssy to celebrate the heritage of the OG Stüssy Union store that opened in Los Angeles during the early '90s. But one of the brand's standout collaborations this year was with Noah, which was titled "Truth Dare Dream" and reimagined historical figures like Beethoven, Shakespeare, and the French writer Alexandre Dumas as Black. It was a capsule that made great commentary on how history gets whitewashed that also raised funds for the Watts Conservatory of Music in Los Angeles. With Awake New York, Gibbs highlighted a list of books with a campaign nodding to Los Angeles-based creatives like Reggieknow and Taz Arnold. And of course, Union did not disappoint when it released its Air Jordan 4 "Tent & Trails" collaboration this year, which was aptly inspired by the great outdoors. There's only more to look forward to from Union in 2022.—Lei Takanashi
Supreme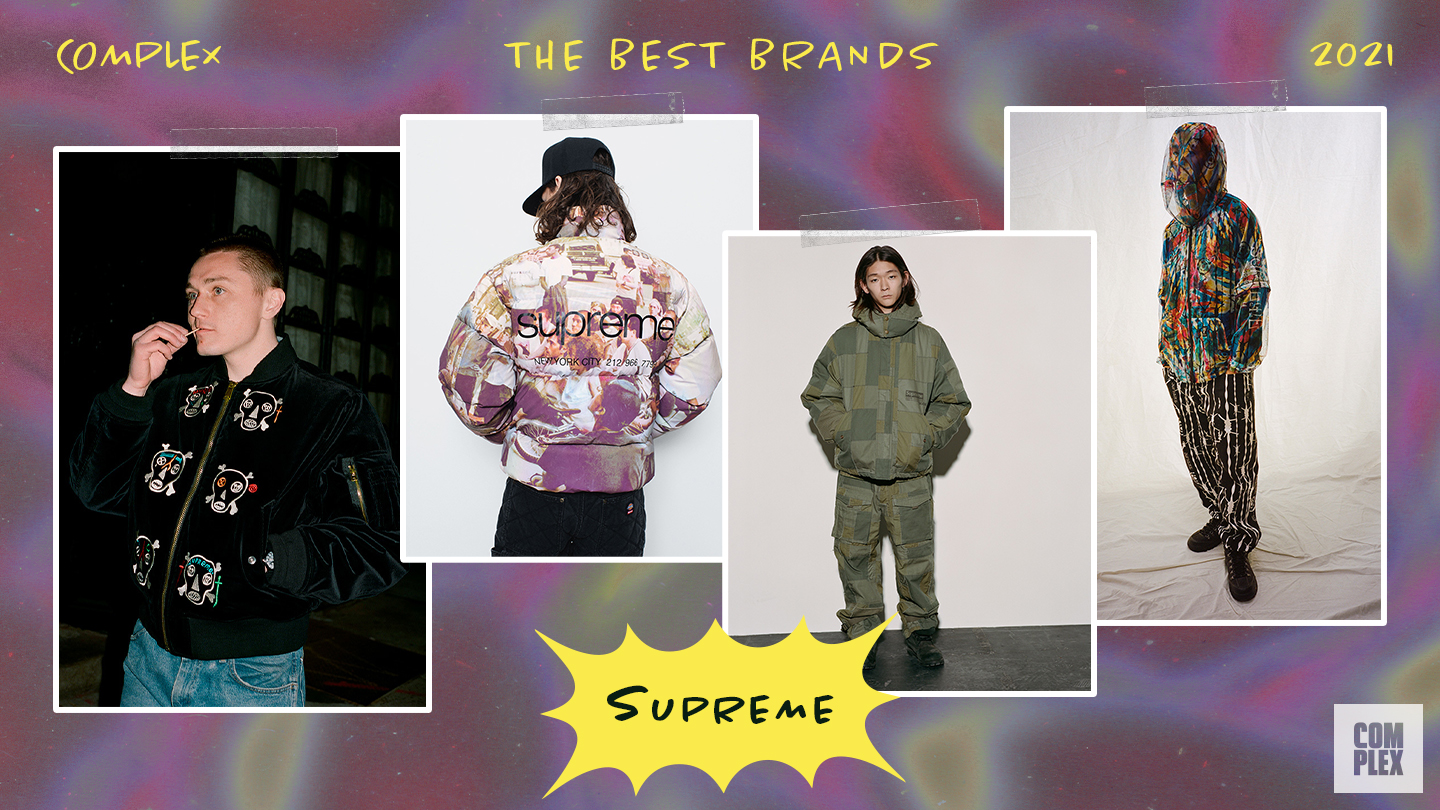 Rhude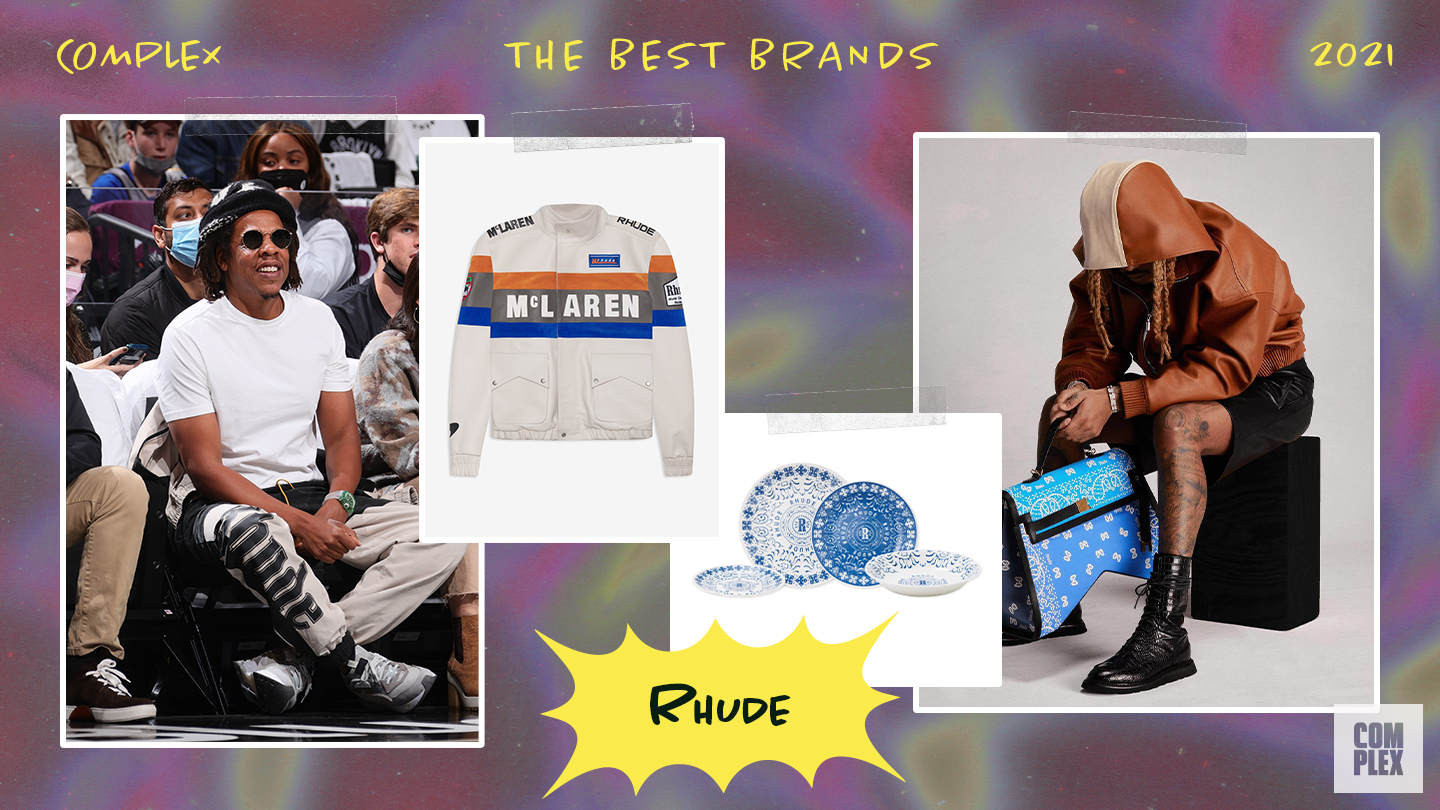 Fear of God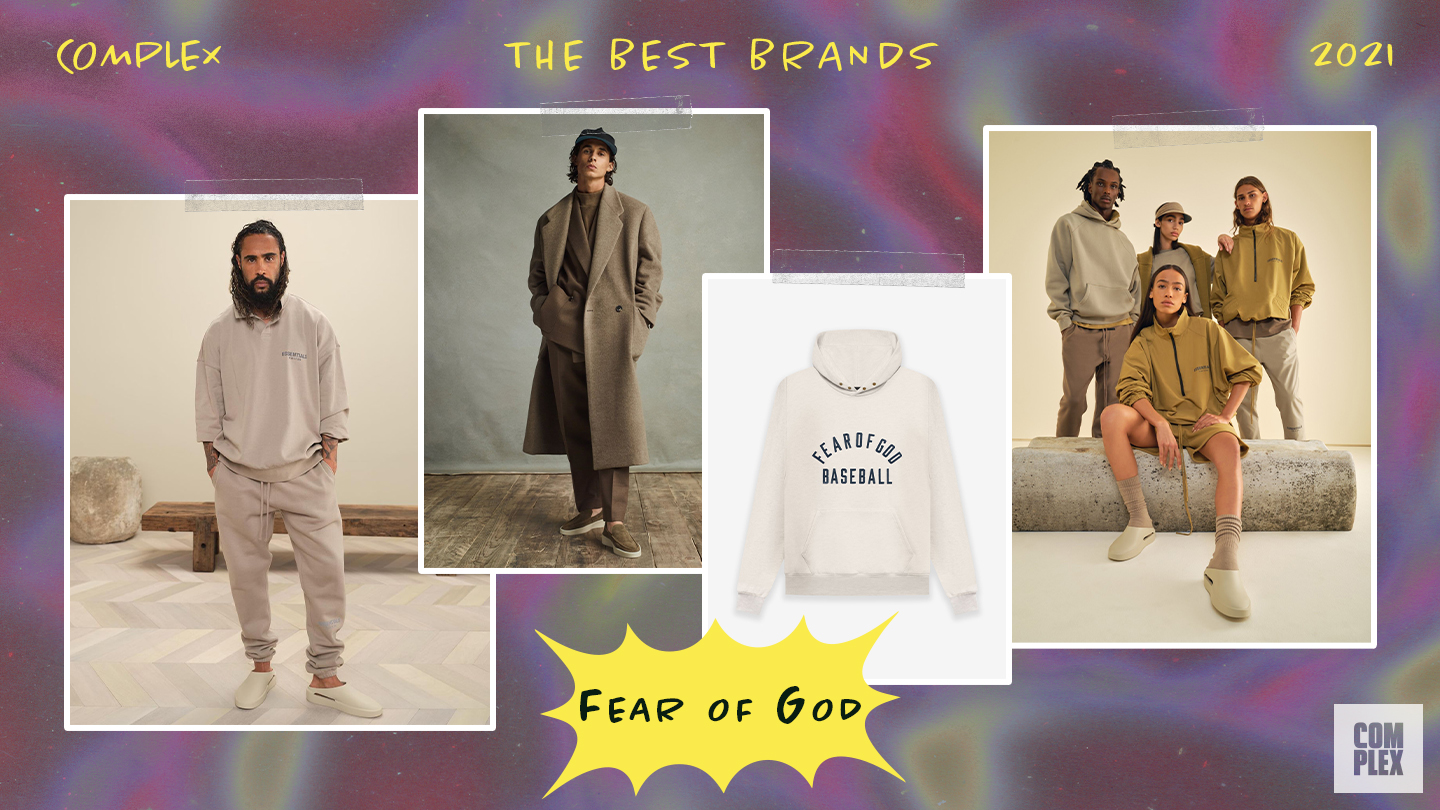 Stüssy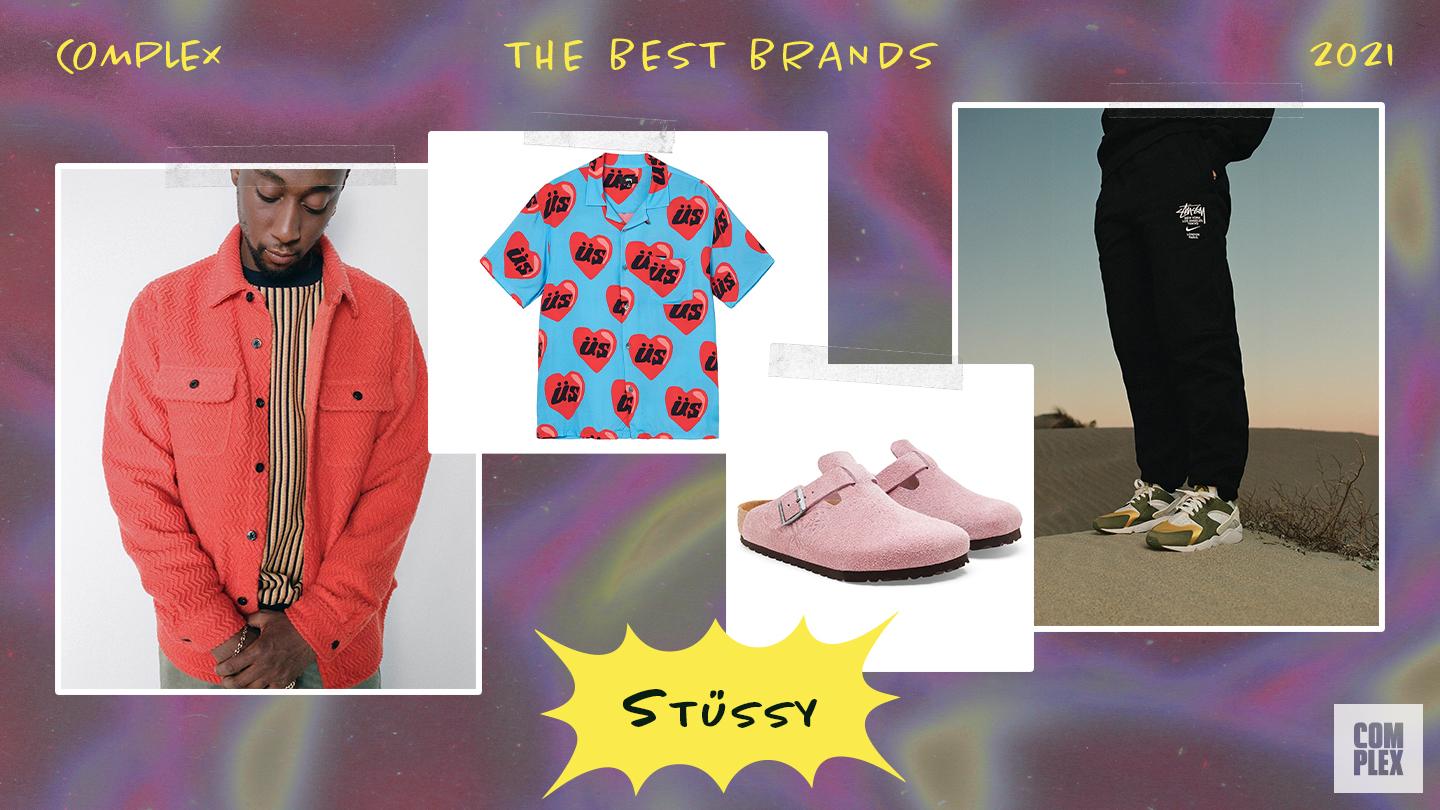 Kith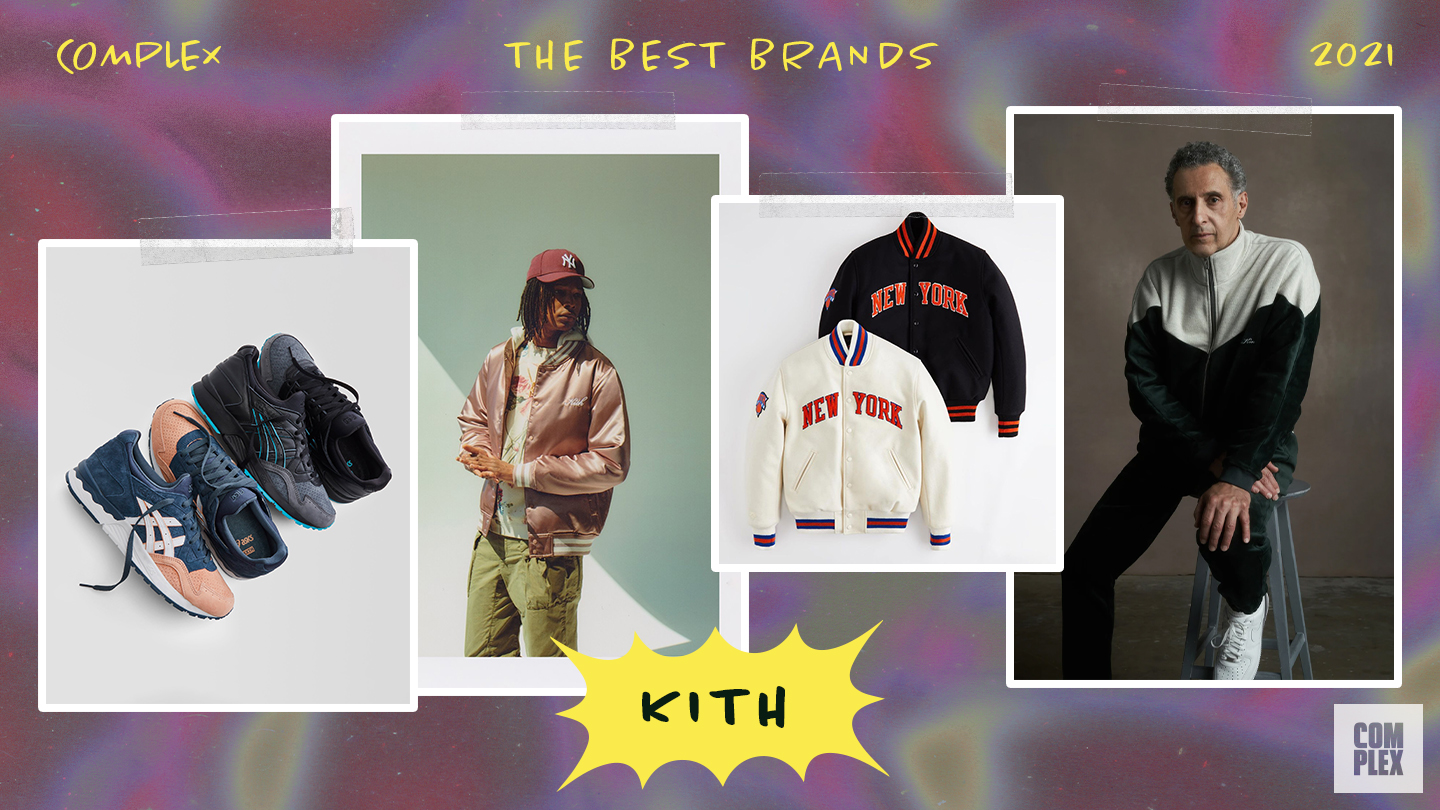 Standout Moments: Opening a flagship in Paris, reuniting Dipset to rap in Madison Square Garden for its collaboration with the New York Knicks, releasing a book to celebrate its 10th anniversary
Ten years later, Kith has established itself as one of the most recognized and accomplished names in streetwear. Despite the pandemic, Ronnie Fieg managed to close 2020 off strong with a collaboration with the New York Knicks, an homage to the city's beloved basketball team complete with a special freestyle by Harlem's own Dipset. Fieg was undoubtedly setting the tone for what's to come in 2021. 
At the top of the year, the brand dropped a full range of apparel and accessories that paid homage to the iconic animated comedy series, The Simpsons. To tie a bow on the collaboration, there was even an immersive in-store installation of the Simpsons' home at its SoHo store. Fieg made it a point to hit all of the senses with a Kith Treats version of the series' infamous pink doughnut created in collaboration with Doughnut Plant, too. Fieg also partnered with the Christopher Wallace (Notorious B.I.G) estate to commemorate the 23rd anniversary of his death with a collection that features iconic Biggie imagery. Additionally, Kith is the only streetwear brand that has publicly committed to the "15 Percent Pledge"—which means that Kith will dedicate at least 15% of its retail to Black-owned businesses and brands.  
Following the opening of Kith Tokyo last July, Kith made its debut in Europe in late February, opening its largest store to date in none other than Paris. Longtime partners Snarkitecture designed the 16,000-square-foot store, which features Carrara marble, barrel-vaulted ceilings, and an indoor Sadelle's restaurant. It's an impressive move to say the least that plants the Kith flag in the middle of one of the fashion capitals of the world, and shows the brand is committed to growing its global presence beyond its roots in New York City with each passing year. In August, the brand expanded its global presence further with the grand opening of a flagship in Hawaii. Each was marked with limited edition colorways of the Air Force 1 that dropped exclusively at each location.
And that isn't all Kith has done in 2021. It celebrated the Summer Olympics in Tokyo with a campaign full of iconic Team USA athletes from Jason Kidd to Kerri Walsh Jennings and Misty-May Treanor. It built upon existing partnerships with Calvin Klein and Russell Athletic. As part of Kith's ongoing work with Nike that includes a second straight year producing the Knicks' City Edition uniforms, Fieg restored two basketball courts in Queens for the local community.   Fieg was also able to further cement his place in the footwear industry. Already having a wide range of collaborations under his belt and over three decades of experience, he was named the creative director for Clarks Originals' new 8th Street sublabel. The Queens native now designs original silhouettes that hone in on the iconic shoemaker's craftsmanship. The partnership kicked off in April with the debut of the Sandford and Lockhill. Fieg is making sure to end the year with a bang too, by celebrating Kithmas throughout December. In true holiday spirit, projects include work with Star Wars, Barbie, and even a special edition Kith Monopoly board. As big as Kith is already, Fieg continues to find new ways to grow. The brands shows no sign of slowing down any time soon. —Maria Mora