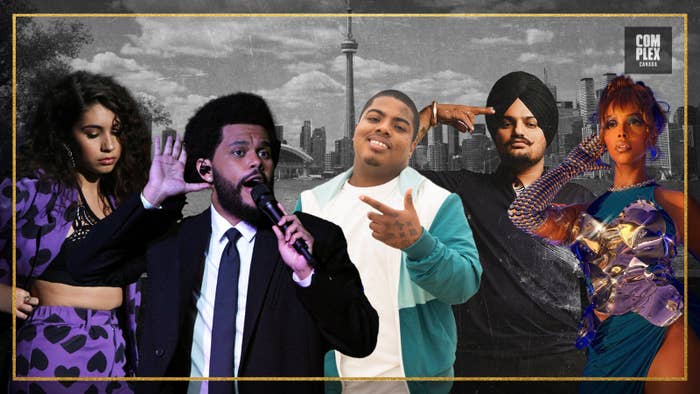 We're deep into the dog days now and there's still no clear consensus on the song of the summer. No "WAP" or "Blinding Lights" booming out of every car window, stadium speaker, and gym bro's headphone. Maybe it's because, deep down, we've all been holding out for Drake and Kanye's new albums—which now look like they could drop at the very same time next week. But until then, there's been more than enough northern heat to keep the vibes high this July. There was an XO and Thugger link-up, a surprise bop from Drizzy and a Toronto rap up-and-comer, and some slow-burners from a couple of the country's most promising chanteuses. Here are the new Canadian songs we've had on full blast at the home office.
Smiley f/ Drake, "Over the Top"
Sidhu Moose Wala f/ Blockboi Twitch, "G Shit"
NorthSideBenji and DJ Charlie B, "30,000 ft"
Chiiild, "Hold On Till We Get There"
untradition, "flower child"
Belly, The Weeknd, and Young Thug, "Better Believe"
Myles Lloyd, "Counting Days"
Keys N Krates, "Brazilian Love Song"
Alessia Cara, "Sweet Dream"
youtube.com
July was a big month for Alessia Cara fans, as she dropped some new music from her upcoming third studio album. The Brampton artist recently told me she spent a lot of time during isolation writing and creating for the new project. The first single, "Sweet Dream," explores Alessia's struggle with quieting the thoughts that keep her awake at night. After living through a pandemic, it's something many of us can surely relate to. The slow, melodic opening with light percussion that resembles a ticking clock seems appropriate for a song about trying to catch a sweet dream. But a few seconds in and the production ramps up with an upbeat tempo, abandoning the notion of any rest as you start nodding your head to the beat. If you've anxiously been awaiting new music from the "Here" singer, this is just the beginning. Rest easy, maybe even have a sweet dream—Alessia would want you to! —Alex Narvaez
Amaal, "Honey"
Kenny Uppercutz, f/ Fito Blanko, Esco, and Bunlo, "Sancocho Remix"