How Conor McGregor Turned a Blatant Publicity Stunt Into a $100 Million Fight With Floyd Mayweather
The first time Conor McGregor said he could beat Floyd Mayweather in a fight, everyone laughed. Who's laughing now?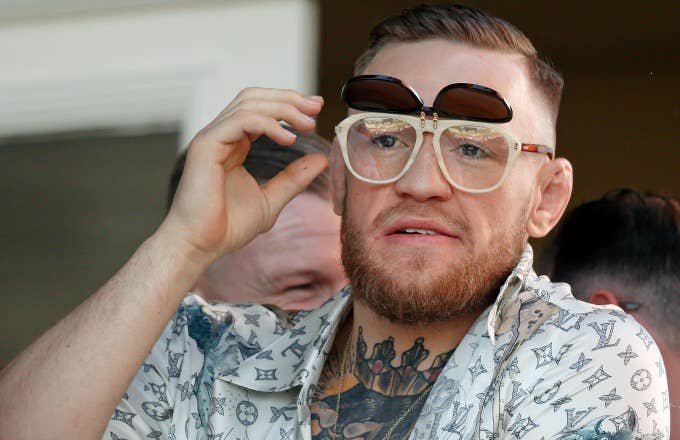 Getty
Image via Getty/Max Mumby/Indigo/Contributor
Back in early 2015, Conor McGregor looked like one of the most promising young fighters in the entire UFC. He hadn't engaged in his epic battles with Chad Mendes, José Aldo, or Nate Diaz yet. But he was riding high off a January 2015 win over Dennis Siver at UFC Fight Night 59 that made him a perfect 5-0 in his UFC career and 17-2 overall as an MMA fighter.
McGregor was also making a name for himself as one of the boldest and brashest fighters in the UFC. Following his TKO win over Siver—his third TKO win in a row—he jumped out of the Octagon to confront Aldo, who was sitting in one of the first few rows to watch the fight. McGregor taunted Aldo and challenged him to a fight, and he punctuated the moment by going off on Siver and Aldo during his post-fight interview with Joe Rogan:
But despite his over-the-top antics, McGregor was still fighting to win over those people who weren't necessarily diehard UFC fanatics. To try and put this into the proper perspective, we were definitely covering UFC fighters like Jon Jones, Anderson Silva, and, of course, Ronda Rousey at the time. But as of early 2015, McGregor wasn't really on our radar. We hadn't done a single article on McGregor at that point. He was still, in many ways, an up-and-coming fighter looking to create separation between himself and all of the other young fighters who were trying to do the same back then.
That all changed in April 2015. Shortly after he peppered Siver with punches to earn another impressive UFC victory, McGregor sat down with Esquire for what would be one of the first long feature stories written about him that year. And McGregor made the most of his opportunity by making one of the most audacious statements of his career during his interview with Esquire.
While trying to explain why he was such an effective fighter, McGregor brought up Floyd Mayweather, who was, at the time, preparing for his much-anticipated fight with Manny Pacquiao. McGregor said that he had no doubt he would be able to "kill" Mayweather in a fight, if Mayweather ever dared to set foot in the Octagon with him.
"If you put me face-to-face with Floyd Mayweather—pound-for-pound boxing's best—if I fought Floyd, I would kill him in less than 30 seconds," the then-26-year-old McGregor said. "It would take me less than 30 seconds to wrap around him like a boa constrictor and strangle him."
What McGregor said wasn't wrong. If, by some chance, Mayweather ever agreed to an MMA fight with McGregor, McGregor would do some serious damage to him. Hell, just about any MMA fighter with a few months of training under his belt would be able to go toe-to-toe with Mayweather since he isn't trained to fight in that setting.
But McGregor's words served their purpose. We covered McGregor for the first time after that Esquire interview, and many other sites out there clung to McGregor's words about Mayweather, too. McGregor's claim got so much attention that, just two days later, Mayweather was forced to issue a response. He downplayed McGregor's comments completely and refused to say much about them, but if nothing else, the fact that Mayweather felt compelled enough to respond showed the impact McGregor was starting to have on those outside of the MMA world.
"I don't take that dude seriously," Mayweather said at the time. "He's just trying to get himself some publicity."
It's funny to look back at that brief back-and-forth between McGregor and Mayweather today in light of what we know now, because it feels like McGregor was, even if inadvertently, laying the groundwork for what would eventually become a full-fledged rivalry with Mayweather.
Through the remainder of 2015, McGregor and Mayweather continued along their separate paths. McGregor defeated Chad Mendes by TKO at UFC 189 in July 2015 before beating José Aldo in stunning fashion at UFC 194 in December 2015 in just 13 seconds.
Meanwhile, Mayweather defeated Pacquiao during their disappointing May 2015 fight before taking part in what was billed as the final fight of his boxing career in September 2015. He beat Andre Berto easily. He then announced his retirement from boxing and seemed content to spend the rest of his days vacationing with Justin Bieber, snatching up pricey cars, and going viral with each and every Twitter and Instagram post he put up.
But at the same time, both fighters started dropping bread crumbs as they seemed to walk towards a place in which their paths might cross. McGregor went on the record as early as August 2015 and said he thought a fight between him and Mayweather would net more than $500 million. He also engaged in a war of words with Mayweather just a few months later in January 2016 after Mayweather suggested that his race was the only reason for his success. Additionally, he said that he would be more than willing to fight Mayweather in a boxing match in March 2016. And in May 2016, a report came out indicating that McGregor and Mayweather were actually considering a fight between the two.
But even after all that, the idea of a McGregor and Mayweather boxing match seemed like a long shot at best. McGregor and Mayweather both did their best to convince people otherwise. They hyped the potential fight on social media a short time after the initial May 2016 report. Mayweather also did an interview and said he thought it would happen eventually. And throughout the remainder of 2016, McGregor and Mayweather exchanged words through various mediums and tried to make people think that they were setting the stage for an eventual fight.
We won't list every single exchange they had—remember how we said we didn't have any McGregor posts as of early 2015? We now have more than 50 McGregor/Mayweather articles—but here are just a few of the headlines the two made throughout the rest of 2016:
They didn't completely abandon their individual ambitions during that time. McGregor took the biggest L of his UFC career at UFC 196 in March 2016 when he lost to Nate Diaz before bouncing back at UFC 202 in August 2016 to beat Diaz in a rematch following a bizarre fake retirement. He also beat Eddie Alvarez at UFC 205 in November 2016 to become the first UFC fighter to ever hold championship belts in two different weight classes at the same time.
Mayweather ducked and dodged a series of rumors about him potentially making a return to the ring and continued to enjoy his post-retirement life. He toured the world, spent a ridiculous amount of money on everything from haircuts to Hermés, and made headlines for just about everything he did. He even found time to insert himself into the middle of the Chris Brown and Soulja Boy beef at one point at the top of 2017.
But over the course of the last six months, the conversation surrounding the possibility of a McGregor and Mayweather fight changed dramatically. Fans stopped asking "What if…?" and started asking "When will…?" due in large part to comments made by the fighters themselves. Nearly two years after McGregor made his initial comments about what he would do to Mayweather in a fight, they both seemed like they were getting closer to being on the same page at the beginning of 2017.
Mayweather said he would fight McGregor as a "businessman" in January. He also told ESPN's Stephen A. Smith he was "very close" to agreeing to a fight with McGregor the following month. And even though UFC president Dana White tried to downplay some of those comments, he started singing a different tune in March when he went on Conan and suddenly said he thought the fight was going to happen. McGregor followed that up by saying he would "take over boxing" just a few days later, which seemed like little more than the same old trash talk we were all exposed to in 2016 on the surface. But before long, there was more evidence that a McGregor and Mayweather fight might actually happen.
White started talking about how much McGregor could make from the fight and was asked about the fight during just about every single interview he did. Mayweather started teasing the fight by doing what he normally does in the weeks leading up to a match—talking up McGregor and telling fans that he's not so sure he would be able to beat him like he's beaten 49 other opponents in the past. And potential dates for the fight started circulating online. Las Vegas even started accepting bets for the fight in recent weeks.
And then, it happened. On Wednesday afternoon, seemingly out of nowhere—when you consider how much hype we've all endured over the last two years, doesn't it still feel like we were all caught a little off guard by it?—McGregor and Mayweather both announced that they had agreed to an Aug. 26 fight in Las Vegas.
Their confirmations came just minutes after Yahoo! Sports released a report indicating that the fight was on. And while there's still a lot of speculation surrounding how good the fight will actually be, this is now a real thing, as opposed to just some hypothetical thing that McGregor and Mayweather are talking about to ESPN, Fight Hype, or, as was the case in early 2015, Esquire.  And that in and of itself already feels like a win for McGregor.
There is already talk of McGregor making upwards of $100 million for his fight with Mayweather, which is a far cry from the $170,000 he reportedly made for beating Siver during their January 2015 fight. There is also plenty of talk about how McGregor doesn't stand a chance against Mayweather and about how he's going to need the $100 million to help him cope with the inevitable loss he's going to take to his much more experience foe.
But we feel compelled to point out that McGregor is only about four years removed from taking part in his first UFC fight. He's only about three years removed from winning his first "Performance of the Night" award following a UFC fight. And he's only about two years removed from making a silly suggestion about what would happen if he ever fought Mayweather during an interview that took place before he even won his first UFC title.
And yet, here we are, on the brink of watching McGregor earn what will be one of the biggest paydays ever collected by a professional fighter. There were those who laughed at him when he made his initial comments about fighting Mayweather as well as those who laughed at him all along the way as he contended that his fight with Mayweather would happen. But who's laughing now? It's like he knew this was going to happen all along.