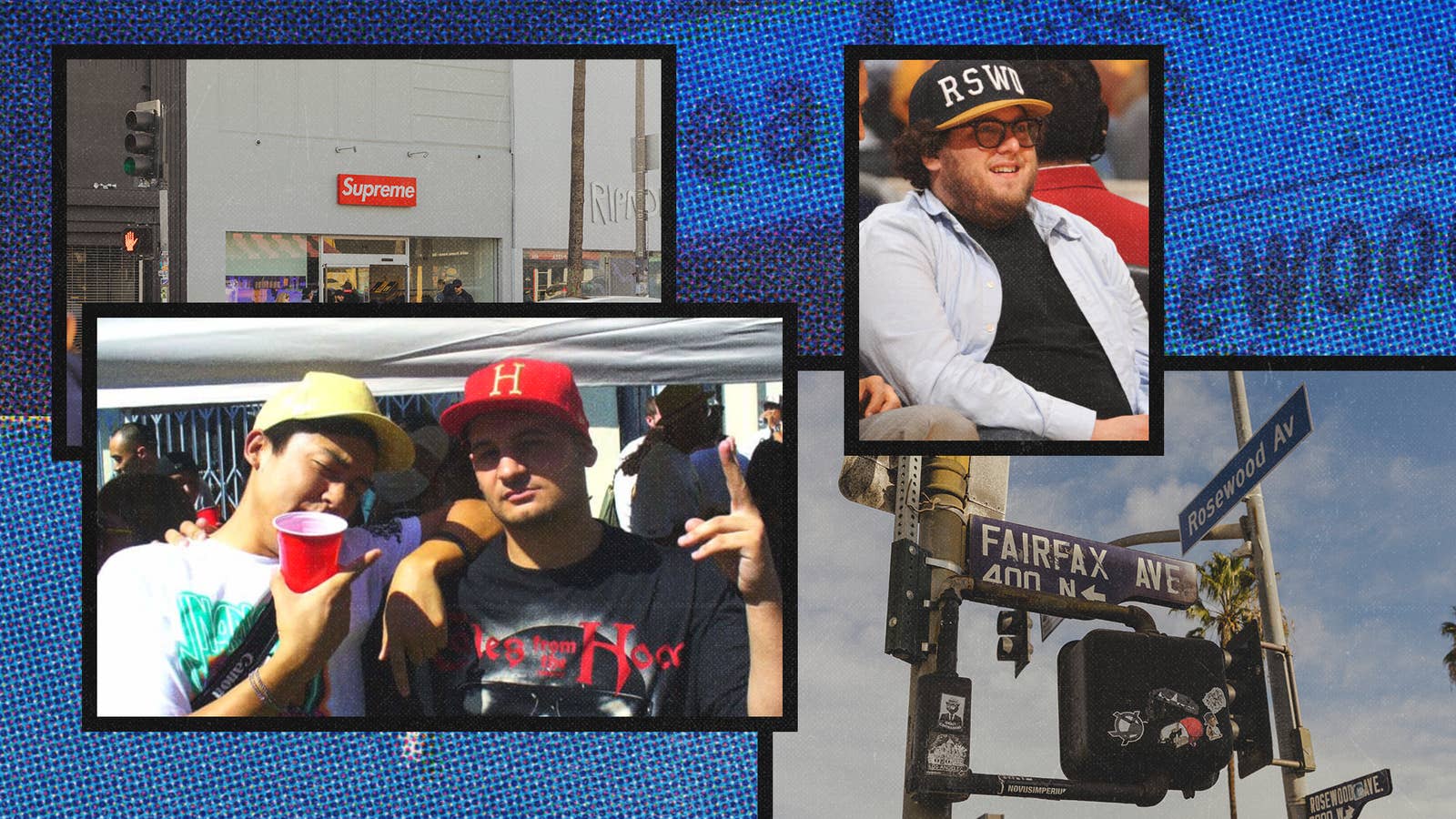 The year was 2004. Supreme, still an underground skate brand ("if you knew, you knew"), was looking to open a flagship on the West Coast. The store would be only its fifth retail outpost. James Jebbia and co. wound up on North Fairfax Avenue, part of a sleepy Los Angeles neighborhood known for the businesses that served its mostly Jewish community. The brick-and-mortar was unlike anything anyone in the area had seen. Inside the white building, which had Supreme's signature red box logo hanging above its doorway, was a full skate bowl that overlooked the front of the shop.
At the time, Melrose and then La Brea were the primary shopping destinations in L.A. But that was about to change. Supreme's move, coupled with the cheap rent, created a chain reaction: Soon, many of the most popular streetwear brands at the time planted their flags on Fairfax, between Rosewood and Oakwood, replacing the Jewish businesses. The Hundreds, HLZBLZ, Crooks & Castles, Diamond Supply Co., Huf, Hall of Fame, and Alife were all now in one spot.
By the late 2000s, Fairfax had become a destination for kids interested in skateboarding, hip-hop, or street culture. Celebrities, artists, designers, locals, and tourists all visited the neighborhood to shop or hang out. Special product releases and Black Friday blowout sales generated lineups that snaked down the block. Thousands of people flooded the street for block parties thrown by the brands. Music videos were shot on the strip. It was where anybody who was into skateboarding and streetwear wanted to be.
As the years went on, Fairfax exploded. Odd Future—the mainstream rap group made up of kids who hung out and worked at the streetwear and skate shops on Fairfax—introduced the area to a new audience. Seemingly overnight, retailers and businesses who weren't from the culture were opening brick-and-mortars on the block to capitalize on its heavy foot traffic.
Fairfax had grown into the mecca of streetwear, with only Harajuku in Tokyo and Lafayette Street in New York coming close. But today, it's viewed as more of an outdoor mall than a cultural hub. What's more, a few of the original streetwear shops, like Huf (they shut down their first store in 2011) and Crooks & Castles, have closed.
So what happened? This is the story of how a subculture transformed an unassuming Jewish neighborhood into the epicenter of streetwear, and then how that mecca became mainstream. This is also the story of the people who built Fairfax into a streetwear destination and the obstacles they faced, the chaotic lineups, the unforgettable celebrity sightings, and the lasting legacy of the block.
The Players
Bobby Hundreds: Co-founder, The Hundreds
Keith Hufnagel: Founder, HUF
Tyler, the Creator: Rapper
Dennis Calvero: Co-founder, Crooks & Castles
Na'ama Givoni: Founder, Reserve
Wiz Khalifa: Rapper
Ben Baller: Jewelry designer
Seth Rogen: Actor
Sal Barbier: Pro skater and founder, SLB
Alex Olson: Pro skater and founder, Bianca Chandôn and Call Me 917
Ricky Li: Founder, Tried & True; former general manager, Flight Club Los Angeles
Nick Diamond: Founder, Diamond Supply Co.
Lanie Alabanza-Barcena: Co-founder, HLZBLZ
Arsen Salatinjants: Founder, Hall of Fame
Rob Cristofaro: Founder, Alife
Jesse Villanueva: Former creative director/head of marketing and special projects, Alife
Jerry Lorenzo: Founder, Fear of God
Jacqueline Canter: Owner, Canter's Deli
Anwar Carrots: Founder, Carrots
Guillermo Andrade: Founder, 424
Na-Kel Smith: Pro skater and actor
Bam Barcena: Co-founder, HLZBLZ; creative director, Rokit
Dom Kennedy: Rapper
Brick Stowell: Documentarian
Melody Ehsani: Founder, Melody Ehsani
Angelo Baque: Founder, Awake; former brand director, Supreme
Curtis Buchanan: Photographer; former buyer and manager, Supreme L.A.
Dominick DeLuca: Founder, Brooklyn Projects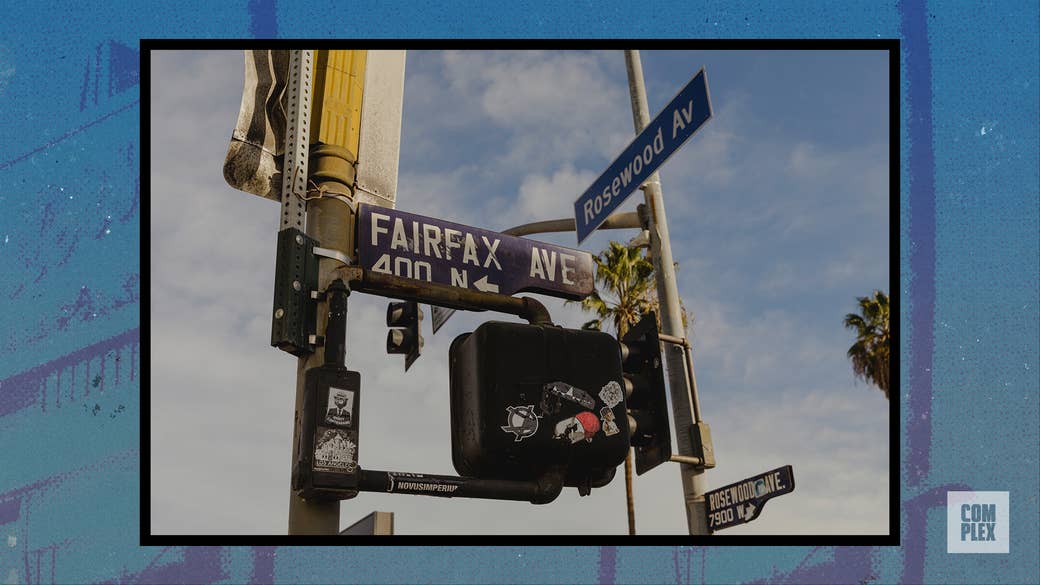 Fairfax, Pre-Streetwear
Bobby Hundreds (co-founder, The Hundreds): Fairfax has historically been this old Jewish district of L.A. Jewish bakeries, Jewish bookstores. You really only went there to eat at Canter's Deli, which is a landmark. Or you hung out at the Dime, which is a bar that played hip-hop 24/7 and was where everyone hung out. An Israeli eatery called Shula & Esther used to be around the corner. Eat A Pita was a really popular corner restaurant. But, other than that, Fairfax was just a street that you cut through to get to Melrose.
Keith Hufnagel (founder, Huf): It was a community built around these Jewish retail stores that supplied the community. But they were slowly going out of business.
Dominick DeLuca (founder, Brooklyn Projects): Melrose was always known as the shopping district where you could find cool shit. In the '80s it was known for its music, specifically punk rock and skateboarding. But it never had a distinctive thing as other neighborhoods and shopping areas did.
Bobby Hundreds: Melrose was really popping in the '80s and '90s. But by the early 2000s it had lost a lot of its luster. And L.A., in general, wasn't very cool. It wasn't necessarily a fashion hub. Our fashion that was coming out of here at the time was based around Paris Hilton and reality show stars. It was Von Dutch and all of Christian Audigier's labels. That was L.A. fashion. No one really looked to L.A. as a fashion destination. It was a little corny, a little cheesy, back then.
Dennis Calvero (co-founder, Crooks & Castles): Melrose was the main spot for shopping or for brands to open up shops, but La Brea slowly became that, too, because of Union and Stüssy. La Brea was the block. It was more modern, more independent. I felt like that was where streetwear was at the time.
Chris Gibbs (owner, Union Los Angeles): La Brea was the predecessor to Fairfax. At the time, L.A. didn't have a walking street—there was a store here, you drove to the next one—but La Brea was one of the few. We had a good thing going.
Na'ama Givoni (founder, Reserve): But, overall, it was changing. There wasn't a place to vibe out. Supreme on Fairfax brought that.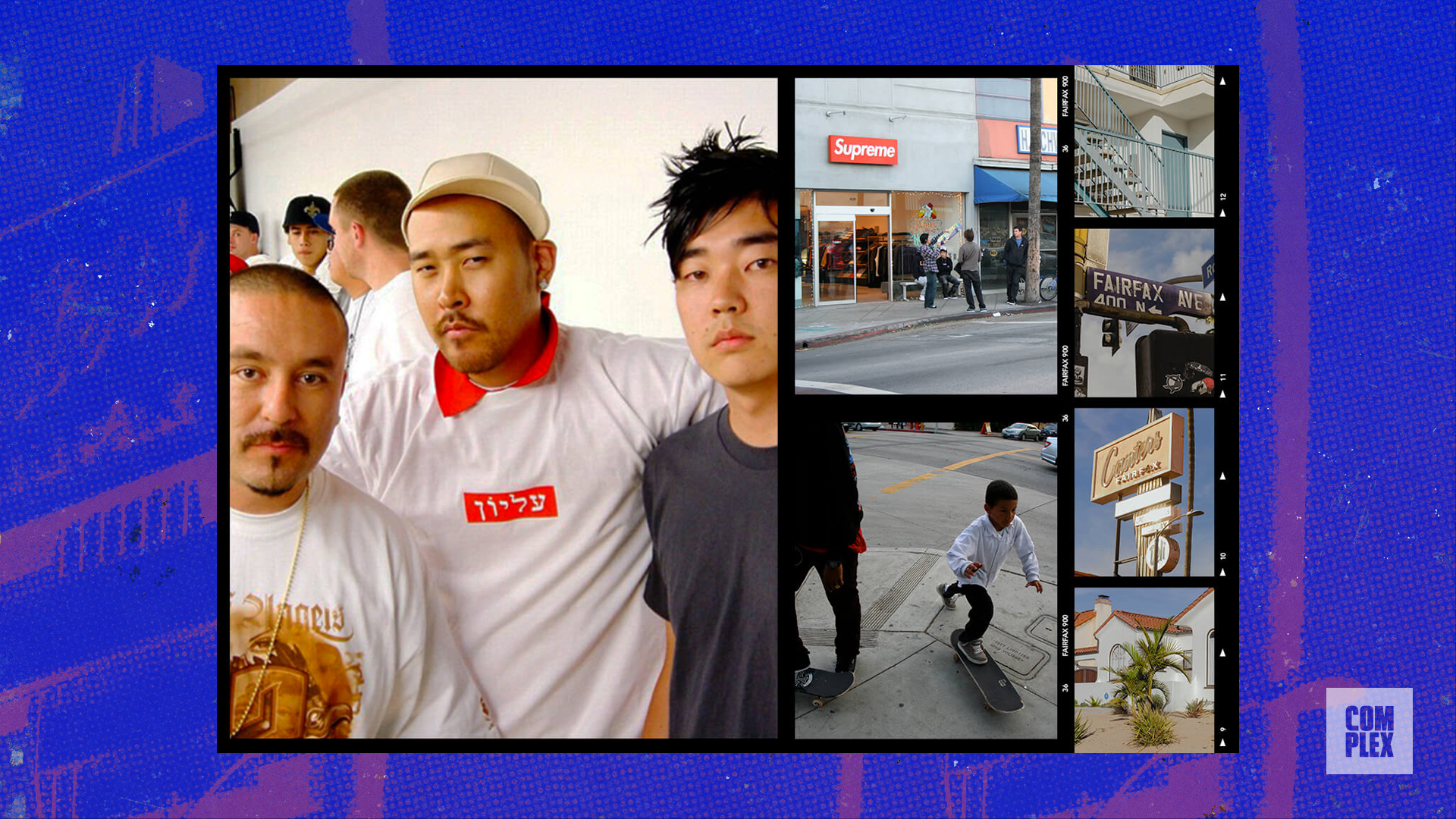 Supreme Opens L.A. Flagship Store
Chris Gibbs: Supreme is three words: skate, New York, '90s. Everything Supreme does runs through that filter. So James [Jebbia] wanted to try and mimic that here in L.A. I think they picked out Fairfax because back then Fairfax was all Jewish delis. If you think about New York, grimy, '90s, the closest thing to a New York vibe here in Hollywood would've been Fairfax district.
Curtis Buchanan (photographer; former buyer and manager, Supreme L.A.): Los Angeles seemed to be the skateboard capital. The time felt right, and we wanted to offer something that wasn't currently available but without stepping on other local skate shops' toes. [via The Skateboard Mag]
Ben Baller (jewelry designer): Around '03, Eddie Cruz was like, "We're about to open Supreme in L.A." No one ever expected that, but Eddie has always been good at dictating stuff. When they did the launch party, I went with my boy Mister Cartoon. I remember we pulled up, and they gave us the box logo tee. At the time—honestly, I'll be real with you—nobody knew the box logo tee was going to be what it is now. He gave me a box logo tee and it had, in Hebrew, "Supreme" [on it]. I asked Eddie what this was all about. He was basically like, "We want to show our respect to this block."
Dominick DeLuca: I remember finding out through a friend of mine who did real estate that Supreme was going to open up on Fairfax. It didn't make any sense at the time because Fairfax was all old-school, mom-and-pop Jewish stores that have been there since the '50s. But I went by and saw the spot they were taking, which was this newer building that got renovated. They were moving in next year or something. As soon as I saw that, I said, "This is going to change the landscape forever. Once they open up, everyone is going to follow and eat off of them."
Sal Barbier (pro skater; founder, SLB): I thought the store was cool because there was a bowl in it. There weren't too many places like that, where you could actually skate, especially around the Hollywood area. I've been there and skated with Scott Oster, Steve Olson, Scott Caan, and a couple other people. It was a good place to meet up.
Alex Olson (pro skater; founder, Bianca Chandon, Call Me 917): I met a lot of pro skaters there, and that's actually how I got sponsored and started skating for Girl Skateboards. I met a lot of those guys—like Sal [Barbier] and Scott Johnston—through Supreme.
Tyler, the Creator (rapper): We would always skate around the area it's at [in L.A.]. That was the only store in the area at the time that sold skateboards, so we'd go in there and buy boards, and I just gradually became friends with the guys who were working there. They would always just look out for us—me and my friends—when we were over there and out and about. They were like our big brothers over there and shit. [via GQ]
Dominick DeLuca: But Supreme wasn't what it is now yet. If you knew, you knew, but it wasn't nearly as popular as it is today. I remember going in on a Saturday the first or second weekend they opened and there was nobody in there. Two o'clock in the afternoon, and there was one person shopping, or people coming from Canter's Deli. And it was people in their late 20s or early 30s shopping.
Seth Rogen (Actor): I lived on Fairfax from 2002 to 2007. I wound up there because it was the cheapest part of L.A. and it was where I could afford to live. Supreme was the first to open. It was super fucking weird. I'm from Vancouver, and I grew up skateboarding throughout most of elementary and high school. So I was somewhat familiar with what I thought were skate shops. But I remember Supreme was building this crazy fucking thing in the store, and at first I couldn't tell what it was. Eventually I pieced it together that it was a [skate] ramp. It was weird, though, because I went into the shop and it was so different from anything I had ever experienced.
Na'ama Givoni: I think we were all surprised Supreme opened on Fairfax, but it was also close enough to Undefeated, Stüssy, and Union. And La Brea's rent was crazy. To do what Supreme wanted to do would have been such an insane investment. So I understand how a street like Fairfax made sense.
Chris Gibbs: They established that block. Then all the streetwear brands started to follow their lead.
"[Supreme] established that block. Then all the streetwear brands started to follow their lead." - Chris Gibbs
Fairfax Becomes a Destination
Na'ama Givoni: Supreme opened up maybe six months prior to when I actually signed my lease to open Reserve in 2005. Fairfax was still really affordable then. It was so quiet, too. I didn't have any expectations that Supreme was going to bring me customers, but I understood that Supreme was an anchor that people would come for. I really wanted to have a store, and I liked Fairfax. So, for me, it was just kind of like, "OK, well, Supreme is here. What do I love enough that's in alignment with a Supreme state of mind?" And I was like, "OK, books I can definitely do." Plus my peers and the people that were influential for me at the time were primarily all directors, and they were really deep into having something visual to be able to pull from. But it was still dead on the streets. It was totally different. I can think of so many days where it was empty on the streets, and the boys from Supreme would come and hang out in my store.
Bobby Hundreds: When we moved in, the only players here at the time were Supreme and Reserve, which was a bookstore our friend Na'ama Givoni ran that eventually became the Freshjive flagship. There were a couple of vintage thrift shops and a hair salon named Goo on the corner of Rosewood that's still popular, but there was nothing like streetwear, nothing street-oriented around here.
One day, Ben [Shenassafar] happened to take a wrong turn and saw this huge office building that was completely empty and was for lease. Two years before that, that building had burned down. The owners rebuilt the building and needed to lease all of the spaces, so everything was cheap. Ben said, "Hey, this is a perfect spot for us. It's in the cut." Fairfax is pretty central to the city. We're near Melrose and Brooklyn Projects, which was almost like a home base for us. We felt like this could be where the future for L.A. was. We ended up moving in, and it turned into our clubhouse. Ben and I would work there, but in the afternoon people would just start hanging out there. And then I would blog about it. We'd be playing music, smoking, drinking. We would just hang out there all day and all night.
Dominick DeLuca: Soon after that, Sal Barbier opened SLB, which was, like, a men's lifestyle store.
Bobby Hundreds: Ben and I were working, and we saw Sal Barbier walk by one day. I was like, "Oh, my God! I think that was Sal Barbier." He was one of my favorite skateboarders. So we ran outside, and he told us he was opening a store on the corner. SLB was a lot of workwear, zigzag shoes, skateboards that were custom cut. He was really ahead of his time.
Sal Barbier: Back then, I sold brands that weren't involved in skating yet. Dickies. Levi's. I was introducing rigid denim to all the consumers that came in. I also brought in Thrasher tees. They weren't very popular then. I was the guy that brought in SE bikes before anyone knew what SE bikes were. I was the guy that brought in Zig Zag wino shoes. I sold what I liked.
Bobby Hundreds: We were stoked that Sal was our neighbor and there was more retail on the street. After SLB moved in, Flight Club moved in.
Ricky Li (founder, Tried and True; former general manager, Flight Club Los Angeles): The morning we opened, there was a line outside before we were even ready. So we were scrambling. One of my friends from New York who was out here with us was like, "Let's start teasing these guys." So we started throwing stickers from under the gate and you saw all these kids running, tryna snatch it all up. Kids were jumping on 'em. We were like, "Wow, there's a presence out here. We're wanted."
Na'ama Givoni: I remember one of the first times Japanese tour buses came by Fairfax, they would come to see Supreme, Flight Club. I was like, "Oh, [Fairfax] is a thing now."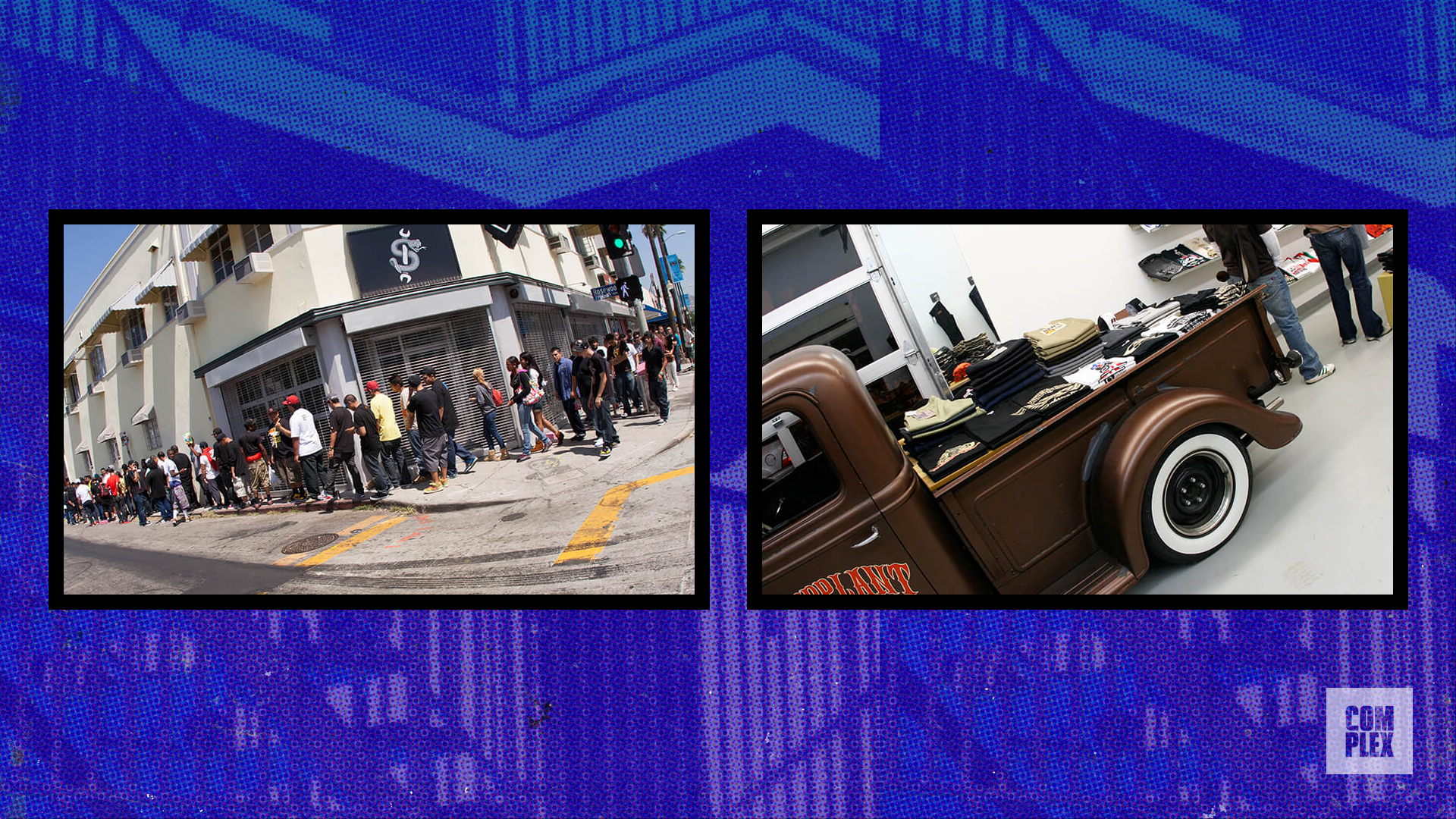 Nick Diamond (founder, Diamond Supply Co.): I was going to open a hat store on Fairfax because my friends at Fitted had a hat store in Hawaii. That's originally why I got the space. I didn't think a Diamond store would work because we didn't make that many products. We made T-shirts, hats, some sweatshirts, and skate hard goods. But my other friends from Hall of Fame told me they were opening a hat store on Fairfax, so I was like, "Oh, we're going to have two hat stores on the same block? That's kind of weird." I was trying to figure out what to do with the space. Rent was so cheap that eventually I was like, "I might as well open a Diamond store." I didn't know how well it was gonna do because we were selling stuff online only, but I had a big following on Hypebeast forums.
When I first opened the Diamond store, I was worried if anyone would shop there. But I had confidence in it because Supreme was one of the first stores to sell Diamond when I started. They sold it for eight years in New York and L.A., and they told me how kids would come in specifically for Diamond and they always sold out of stuff. We also sold Diamond around the corner at Brooklyn Projects on Melrose, and it did well there. When we opened the store, I stopped selling to Brooklyn Projects and Supreme. On opening day, to my surprise, there were hundreds of kids waiting down the block. I was like, "Holy shit. What's going on?" I was amazed that kids lined up for our stuff. People came from all over—Arizona, Colorado…
Bobby Hundreds: The Hundreds started getting pretty popular. Then we made an all-over-print sweatshirt called the Paisley hoodie, and it sold out in hours. We made $100,000 in a day, which was crazy at the time. But we didn't want to just pocket that money or go out and buy a dumb car. [Ben and I] were like, "Let's throw it back into the business." So one day, we were standing in front of our office, and we were like, "Hey, we have the means to build a store now. Let's do it right here, in the space where we are every day." We spent the entire $100,000 and some change and built a store.
Once we decided to overhaul the space and turn it into a shop, we moved our office upstairs. Right above the store, there are office spaces that line the building. During that time, a bunch of other brands and designers started to take up shop upstairs. That would be Lanie and Bam [Barcena] from HLZBLZ, the Crooks & Castles guys, Diamond. Dom Kennedy even had a studio.
Lanie Alabanza-Barcena (Co-founder, HLZ BLZ): It was mid-to-late 2007 when we moved from New York to Fairfax, and we moved because Dennis [Calvero] from Crooks & Castles and Bobby [Hundreds] opened their offices there. We lived in L.A. prior to living in New York, but we didn't know the new scene. So when we moved out here, we looked to D. We saw the space he had, which was so tiny, but to us we were like, "Oh, shit! He has an office space. This is so sick." No matter how small it was, it was dope because you could see there was a movement growing on Fairfax.
Dennis Calvero: It was a streetwear dorm. We'd all work late and get fucked up.
Chris Gibbs: Within five years of Supreme opening up, every streetwear brand wanted to be there. Alife was there, Hall of Fame, Diamond Supply, The Hundreds, Huf.
Arsen Salatinjants (founder, Hall of Fame): One of our early partners was going to be Nick Diamond. But Nick decided he wanted to do it without us. Him and Stevie [Williams] decided they were going to make a hat shop. We were like, "OK, we'll do our own thing." They never followed through with it, and Nick ended up opening a Diamond store instead. But we got our lease and opened during the recession. We were like, "Fuck the recession. We're going to do this anyway." We were young, and we just knew we were in the mix.
Rob Cristofaro (founder, Alife): The original concept for our store was based off of this exhibition we did with Deitch Projects, a gallery in New York. We wanted to do something out of the ordinary, not just a regular store.
Jesse Villanueva (former creative director/head of marketing and special projects, Alife): We set up the Alife store like a liquor store. Everything was behind glass, and hanging next to it, on the wall, was a price tag.
Lanie Alabanza-Barcena: It was something different. I remember seeing it and being like, "Oh, shit. New York is coming over and taking over the block."
Dennis Calvero: When Hall of Fame, Diamond, Known Gallery, and a handful of stores opened up here, I immediately knew this was a one-stop shop for someone who was into streetwear.
Dominick DeLuca: For years, Brooklyn House and Brooklyn Projects were the hubs for all of these brands. Ninety percent of them started in my shop. And then Fairfax happened, and two years later all of these brands were opening flagship stores. That cut my business by 75 percent.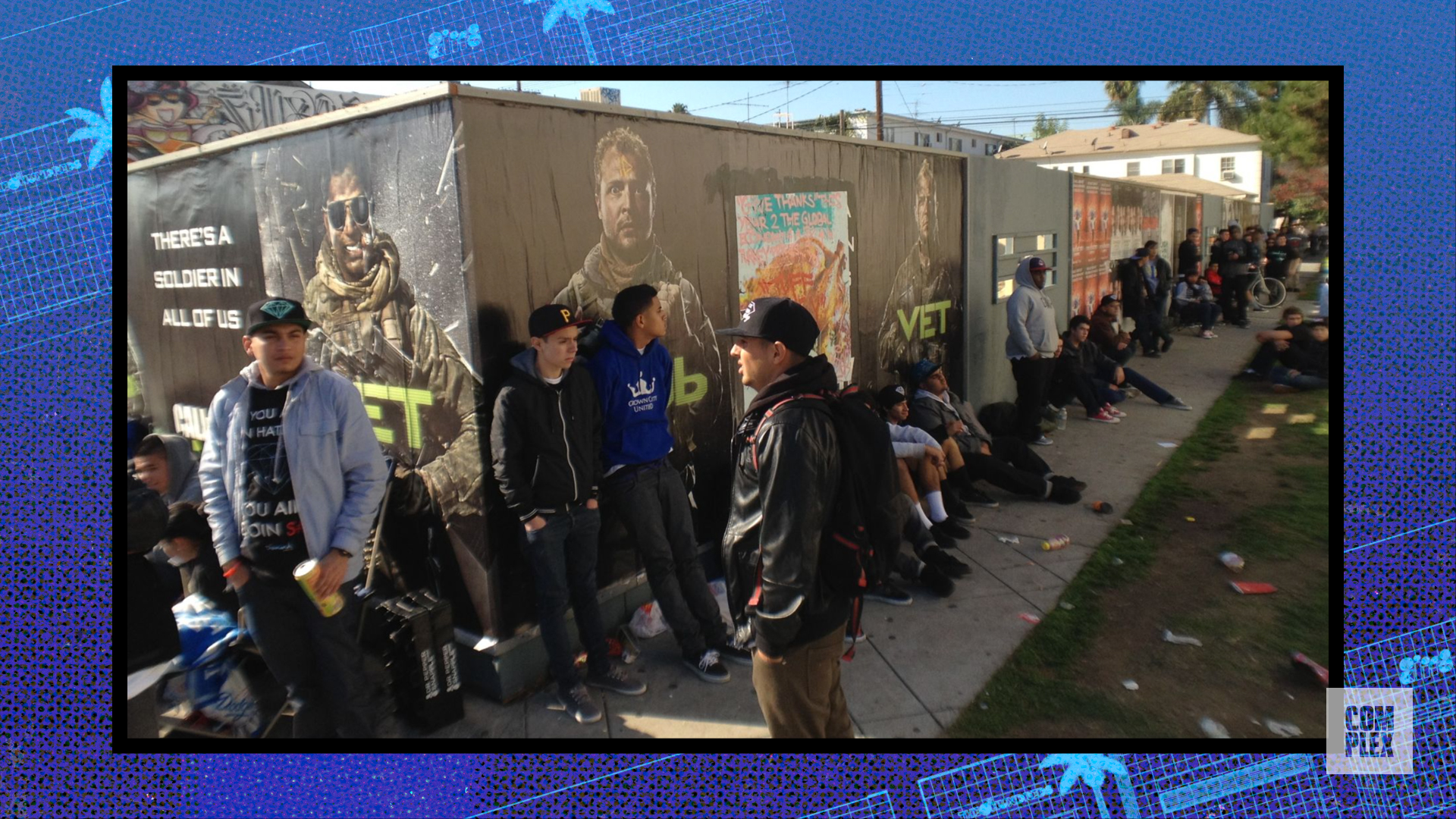 Seth Rogen: The neighborhood completely transformed in a matter of three or four years. It was really strange, honestly. It was totally unlike anything I had ever seen.
Brick Stowell (documentarian): It was the streetwear hall of fame. That's where everybody wanted to kick it.
Dominick DeLuca: Fairfax blew up. Everybody wanted to move in there. These landlords, right after Supreme opened up, were getting $1.50 per square foot. Three years later, they were getting $8 to $10 a square foot. It was ridiculous. Eventually the community raised a backlash because this quiet, lazy neighborhood of older Jewish people became this mecca—there was traffic, lineups. Kids were hanging out, making messes.
Bobby Hundreds: All of a sudden, you had young kids of color moving onto the block and being loud, smoking a lot of weed out front, and just having fun building the next generation. Any time that happens, there's going to be a little bit of friction between generations. I don't think it was an age thing as much as it was cultural or maybe even racial. They just weren't used to this type of community being around them at all times.
Bam Barcena (co-founder, HLZBLZ; creative director, Rokit): But it was funny—when you'd walk into Canter's [Deli], the people working there would be wearing Supreme.
Ricky Li: There was a lot of curiosity. A lot of these older people didn't understand it. Like, why is everybody lining up for a pair of $300 Jordans? There was a lot of teaching and explaining that it's a subculture. We had a neighbor from the market next door that would come in and be like, "Why are you guys different from everybody else?" I remember explaining to him that it's like collecting baseball cards. You can buy a pack of baseball cards for 50 cents and, depending on what players you have, it could eventually be worth millions.
Lanie Alabanza-Barcena: They didn't understand that our community or lifestyle could generate business for them yet. It was more like, "Who the fuck are these kids taking over the block?"
Bobby Hundreds: We felt the [backlash] most when we would try to throw our block parties. Ben and I used to throw a block party here every Labor Day. We would shut down Rosewood, break out a BBQ, and grill. We did that to bring the neighborhood together because even though we were all competitors we understood that streetwear, as a market, was still very small. We were all the underdogs. So instead of working against each other, on this one day we could all come together and show we supported each other.
Dominick DeLuca: It felt like a block party in Brooklyn on Fourth of July in the '70s, '80s, and '90s. The whole block would be out barbecuing, doing fireworks, talking, whatever. There was no puffing out your chest, no attitude. It was a mishmosh of would-be rappers, skaters, and streetwear guys. It was a community.
Jerry Lorenzo (founder, Fear of God): I remember going to those parties. Once those things were happening, I knew the block was becoming a bigger, a more real, and tangible thing. I remember just watching it and thinking, "Wow, this thing is bigger than us." We were really at the center of something.
Bobby Hundreds: But almost every single one of our block parties got shut down by Canter's Deli or by the people in the neighborhood. They thought we were impeding business, but, really, what it was was we were bringing a new element and flavor into the neighborhood that they just weren't ready to embrace yet.
Jacqueline Canter (owner, Canter's Deli): It was a disruption to our business because they closed five or six blocks. [The parties] would go until 9 o'clock at night. Customers couldn't get to us, so it was an annoyance.
Lanie Alabanza-Barcena: But the longer we stayed, the more we worked with the community and donated our service and time to local businesses, they started to see the traffic helped their businesses.
Jacqueline Canter: It didn't affect us as much, but I felt bad for the mom-and-pop shops that went out of business. But the truth is, after these kids go and buy a skateboard, they would end up here for lunch.
Bobby Hundreds: People came from all over the world to check out [Fairfax]. In the beginning, there would maybe four or five people in line. If there was a big collaboration, there would be a line down the street, but not around the corner. But then we started getting lines that wrapped around the block and lasted for a mile.
Nick Diamond: The lines you see at Supreme now were at Diamond and The Hundreds.
Sal Barbier: During Christmas was probably the coolest time around [Fairfax] for those guys. They took everything that was old and put it on sale—a big Black Friday sale—and that's when people would get the crazy lines.
Nick Diamond: Our Black Fridays would be completely insane. I remember the first time The Hundreds did one, it seemed like there were thousands of kids there. The line would wrap around the corner, down the block, and it'd be as wide as the sidewalk. It could've been bigger than any Supreme line I've ever seen to this day. We've had some crazy ones, too, because at the time you could never buy Diamond on sale. We wouldn't even let any of our retailers put our stuff on sale, so it was a chance for people to get stuff for 50 percent off.
Anwar Carrots (founder, Carrots): I was in line at Supreme's first holiday sale in 2008. It was me, my boy Josh, my boy Carl. Tyler [the Creator] was, like, three people behind us with Left Brain. We were the first few people in line. We waited in line from 6:30 in the evening until 11 the next morning, [when] they opened up. We had bean bags and chairs set up. That was the only campout I ever did 'cause I wasn't gonna miss a sale.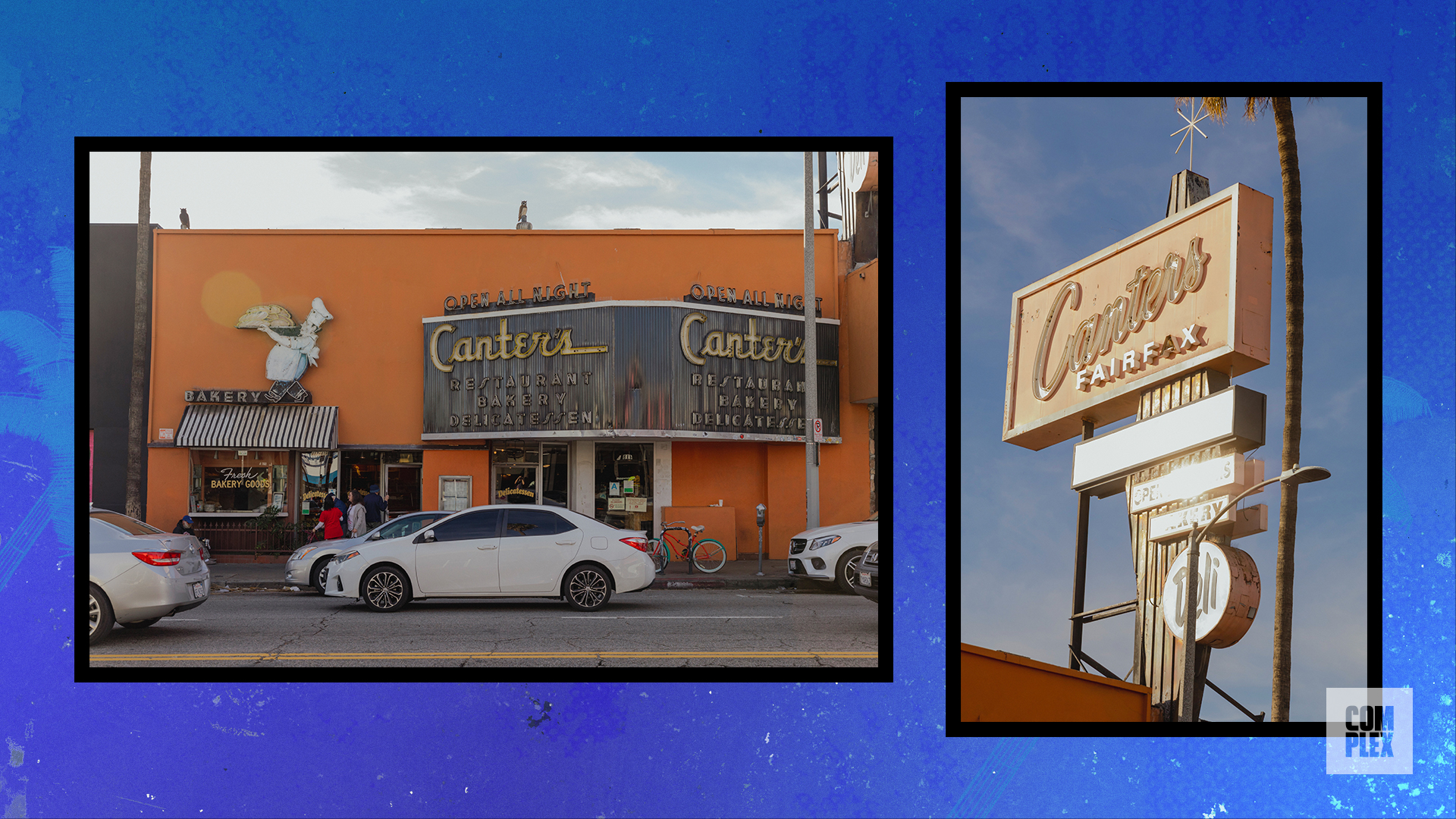 The Hangout
Na'ama Givoni: In the span of a few years, the foundation of what Fairfax was going to be was being created. It became a spot where you could see people from all over, and I don't think L.A. had that for young people at the time. You felt connected to the area and started seeing people like you, who are also connected to that area.
Guillermo Andrade (founder, 424): Kids started hanging outside of stores. That was, like, a sign that your business was doing well.
Anwar Carrots: For a majority of the kids kicking it on Fairfax—my friends and shit—that was an escape for us. It wasn't just us coming here to hang out. It was the shit we liked, and it was where we wanted to escape our situation. We were getting out of South Central and finding a better space.
Keith Hufnagel: Everyone used to hang out at the store—all the Odd Future kids would hang out. Alex Olson and that whole crew would just be hanging out. They're all cool dudes, but I remember being in the back of the shop and being like, "Who is that loud kid?" And it was Tyler or one of those dudes.
Anwar Carrots: The store owners never told us to go away. The guys who owned shit there were actually bosses and mentors.
Na'ama Givoni: I had a really awesome group of dudes who would come into my store, like Lucien Clarke and Dillon Francis. If you had a bench outside of your store, it was going to get sat on all day.
Na-Kel Smith (pro skater; actor): The first time I went to [Fairfax] was in the summer between sixth and seventh grade. I went up there because the only skate shop that I knew, which was called 118, had closed down, and I needed to get some skate stuff. So I went to Supreme with my parents, and we seen [pro skater] Javier Nunez. They knew him because of my uncle [skate legend Kareem Campbell]. I didn't really know where I was at the time. I didn't really know what Fairfax, Melrose was. But I had a couple of friends that were into Nike SBs and streetwear. They were always talking about, "Yo, you wanna go to the skate shop right here, and we can go to Fairfax after school?"
Bobby Hundreds: The street and the neighborhood became a hub for like-minded kids and celebrities—mainly rappers. There were a lot of hip-hop artists because of the nature of the clothing. We were selling streetwear, so they appreciated it more. And almost every single brand had a celebrity that was either attached to it or attracted to it.
Wiz Khalifa (rapper): My first time in L.A. I was fresh out of high school. I was signed to Warner Bros. at the time, and I told my A&R—I said, "Take me to Melrose. I wanna see Melrose." So we went down Melrose, and then, when we got to Fairfax, I was like, "Well, that street looks cool. I wanna go down there." So we was walking down Fairfax, and I started to see all of the brands that, at that time, I wasn't even really able to purchase off of my rap checks or school money or by selling weed. Those hoodies were $80. That was a lot back then. So I was like, "All right. I'll get one." The first hoodie that I bought off of Fairfax was from The Hundreds. I went back home [to Pittsburgh], and it was, like, a prized possession. Nobody could believe or even understand how I got it. After that, The Hundreds started sending me clothes. I remember Diamond started sending me boxes and boxes of clothes.
[Years later], I did an in-store [event] at the Diamond store, and it was crazy 'cause Tyler, the Creator was actually one of the kids in line to come see me. Frank Ocean was there. Me not being from L.A., I didn't even know those guys back then. It actually took time for me to go back and see that picture and be like, "Wow, that was Tyler and Frank."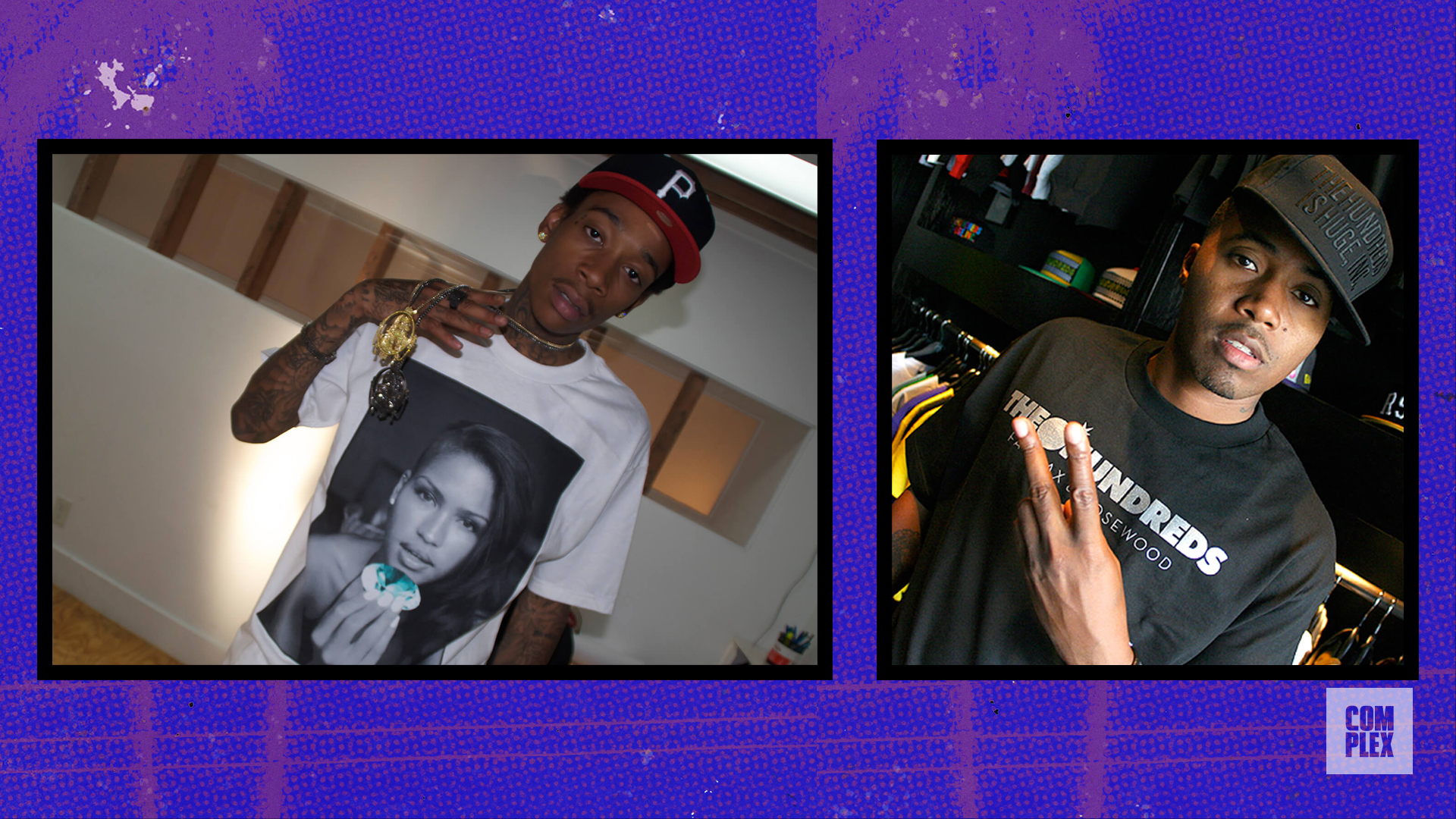 Na'ama Givoni: I remember when Morrissey came [to Fairfax]. All of the Supreme boys were like, "Can you write your name on my arm?" Then they got it tattooed.
Wiz Khalifa: I was down there shooting a pilot for this TV show I was recording, and I was just walking down the street and fucking Justin Bieber almost hit me with his G-Wagon.
Bam Barcena: Dom Kennedy came into our office. That was when he was just about to blow up. It was cool to see these kids learning about this whole street culture.
Dom Kennedy (rapper): I was always interested in fashion. My uncle used to put me up on a lot of the clothes when I was younger, and one of his favorites was Stüssy. I would go to Fairfax just as a fan seeking to be different through fashion.
Bobby Hundreds: There were a lot of working actors that lived in this neighborhood. The building nearest our store was Seth Rogen's old apartment. We used to hang out here, sit on the curb, read magazines, and we'd see Seth riding his bicycle up and down, going to Eat A Pita. We were always blocking his parking space.
Seth Rogen: I remember that. One-hundred percent. I'm not that easily intimidated, but at times there were a lot of skateboarders and shit that would hang out right behind where my garage was. That street is insanely fucking narrow, so they would be on the street, in front of the shop.
Bobby Hundreds: Seth eventually did Knocked Up, and he moved out. Jonah [Hill] moved into that same spot after. That kind of became this breeding ground for L.A.'s next comedic talent. I remember the day Jonah came over and was hanging out on our bench. He was like, "The trailer for the new movie I worked on is out." We were like, "Oh, we didn't even know you were an actor." The film was Superbad. We sat around the computer, watched it, and we were like, "Wow, dude. You're pretty funny." I saw him a year later, and he barely recognized me.
Lanie Alabanza-Barcena: On any given day, you'd see someone cool on the block.
Na'ama Givoni: Kanye opened his offices down there.
Bobby Hundreds: Kid Cudi was always in the shop. One time he came by and paid for everyone's clothes. He spent thousands of dollars. Kids were stoked. Mos Def was around all the time, too. Erykah Badu. Nas also used to come around a lot with Kelis. One time, one of the guys in the shop was playing a bootleg, downloaded version of Jay-Z's Kingdom Come days before it came out. Nas hadn't heard it yet. The music was blaring and it was really obvious there was an elephant in the room. Nas looked up and asked us if this was the new Jay. We were like, "Yeah, this is it. We're really sorry. We're listening to a downloaded version." He was like, "Nah, it's all good. Let me just listen to this for a bit." I was like, "Have you heard it yet?" He was like, "Nah." He just stood in the middle of the store and didn't move. He obviously didn't listen to the entire album, but he sat there for a few songs. At the end, he picked up his bag and I asked him what he thought. He was just like, "Eh, not bad." Then he kind of gave a smirk.
Arsen Salatinjants: I've seen just about everybody here. I remember Tyga coming here when he was 16, being like, "I'm a rapper." He did some photoshoot here. I looked at the photo years ago, and it was him, Schoolboy Q, and some other guys. There've been so many different artists just hanging out. Puffy, everybody.
Bobby Hundreds: Rihanna and Chris Brown used to come in all the time, too. Chris still does. The day before or the day of the Grammys, when they got into a fight, they both came into the store together, fully lovey-dovey and shopping for clothes. We took photos with them. I want to say they pulled up in a Lambo or whatever. And then the incident happened. We were like, "Whoa, we kind of have the last photos of them as this innocent couple in our store, which is a weird trip." I saw her years later, and I was like, "Hey, I don't know if you remember me from The Hundreds." She was like, "Oh, yeah. I remember your store. I remember your brand. I remember going to your store all the time." It was like she just had—I don't know if they were bad memories of the store or what.  
Lanie Alabanza-Barcena: Fairfax became the mecca of streetwear. People traveled from all over to visit and see what it was all about.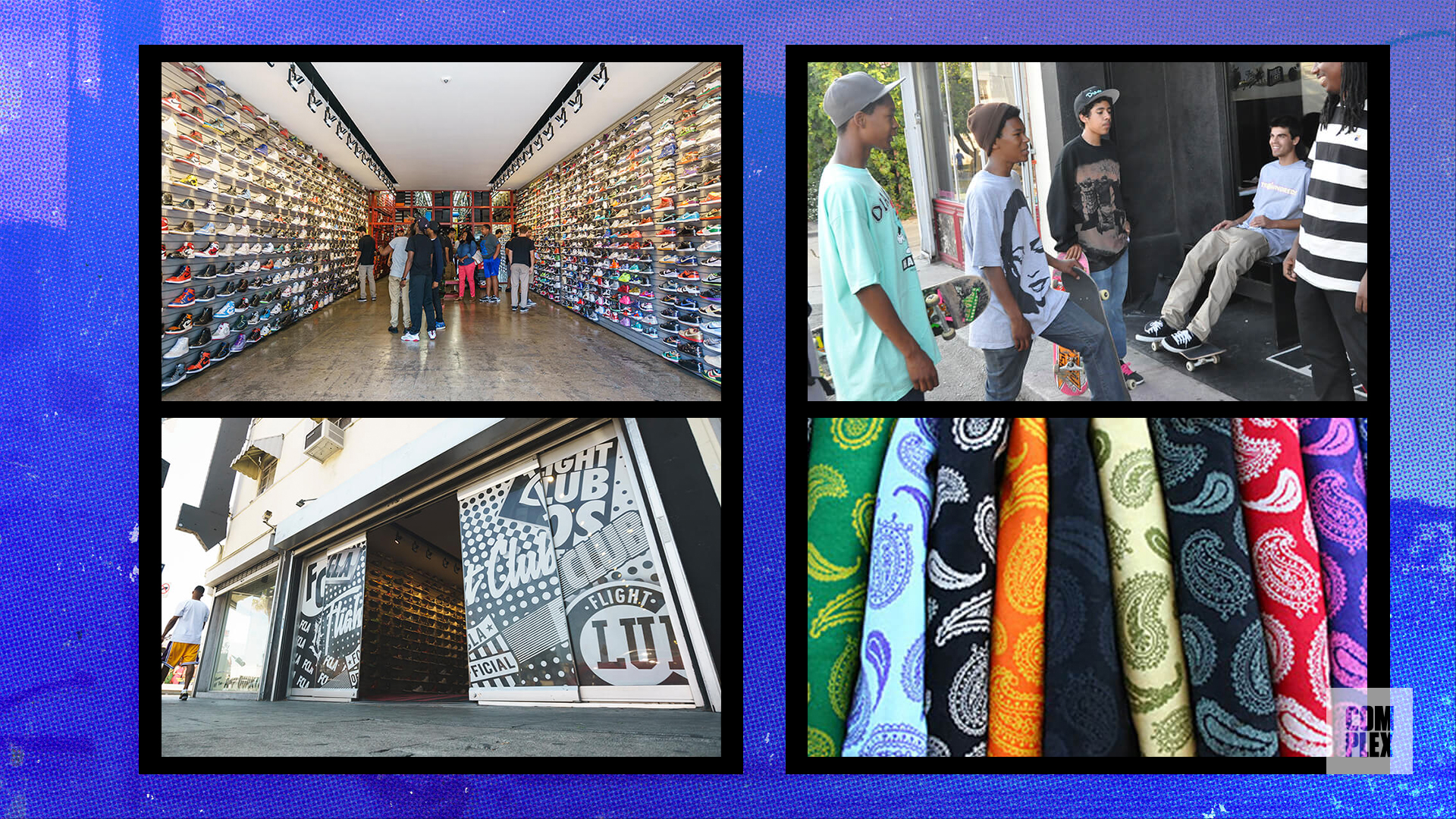 Recession Hits
Bam Barcena: [Fairfax] was no longer a local L.A. thing. It was starting to get global. It started to get saturated. It was the first time that indie brands were being looked at like they were the next wave. That was the beginning of Fairfax becoming commercialized. At that point, you really felt it changing. We were growing off this block. There was a moment when people thought Fairfax was gonna be done because people started moving off the block. Everyone wanted to be more lavish and get away from Fairfax and be on Melrose. Bape and Crooks & Castles opened up there.
Lanie Alabanza-Barcena: We left Fairfax and moved downtown for two reasons—we wanted to be close to our house, and we needed to expand our space because our office was super tiny. And we wanted a new energy.
Bam Barcena: All of a sudden, it wasn't just about creating products and a culture and community. It was strictly about paper. Like, "Whoa, he's selling to Zumiez and PacSun. We gotta sell there, too." It was a domino effect on Fairfax.
Lanie Alabanza-Barcena: It was like the Gold Rush.
Keith Hufnagel: It got really stale. It was really slow because of the economy and recession. We were feeling it in our own space. So we got rid of the store and handed it over to someone who eventually handed it over to the Golf Wang dudes.
Bobby Hundreds: From my vantage point, streetwear was insulated from the recession. We didn't feel it. And if we did feel it, we didn't feel it until, like, 2011 or 2012. And I don't think that had as much to do with the recession as much as it had to do with other market forces. But we didn't feel it. Maybe because we weren't big enough yet, you know? We were all so small that we were just very happy to make $100,000 from a release. Fairfax, The Hundreds, and all these other brands were only getting crazier and crazier. Like, Diamond was just starting to really pop around 2010.
Nick Diamond: That's when we blew up. Diamond became more popular during the recession. That's when we had crazy lines and all the retailers started buying more of our product. Me and the guys from Crooks & Castles would go out to clubs, get tables, and pop bottles. We were always into cars but now we could afford a nice car. Me, Rob [Panlilio], and Dennis were buying Ferraris, Rolls-Royces, and all kinds of shit. It was fun. It was the first time we were really seeing success. We were just being young, getting money.
Ben Baller: Right before Nick [Diamond] opened the bigger store on the block, Rick Ross visited Dom Kennedy and Nick. Nick did a Maybach [Music Group] collaboration. At that moment, rappers began to fuck with Diamond heavily. I was a big part of that. Brock [Korsan] was a big part of that. It got insane. We started doing parties at the shop. We had celebrities come through. We repped the Diamond life heavy.  It got to the point where streetwear money saw something they never saw before. Like, the Ferrari. Nick Diamond bought me a Ferrari. He bought me a Ferrari and the pink slip was in the glove box. I got a $275,000 car. I was like, "Are you serious?" He was like, "You don't understand. We're murdering the game right now." I don't think we ever, ever, went to a club and not dropped $40,000 on bottles. At a certain point Nick went so insane that clubs were like, "We need Nick Diamond at our club."
Dennis Calvero: [Crooks & Castles] was starting to hit our stride. We were really profitable. The partying and bottle-service scene became very popular around that time, and that's the way we chose to celebrate. It wasn't even just in L.A. At one point, Crooks was known mostly for throwing really good parties. When we'd go to trade shows in Las Vegas, people would just come to our booths to find out where we were having a party or to get guest passes and get on the list.
"Nick Diamond bought me a Ferrari. I got a $275,000 car. I was like, 'Are you serious?' He was like, 'You don't understand. We're murdering it right now.'" - Ben Baller
Bobby Hundreds: To me, the block was just always steadily growing. Every year, there would be a cool new store that would open up.
Guillermo Andrade: When we decided to open a shop, we looked at different places. I thought about the fancier places in L.A., like Melrose, but none of them really had the right energy. Then, when we saw this space, it was like we were home. It had this energy on the street. That's why I decided to name the place after the address, you know? We wanted to pay respect to the neighborhood.
Jerry Lorenzo: Guillermo was probably one of the first stores on the block that really saw fashion the way that I did. He saw our street culture in a more luxury lens. So it was the perfect place to launch Fear of God. I remember taking my collection to Guillermo in garment bags, walking it over from my office up the block like, "Yo, man, I want to do this in-store here, and I think you would be into these pieces. I'm starting this new brand." He was like, "Let's rock. Let's do this. This is ill."
Anwar Carrots: I was at 424 the day Kid Cudi came in and spent, like, $7,500. He bought the Margiela Thriller jacket. He bought the Pharrell Moncler bubble jacket. He bought a Bape Shark hoodie. There was a Kanye Pastelle sample T-shirt. He bought that early, before people were talking about Pastelle shit. Soulja Boy also came in and spent a lot of money.
Ricky Li: Not until the end of 2010 or 2011 did all the businesses start to take off. You had more brands moving onto the block, and it just started to change. Once that happened, it spread like wildfire.
Bobby Hundreds: And then Odd Future happened, and [Fairfax] just got turned up to 10.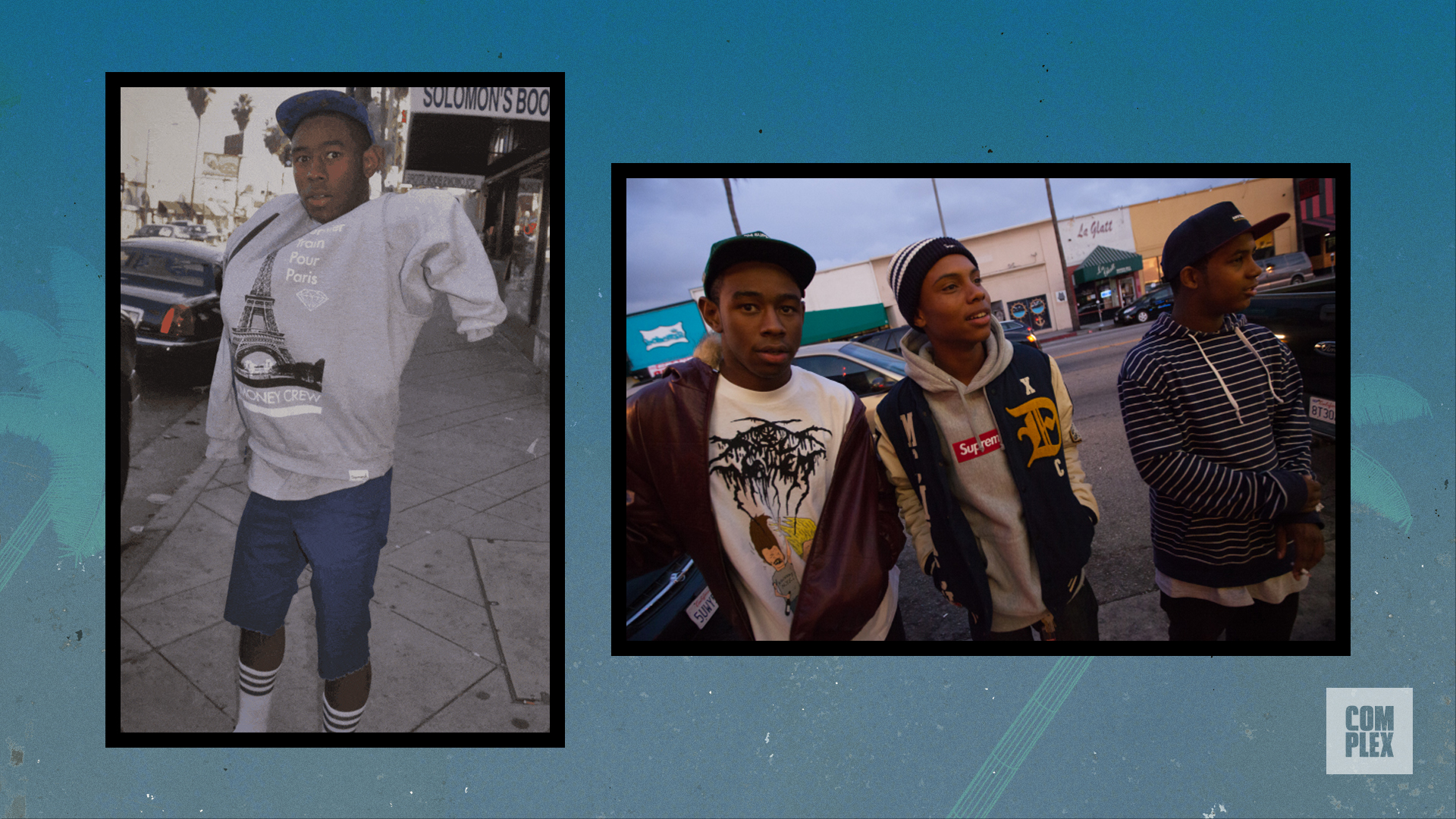 The Rise of Odd Future
In 2011, Tyler, the Creator released "Yonkers," the song that catapulted him to mainstream success. Many say that was the day Fairfax changed.
Nick Diamond: Tyler used to help us pack boxes. I didn't even know he rapped. I just knew he and his homies would hang around the store. It's funny, 'cause one day someone that worked at the store was like, "Tyler got a write-up in this magazine about how they're the new up-and-coming group." I was like, "What do you mean? What group?" He was like, "They're in this group called Odd Future." I had no fucking idea. From there, it was crazy. They just started to blow up. Tyler dropped a song, which was um… I forget what it was called… It was the black and white video. It was his breakthrough thing [called "Yonkers"].
Bobby Hundreds: Within days, everyone in L.A. was talking about Odd Future. Within a week, those guys were stars. It was the craziest thing to watch, and that was, for better or worse, the day Fairfax changed.
Nick Diamond: Rick Ross called me out of nowhere and was like, "Yo, what's up with Odd Future? I wanna talk to that Tyler kid. I want to sign him." It was funny, 'cause when he called me, Tyler was actually in the store, standing next to me. So I was like, "Rick Ross wants to talk to you." Tyler goes, "I don't want to talk to Rick Ross." I was like, "Dude, just fucking talk to him." He was like, "Nah. I can't talk right now." So I didn't put him on the phone. But so many people I knew from the music industry started calling me about Tyler. Odd Future just blew up out of nowhere. And then kids started coming to the Diamond store just to find these guys, 'cause these dudes started filming videos of themselves listening to music or jumping around inside the store, and they'd all be wearing Diamond.
Alex Olson: Tyler used to send me videos of them skating and rapping through Facebook message. I just thought they were being creative. I didn't think anything of it. And then, you know, they exploded. That was really the turning point.
Chris Gibbs: Then Odd Future opened [a pop-up store] on Fairfax.
Brick Stowell: It was just supposed to be a temporary store. The guy that was licensing OF at the time had a relationship with Huf and knew the space was open. The idea behind [the shop] was like, "OK, we have all this momentum with the merch. It's working really well at shows." Everything was there—all the merch, all of the things that you liked but thought you couldn't get or things that we held onto. The block was stupid poppin' [on opening day]. I opened the gate, and it was thousands of kids, all the way down to Beverly [Boulevard], just waiting all day long. It was on Black Friday. It was really like some pop-star type of shit.
Melody Ehsani (founder, Melody Ehsani): I opened here during the Odd Future era. I came by the Odd Future store a few times with one of my best friends, Frank Ocean. It was actually how I discovered my space, because Turntable Lab had just moved out and they were putting up a "For Lease" sign. At the time, [Fairfax] had gotten more mainstream because Odd Future brought the music element here.
Bobby Hundreds: All of a sudden, you had real culture again. You had young people making art that was defiant and independent, and around that the clothing became the merchandise for this movement. That's where I feel like Fairfax came into its own and became the Fairfax that we know today. As soon as Odd Future happened, everyone turned their attention to it.
Brick Stowell: There was no other place to [open the Odd Future store]. The guys used to hang out there so much, it was like, "Why would you do it anywhere else?" If that store would've been on another street, would the effect have been the same? I don't know. It was a monumental turn in the Fairfax era because it really set the tone.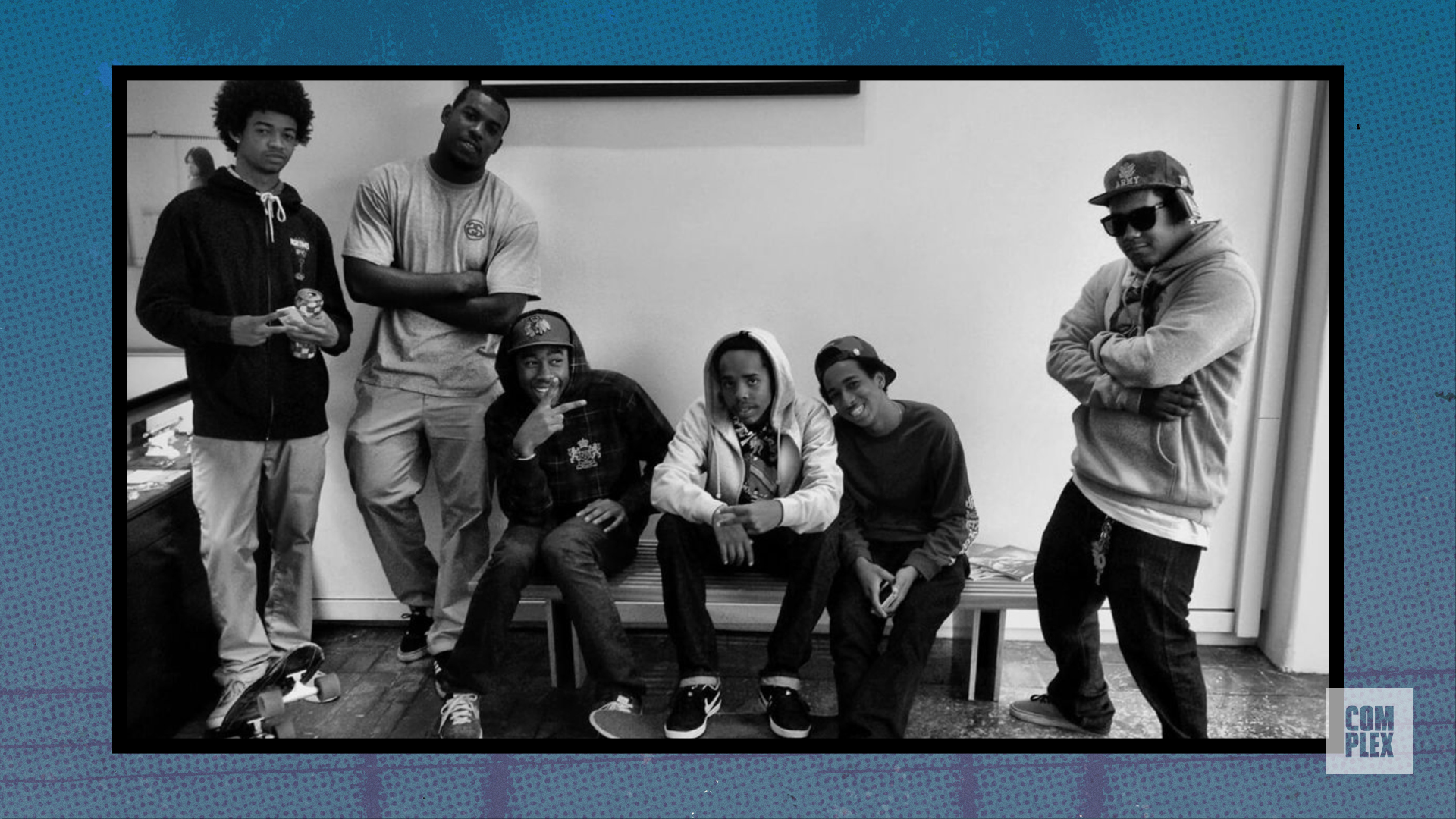 "Everyone in L.A. was talking about Odd Future. Within a week, those guys were stars. It was the craziest thing to watch, and that was the day Fairfax changed." - Bobby Hundreds
Anwar Carrots: I remember walking Drake to the Odd Future store. This story hasn't been told before. It's my favorite story. One day, Drake called my phone. This was Take Care era going into Nothing Was the Same, so maybe, like, 2013. He was filming a music video on the corner. He was like, "Yo, where you at?" I'm like, "I'm at the office." Meanwhile, in my head, I'm still like, "Oh, shit. This is Drake." He's like, "All right. I'm about to pull up." We in the office smoking, just living life. All of a sudden, I start hearing girls outside yelling. Drake calls me and says, "Yo, we outside." I go outside of the office and see a fleet of whips. There was a Bentley, G-Wagon, Phantom, 'Rari. They all come upstairs to the office, and Drake says to me, "Yo, I want to buy one of your sweatsuits." I told him we didn't have any on us but they sold them at the Odd Future store. He was like, "You wanna walk me?" I walked Drake from our office down Fairfax to the Odd Future store. Tyler happened to be there that day, too. When we walked in, he was like, "What are you doing here? Why are you at my store?" He copped a Carrots sweatsuit.
On the way back to the office, YG happened to be filming a video outside on Fairfax and Rosewood. Drake and YG met for the first time, and YG was like, "Hey, bro, you can get in my video?" I'm a big Drake fan, so to be in that space where somebody appreciated me as much as I appreciated them was next level.
Brick Stowell: I knew that Lil Wayne was coming down to the block—the boys had told me that—and everybody was making a big deal out of it. So we're all outside—Odd Future's there, Lil Wayne, and his three or four goons—having a good time. But there was this big white dude who had his Honda Civic parked in front of the shop. He had no connection to anybody, but he figures out that Lil Wayne is skating in front of the shop, and he wouldn't leave. He was like, "C'mon, man—let me get a photo." Lil Wayne's ignoring him like it's no big deal. But you could tell Lil Wayne's goons are getting frustrated. A couple minutes pass by. Lil Wayne's skating with Tyler and Taco, and a couple of his goons go up to the white dude and were like, "Yo, man. You gotta leave." He's like, "Fuck you guys. I don't gotta leave." Boom. Out of nowhere, one of these goons literally drops this fool. It was like "the crowd went wild" type of vibe. After that, I remember Taco got a text from Wayne being like, "I'm sorry that I brought that craziness to you guys' establishment." And he was like, "It's all good, man. That was crazy!"
Nick Diamond: Odd Future definitely helped [Fairfax] blow up, bringing younger kids down—kids who weren't necessarily into the streetwear culture but were into Odd Future. Kids came to Fairfax because they knew they could hang out with Tyler, Taco, and all them.
Ben Baller: [Tyler] was the cult leader of this whole new movement of kids who were into streetwear.
Alex Olson: You started seeing kids following Odd Future, dressing like them, and emulating them. They're what made Supreme and everything in that area blow up.
Nick Diamond: Odd Future was at their height, and they were all rocking Supreme. Right at that moment was when all these kids started flocking to Supreme, and I think that's when Supreme started getting really popular.
Bobby Hundreds: Supreme was always cool to domestic Americans who knew what was up and knew the market in Asia. Odd Future brought it down to a level where they could understand it here. It went from being niche, underground to… Odd Future is a massive mainstream rap group. So now every teenager who feels angry and disenfranchised gravitated toward Odd Future. And these teenagers were like, "What is this Supreme brand that they say is so cool? Let me look into that." Supreme, as a brand, I think really snapped and became a different brand in that moment.
"There were brands that came here that didn't exist from the culture. They just jumped on and people were like, 'Now the block is wack.'" - Arsen Salatinjants
Fairfax Becomes More Mainstream
Dominick DeLuca: After a couple of years, I knew [Fairfax] was going to implode, and it did. Bigger stores started opening up and spending a lot of money. Crooks did this crazy store. DGK took a whole bank and made it this crazy mega-mall of their product.
Dennis Calvero: We opened the Crooks flagship on Melrose first in '09. Then we moved to Sunset [Boulevard]. When we finally opened up on Fairfax [in 2013], the block was already starting to get somewhat weird. There was a lot more [random stores] here. But regardless of what we thought it was going to be business-wise, we knew that as one of the first brands of our genre of fashion, we wanted to be there and have our mark there.
Ben Baller: Crooks always had an office on Fairfax. When they came back in 2013, they threw a "Welcome 2 the Block" party, which I hosted [with Karen Civil]. Tyler was against it, and people were bummed about it. He felt like he created his own nostalgia on the block—"fuck the old dudes." The party still did incredibly well, but if Tyler blessed it, it would've been haywire.
Nick Diamond: It's funny 'cause none of the other brands wanted to be involved. We kept asking people, but it was only me and Crooks, so we put up all the money. But Nipsey Hussle performed, Ty Dolla Sign, Pusha-T. It was like a real festival. Thousands and thousands of people showed up. We actually built a stage in the middle of Fairfax, and the whole street was closed off. But [the neighborhood] wouldn't let us do it again.
Bobby Hundreds: Random brands started to move in. They came in and came out. They'd have lines wrapped around the block, and then, within six months, they were gone. It was ridiculous and almost insulting because a lot of us had put in so much work to create this scene, this culture, and this block, and then you had these random brands that didn't know or care.
Arsen Salatinjants: Everyone who had been there wanted the stores to stop [coming]. We didn't need any more brands there. We needed more restaurants. There were five or six years that went by when you couldn't get a coffee on the block. People were kind of like, the more stores open, the more diluted [Fairfax] is going to be, because only so many brands make sense without being cheesy. There were brands that came here that didn't exist from the culture. They just jumped on, and people were like, "Now the block is wack."
Nick Diamond: Some brands would come for a year, not make money, and would have to move. They probably lost a lot of money because it wasn't cheap on Fairfax. I think my rent when I first moved in there was $2,200 a month, and now that place is probably $10,000. But you can't just move your brand onto the street, expecting it to do well because people like some of the other stores there.
Lanie Alabanza-Barcena: The moment you started to see an even bigger focus on Fairfax was probably when the resale business started booming. More people were coming to wait in line to pick up exclusive product from these stores, especially Supreme.
Dennis Calvero: There were a lot of kids coming. There was also a lot of unnecessary bullshit that would go on—kids fighting over lines. I knew a couple of people that were getting robbed at the back [of the Supreme store]. One guy had a Rolex on, and the guys who robbed him only wanted the Supreme bag. They didn't even bother to take his watch.
Dominick DeLuca: Now, you see a line, and it's all resellers and Asians that sell it in the Asian market. It's funny. You go down Fairfax on a Monday, and there's already a lineup for Supreme, and the shit doesn't drop till Thursday.
Bobby Hundreds: Reselling was going on, but it was all in the Japanese market, so we weren't seeing that in the States. Back then, the local people that were buying [Supreme] were wearing it. But all the Asian resellers that were in line were dumping it in Japan. And then that eventually became dumping it in China. And now they're dumping it here. It's happening on our home base.
Nick Diamond: The Supreme formula made [reselling] happen. They only sell in their store and online, and that stuff always sells out. So everyone else who couldn't buy it online or at the store has no way to buy it, so kids just resell. Now that's kids' jobs. They've made careers out of it.
Bobby Hundreds: What was happening around Supreme on Fairfax two years ago was mind-boggling. But I feel like the market kind of adjusted to it. Now we expect the lineup. We expect a certain kind of reselling to go on. It's entered a strange phase where you have a reseller who's up a block from Supreme just selling their stuff. The reseller dynamic has added a new chapter to Fairfax in a way that didn't really exist before. Reselling has always been a part of the game, but it wasn't the only thing. Now it's become the only thing.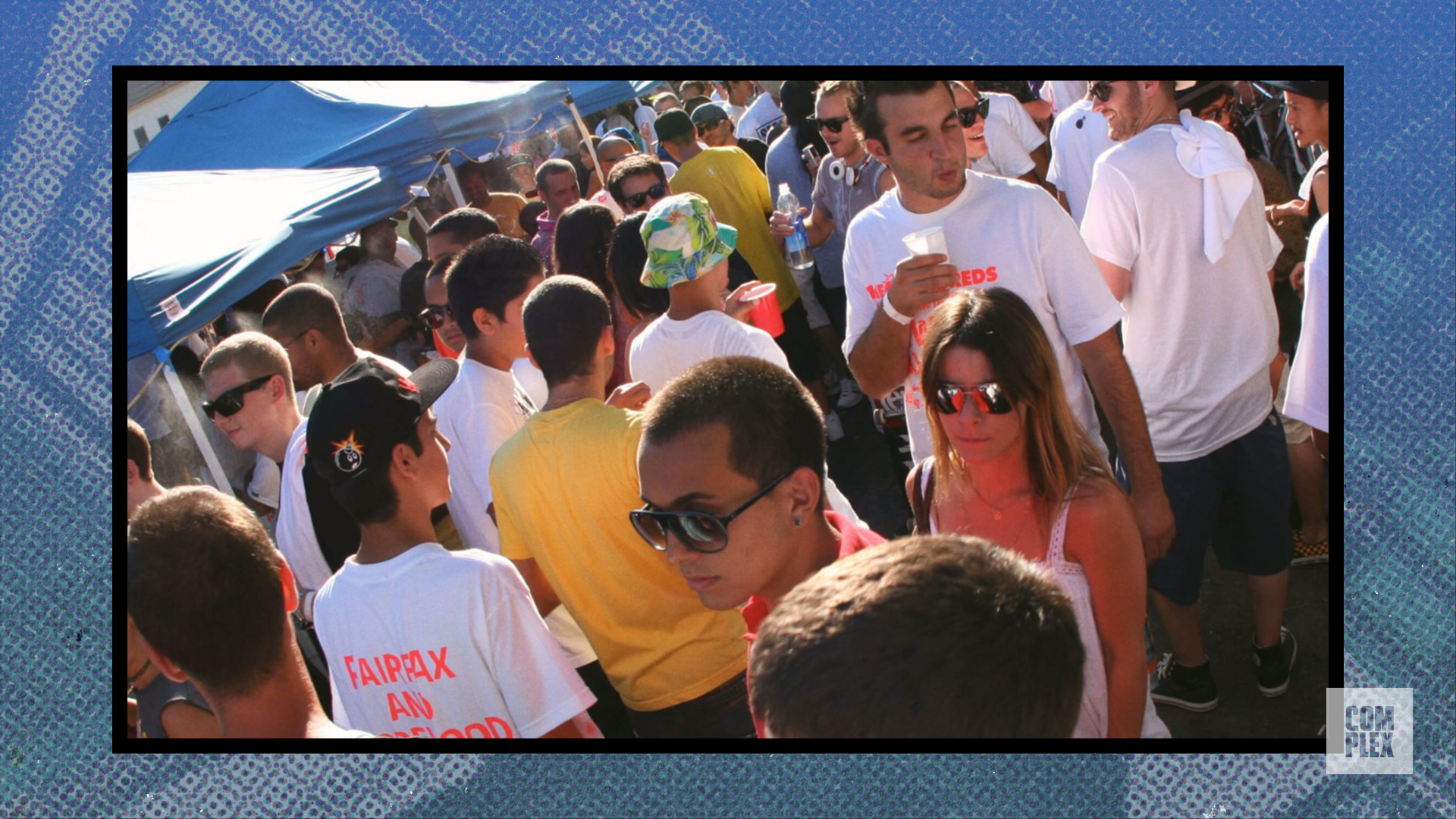 Legacy
Bobby Hundreds: Nowadays, when I look around Fairfax, a lot of it is pretty unrecognizable to me. But that's also the point, because I'm older now. It's not really meant for someone like me to blindly walk onto Fairfax and understand who these brands are, the way the kids are dressing, or the rapper that's pulling up in the Ferrari. It's for the 17-year-old kids who are aware of what is going on in culture in Los Angeles.
Guillermo Andrade: When I first opened the shop, there was no other store on the block that was selling $150 T-shirts. People thought I was insane. But the price points on Fairfax have definitely gotten higher over time. People are adapting to it, and it's cool, you know? Now, we got $2,000 Alexander Wang jackets on the rack, and they sell.
Bam Barcena: It's more commercialized now. It's a big-business model. There are still a few brands that are making noise, but the playing field for smaller brands isn't the same anymore. It's super expensive on the block.
Dominick DeLuca: You can go down Fairfax now, and it's not crowded. The only days it's crowded are Thursday, Friday, and Saturday, because of Supreme drops. Nowadays, more people are on La Brea. You have Union that's been there forever. Undefeated's been there for a long time. But now you're also seeing Stone Island, Arc'teryx, Grizzly, OVO—everybody is moving there. I think it's because times have changed. Streetwear has gone from a DIY brand to high fashion.
Anwar Carrots: I can't go down there at all anymore. It just doesn't have that feel right now. To me, it looks like the internet. It's just all consumers 'cause of Supreme. It needs a bit more soul.
Ben Baller: I used to spend minimum four days a week on the block. Now, in the last two or three years, I've been on Fairfax less than 10 times. It's hard to go down there now.
Lanie Alabanza-Barcena: It's always weird when something that's a part of you becomes a machine for somebody else. I just thought of Fairfax as a place we went to to kick it. But now, when we speak to business partners in Asia, they're like, "We want to build a whole block and call it 'Fairfax Avenue.'" That's crazy. It's bigger than you now. It's something people feel like they can take and make money off.
Dennis Calvero: I've gotten DMs from other people with brands who were like, "My dream or goal is to have my flagship on Fairfax."
Dominick DeLuca: Fairfax put streetwear on the map. It made L.A. the new birthplace of streetwear. But it also killed the word "streetwear." Everybody was Fairfax. There were brands called Fairfax.
Bam Barcena: Fairfax will be around, and [Fairfax] High School helps bring in new youth every time, but it won't be the same. One thing I like about Fairfax now is how the restaurant scene—with Animal and Jon & Vinny's—there is evolving.
Guillermo Andrade: But there's something special about Fairfax. You can start something different somewhere else, and it can have its own energy, but you can't replicate what this place has been and will always be.
Nick Diamond: I learned how to run a company during my time on Fairfax, watching my friends. I was designing, but I knew nothing about how to make shit. Being there made me look at things differently, just seeing all those guys. We mentored each other.
Bobby Hundreds: People started traveling here from around the world. They wanted to be that next brand, rapper, designer, kid hanging out on the street—and you could, if you hung out and shook hands with the right people. If you were respectful, if you were nice enough, and you were humble enough to learn, in five years' time you were the next videographer, director, chef.
Wiz Khalifa: Being on Fairfax definitely helped take my career to the next level, because being from Pittsburgh, you know, I didn't have a real market or real crowd of people I was entertaining. When I was able to see those kids, tap in, and see that they were involved with what I had going on, I was able, as a businessman, to say, "That's my target market right there. So whatever I do, I just gotta make sure they're fucking happy, and I'll win." And that's what got me to where I'm at.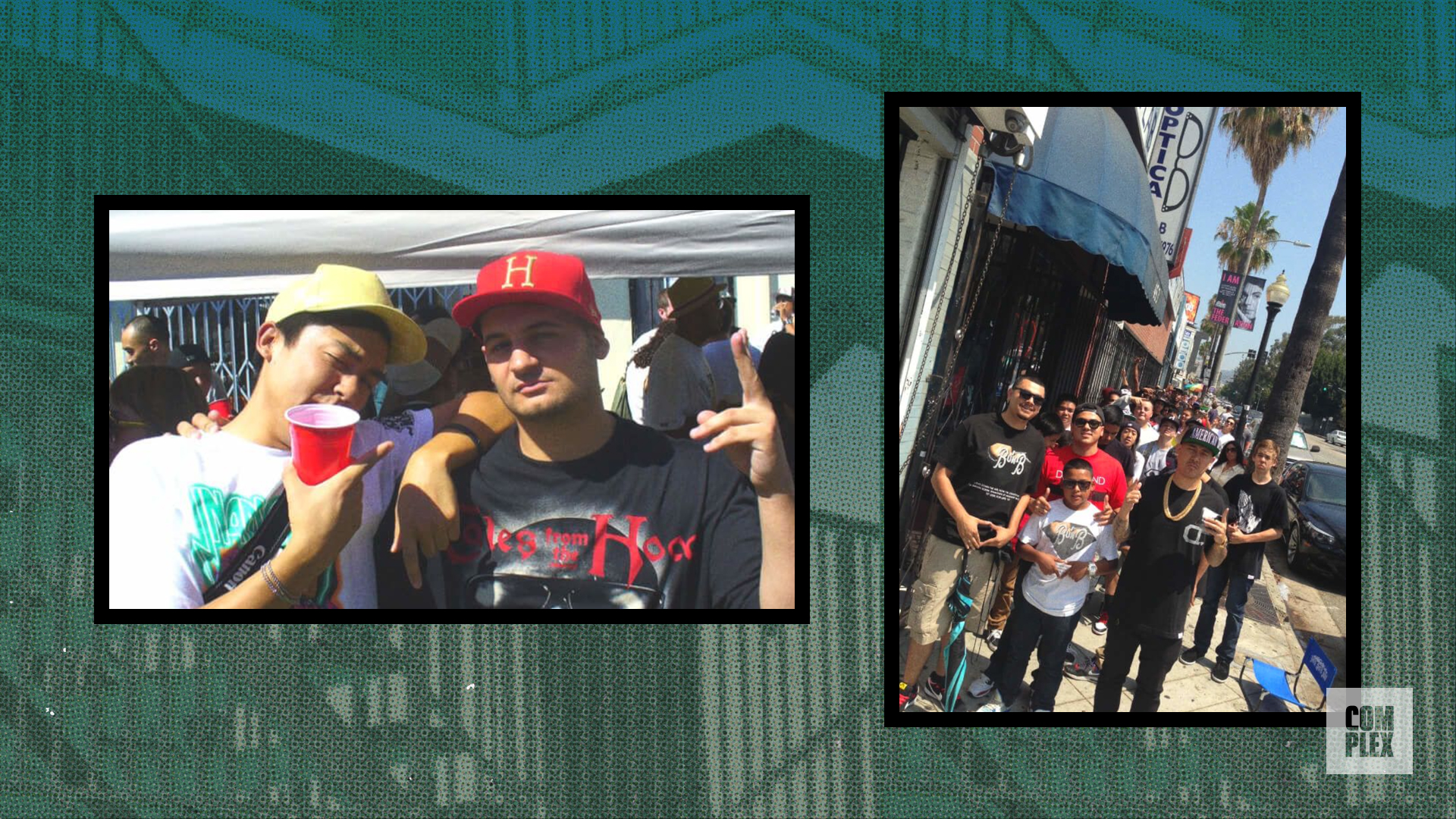 Jerry Lorenzo: We had our offices for my nightlife promotional company, and later for Fear of God, on Fairfax, right above Flight Club. Fairfax 100 percent influenced Fear of God. At the time, we had a successful nightlife business, and the rest of my friends were brand owners. My friends represented a tangible thing for me. Watching Mega go from running Huf to Black Scale, Nick growing Diamond, and watching the Crooks guys—I had a vision that was different than theirs, but I knew that I would be able to make it tangible, just as they had. I give a lot of credit to Mega, Dennis, and Nick for showing me it was possible.
Brick Stowell: I think, for lots of people, [Fairfax] gave them their sense of identity. There were lots of people who came out of this—Na-Kel Smith, Mikey Alfred… Even a guy like Julian Berman. Julian is a very good, well-established photographer now. I owe Fairfax a lot.
Anwar Carrots: For me, it was a gateway. We watched people who came from nothing become bosses. Everybody getting mansions. Everybody getting whips. Everybody being able to take care of their families. It was inspirational. And Fairfax was an open book to learn, if you paid attention.
Na-Kel Smith: I kind of hate going there now. Fairfax plays a part in where people know you from or whatever, but I get mad when people think I'm only from that. I'm from so much more. We were all destined for greatness. But [Fairfax] showed me that it was all possible for somebody like me, because I'm like, "I see it. I see y'all putting in work, and I see it showing. I see you working, and I see what happens from your work, so I want to be like that. I want to make sure my work speaks for something." I already had that mentality before I ever even met anybody. I knew what I wanted to do. I knew where I was going with it. But it was good to be around like-minded people.
Angelo Baque (founder, Awake; former brand director, Supreme): We've contemplated moving off of Fairfax, but at the end of the day, we were there before, and we will be there after. It is what it is. I can't really see the store being anywhere else in L.A. [via Marfa Journal]
Guillermo Andrade: I don't travel anywhere where people don't know [about Fairfax]. I'll be in Moscow, and people actually know what it is. That's mind-blowing. I've thought about moving, but this is home.
Wiz Khalifa: All of the hype is real. [Fairfax] is really the shit. It's an experience. And for somebody who likes to learn and dive into culture, Fairfax was a great place.
Bam Barcena: Fairfax was a once-in-a-lifetime experience.