The Next Generation of Canadian Ballers Has Arrived
In order to understand how Canada became a basketball country, we must go to the source: the coaches, (super)stars, and rising talent who got us this far.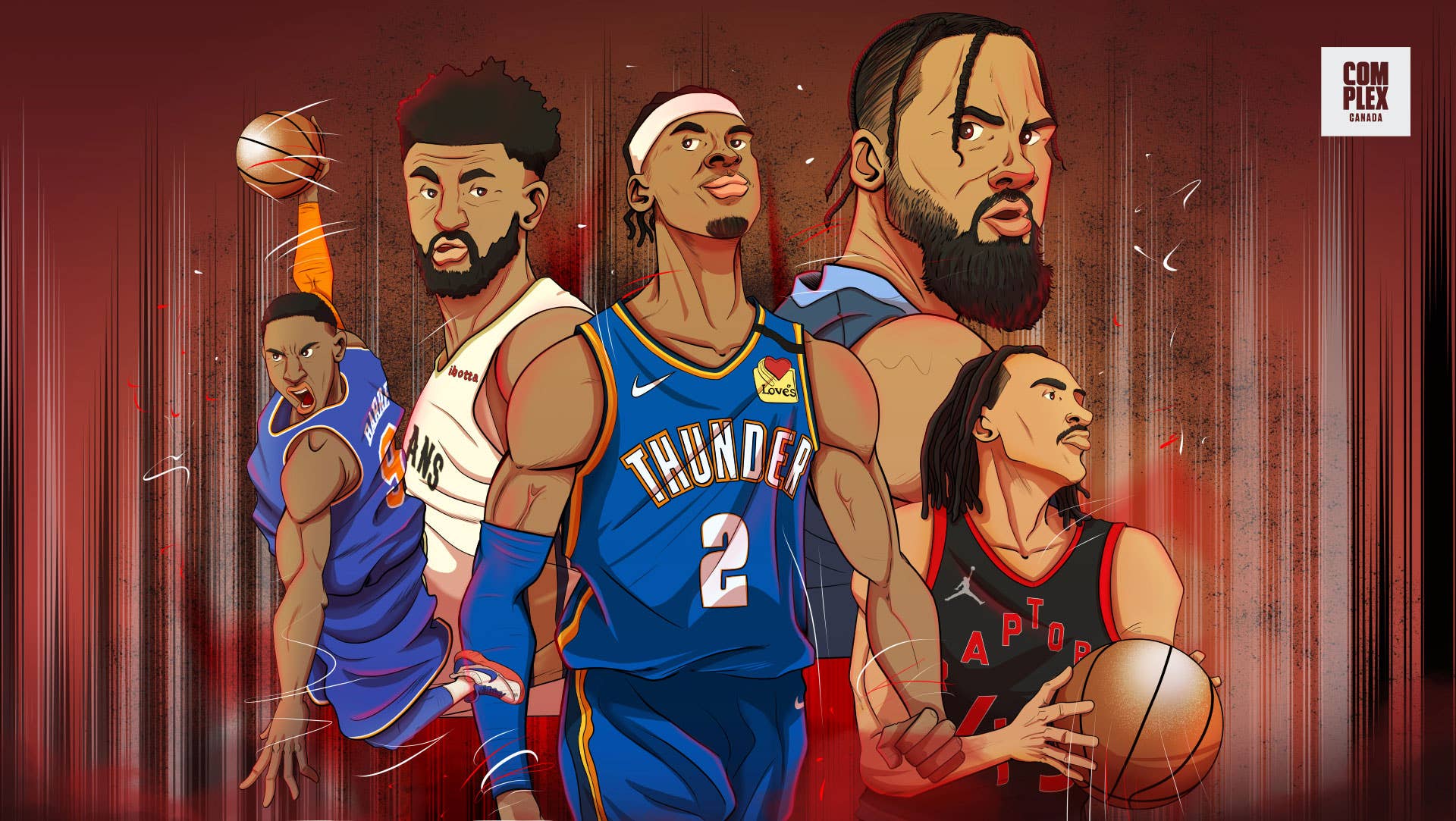 Illustrator
Image via Illustrator/Albert Carbo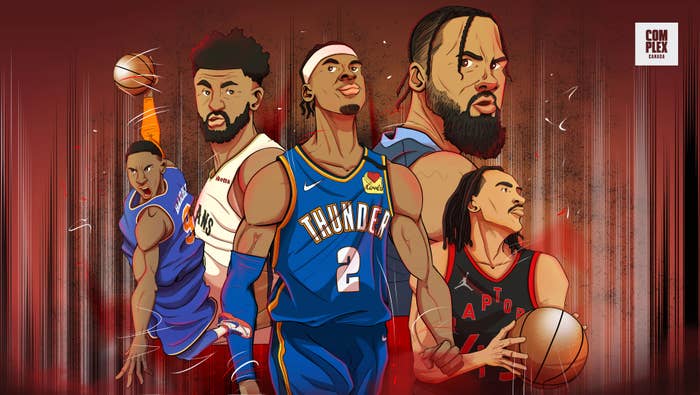 The last time Canada's men's basketball team qualified for an Olympic Games in 2000, the world was a different place: dial-up Internet, flip phones, Walkmans, DVDs, and Vince Carter leading the Toronto Raptors to their first winning season since their introduction to the NBA.
As the Internet went wireless and phones became smart, Canada became a basketball country, with more and more kids picking up the sport and the talent level rising each and every year.
Now, there are a record 24 Canadians playing in the NBA, representing the most players of any country outside of the United States for the eighth consecutive season. And that's not to mention the increasing number of Canadians playing in the NCAA, at the highest levels of Europe, and right here in Canada with the newly formed Canadian Elite Basketball League. 
The question is: why Canada? 
Of course, there are external factors that play into Canada becoming more of a basketball country over the past two decades, including increased population and immigration from countries where basketball is more popular than a sport like hockey, for example. 
But that doesn't fully explain why Canada, perhaps more than any country in the world, has not only embraced basketball over the last two decades, but also succeeded at it at increasingly high levels.
So, to learn about the rise of Canadian men's basketball, I went to the source, interviewing Canadian coaches such as Steve Nash, Nathaniel Mitchell, and Nick Nurse; NBA players including Shai Gilgious-Alexander, Luguentz Dort, Dillon Brooks, RJ Barrett, Nickeil-Alexander-Walker, Dalano Banton, Khem Birch, and Joshua Primo; as well as NCAA players including Bennedict Mathurin, Caleb Houstan, and Zach Edey. 
What I learned is that the growth of basketball in Canada is not a coincidence; that there are intentional, long-standing factors that played into this, including the rise of the Toronto Raptors into one of the elite franchises in North American sports; the increasing number of Canadian players who have paved different paths to the highest levels of basketball for kids in their neighborhoods to follow; and the Canada Basketball program developing youths every step of the way and providing them with an aspiration in the form of the senior team. 
What we have now is a golden era of basketball in Canada, with more athletes playing at increasingly high levels every year and several players in the NBA with legitimate superstar upside. More than that, we have a group of high-character young men who are committed to representing Canada on and off the court and eventually leading them back to the Olympics and onto the podium. 
But in order to understand the present, we must go back and examine the past, including those who made the game look cool before it was popular to do so. 
The OGs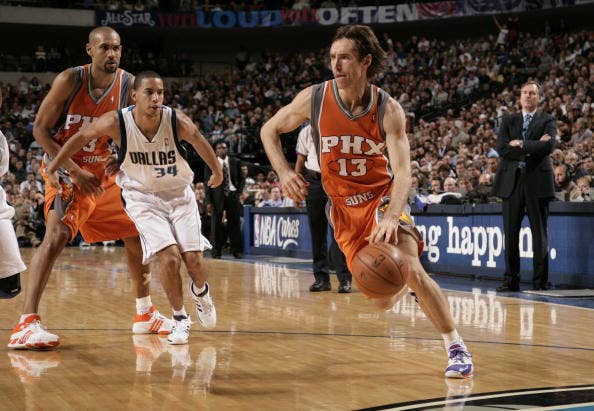 For every kid that asks their parents for a pair of Nike sneakers or a Fisher-Price net, there is usually an adult inspiring them to play the game. In the United States, it was Michael Jordan, Kobe Bryant, Allen Iverson, LeBron James—no matter where you're from, you know the names. But in Canada, it was different. 
For this current generation of Canadian talent, it began with Steve Nash, the six-foot-three point guard from Victoria, B.C. who won back-to-back MVP trophies in 2005 and 2006 and who led Team Canada to their last Olympic Games in 2000, showing Canadians that if a kid from Victoria could do it, they could too.
Then it was the Raptors: Vince Carter, Chris Bosh, Antonio Davis, Alvin Williams, Jose Calderon, and Jamaal Magloire all made their mark before the We The North era Raptors captivated new audiences, with Kyle Lowry and DeMar DeRozan leading the franchise to consistent success atop of the Eastern Conference for most of the 2010s. Finally, it culminated with a championship in 2019 with Kawhi Leonard, proving to the world and to Canadians themselves that Canada belongs on the biggest stage of basketball.
"It started from back when I was watching, you know, Vince Carter, Steve Nash, even Jamaal Magloire: guys that were just making it and giving us motivation, giving us the ability to physically see it, that Canadians can make the NBA and feed their families in, you know, (ultimately) a childhood game," Memphis Grizzlies guard and Mississauga-native Dillon Brooks told Complex Canada.



"I think because these guys are doing well, you're starting to pay attention to it and say, 'OK, what more does the country have to offer?' And sure enough, each player is making the most out of every opportunity." – Nickeil Alexander-Walker
The NBA's youngest player, Toronto native Joshua Primo, remembers watching Carter, DeRozan, and even Rudy Gay when he was young, three Raptors who made a mark on him.
"They're a huge reason why I love this game so dearly," Primo says. "I stood in front of Gay one time before a game during the national anthem. My whole team got to be in front of the Raptors and I was starstruck. I got to see Rudy Gay for the first time!" 
Torontonian 19-year-old Zach Edey, currently in his freshman season at Purdue University, always enjoyed watching the We The North era teams, "and then obviously when they won it all with Kawhi, that was crazy for me," Edey says. 
"It made basketball seem like a lot less of a specifically American thing. It kind of (made me feel like) a thing that maybe Canadians can do, too."
And while those are some of the household names, there are countless others who have inspired Canadians to play basketball and, just as importantly, taught them how to do so successfully, including the thousands of coaches throughout the country who are giving back to the game by improving the youths.
"The biggest thing are the coaches within our country at the younger levels are getting better: they're more in tuned, they have more access to player development, more access to technical systems, and how to run their team and do certain things offensively and defensively, and as a result, we are seeing it bleed into our younger players," Toronto Raptors and Team Canada assistant coach Nathaniel Mitchell says. "It's to the point now where Canadian athletes are finishing school, and they're not playing professional basketball; they're becoming coaches. So, we're having guys that have been there, will become coaches at younger ages, and it's bleeding into our young guys. And that's where the growth is coming."
It's also coming from the players who might have fallen short of the NBA but still made a living playing the game, providing different paths for kids to follow. 
"I think everyone is just doing a good job paving that path in front of them," Utah Jazz guard Nickeil Alexander-Walker, who hails from Toronto, says. "Andrew Wiggins has had success, Tyler Ennis had success, Kevin Pangos had success, Kelly Olynyk had success, and the list goes on with just how many Canadians can come out and if not make it to the NBA, still have professional lives and a long-lasting career for multiple number of guys."
"It's huge. And I think because these guys are doing well, you're starting to pay attention to it and say, 'OK, what more does the country have to offer?' And sure enough, each player is making the most out of every opportunity and the stage is set and they're performing."

Home Sweet Home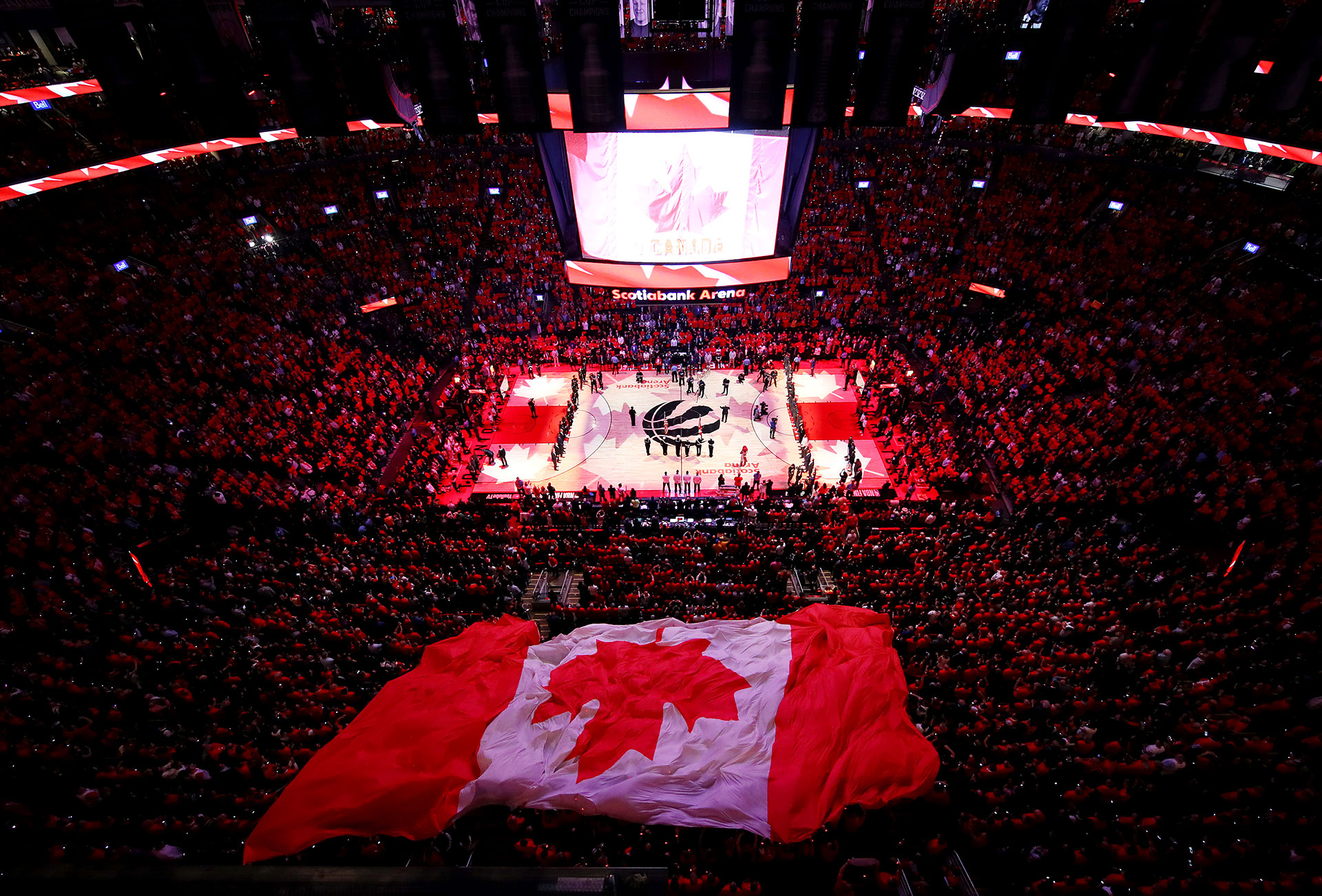 Part of the 'stage' that Alexander-Walker references involves the Toronto Raptors' home court, or what is now called Scotiabank Arena.
After all, the Raptors were everything for many young Canadians growing up during the past couple decades. Unlike in hockey where Canadians get divided up into regional-fandom based on where you lived and who your parents cheered for, the Raptors were branded as Canada's team and appealed to first and second-generation Canadians regardless of their parents' interest. 
Scotiabank Arena was where most young Canadians got their first taste of live, professional basketball. And the Raptors were the team they watched on TV growing up, aspiring to one day reach that level and play on that stage. In other words, not only did the Raptors play a key role in providing players for young Canadians to grow up watching and idolizing; they also set the stage for their homecomings.
"Yeah, this game was circled. For sure," Brooks said about playing in Toronto this past November for the first time in four years, when he dropped 17-points in a Grizzlies win and shouted 'this is my house!' to the crowd. "It's been circled. I love playing here. It's been a dream. I still have catalogs for when Vince Carter and Antonio Davis and Alvin Williams were playing here. I love the culture. I love what's happening with the Raptors. And it's been circled for a while."
Oklahoma City Thunder teammates and friends Lu Dort and Shai Gilgious-Alexander joined Brooks as Canadians who lit up the Raptors in Toronto and walked away with a win this season.
"As a kid, all the Canadians' dreams are to play here in this arena and it was just great to have a lot of people here from Montreal here supporting me, and even some people I don't even know that were yelling my name in the crowd and stuff like that, so it was just great," Dort said after dropping 22-6-3 on the Raptors in early December. 
"It's an exciting feeling knowing all my family friends are in the stands. It's a court that I grew up watching. It's always fun," Hamilton, Ontario's Gilgious-Alexander said after dropping 26-2-9 on the Raptors in that same game, including an incredible second half performance to drag his Thunder to the win. "It was electric. Every time I've been here it has been. It's very fun to play here."
And Mississauga-native RJ Barrett, who had over 1,000 people, including his entire childhood church, attend his 19-point performance in a Knicks loss to the Raptors in December, simply said: "a lot of people like the kid." Barrett remembers coming to Scotiabank Arena as a child with his father Rowan Barrett, a former Raptor and current general manager of the Canadian men's national team, who introduced him to some of his favourite players. 



"I was a fan before I ever played (here). It's always been a great environment, watching the games, being a part of it that way. It's been fun. It's been great. And me being from the city is just that much more fun" – Dalano Banton
It's remarkable to hear all of the best Canadians in the NBA share such similar sentiments about playing at 'home'; that they all mark the Raptors games down on their calendars and show up to deliver some of their best performances of the season. Plus, considering most of these players haven't played in Toronto since pre-pandemic, it has been special for them to have friends and family members at the games this season. 
But for as much as playing at 'home' resonates with the Canadians on American-based teams, the feeling is exacerbated for the three Canadians on the Raptors: Chris Boucher, Dalano Banton, and Khem Birch. After all, it's one thing to play at 'home' once or twice a year. It's another to do it 42 times, playing for the team they grew up cheering on. 
"I was a fan before I ever played (here). It's always been a great environment, watching the games, being a part of it that way. It's been fun. It's been great. And me being from the city is just that much more fun," Rexdale's Dalano Banton said. 
Birch, who was bought out by the Orlando Magic last April and who chose to come to Toronto, becoming one of the very first Canadian ballers to actively push his way to the Raptors, he set a precedent that the Raptors surely hope other Canadians will follow in the coming years. And despite already playing for the Raptors over the course of two seasons, it's still a surreal feeling. 
"I mean, I grew up watching the Raptors with my dad. So, the fact that I'm here right now is just so surreal… and I'm just happy to be here."
The (Super)stars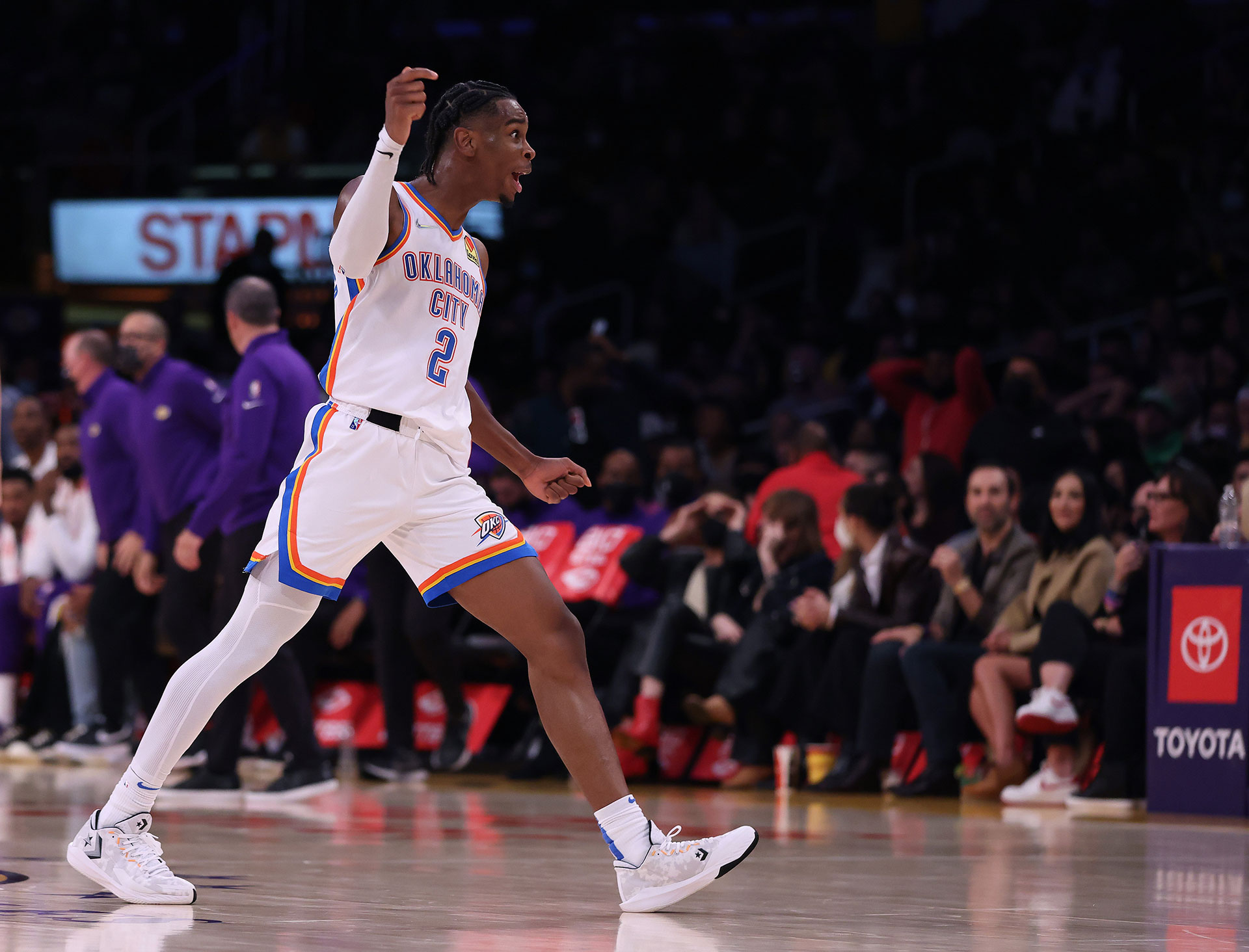 It's one thing to have the deepest pool of talent in Canadian basketball history. But it's another thing to have stars—real, legitimate NBA stars. And this is really the first time in history that Canada has produced multiple star players with brand recognition and international fame.
Of course, Nash won back-to-back MVPs, but that was a less popular NBA and he was alone as a superstar Canadian tearing up the league, admitting that the current crop of Canadians are "pretty drastically stronger than it was when I came into the league. And I think a lot of the players are still young, so there's potential for it to continue to grow."



"It's kind of cool being in a situation that I am. Kids look up to me like how I used to look up to guys in the NBA" – Shai Gilgeous-Alexander
In Shai Gilgious-Alexander (23 years old), RJ Barrett (21), All-Star start Andrew Wiggins (26), and Jamal Murray (24)—who is currently sidelined due to a torn ACL injury but has already stamped himself as a playoff performer—Canada has four young players who are already NBA stars and could be on their way to superstardom, with ceilings that are impossible to predict. 
Plus, with players like Brooks (25), Dort (22), NAW (23), Primo (19), and Banton (22) (as well as guys like Boucher, Brandon Clarke, and Oshae Brissett), who have slightly lower ceilings but are all still very young and very good, the current state of Canadians in the NBA is better than ever. 
Now, in addition to the Raptors' core players like Pascal Siakam, OG Anunoby, and Fred VanVleet—who Canadians kids have grown up with and who are now carrying the Raptors towards the next era—these are the players inspiring the next generation of Canadians to lace up their sneakers. 
Gilgious-Alexander is currently the best Canadian in the world. The only non-Raptor to crack the top-15 in jersey sales in Canada last season, the Hamilton-raised star is a popular figure among Canadians due to his incredible skill set on the court and his fashionable persona off of it. 
"It's kind of cool being in a situation that I am. Kids look up to me like how I used to look up to guys in the NBA," Gilgious-Alexander says about the kids wearing his jersey and screaming his name at games. 
While his teammate Lu Dort may not be in the same stratusphere of bonafide stardom, he has influenced a generation of Canadians in a similar way, having a huge impact on the rise of basketball in his hometown of Montreal.  
"Lu is the biggest underdog. I think (he's) the best professional from Montreal at the moment. So, just to see him grow and still be at his age right now and the potential he has is kind of mind-boggling to me just because he has so much potential," Birch says about Dort. 
Dort has paved a path for young players from Montreal to follow, including Arizona Wildcat freshman Bennedict Mathurin.
"I like to watch Lu (Dort). Being from the same place, we talk to each other so, you know, watching him play at the same club team as me and now playing in the NBA, I'd say it's just fun to watch and great to see him doing well in the league," Mathurin says. 
"I feel like if Lu did it, I can do it too. And seeing where you come from and all the struggles he's been through. It wasn't easy, just like for me, so I feel like seeing him doing well, like the way he created a path for him to go to the NBA… just motivates me to achieve my dream."
Toronto Raptors and Team Canada head coach Nick Nurse has seen the Canadian talent pool evolve since he entered the league in 2013, first with more Canadians getting to the league, then with more starting, and now with many becoming key parts of their teams, "and pretty soon there'll be a string of All-Stars. It just kind of keeps moving in the direction of improvement and growth," Nurse says.  
"It's exciting I think for everybody that loves basketball in this country… I'm sure that the Canadian basketball fans around the country have the same feeling that I do when I'm looking at my choices of which games are on my TV. A lot of times I'm going to flip to Shai Gilgious-Alexander's game or Dillon Brooks' game or RJ Barrett's game, and watch these guys. So, it's kind of cool, for sure. I think it probably is for all basketball fans in Canada."
Canada Basketball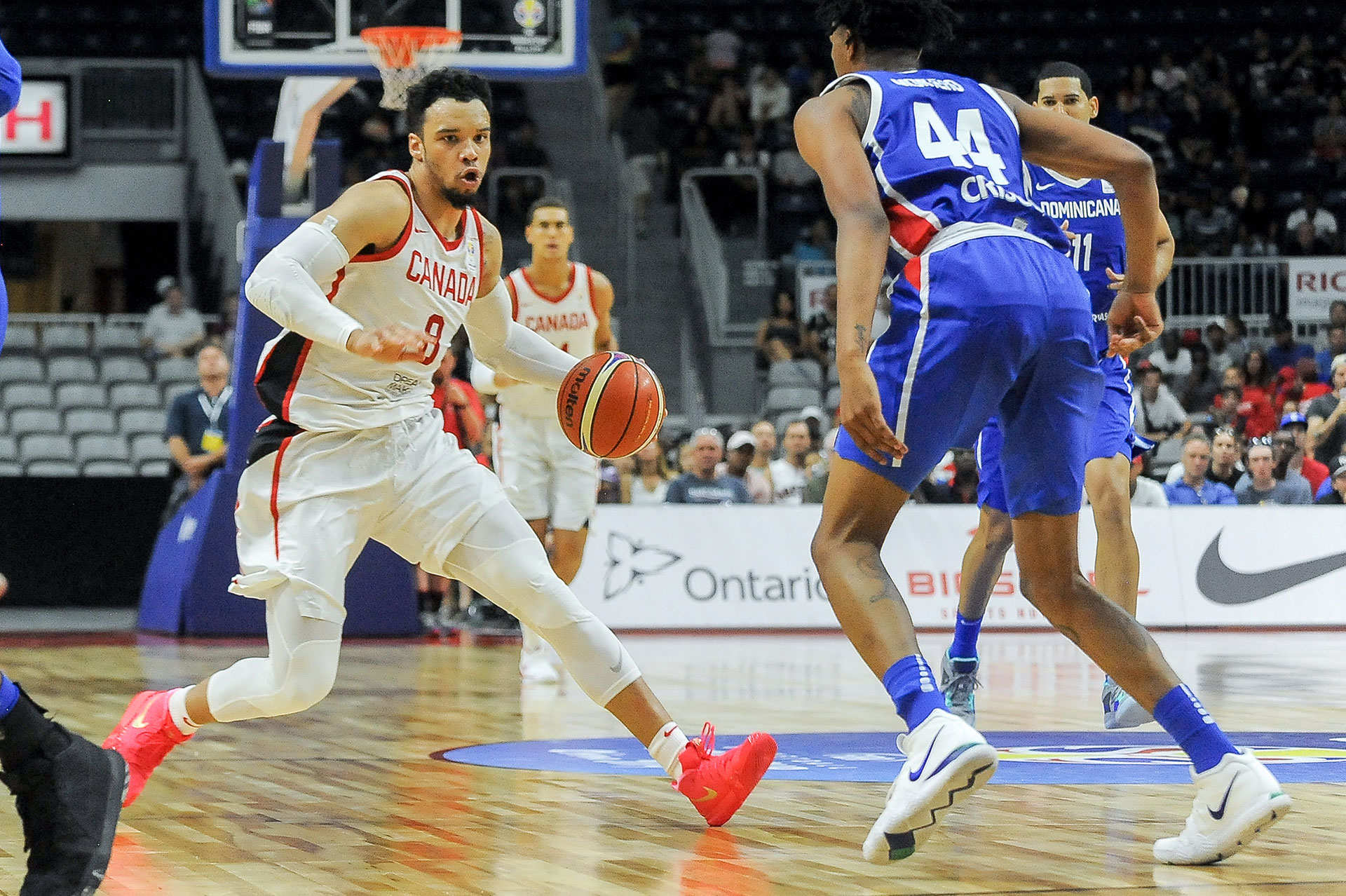 Another cool thing for basketball fans in Canada has been the development of the national program, which most of these players have trained with and played for in international tournaments since they were kids. 
Canada Basketball's senior men's team hasn't qualified for the Olympics since 2000, when Nash was captaining the team, succumbing to several heartbreaking losses ever since. However, Canada's youth programs have been on the rise during the past few years, with the U19 team winning their first gold medal at the FIBA under-19 World Cup in 2017, when Barrett took home tournament MVP, and the boys currently holding a cumulative rank of No. 2 in the world. 



"That is the challenge now is how do you get a core group of guys playing together? Because we haven't seen it. We haven't had all our top guys available." – Steve Nash
The three Canadian NCAA players I spoke to—Michigan Wolverines freshman Caleb Houstan, Edey, and Mathurin—have all developed with the national program since a young age and all share the goal of one day playing for the senior team and bringing them Olympic glory. 
"Ya, playing for the senior team is definitely a goal for me. I want to represent my country," Edey says, echoing the sentiment of Houstan and Mathurin. "Being able to say that I was part of the team that qualified (for the Olympics) for the first time in forever would be a crazy thing."
Alexander-Walker is an example for these young players to follow. His profile rose dramatically when he dominated the 2016 FIBA Americas Under-18 Championship as the tournament's leading scorer, averaging 17.4 points per game for Team Canada. Alexander-Walker went on to get drafted 17th overall in 2019 and to play with the senior national team this past summer, becoming their best bench scorer. 
"Those are the early milestones that I wanted to knock off, to solidify myself as one of those guys that one day kids from Canada can look up to," Alexander-Walker said about playing for Team Canada as a young player. 
"As a kid, you watch and you learn so much about basketball history, and you know that all the greats represented the country. And that's something I want to do: I want to be able to bring home a gold medal for my country. And it's a tremendous honor to be seen as one of those frontline guys that they're gonna send out to represent them, to make the people of Canada look good in the sport that no one really thought we really had business in."
The senior team's best chance to qualify for an Olympic Games in recent history came last summer when the Canadians hosted the FIBA Olympic Qualifying Tournament on home soil in Victoria, B.C. It was there that a team led by veterans Cory Joseph, Trey Lyles, and Dwight Powell and newcomers Barrett, Wiggins, Dort, Alexander-Walker and new head coach Nurse lost in heartbreaking fashion in the semi-final to an underdog Czech Republic team. 
It was a disappointing finish for a Canadian squad that was by far the most skilled team in the tournament, had the most NBA players there, and was expected to move on. But it was also a reminder that continuity and chemistry can outweigh talent in the international game, as the Czech team that they lost to has played together internationally for many years.
"I think the leaders of the team stepped up and immediately spoke about, you know, we lost to a team that has been together for a long time. And in order to do this, we got to do the same," assistant coach Mitchell says of the Victoria locker room after their loss to the Czech. "We had a meeting, we talked about continuity and cohesion and how we are gonna move forward… and I think that those young guys heard the message."
If anything, that loss provided extra fuel for this crop of young Canadians to get over the hump as they look forward to representing their country in the following summers in order to qualify for Paris 2024. While injury concerns and NBA free agency often get in the way of these commitments—as they did last summer, with key players such as Gilgious-Alexander, Brooks, Clarke, Birch, Boucher, Murray, and more not playing—everything the Canadian stars have said points in the right direction: that there will be a deeper and more talented group than ever representing Canada in the next three summers, where they will look to make a push to qualify for the 2023 World Cup and then achieve a certain rank within it to qualify for the 2024 Olympics without the need for a last-chance qualifying tournament. 
It starts with getting a group together that will commit long-term in order to build continuity, because as ex-Team Canada general manager Nash told me, national team success "can take generations in a sense because our players really get to play such little international basketball together, especially with the new (qualifying) windows. So, it's very hard for them to kind of form those bonds, that continuity, that understanding of what it takes that Argentina formed or our 2000 Olympic team formed.
"That is the challenge now is how do you get a core group of guys playing together? Because we haven't seen it. We haven't had all our top guys available."
Team Canada head coach Nurse seems to be on the same page, saying that the only way he was interested in coaching the team through 2024 if they committed to prioritize continuity through this Olympic cycle, finding a core group of guys who would commit through the next three summers and not just show up to play when the see fit, as has been the case in the past. 
"The one thing that I do think is the same group of guys need to play together, right? So I think that's one glaring step forward we could make there, that we have a group, they commit for some years, they go through some ups and downs, they go through some growing pains, they go through some learning… and you get to know what you're capable of as that group. So, that would be my answer to speeding up the process right now," Nurse says. 
Canada Basketball CEO Michael Bartlett said recently that they are hoping to announce the "summer NBA core team" during the next World Cup qualifying window in late February, when the Canadian winter group will continue their 2023 World Cup qualifiers against the Dominican Republic and the U.S. Virgin Islands. 

The fact that there even is such a deep pool of Canadian players to choose from in both winter and summer windows says a lot about the growth of the game. But it remains to be seen if the players are just paying lip service or if this generation of Canadians truly do have the desire and dedication to commit to the program and to bring Canada back to the promised land.