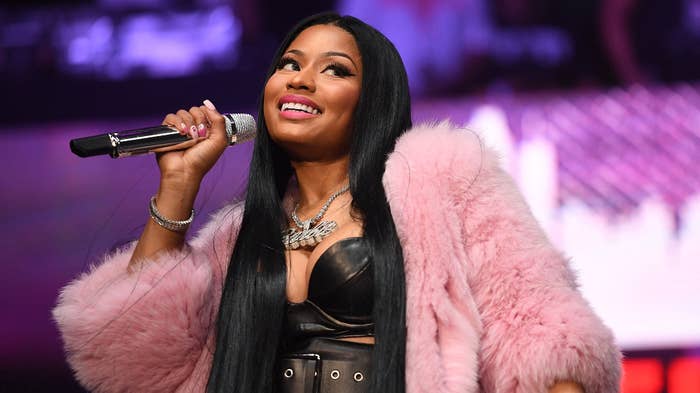 Nicki Minaj headlined a stacked slate of performances at the 2022 MTV Video Music Awards.  
Nicki took the stage to perform a medley of her biggest hits, as she became the latest recipient of this year's Video Vanguard Award, joining the likes of Britney Spears, Beyoncé, and Kanye West. The annual honor comes after her latest single "Super Freaky Girl" became her first solo No. 1 on the Billboard Hot 100. During her acceptance speech, which you can watch below, Minaj shouted out a series of late rappers including Pop Smoke, Juice WRLD, and Nipsey Hussle.
"I wish Whitney Houston and Michael Jackson were still here. I wish that people understood what they meant and what they were going through," Minaj said. "I wish people took mental health seriously, even for the people who we think have perfect lives. I wish Pop Smoke and Juice WRLD and Nipsey Hussle were here."
Check out her career-spanning performance below. 
Meanwhile, Eminem was joined on stage by Snoop Dogg for a performance of their song "From the D 2 the LBC." The Detroit rapper recently released Curtain Call 2, a greatest hits album ​spanning the last decade-plus of his career,
Jack Harlow, Blackpink, Anitta, Bad Bunny, Lizzo, and J Balvin were a few of the other names who performed throughout the night. 
While you can check out Nicki's performance up top, the rest have been posted down below for your viewing pleasure. 
Jack Harlow & Fergie, "First Class" 
Lizzo, "About Damn Time" & "2 Be Loved (Am I Ready)"
Marshmello & Khalid, "Numb"
BLACKPINK, "Pink Venom"
In other news, Blackpink linked with Instagram to offer a behind-the-scenes look at the group getting ready to hit the stage.
J.I.D, "Dance Now" 
Eminem & Snoop Dogg, "From the D 2 the LBC" 
 J Balvin feat. Ryan Castro, "Nivel De Perreo" Anitta, "Envolver"
Bad Bunny, "Titi Me Pregunto"