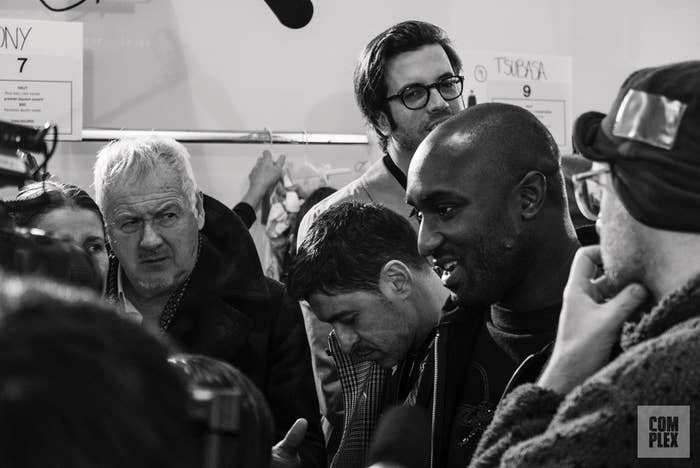 In 2013, Virgil Abloh turned Pyrex Vision, the blog he launched in March 2010, into a clothing label of the same name. "I just wanna start a brand that inspires and is geared towards youth," he told i-D. "The internet generation, these kids that you see here today. It's all for them." Pyrex Vision, Abloh's first official foray into fashion, consisted mostly of T-shirts, hoodies, and a series of $500 deadstock Rugby Ralph Lauren shirts all screen printed with the word "PYREX." In a matter of months, the brand became a streetwear sensation.
But Pyrex Vision wouldn't be Abloh's only fashion endeavour. By the end of 2013, he deaded Pyrex Vision and launched Off-White, a full cut and sew line produced in Italy that blended streetwear and luxury. Since then, Abloh has grown Off-White to include women's, accessories, and footwear. The brand is now sold at many of the top retailers (Barneys, SSENSE, The Webster, Bergdorf Goodman), and has been worn by A-list celebrities like Kanye West, Jay-Z, Justin Bieber, and Rihanna. Abloh's captured both streetwear and high-fashion audiences in a way many designers have not. "He's one of the first people to have touched both worlds," says American sportswear designer John Elliott. "For me, as a casual observer, it's interesting to see those two worlds not only interact but also co-exist. You have to really tip your hat to Virgil."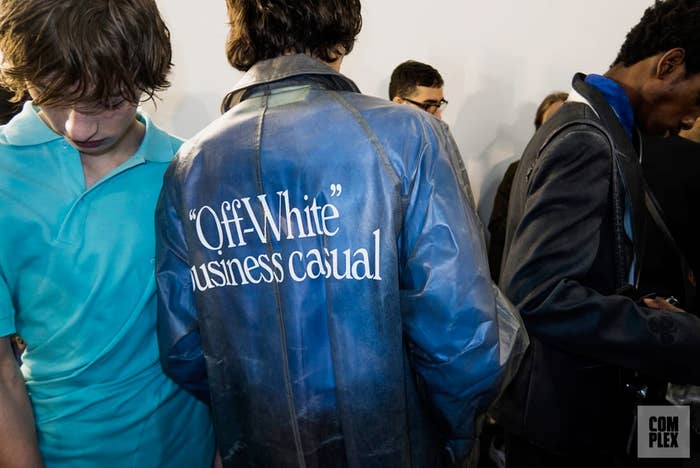 Abloh is coming off his best year so far. In 2017, he opened several Off-White stores, including one in Hong Kong, Shanghai, and New York, presented his men's collection at Pitti Uomo in Florence, and collaborated with Nike on 10 insanely successful and popular sneakers. But if his men's Fall/Winter 2018 fashion show in Paris yesterday is any indication, Abloh hasn't peaked yet.
Staged at the Centre Pompidou, Off-White's show called "Business Casual" was a display in exploration and growth. Abloh combined signature pieces, like hoodies and T-shirts, with suiting. He re-engineered basic clothing in the form of twisted-seam sweatshirts, as well as shirts and polos with buttons curving down to the right that made the pieces look like they were buttoned incorrectly. He also teased a new collaboration with Timberland and Off-White x Air Jordan 1s, which some models wore down the runway. "He's so creative that he's at no loss for new ways to tell stories and interpret style or show his expertise with pattern making," says Elliott.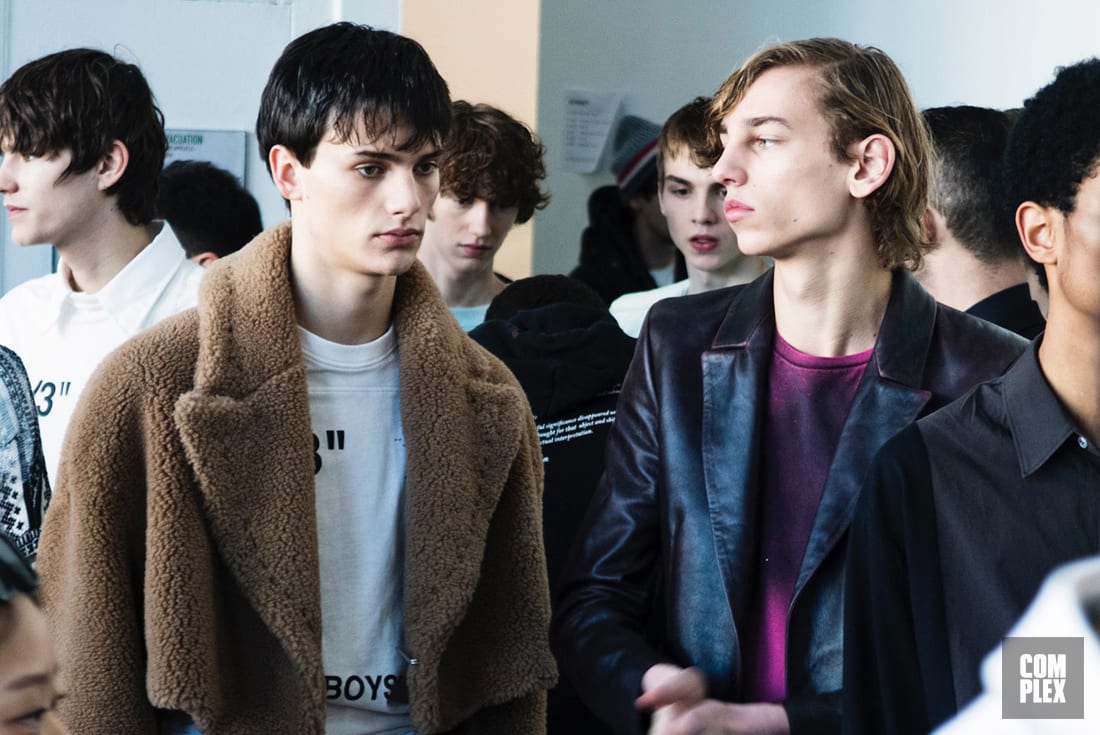 Off-White made its official men's runway debut in Paris just two years ago, in January 2016. But despite being the most eventful fashion week around the world, with big names like Rick Owens and Louis Vuitton also on the schedule, and as more designers leave New York for the City of Lights, Off-White has become a must-see. In fact, yesterday's show was packed with celebrities, designers, and fashion insiders, including Future, Metro Boomin', Takashi Murakami, Miguel, Kareem "Biggs" Burke, John Elliott, Jerry Lorenzo, Luka Sabbat, Rhuigi Villasenor, Aleali May, Don C, and more. For some of them, like Elliott and Villaseñor, what Abloh has accomplished with Off-White is astounding—and just the beginning for the designer.
"I don't expect him to slow down at all," says Elliott. "His momentum today is a testament to what you can expect from the rest of the year. He has ideas that resonate in Paris and on the street, and that's what makes him so powerful." Elliott lets out a chuckle. "He's very hard to compete with."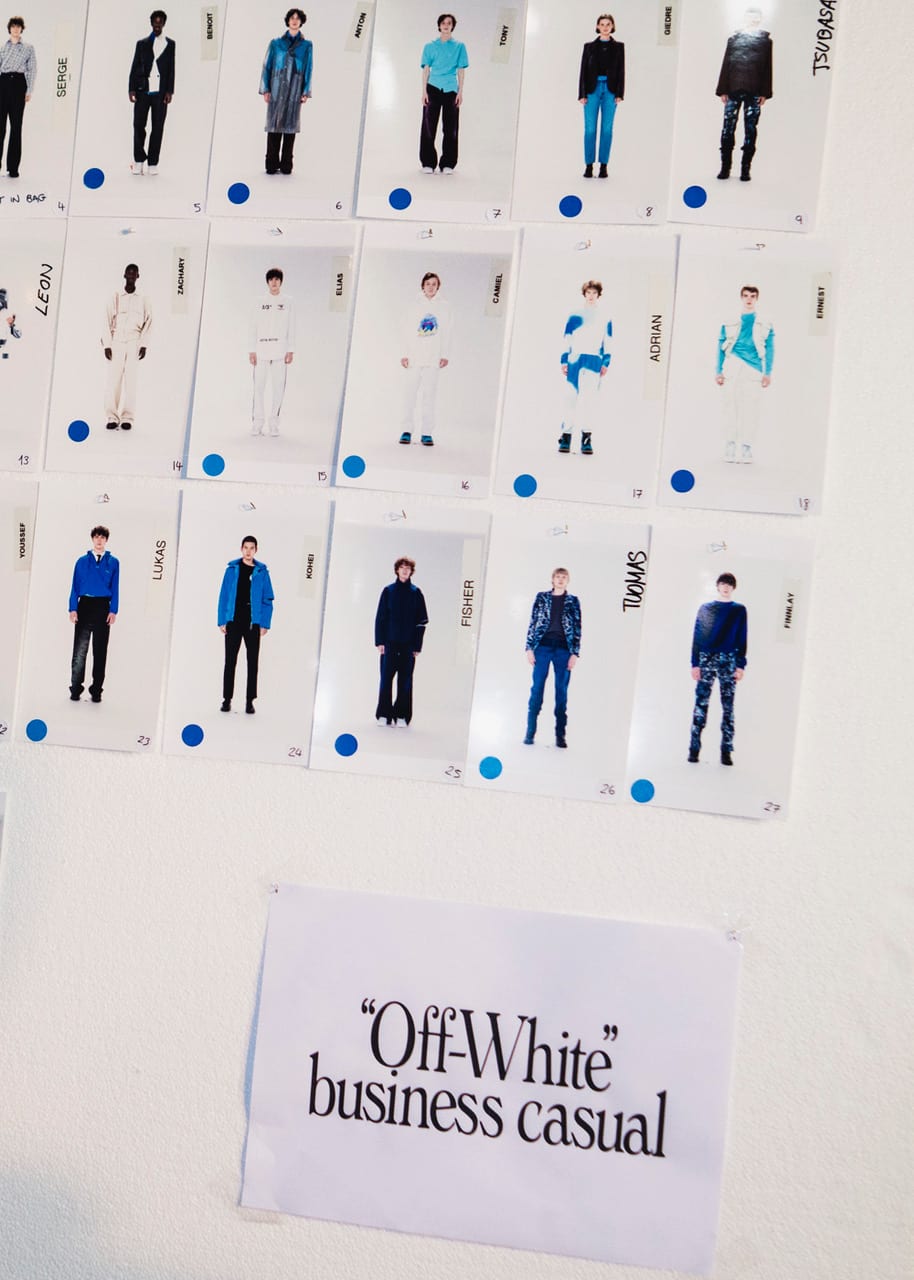 "He's the best representation of what we are all trying to achieve," adds Villasenor, who designs the L.A. brand Rhude. "I think he's got the game on a chokehold and it's exciting to see it all come into fruition. He's a good friend, a great designer, and definitely the 'Jordan' of this."