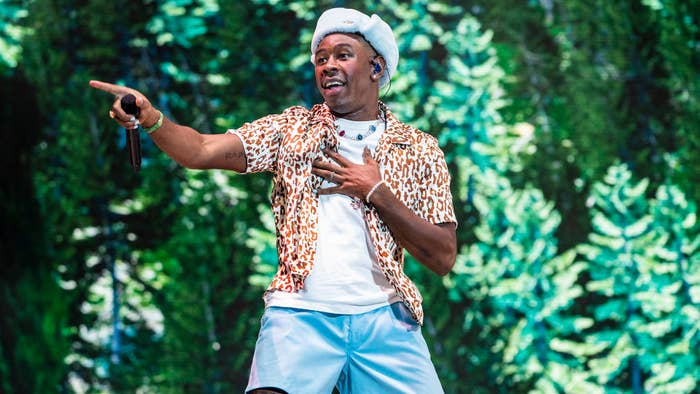 Tyler, the Creator is finishing out 2021 by thanking his fans for supporting the release of his album Call Me If You Get Lost and his brand Golf le Fleur.
"Thank you to everyone who lended an ear, watched for a second or took the leap and copped something," he wrote. "Thank you thank you thank you. Beautiful year, was soaring all 12 months."
"Its doing so well, im focused!" Tyler wrote in a follow-up. "It aint for some of yall and thats ok, everything aint for everyone. some get it some dont. some got it some dont. might click now or in a few years or never. ima keep it movinggggg. love to everyone who got something for real!"
In two since-deleted tweets, he also wrote "ima post all my videos and stuff from this year, it was a lot," then added "and my favorite songs."
In his list of favorite tracks from 2021, T included Snoh Aalegra's song "In Your Eyes," Babyface Ray's "If You Know You Know" with Moneybagg Yo, Kanye West's "Life of the Party" with André 3000—which Tyler has expressed his love for on multiple occasions—his own song "Sweet/I Thought You Wanted to Dance," and Baby Keem's "Family Ties" with Kendrick Lamar, among others.
Tyler proceeded to highlight the videos he released this year, which were a mix of teaser clips for Call Me If You Get Lost, his live performances, and promotional visuals for Golf le Fleur. That list consisted of "Side Street," "Lumberjack," "Wusyaname," "Brown Sugar Salmon," "Juggernaut," "Corso," CMIYGL (Live from Brooklyn), "Lemonhead," "Converse Club," his Lollapalooza headlining set, "Massa" live at the AMAs, "French Waltz," and "Globe-Trotter."
Elsewhere in his string of posts, Tyler acknowledged some of the delivery foibles his fans experienced when receiving their Golf le Fleur items in the mail, and said many items will be restocked. He also showed appreciation for the celebrity friends who showed up at his Malibu pop-up, which saw Spike Jonze, 3 Stacks, Henry Taylor, and more in attendance. The Igor creator wrapped by saying "thank you to everyone that watched something" and asking fans to "tell me the good things bout ya year what u learn whats your personal trophies."
See Tyler, the Creator's favorite songs of 2021 list above, and catch the rest of his tweets—some of which were quickly deleted because, T said, it "make this page look ugly"—reflecting on the year and some additional faves below.