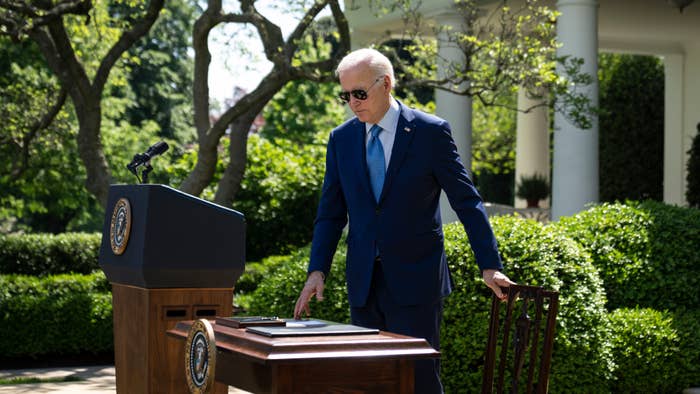 Joe Biden has formally announced his 2024 reelection campaign, urging his supporters to help him "finish this job."
In a three-minute video shared to YouTube on Tuesday, Biden outlined what he says are the current threats to "personal freedom" and more. The video, notably, opens with footage of the fatal Capitol riot that followed the 2020 election and recent protests in response to women's rights being attacked.
"Freedom, personal freedom, is fundamental to who we are as Americans," Biden said in the video. "That's been the work of my first term—to fight for our democracy, to protect our rights, to make sure that everyone in this country is treated equally and that everyone is given a fair shot at making it. But, you know, around the country MAGA extremists are lining up to take on those bedrock freedoms."
These "MAGA extremists," Biden said, are doing so by slashing social security, cutting taxes for the wealthy, targeting women's healthcare rights, banning books, and "telling people who they can love."
Pointing to statements he made during the run-up to the 2020 election, Biden said we are still in a "battle for the soul of America" ahead of the next presidential election. In a social media update, Biden's VP, Kamala Harris, echoed these remarks.
"As Americans, we believe in freedom and liberty—and we believe that our democracy will only be as strong as our willingness to fight for it," she said on Tuesday.
See more in Biden's newly released campaign video above.
In November of last year, Trump announced he would also be running for president again in 2024. This month, he was arrested after turning himself in for an arraignment in a much-discussed hush money case. He pleaded not guilty.