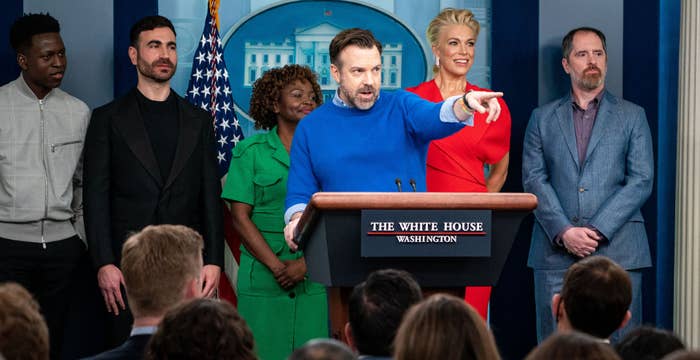 The stars of Ted Lasso took to the White House on Monday, as the cast of the Apple TV+ hit met with President Joe Biden and First Lady Jill Biden to discuss mental health care.
Jason Sudeikis attended the event alongside series co-creator Brendan Hunt, fellow cast members Toheeb Jimoh and Hannah Waddingham, and writer/co-star Brett Goldstein. The show is known for addressing the topic in the form of a team therapist, Coach Lasso dealing with panic attacks, and more.
Speaking with reporters about the importance of mental health—which Biden has listed as part of his bipartisan "unity agenda"—Sudeikis encouraged people to check in with "your neighbor, your coworker, your friends, your family, and ask how they are doing, and listen, sincerely."
"While it's easier said than done, we also have to know that we shouldn't be afraid to ask for help ourselves," the 47-year-old continued. "That does take a lot, especially when it's something that has such a negative stigma to it, such as mental health, and it doesn't need to be that way. And if you can ask for that help from a professional, fantastic. If it needs to be a loved one, equally as good, in a lot of ways."
Sudeikis reminded people that there's no need to be embarrassed about reaching out when it comes to mental health, even if our culture tends to stigmatize the issue.
"No matter who you are, no matter where you live, no matter who you voted for, we all probably, I assume, we all know someone who has—or have been that someone ourselves actually—that's struggled, that's felt isolated, that's felt anxious, that has felt alone," the SNL veteran said.
"It's actually one of the many things, believe it or not, that we all have in common as human beings," Sudeikis added. "That means it's something that we can all, you know, and should, talk about with one another when we're feeling that way or when we recognize that in someone feeling that way."