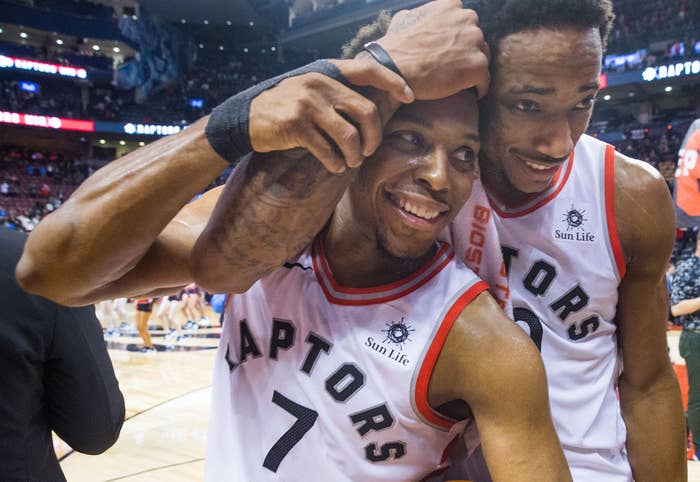 Despite his near-decade long tenure in Toronto ending back in 2018, DeMar DeRozan still has a warm spot in many Raptors fans' hearts. Recently, he's revealed that he would've considered coming back to the North, but only if Kyle Lowry was still on the team. 
In an appearance on former Raptor and teammate Serge Ibaka's show How Hungry Are You?, Ibaka asked DeRozan if he would've been down to rejoin the Raptors if they offered him a similar contract to the Bulls. DeRozan replied, "If Kyle was there."
"My history there is stamped and sealed, and it started with me and Kyle," he continued to say. "That's the only person I would want to keep it rolling with."
DeRozan ended up in San Antonio for three seasons before signing his aforementioned contract with the Bulls last summer. He says he still watches the team play, and was especially warm about the work both Pascal Siakam and Fred VanVleet are doing for the team.
"That's their team now, they earned everything they have. They earned to be starters, to be the face of that franchise, that's them and I love rooting for them elsewhere."
It's no secret that DeRozan and Lowry have been besties for years. In 2018 when DeRozan was traded for Kawhi Leonard and Danny Green, Lowry reportedly ghosted team president Masai Ujiri and then-new coach Nick Nurse for a hot minute. With the Raptors getting their glorious NBA championship the following year, the universe works in mysterious ways.
Watch the full episode of How Hungry Are You? here.