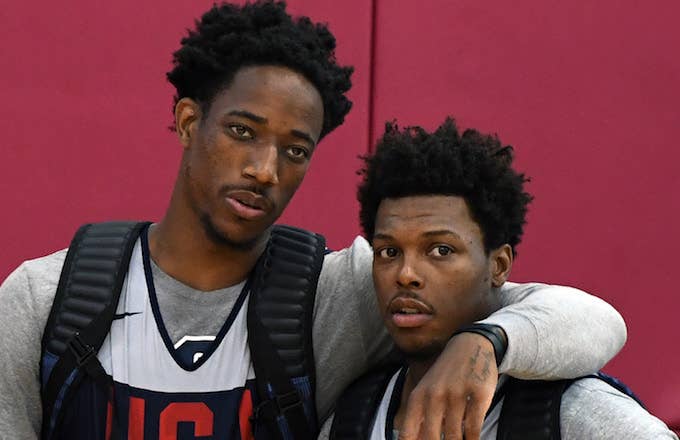 The Raptors made perhaps the biggest splash of the summer outside of Los Angeles when they traded—along with Jakob Poeltl—the leading scorer in franchise history, DeMar DeRozan, to the Spurs in exchange for Kawhi Leonard and Danny Green. While some Raps fans lamented the loss of DeMar, including global ambassador Drake, others were excited about what the former Finals MVP might do for a team that has been routinely blocked by LeBron from making the NBA's apogee.
However, it appears DeRozan's backcourt BFF and fellow all-star Kyle Lowry took the departure of his friend and former teammate to heart. According to Josh Lewenberg of TSN, Lowry didn't return calls or texts from team president Masai Ujiri, or new coach Nick Nurse:
Kyle Lowry the team's incumbent star, had declined to comment on the trade of his close friend and long-time teammate DeMar DeRozan at a USA Basketball minicamp in Las Vegas over the summer. That was overblown and not a direct concern to the team – as Lowry correctly pointed out on Monday, he's never made a habit of speaking to the media during the off-season.
Lowry wasn't the only one ghosting Ujiri this offseason. Both DeRozan and former coach Dwane Casey allegedly went silent after getting traded and terminated, respectively. DeMar's animosity stems from the belief Masai promised him he wasn't going to be traded. For Casey, it was the firing itself, after the Raptors had won a franchise-best 59 games the season before, clinching the No. 1 seed in the playoffs and a Coach of the Year plaque for their coach. But before he could even collect his hardware, Ujiri canned him and promoted Nurse.
The Raptors look to be a legit contender in a conference where the biggest obstacle to a Finals berth is now clad in purple and gold. Masai better hope his moves lead to Toronto's first trip to the Finals in franchise history; with so many former relationships in embers, the blame for any disappointment might ultimately be his.