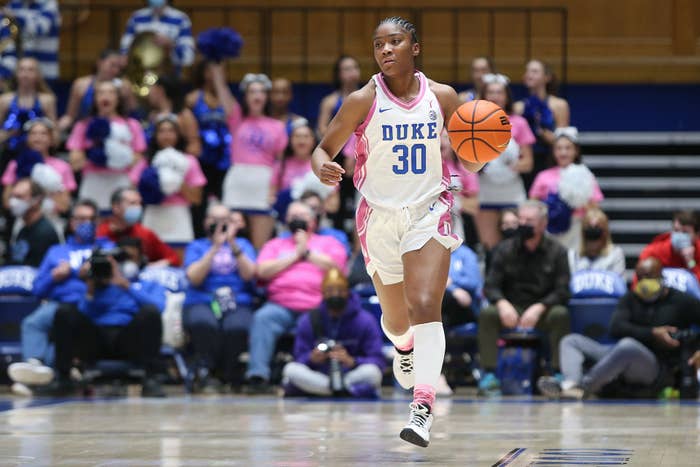 Shayeann Day-Wilson and her teammates didn't know each other very well when she arrived at Duke University midway through the 2021-22 preseason. After all, Shayeann had found her way to Duke to play for former WNBA All-Star Kara Lawson at the very last minute after having to decommit to Syracuse University due to a coaching scandal. Then, Shayeann traveled across the world to compete for Team Canada at the Under-19 Women's Basketball World Cup in Hungary during the summer of her freshman season, missing training camp and the start of preseason. 
But in her first preseason game at Duke, Shayeann, like usual, couldn't be stopped. And when she returned to the locker room after the game, her teammates rushed her at the door, showering her with compliments and expressing how excited they were to play with her. Then, they asked where in the States she was from, and Shayaenn told them she wasn't from America—she was from Toronto, Canada.
"They couldn't believe it. Their jaws dropped so fast," Shayeann tells Complex Canada. "In America, they just assume we all play hockey and play sports on top of ice. They don't understand: we can really play basketball up here."
For the Torontonian point guard who stands just 5-foot-6, it's been that way her entire life: Shayeann has always been overlooked, underrated, and misunderstood. She was constantly passed over by the Canadian national team, not being given the chance to play for youth programs until this past summer despite being considered a phenom since age 13. And stateside, despite outplaying her American competition time and again, Shayeann was the 41st ranked high school player in her class.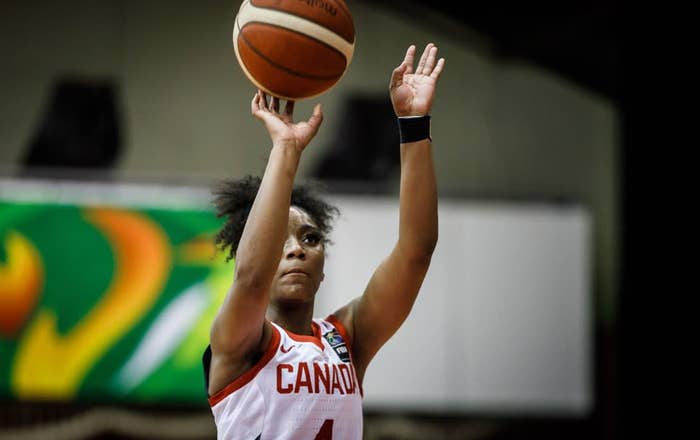 But Shayeann has been proving people wrong her whole life. That Team Canada snub just led her nation in scoring and assists en route to a fifth place finish in Hungary with wins over France, Russia, and the Czech Republic; that 41st ranked prospect just won Freshman of the Year in the ACC, arguably the most competitive conference in women's basketball. She led Duke in points, assists, steals, field-goals and free-throws made, and minutes played despite only starting midway through the season.
"In America, they just assume we all play hockey and play sports on top of ice. They don't understand: we can really play basketball up here."
Every time there has been a roadblock in Shayeann's life, perceived or legitimate, she has driven over it. And she doesn't plan on slowing down anytime soon. Shayeann wants to continue growing the Duke women's basketball program into a powerhouse; she wants to go pro and become just the 18th Canadian to play in the WNBA; and she wants to put Toronto and Canadian women's basketball on the map.
But for an 18-year-old who grew up at Jane and Falstaff and discovered basketball at Falstaff Community Centre, Shayeann has already accomplished more than anyone could have imagined. So, before we look ahead to her limitless potential as a college athlete and a pro, it's worth exploring what Shayeann has already done, including how she changed the culture of women's basketball in Canada. Literally.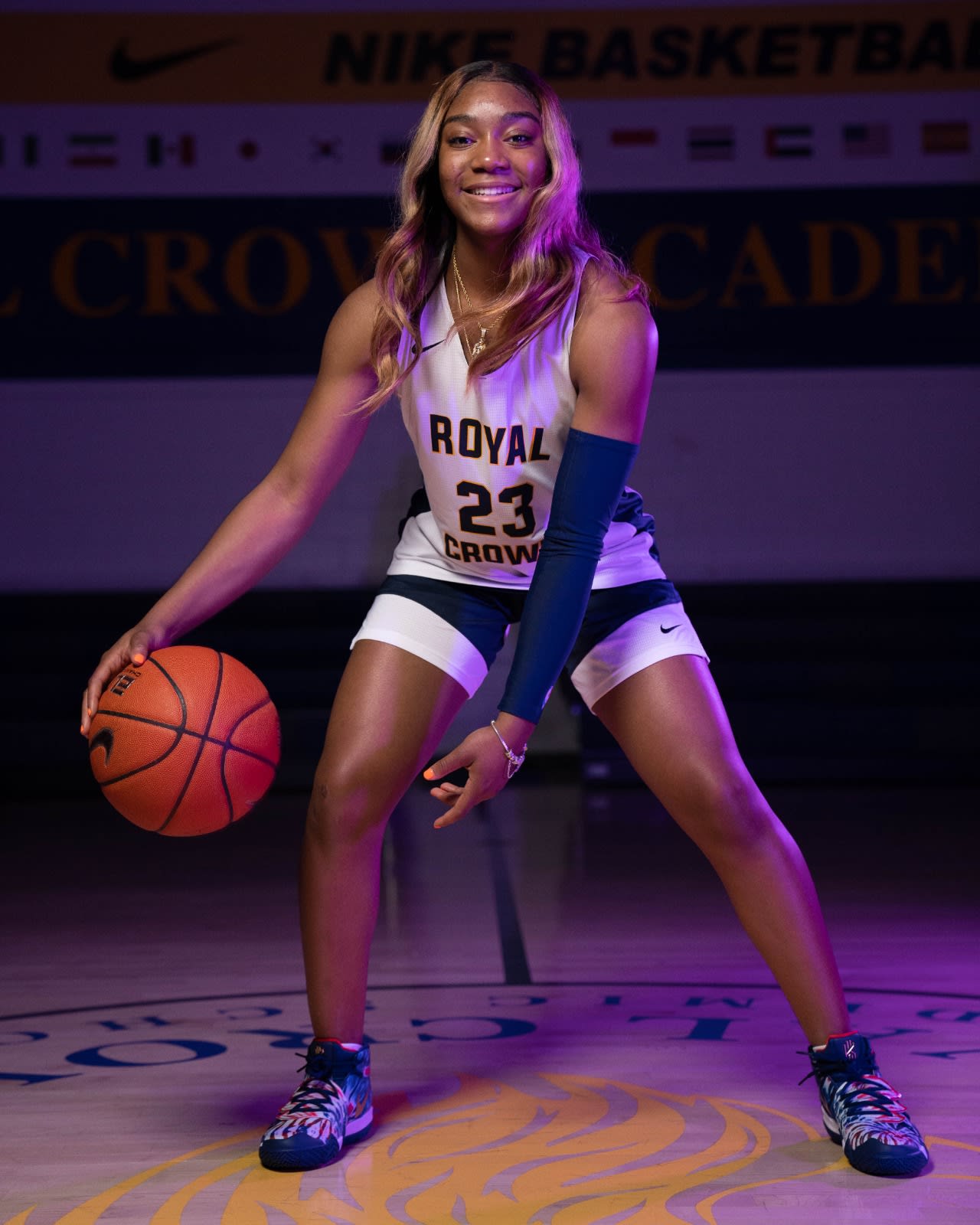 Shayeann grew up at Jane and Falstaff with her mother, Rose Day, her brother, Collin, and her two sisters, Zakayla and Akayla. Like many youngest siblings, Shayeann was fidgety and full of energy, and it often got her into trouble at public school.
Fortunately, her paths crossed with a distant cousin named Patrick Shaw, who came to Toronto to visit family and stayed to run Falstaff Community Centre after the woman who previously ran it had to retire due to health problems. Shaw wanted to get eight-year-old Shayeann back on track in school, and he used basketball as a reward. They would sit in his office until she finished all of her homework and then walk to the gym and shoot around. Eventually, basketball started to grow on Shayeann. 
"As the youngest sibling, you always get stuck with whatever your brothers and sisters do. You never get to make your own way and do your own thing," Shaw, who is a father-figure for Shayeann, told me. "So, basketball was her own thing. She started playing basketball, and then everybody else followed."
Once Shayeann was ten, Shaw asked her if she wanted to take basketball seriously. And ever since she said yes, Shaw has been beside her every step of the way, acting as a mentor and creating a development plan for her that ended up breaking barriers and changing the landscape of Canadian hoops.
But first, Shayeann had to play with the boys.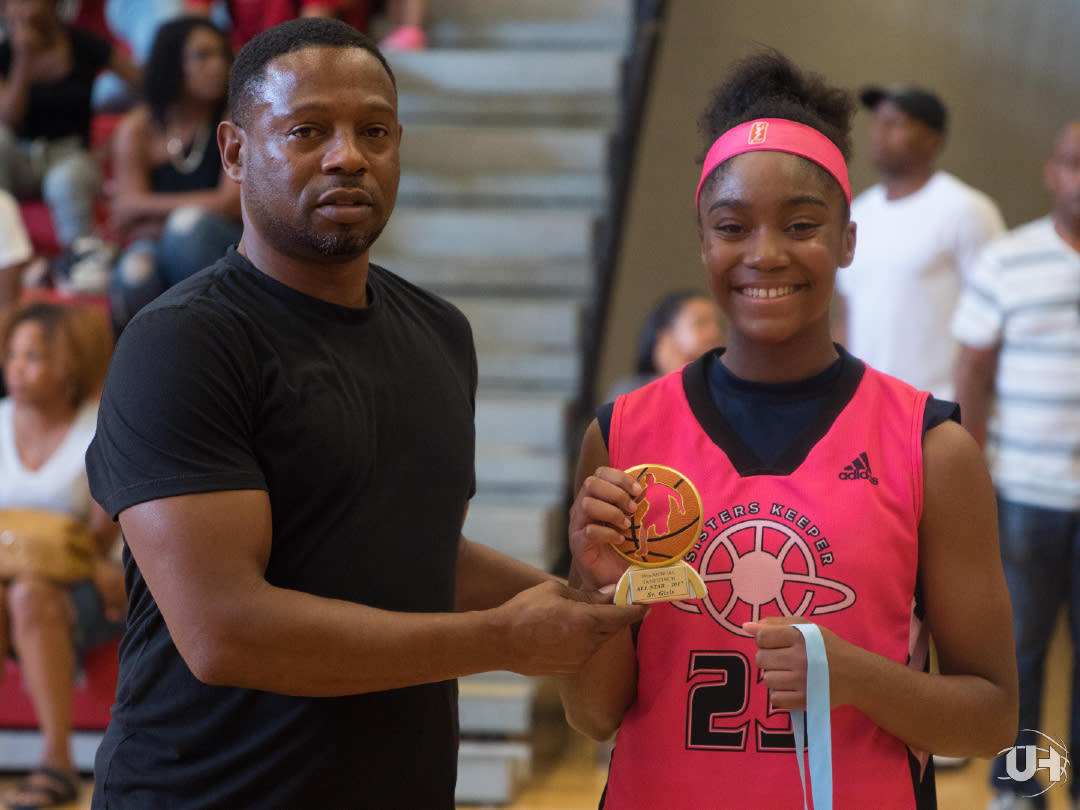 "The next step for my development was making me play with the guys a little bit so I could get tougher mentally and stronger physically. And just develop my game to a whole 'nother level," Shayeann said. "There's nothing like playing with the guys. I mean, it's different from the girls, it's more physical and it just taught me how to be strong."
Shayeann did that for a couple of years, but when she was 13, parents from the AAU team she was on started complaining that a girl was getting more minutes than their sons. Instead of arguing with the other parents, Shaw decided it was time to pivot. And because there were so few proper girl's AAU programs that he could trust to prioritize Shayeann's development—hence why she was playing with boys in the first place—Shaw created his own youth organization and AAU program in 2012 that would be built around Shayeann. They called it Sisters Keeper, which was fitting because both of Shayeann's sisters and many of her neighborhood friends filled out the roster. 
"Shayeann will play anybody. And I hate to make this a girls versus guys thing, but she's one of the few girls that will play any guy one-on-one and be super confident, and then beat him being super confident."
In Shaw's words, "We took a bunch of young girls that nobody else wanted, nobody really cared for. And then we developed them and then they became the best team in Canada." In Shayeann's words: "Sisters Keepers: the greatest program ever."
So, you're probably wondering how Shayeann and her sisters became one of the best girls' AAU programs in North America. And you're probably wondering how they changed the culture of girls' hoops in Canada. 
It started with making sure that the girls were treated with the same respect that the top boys in the country received, from gear to coaching to going to the top tournaments in North America. Sisters Keepers also took advantage of the rapid growth of social media, putting the girls in front of the camera and showing off their trademarked hot-pink jerseys, posting highlight videos of them on Youtube. At a time when women's basketball was told to take a backseat to the men's game, Sisters Keeper refused to adhere to the archaic standards. 
"Whenever anybody would ask me: 'Do you have any guys?' I would say: 'No, we got a group of girls,'" Shaw says.
"We started to make them a focal point and kind of changed the landscape. That time and moment where we did that, it changed the whole complexity of women's basketball across Canada, because they became international superstars and didn't even realize it until we went to America, where people knew about them, wanted their autographs, and waited for them at the court. We would have tournaments and every coach in the nation would be sitting there before our game along with WNBA stars. They heard about them and had to see it for themselves." 

After Sisters Keepers blew up, Crestwood Preparatory College in North York came calling, offering Shayeann, who had gone to public school near Jane and Finch her whole life, a scholarship to play basketball at their very expensive private prep school. The sports teams were terrible at the time and the headmaster wanted to invest in basketball, especially considering that the newly formed Ontario Scholastic Basketball Association (OSBA) elite league was forming in 2015.
But Shaw said that wasn't enough. He told Crestwood that he needed at least five of his inner-city girls to get scholarships to Crestwood. And when he got that, he demanded more, ending up getting 12 different girls to Crestwood in that first year alone, basically having the entire Sisters Keepers' roster join Shayeann there.
Shayeann averaged 17.3 points and 8.2 assists per game in her junior season, winning back-to-back OSBA championships in 2019 and 2020. Shayeann, along with women like Latasha Lattimore and Aaliyah Edwards, turned Crestwood into a powerhouse and the OSBA into the best women's high school basketball league in Canada and a top-three league in North America. It completely shifted the landscape of high school hoops away from OFSAA model towards prep showcases, which go later into the year and give the athletes more time and opportunities to get scouted. Plus, hundreds of Crestwood girls have gotten scholarship offers to U Sports and NCAA Division 1 schools. 
"Her rep at Crestwood is, we refer to her as a pillar. She's one of the pillars of this basketball program. We started the program for her, through her, with her, and about her," Marlo Davis, the women's basketball head coach at Crestwood and an assistant for Team Canada, told me. "And I think she changed the face of girls basketball in Toronto in particular, whether it be through social media or just her individual's success. A lot of people definitely wanted to not necessarily be the next Shayeann, but kind of step in and pick up some of her residual shine."
"It changed the course of my life 100 percent because coming from a regular public school to go to a private school, the expectations are on a different level in terms of just being that student athlete, taking care of your business on and off the court," Shayeann says. "That really helped me. And I thank God for that stage that I went through in my life because Crestwood was just really trying to push you to just be the greatest basketball player but also the greatest student. Going there was just a lot of challenges, a lot of things that I had to overcome. But it allowed me to get to the point that I'm right now."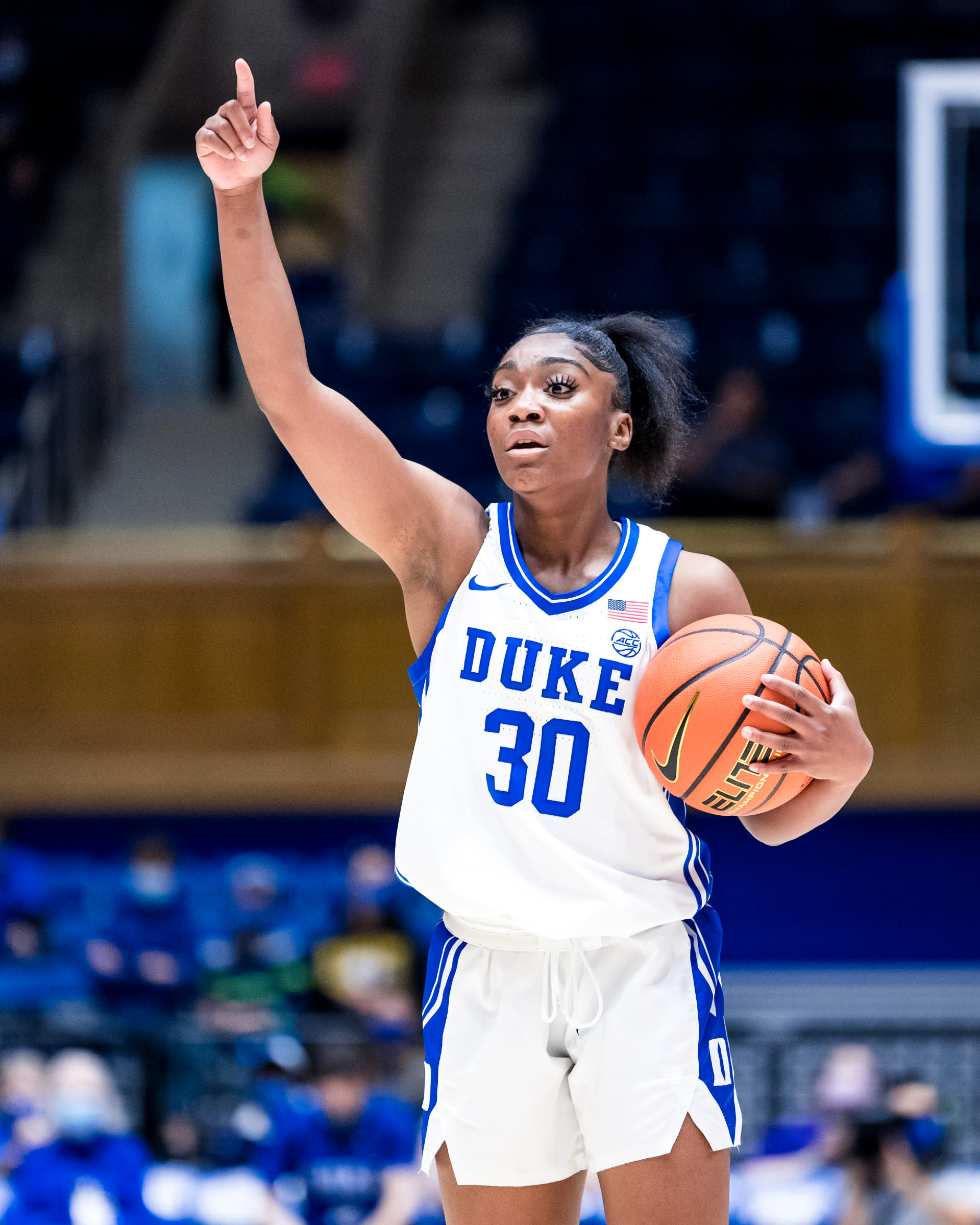 At this point, you're probably wondering what it is that makes Shayeann so good at basketball. After all, we are talking about a 5-foot-6 point guard from Toronto who helped change the system of women's basketball in Canada and is now arguably the best player at Duke—the Duke—as a freshman. It's obvious that Shayeann forged her own path as a public figure, but what about as a basketball player? 
"Shayeann's always been extremely driven. And that stood out at a really young age. I mean, when she wasn't doing her schoolwork, she was on the basketball court," Lee Anna Osei says, who grew up near Shayeann at Jane and Finch and founded Canletes to help promote women's sports in Canada. "Shayeann definitely had that star power at a young age… Her motivation and her will to improve as a basketball player is just second to none. There's not many people that I have crossed paths with in the women's game that have that drive." 
"When I was coming up, everybody would just focus on the boys. People didn't take girl's basketball really seriously. But even from when I was young until now, a lot more people are really starting to pay attention. And I kind of paved the way, too."
Winston Gandy, an assistant coach at Duke who helped recruit Shayeann, didn't know about the Torontonian's work ethic at first. Due to the late nature of her recruitment and the always-tough adjustment from high school to college, he was constantly on her about getting her work in. And she would always tell him: "You don't have to worry about me, coach, ima report for duty."
But one day, Shayeann showed up with a jelly sandwich in her hand minutes before practice. "And I'm like, 'Yo, where were you?' And she's like, 'You don't gotta worry about me, you don't gotta worry about me.' I was like, 'I'm worried about you because you haven't touched the ball yet and practice is about to start.'" But once the buzzer went off for practice, Shayeann immediately tore it up. And then she stayed for about 30 minutes to get extra shots up after practice. As she was leaving the gym, Shayeann gave Winston the peace sign and said, "I always report for duty. Don't you ever forget that!"
"She doesn't cheat the game," Winston says. "I'm sure at her size, with her ability, she has been through a lot of adversity. You don't make it to the level that she's did and have the success that she's had if you don't have a good work ethic, if you don't have a good way about you, if you don't respect the game and put the time in, which she does, and which all the great ones do."
In addition to the drive, what makes Shayeann truly unique is her level of competitiveness. Shayeann is willing to match up with anyone—boy or girl—and she is so emotionally invested that she often used to cry after losses. Osei says that's extremely rare to find, especially in the women's game.
"Shayeann will play anybody. And I hate to make this a girls versus guys thing, but she's one of the few girls that will play any guy one-on-one and be super confident, and then beat him being super confident," Osei says. "As a coach and a trainer, I find that confidence piece in girls is very rare. It's a natural thing for a lot of guys, they just assume they're better than they actually are and so you're not really worrying about confidence with the guys. But for our women, we've had so many players who've been amazing, but the confidence piece has been something that has held them back."
"And so, the fortitude that Shayeann has mentally regardless of her circumstances… is just a separator. There's just not enough women's basketball players that have that kill mentality. And she does."
Coach Davis also grew up around Falstaff. He remembers Shayeann challenging random people she had never met before to play her one-on-one, desperately wanting to win every single game and letting her opponent know that she was the best player on the court. But women aren't expected to do that in sport: they're often expected to be quiet and play by the rules, and those rules are often often biased against them, punishing them for things that men tend to get away with in regards to showboating and trash talking. 
"There were several coaches in the OSBA in particular that either viewed her as a showoff or they thought she was an asshole," Davis says. "And it was like: no, the kid is just super competitive and just wants to win. It's nothing personal."
"But that didn't bother her. She's a kid that is comfortable being who she is in any room… And I think Shayeann is a great example because she's showing every day that she can be who she is: She is a girl from Jane St. that went to a private school and didn't change who she was and still played basketball the way she played it, and for some people how she played it made them uncomfortable because she was maybe super competitive, maybe talked a little trash, but she never changed. 
"And no matter what room she steps in, she's always been Shayeann."
In addition to the drive and competitiveness, one has to have a lot of talent to dominate at every level, including international competition and the ACC. 
Shayeann is a lightning-quick point guard. She is a crafty, downhill player who can score at every level and has put in a lot of work when it comes to finding different ways to score, including ball manipulation, changing speeds, changing directions, and she has extended her range out beyond the three-point line, allowing her to shoot 33.6 percent from three at Duke.  

"She's a player with an immense amount of talent. And she literally got better every day growing up. Every time you saw her, she was getting better," Davis says. "She was really a sponge. Anything you said to her or anything she trained, she would implement it immediately. If she learned a new move, literally the next game she would do the move in-game. And that's amazing because it can take players like six months before they implement some of the stuff they train for in a game setting, where she was just different, her confidence was different… if she practiced something, she was automatically confident enough to do it in the game."
Even so, Shayeann's feel for the game is perhaps her most important skill. She is able to diagnose how the game is being played and figure out what is needed from her, whether it's a big shot or to create for her teammates. She used to come up to Davis, who loved that he could have a running dialog with Shayeann during the game without it ever throwing her off, and tell him: "I just looked my opponent in the eyes and she's afraid of me." Or: "coach, they're slowing down, let's press." She would feel the energy of the game and adapt.
"She can play and listen and feel at the same time and I think that was special and why her college adjustment has been so easy. Because at the college level, so many different things are happening on the fly, so many different things are changing on the fly, and she's able to think and adjust on the fly like no other," Davis says.
"I call her insurance. I wouldn't tell her this because I won't give her too much credit to her face, but even as a freshman, we knew what we were going to get night in and night out. And that's very hard to do," Duke assistant coach Winston tells me. 
"And I think that's what makes her so good is that she diagnoses how the game is being played, the speed or the defense, and she makes others around them better. The special players make others around them better. And she has the ability to do that. And only a few have that ability at the college level."
It's no wonder Shayeann was awarded ACC Freshman of the Year, a feat made even more outstanding by the fact that she missed her senior season due to COVID, was committed to another school up until the last minute, and arrived late to Duke. But Shayeann has been making her teams and her teammates better since long before college. 
"I would say being a freshmen but also trying to be a leader is kind of hard. Because people are really looking to you to just settle everything down and just run everything. So, that's a lot of pressure. But I mean, I'm built for it. I mean, I was born a leader, so I can't really shy away from that," Shayeann says. 
"It comes from basically everyone in my circle. I only surround my circle of people that are leaders. I don't run behind followers. I don't have a lot of followers in my crowd. I just have leaders. My mom has been a leader. Patrick has been a leader. My whole family has been leaders. So, they really just taught me how to lead."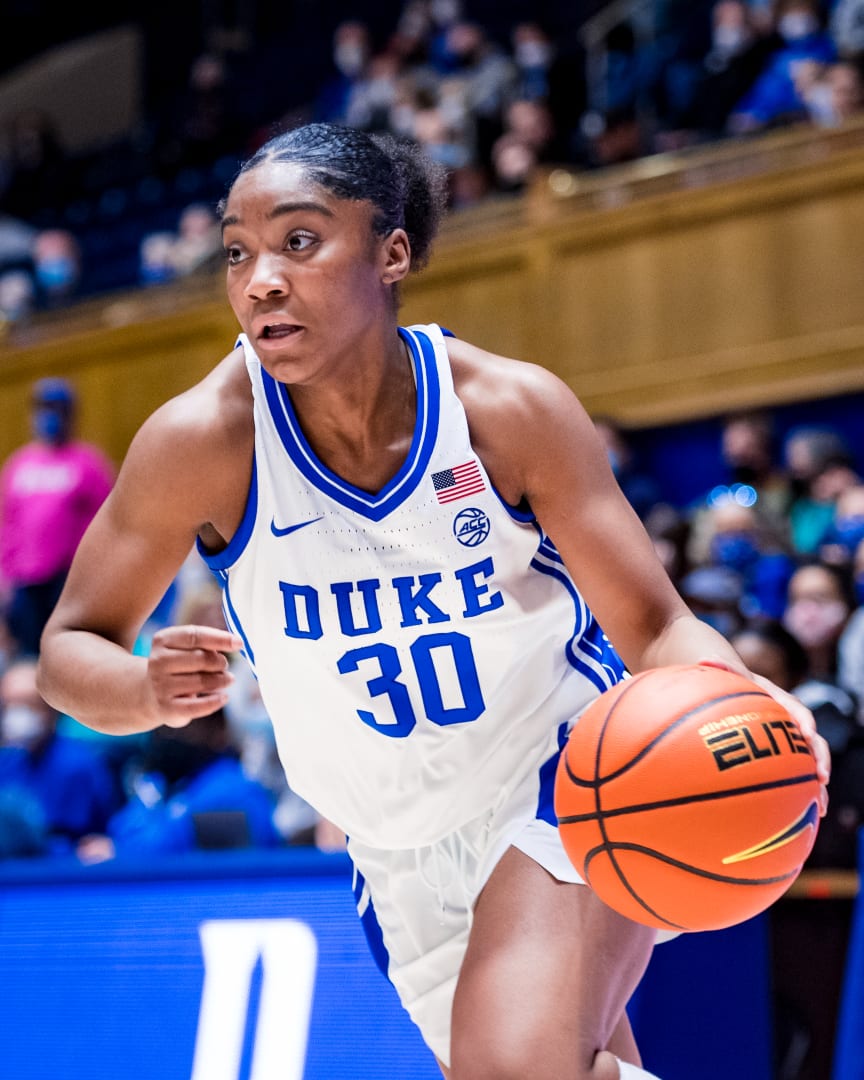 If the question is: what's next for Shayeann? The answer would appear to be: everything. 
Shayeann wants to help Duke win an ACC tournament and qualify for the Big Dance, which they failed to do this season after finishing 17-13. She wants to wear the red and white at the senior team level, eventually helping lead Team Canada to a gold medal at the 2024 Olympics. She wants to go pro and sign endorsement deals with major shoe brands, especially right here in Canada. 
Talking to Shayeann, it's clear that she has a lot on her plate, and that she isn't just doing this for herself or her love of the game, but also for the next generation of Canadian ballers who are coming up after her. More than anything, Shayeann wants to continue putting Canadian women's basketball on the map. 
"When I was coming up, everybody would just focus on the boys. People didn't take girl's basketball really seriously," Shayeann says. "But even from when I was young until now, a lot more people are really starting to pay attention. And I kind of paved the way, too. I kind of played some part in it because everyone saw my growth. And now people are turning their heads towards the next generation."
"It's definitely improving. I think because of kids like Shayeann and what they've done and the energy they brought through social media, I think they've shined a light on the fact that girls can be stars and girls can play basketball," Davis says. "Like, Shayeann has Drake reposting her on social media. So I think that in itself to other media outlets, to other businesses investing in girl's basketball, those things have definitely helped."
When I ask Shayeann about what fuels her, she doesn't give me a typical answer. Instead of saying something about haters and proving people wrong—and there are a lot of people who got it wrong—she cites her saying: "This is for the ones that believe." Shayeann says that she wants to make it in order to prove the people that supported her from day one in Toronto gyms right, rather than to prove the others wrong. 
And she wants to do it her own way. Despite growing up with very few role models in Canadian women's basketball, Shayeann doesn't find it at all difficult to envision herself becoming exactly that for the next generation of Canadian ballers.
"I just believe in myself 100 percent. And I kind of want to change the game in terms of doing something that no one has ever done before. If they couldn't do it, maybe I could."
"I mean, that's everyone's goal: to be a game-changer."