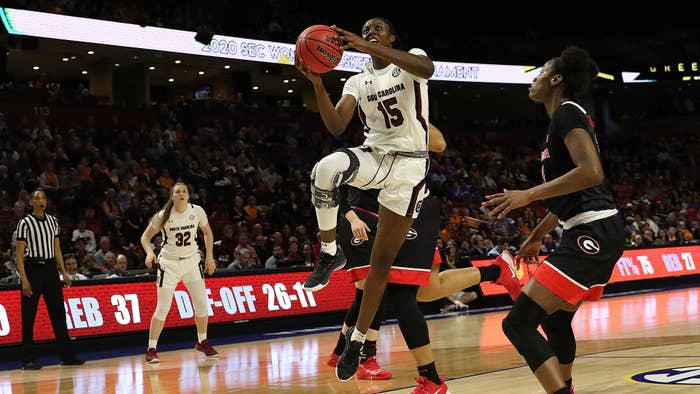 Search "Laeticia Amihere" on YouTube and immediately a video pops up of her days at Team Ontario in high school. 
It's an AAU game at a typical high school gymnasium: walls splashed with orange, banners with jersey numbers, spectators huddled close together, cheering on their respective teams. 
Amihere anticipates a pass from the opposing team to a player at the top of the key. She jumps up and tips the ball to mid-court. No one is in Amihere's way. She has a clear path to the basket. In practice, Amihere often dunked for her teammates or an empty gym. She could never predict when she'd showcase her secret talent. But it was in her back pocket, ready to be shared with the world. 
Amihere dribbled towards the basket. With a clear path, a layup was a viable option, but not as dramatic. In a split-second decision, Amihere lifts her feet off the ground and throws the ball into the rim.
A slam dunk. The first time a Canadian woman dunked in a game. Amihere made history. 
Her teammates jumped out of their seats on the bench, screaming with joy. The highlight of Amihere's dunk went viral, making her an instant Canadian basketball sensation. 
Flash forward to the present and Amihere is a key member on the No.1 seed South Carolina Gamecocks, currently in the Final Four. The same player showing off dunks for Team Ontario is now on college basketball's biggest stage. Her natural athleticism is apparent whenever she steps onto the court. More important is her competitive drive—motivated to help her team win a national championship. 
"I've been hearing about the NCAA Tournament since I first started playing basketball," Amihere says over Zoom from the team hotel in San Antonio. "Winning a chip is what we want to do." 
Amihere's performances in the NCAA Tournament demonstrate her impact on the Gamecocks team. Through four games, the Canadian is shooting 58.3 percent from the field, averaging 11 points per game. Against Georgia Tech in the Sweet 16 where South Carolina won 76-65, Amihere put up 15 points, on 6-of-8 shooting from the floor. Not only can Amihere score but her length and physicality anchor the defense. In South Carolina's 62-34 victory over Texas in the Elite Eight, the Gamecocks recorded 14 blocks, nine of which came from Amihere. 
"It's a motivation to keep working," Amihere said. "It's a testament to Canada and how much we're putting into women's basketball to make sure it's on the rise."
Her energy on both ends of the floor injects a spark into the entire team. 
"She's just getting started," says Gamecocks sophomore Zia Cooke. "A lot of people don't know how good she really is. I'm excited for what she has in store for us." 
Amihere hails from Mississauga, Ontario, a hotbed for Canadian basketball talent. She attended King's Christian Collegiate in Oakville, a school steeped in academic and athletic success.
Zelimir Stevanovic, who coached Amihere at King's Christian, recalls her being a devoted student of the game. 
"She's very intelligent," Stevanovic says. "She liked to watch herself in the car on her way to games and analyze her performance." 
Stevanovic credits Amihere's mom, Georgette, for instilling in her the values to succeed on and off the court. Whether that's how to behave or emphasizing education, Georgette wanted the best for her daughter. She entrusted Stevanovic to train Laeticia, putting faith in the process to make her a well-rounded basketball player. 
As Amihere improved, her spotlight grew. While at King's Christian, Amihere trained with the boys' teams, holding her own in one-on-one or five-on-five scrimmages. There wasn't one game that stood out for Amihere; according to Stevanovic, she consistently put up 20 points and 10 rebounds, earning her two MVPs in the league.
Away from King's Christian, Amihere began representing Canada on the international stage. She won gold at the FIBA U15 Americas Cup while receiving bronze at the 2017 FIBA U19 World Cup. As a sophomore, Amihere played five exhibition games alongside Canada's senior national women's team. These experiences elevated Amihere's status as a young prospect, propelling her to help Canada for the Tokyo Summer Olympics.
"It's one thing seeing her play for South Carolina, it's another thing to see her on the court against Belgium and Japan, top-tier teams in the world," says Team Canada women's basketball head coach Lisa Thomaidis, who coached Laeticia during the FIBA Olympic Qualifiers in February 2020. "The difference between last year and this year is she's getting her explosiveness back and her comfort on the court." 
"Our motto was always 'On the Podium,' which means to be a top-three team in the world," Amihere said. "The growth in not just the athlete's development but everything surrounding it, including mental health, is what drove us to be fourth in the FIBA world rankings." 
While Amihere shined throughout her high school career, it didn't come without its challenges. She suffered two knee injuries, cutting short her junior and senior seasons. As the No. 10 overall recruit in the 2019 class, it was devastating news for the young Canadian.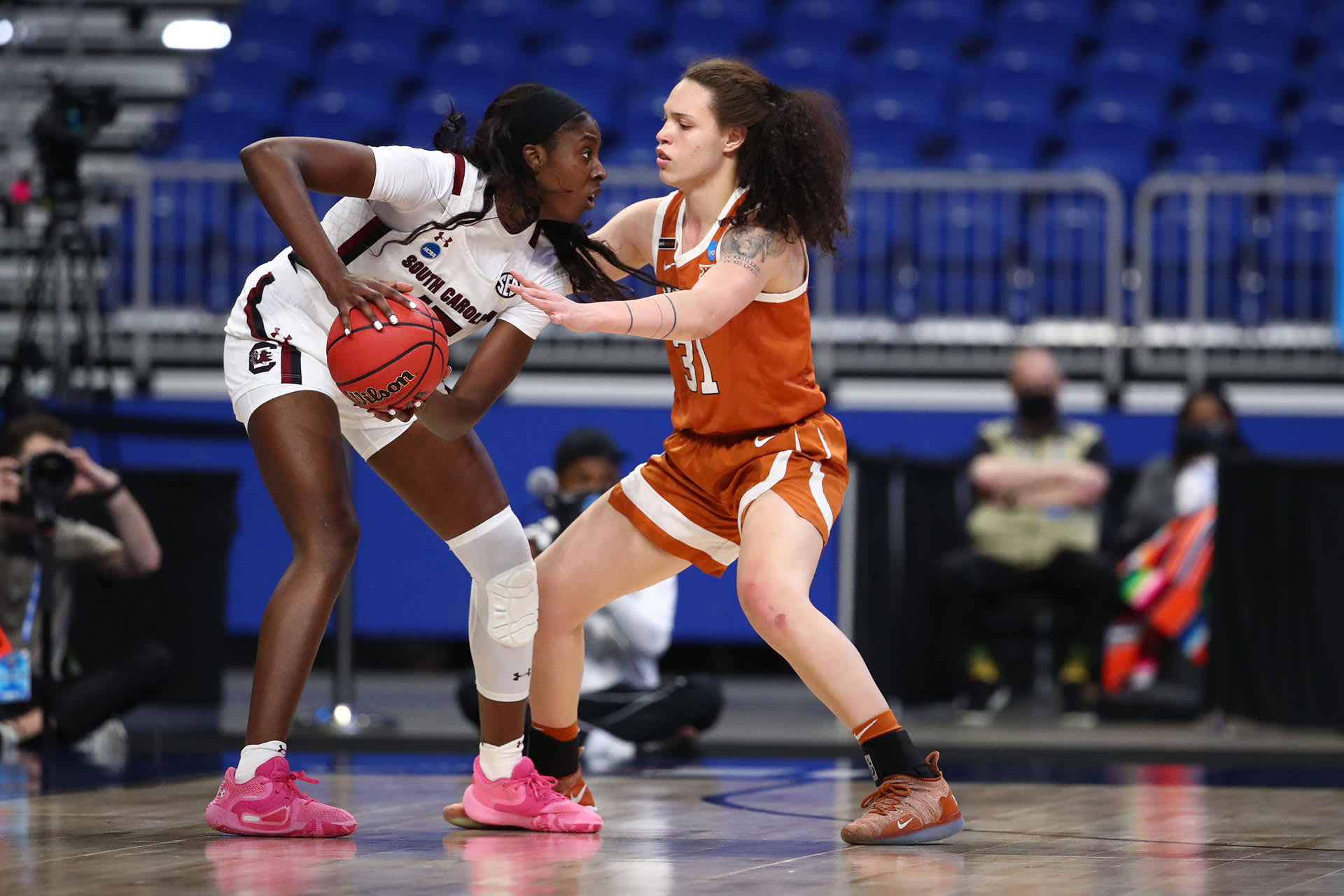 Amihere never lost faith. She channeled the adversity into motivation, eager to get back on the court as an improved player. Dawn Staley, the head coach of the South Carolina Gamecocks women's basketball team, made the prudent decision to allow Amihere to join the team in January of 2019. As she received treatment, Amihere formed bonds with her teammates and embraced the winning culture that Staley's created in South Carolina. 
During her redshirt freshman year (2019-20), Amihere played the entire season, where she helped the Gamecocks be the number one team in the nation for the first time in program history. However, due to the global pandemic, South Carolina's run to a championship ended. 
Amihere believes there is a sense of unfinished business for the South Carolina roster ahead of its national semifinal matchup with one-seed Stanford. Before the tournament began, Staley mentioned how she'd use Amihere in a different role. The move worked, with Amihere not just the leader on defense but creating scoring opportunities on the offensive end. 
"We're putting her in a position to do a lot of things for us on both sides of the basketball," Staley said. "L.A. is probably the most confident, the most focused. She's got a little stubbornness in her. You don't overcome two ACLs in a year and a half span and not have some stubbornness to her. Her stubbornness allows her to stay focused and to stay confident."
With the Final Four tipping off Friday, there will be a Canadian on every one of the four schools. Amihere relishes the opportunity to play on the big stage, demonstrating the immense talent in the Canada basketball pipeline. 
"She's not one of those kids that will crumble under the pressure," Stevanovic said. "With more eyes on her, the more she has to prove, the better she will be," 
"It's a motivation to keep working," Amihere said. "It's a testament to Canada and how much we're putting into women's basketball to make sure it's on the rise." 
Just like her days with Team Ontario, dunking in front of a packed gymnasium, Amihere is looking to soar in San Antonio, boundless in her pursuit of a national championship.