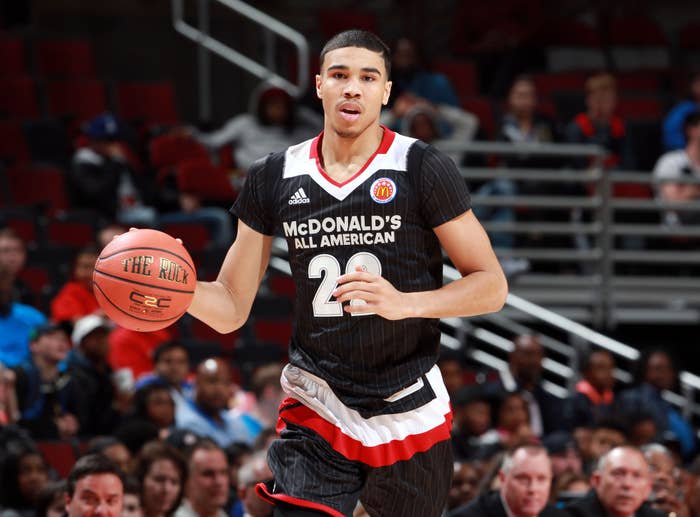 By now you're well aware of AAU basketball and the many issues that have been lobbied against it. From Kobe Bryant's critique of how the dominant youth basketball body lacks focus on fundamentals to Steve Kerr's examination of its shady backdoor deals, there's no shortage of opinions in regards to how terrible the AAU has become. But despite the bevy of scrutiny and criticism, there's no denying that the AAU still serves its purpose: to provide aspiring high school hoopers a spotlight to secure collegiate scholarships.
AAU has long supplanted traditional high school hoops programs as the premiere destination for collegiate recruiting. Moreover, for teenagers looking to play basketball at the next level, participation in AAU programs has become absolutely necessary, as it provides the greatest visibility to be discovered by potential colleges and universities. 
"AAU is killing high school basketball," says Marcus Stout, a former standout at Fordham University who briefly played overseas and now teaches basketball fundamentals to youth. "It's a necessary evil though. It's good because it provides opportunities to players who might otherwise be overlooked, but it's de-emphasizing the essence of the sport of basketball."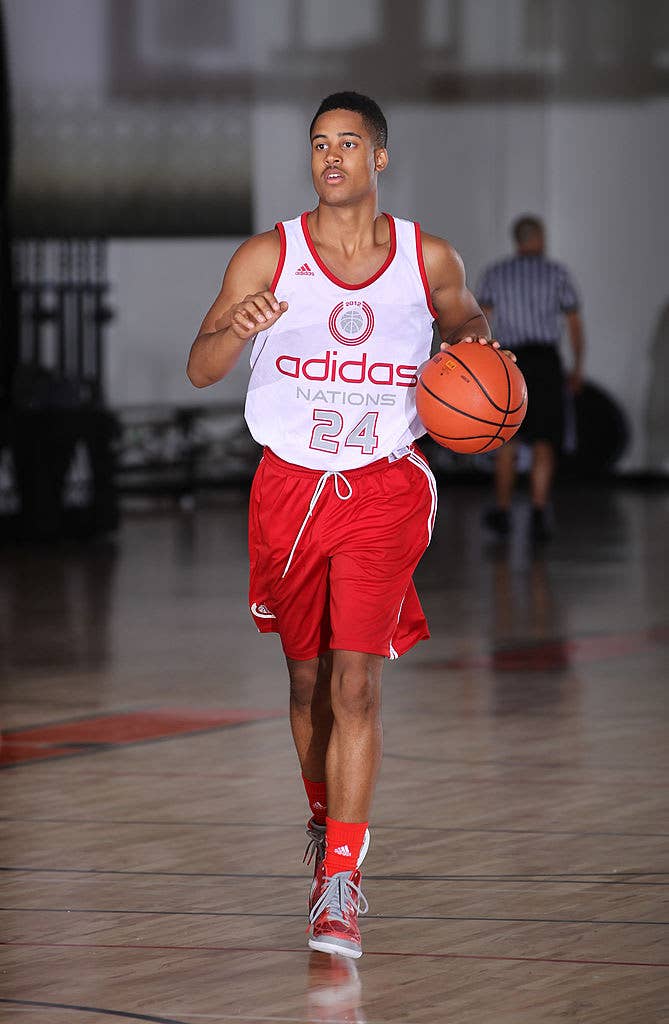 There are two main reasons college-bound athletes have increasingly de-emphasized participation in their respective high school teams. The first, and most obvious, is the heavy influence of shoe companies. For a league once dedicated to youth development and skill-building, AAU programs have now become hunting grounds for athletic apparel and shoe companies. Nike, adidas, and now Under Armour have been pouring loads of money into AAU programs for years and they're using every tool in their arsenal to influence highly coveted recruits.
According to Stout, who also works as a pre-draft trainer for NBA prospects, "Shoe companies run everything now. They have caused a complete transformation of high school basketball to become more individualized."
shoe companies have caused a complete transformation of high school basketball.
There's no mystery as to why shoe companies are willingly footing the bill for premier AAU-sanctioned event across the country. For them, it's merely a marketing investment focused on selling more sneakers and apparel to basketball fan and enthusiasts. And the pressure to secure these contracts has created pressure to succeed more than ever before.
"It's all about keeping the shoe contracts and making the shoe companies happy. If you're winning, then shoe companies are going to provide money. And if you want to win you've got to stack as many talented players as possible," says Stout, who played for The Family, a Nike-sponsored AAU program out of Detroit that has produced a bevy of NBA players including Golden State's Draymond Green.
It's an enticing pitch; give exclusive gear and a chance to meet NBA stars to the kids, while guaranteeing little to no out-of-pocket cost to the parents—in the form of generous allowances for travel and lodging—and in exchange, the coaches influence players to sign with schools that have sponsorship deals with the companies that are bankrolling the entire operation.
Nike's Elite Youth Basketball League, which concluded earlier this month in Augusta, Georgia, with its annual Peach Jam Tournament, is a prime example of this business model. The tournament includes signature PEs and this year's pool has teams backed by NBA players Chris Paul, Carmelo Anthony, and Bradley Beal, all of whom have endorsement deals with Nike or Jordan Brand. Moreover, Harry Giles, De'Aaron Fox, and Jayson Tatum—the third, fifth, and 20th selections in this year's NBA Draft, respectively—were all standout performers in the 2015 Peach Jam.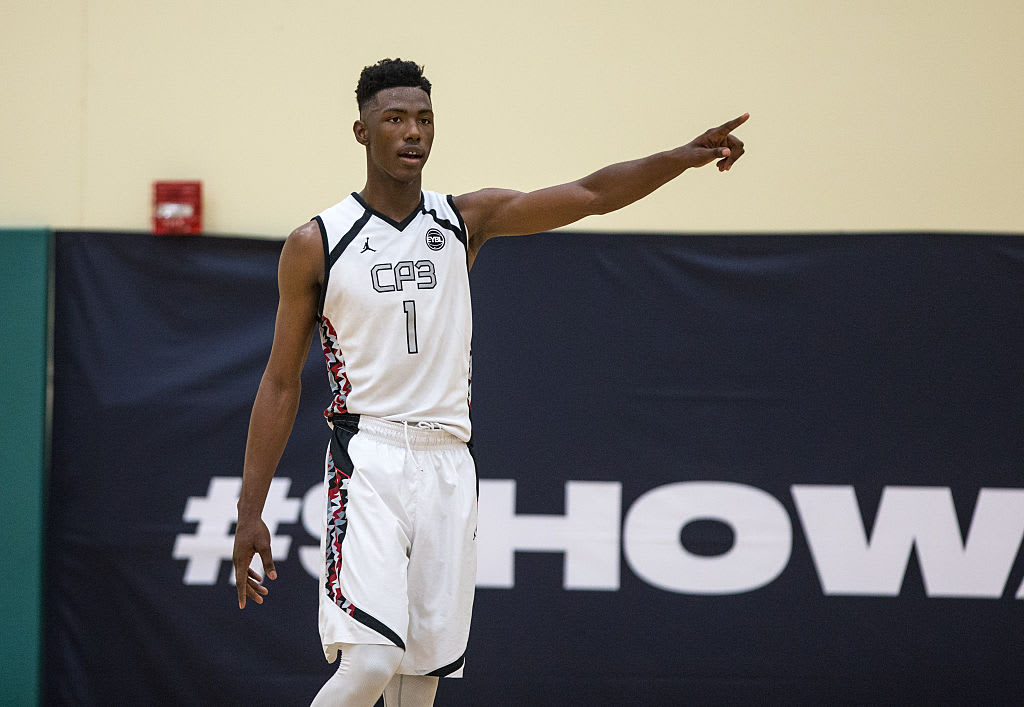 All three players played college ball at Nike-sponsored schools—Tatum and Giles at Duke, Fox at Kentucky—and have inked endorsement deals with the Swoosh since turning pro. If you're a teenager who's got skills and an obsession with basketball, why would you NOT want to be apart of that?
The second, and perhaps most significant reason, is the competition. Embarrassing kids in neighborhood, city, or even state high school leagues is one thing, but to shine against someone of the same caliber carries more weight. College coaches want to know if a kid's game translates to the next level and have become less interested in witnessing a man-child demolish average 15-year-olds en route to a city or state championship.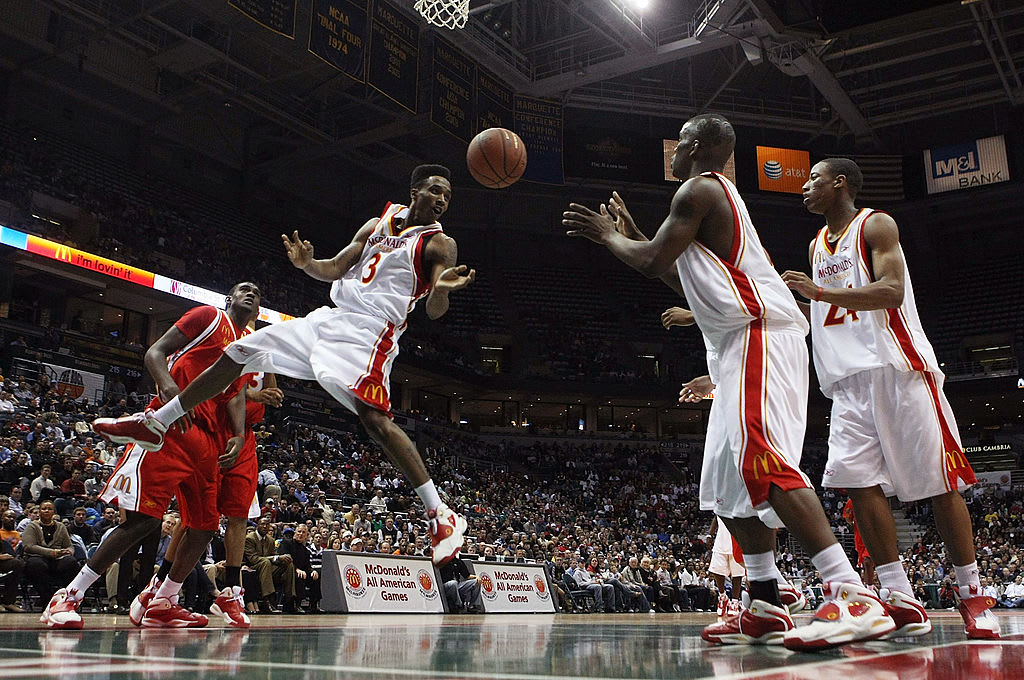 "Kids don't have any loyalty to their high school anymore," says Stout. "We live in a microwave society where players and coaches are focused on short-term success rather than building something bigger." In essence, AAU programs are stacked all-star teams built to compete with other stacked all-star teams across the country.
kids don't have any loyalty to their high school anymore.
Until recently, talented hoop stars would simply transfer to private schools with impressive basketball programs in order to play with and/or against players of the same caliber. Schools such as Oak Hill Academy and Montverde Academy have built reputations as basketball factories, routinely attracting NBA-level talent by competing nationally with other prep school super programs. 
However, with states enforcing more rules limiting student transfers and discouraging recruiting, players have taken to the talent-rich landscape of AAU basketball not only during the summer but in-season as well. Some players have gone as far to enroll in specialized basketball academies that outsource their academic requirements. Such is the case with Findlay Prep, a basketball factory located in a suburb of Las Vegas whose alumni include current NBA players Avery Bradley (Detroit Pistons), Tristan Thompson (Cleveland Cavaliers), Cory Joseph (Toronto Raptors), and Kelly Oubre (Washington Wizards).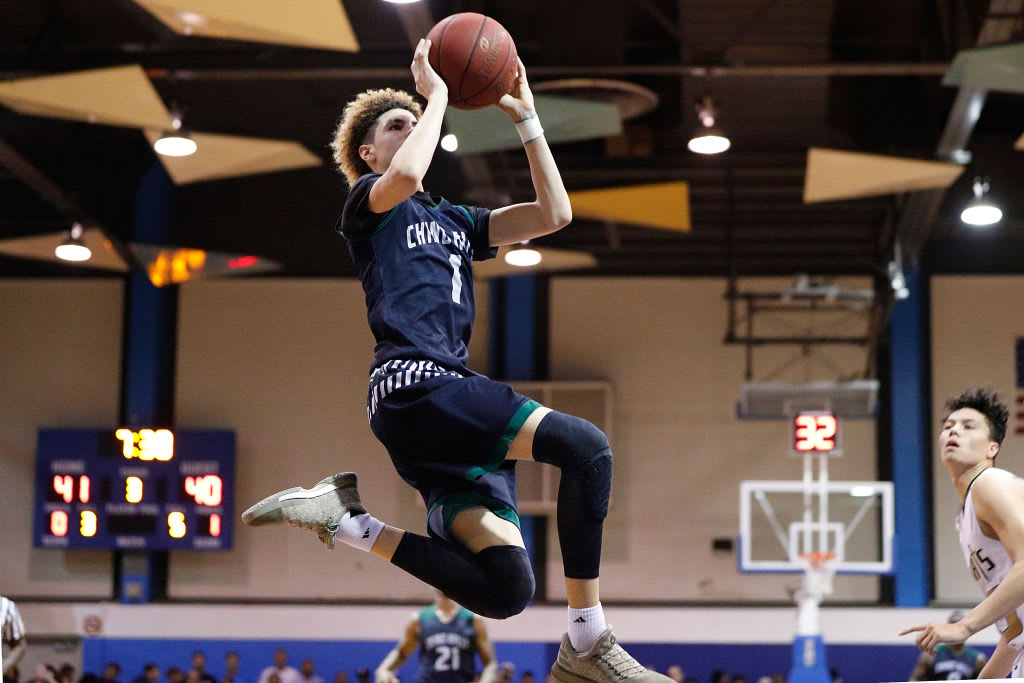 As dire as things may be, all is not lost for traditional high school basketball programs. Not everyone is rich enough or talented enough to participate in the medley of summer or in-season programs that draw the attention of basketball bloggers and college coaches alike. Nor is every parent completely sold on sending their children to a prep school without a physical location that specializes in basketball. Plus, AAU still lacks foundational focus in key areas.
"When you're talking about college and pro basketball players, everyone is talented. But high school programs help players build habits and tendencies around situational awareness—the mental game. That's what matters on the next level," Stout says. "It's not just about hitting jump shots and dunking like AAU. Do you know where to be in key situations with or without the ball in your hands? High school basketball is about team success whereas AAU is about the individual."
high school basketball is about team success whereas aau is about the individual.
High school basketball still provides an attractive avenue for mid-level recruits, and the popularity of digital platforms like YouTube, Instagram, and Snapchat, has made it easier to gain notoriety. Moreover, coaches at the scholastic level are still regarded as better teachers of basketball technique, skill, and knowledge than their AAU counterparts. Plus, winning city, state, and even regional tournaments still holds weight to solidify lasting legacies, especially in fertile basketball grounds such as the DMV, New York, and L.A.
But the landscape of high school basketball is drastically changing and the tug of war between AAU and traditional programs is becoming incredibly one-sided. Only time will tell whether traditional high school hoops programs ever regain their appeal or whether AAU reigns supreme for years to come.