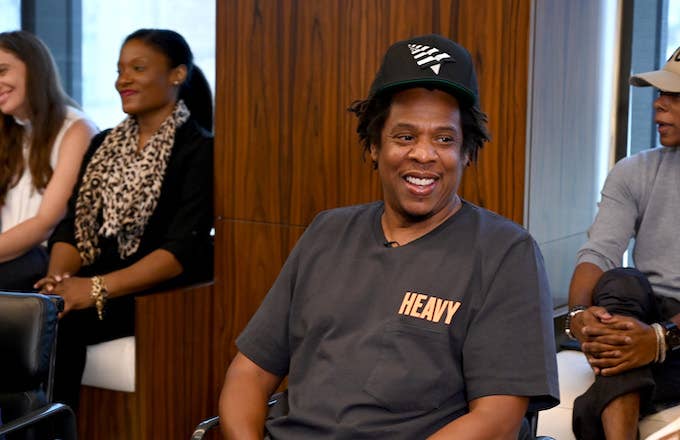 It appears JAY-Z will become part owner of a major sports franchise.
Sources with knowledge of the situation told TMZ that the hip-hop mogul will have "significant ownership interest" in a NFL team. The insiders say JAY decided to make the move "because he's a huge fan, already has a sports business and wants to continue to be a change agent for the NFL."
It's unclear what team JAY plans to own or when the deal will be finalized, but sources say it's happening soon. JAY was previously a minority owner of the Brooklyn Nets.
Stay tuned as more information regarding the reported purchase becomes available.
News of JAY becoming a part owner of a NFL franchise comes on the heels of Roc Nation's partnership with the league. Earlier in the week, JAY held a press conference about the deal with NFL Commissioner Roger Goodell and fielded questions concerning Colin Kaepernick. "I'm not his boss," JAY said when asked about the quarterback and if he would be involved with the partnership. "I can't just bring him into something. That's for him to say."
It's been a busy week for JAY. On top of all the news related to the NFL, the rapper's debut studio album, Reasonable Doubt, arrived to streaming services outside of TIDAL. Although the album is now available on platforms like SoundCloud, Amazon Music, Google Play Music, iHeartRadio, Pandora, and Napster, it has yet to make its way to Apple Music or Spotify. Reasonable Doubt was released back in 1996 and boasted features from Memphis Bleek, Mary J. Blige, Foxy Brown, The Notorious B.I.G., and others.