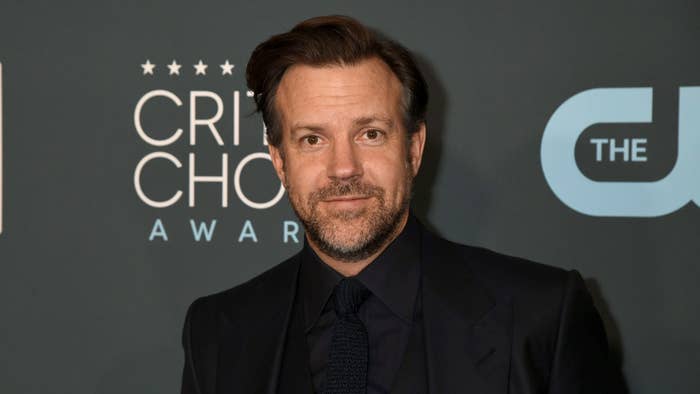 Jason Sudeikis opened up in the latest issue of GQ about parting ways with Olivia Wilde late last year after spending a decade together.
"I'll have a better understanding of why in a year," Sudeikis said, "and an even better one in two, and an even greater one in five, and it'll go from being, you know, a book of my life to becoming a chapter to a paragraph to a line to a word to a doodle."
"That's an experience that you either learn from or make excuses about," the 45-year-old continued. "You take some responsibility for it, hold yourself accountable for what you do, but then also endeavor to learn something beyond the obvious from it."
Sudeikis confirmed in the Zach Baron-penned piece that the two split in November 2020, ending their seven-year engagement. Wilde was spotted with Harry Styles two months later at the singer/actor's manager Jeffrey Azoff's wedding. The pair were brought together after Styles replaced Shia LaBeouf as the male lead in Wilde's next film as director, Don't Worry Darling. LaBeouf—who was the target of misconduct allegations of "relentless abuse" from FKA twigs—was fired for reportedly displaying "poor behavior" and exhibiting a style that "clashed with the cast and crew." 
This past February, Wilde shared a lengthy message on Instagram where she was effusive in her praise of Styles and his willingness to take on a supporting role in Don't Worry Darling, a film led by a woman (Florence Pugh of Black Widow and Midsommar).
Around the same time, Sudeikis' career was reaching new heights with a Golden Globes win for Best Actor in a Comedy Series for his role as Ted Lasso in the Apple+ series by the same name. The moment has become widely known as the time he delivered an extremely low-key acceptance speech over Zoom in a tie-dye hoodie from his sister's company. 
"I wore that hoodie because I didn't wanna fucking wear the fucking top half of a Tom Ford suit," Sudeikis said. "I love Tom Ford suits. But it felt weird as shit."
"I was neither high nor heartbroken," he clarified. "So yeah, off it came and it was like, 'This is how I feel. I believe in moving forward.'"
Sudeikis went on win a SAG Award, and on Tuesday received an Emmy nomination in the Outstanding Lead Actor in a Comedy Series category for a character Wilde convinced him to take further than "just a bit on NBC" during a dinner at least six years ago. "It was there, the night at dinner, when Olivia was like, 'You should do it as a show,'" Sudeikis recalled. He and Wilde continued to work through what would ultimately become the plot of the series. 
"Okay, but why would he take this job? Why would a guy at this age take this job to leave? Maybe he's having marital strife. Maybe things aren't good back home, so he needs space," Sudeikis continued. "And I just riffed it at dinner in 2015 or whenever, late 2014. But it had to be that way. That's what the show is about.'" 
Anyone familiar with Sudeikis' personal life could see eerie similarities between himself and the Ted Lasso character. While artists putting themselves in their art is a common occurrence, his portrayal is playing out in wake of his fallout with Wilde. "I wonder if that's true," he responded. "I mean, isn't that just a little bit of what Oprah was telling us for years and years? You know, manifestation? Power of thought? That's The Secret in reverse, you know?"
With a wide array of new accolades, coupled with a new family dynamic involving his ex-fiancé and two children, Sudeikis summed up the highs and lows of the last year as difficult. "I think it was really neat," he said. "I think if you have the opportunity to hit a rock bottom, however you define that, you can become 412 bones or you can land like an Avenger. I personally have chosen to land like an Avenger." 
While Sudeikis admitted he would prefer to bounce back and deal with whatever comes next rather than shattering, he sees the power in the alternative. "Because we all know that a bone, up to a certain age, when it heals, it heals stronger," he acknowledges. "So, I mean, it's not to knock anybody that doesn't land like an Avenger. Because there's strength in that too." 
Sudeikis appears to be landing on solid ground in his personal life as well. He was seen with his Ted Lasso and Horrible Bosses 2 co-star Keeley Hazell in New York City late last month. A People source confirmed they have "been seeing each other...for a little while now." They also specified, "They're just having fun. It's nothing serious at this point."
Season 2 of Ted Lasso will premiere on Apple TV+ on July 23.