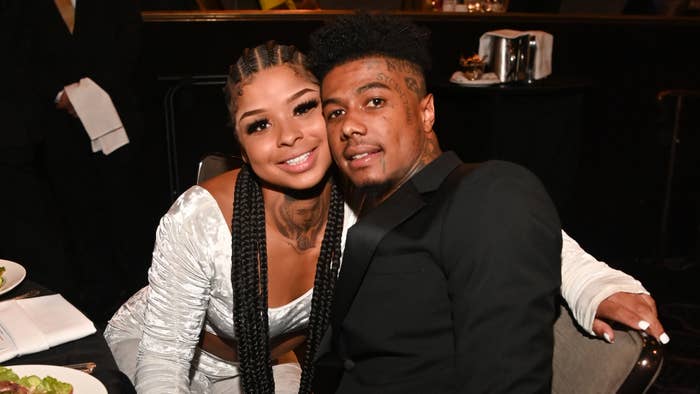 Blueface and Chrisean Rock have a worryingly unhealthy dynamic. 
Rock recently took to Instagram to share that she was expecting a baby. She shared a photo of three different positive Clearblue pregnancy tests via Instagram stories, writing: "Guess how many heart beats?" Instead of responding to his girlfriend's announcement with words of encouragement, Blueface took a different approach.
The Famous Cryp rapper said he was done with Rock, and alleged that he didn't father the child. "To answer y'all questions yes me an rock are officially done it's strictly business I tried it an clearly it wasn't giving before she announces…she's pregnant with somebody else's child not mine." Blueface added in a follow-up tweet: "Rock has had encounters with 10 different men in the last year until I see DNA test then it's not mine."
Unfortunately, it didn't end there. He added: "I know I know y'all thought she was all about me…me too lol but the facts are facts being my BM would be a blessing. She must be currently drinking while pregnant that's a red flag. It's not a Blueface baby."
Blueface and Chrisean Rock started their relationship at the height of the pandemic in 2020. The rapper launched an OnlyFans reality show, Blue Girls Club, in which different women competed for his love and affection. Rock ended up being a standout due to her aggressive demeanor and endless affection toward Blueface. She eventually won the series, and signed to her man's label.
For the past two years, the on-again, off-again couple have gotten into several disputes, some of which have led to legal charges. Despite the obvious red flags, their reality show Crazy In Love was picked up by Zeus Network and premiered on the small screen last month. 
Here's a complete timeline of the couple's relationship, so far. 
If you or someone you know is experiencing a domestic violence crisis, you can contact the Domestic Violence Hotline at 1-800-799-7233 or contact local law enforcement.
Rock and Blueface meet at the start of the pandemic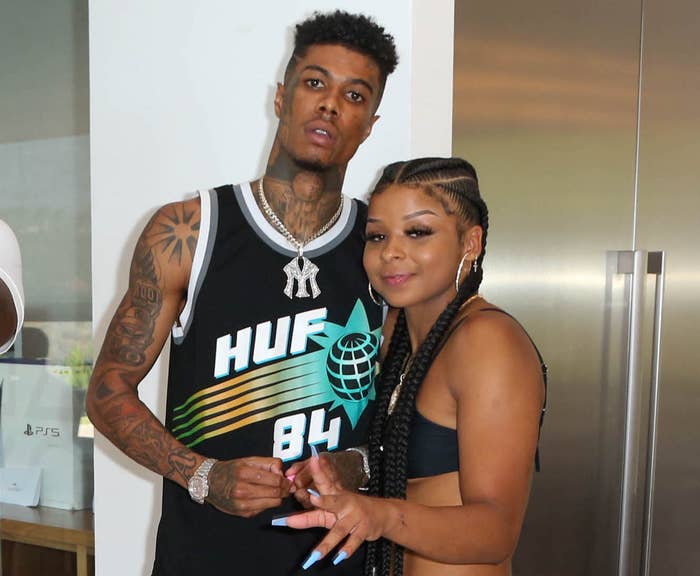 Blueface calls out Rock for allegedly stealing his car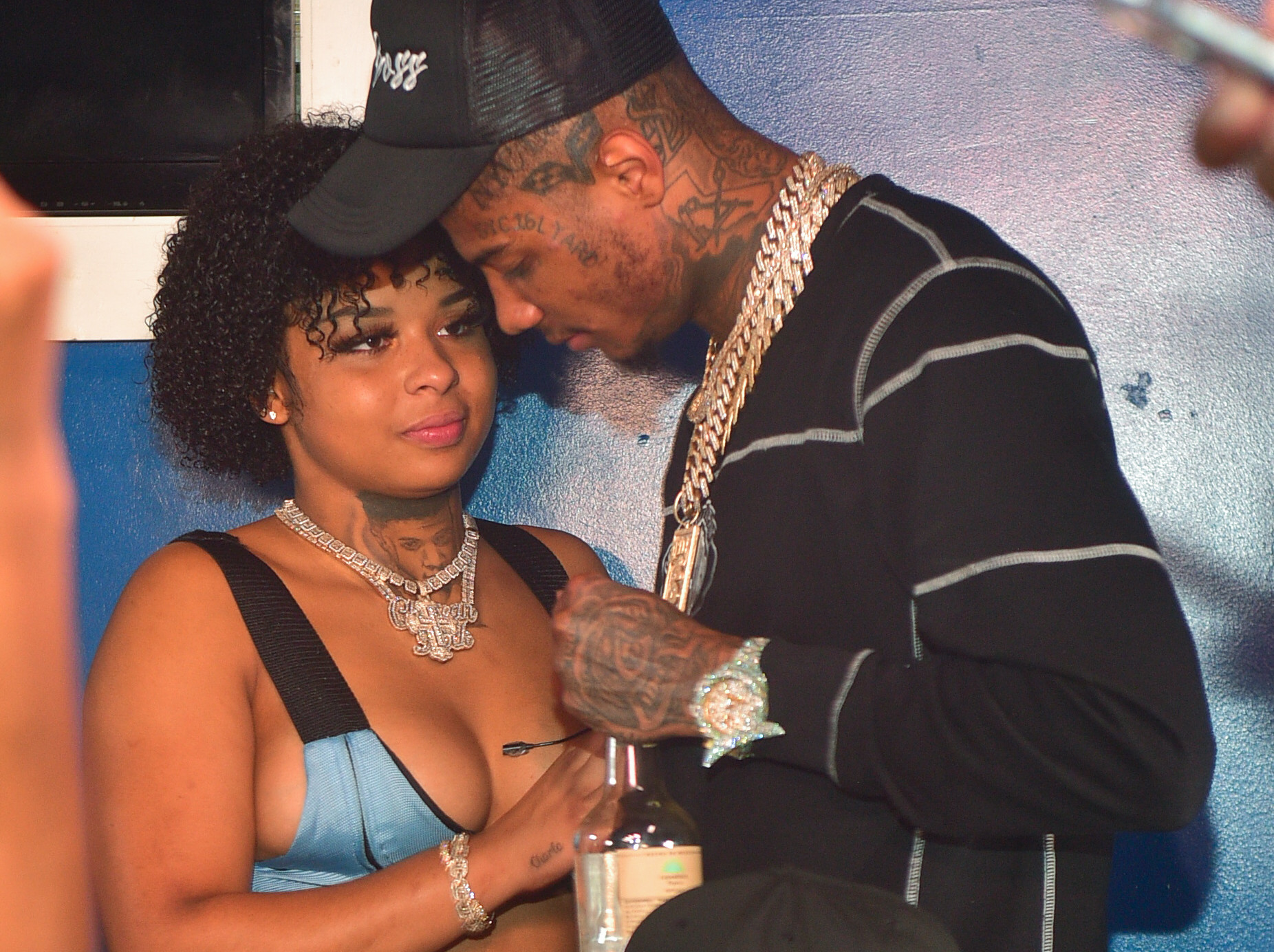 Chrisean Rock allegedly hit Blueface's mom
When: May 2022
A few days after getting Blueface's face tattooed on her neck, Rock got into it with the rapper's family. Blueface's mother, Karlissa Saffold, delivered a message while her face appeared to be swollen. "All I know is my son will never bring that person around my family ever again in life and that's all that matters. Carry on," Saffold said, before adding that she will never forgive Rock. In a video shared by Blueface, Chrisean suggested that things got to the point where his family left her "no choice" but to become violent.
Chrisean Rock gets arrested after punching Blueface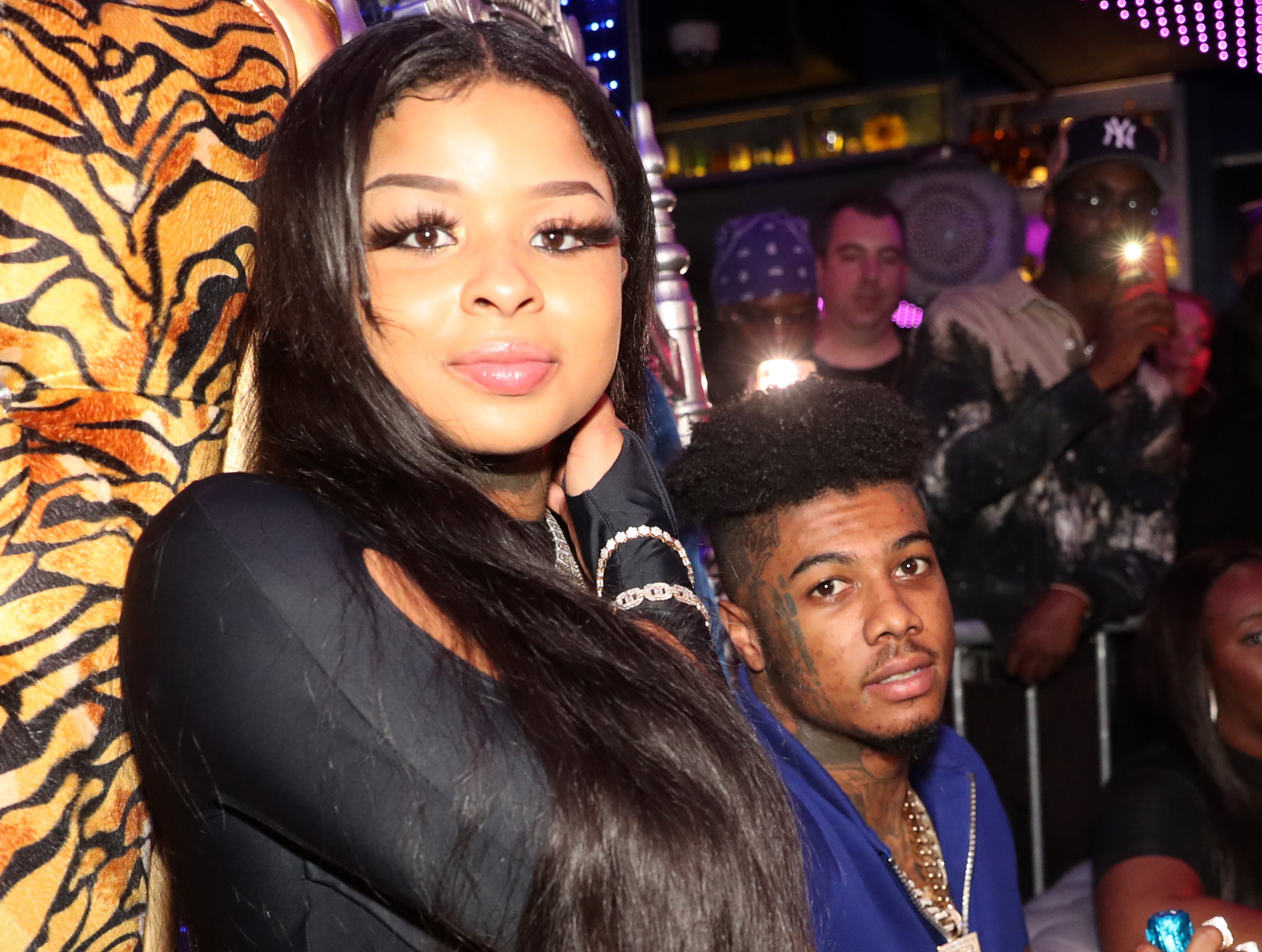 When: September 2022

The surveillance footage, published by TMZ, was captured during the couple's gathering with Rock's family at the Four Seasons hotel in Baltimore. The video appears to show Rock's dad hitting Blueface. After the rapper stumbles back and forth, he then comes from behind and throws a fist at Rock's dad. Rock later confirmed the altercation on her Instagram stories, writing, "So my boyfriend knocked my dad out. Da family stuff didn't go well ion even know what's going on." 
Rock also went to Twitter to address the situation, claiming that her father had been absent from her life for years. "The same dad [that] got knocked out was the same guy that tied my mama up in da woods just to beat her cause she scream so loud in the house when he beated her in front of us," she wrote in a since-deleted tweet. "So he went out his way to damage my whole family that same dad I met when I was seven. Somebody was been supposed to knock n***a out a long time ago."
Chrisean Rock says Blueface hit her, takes back claim a day later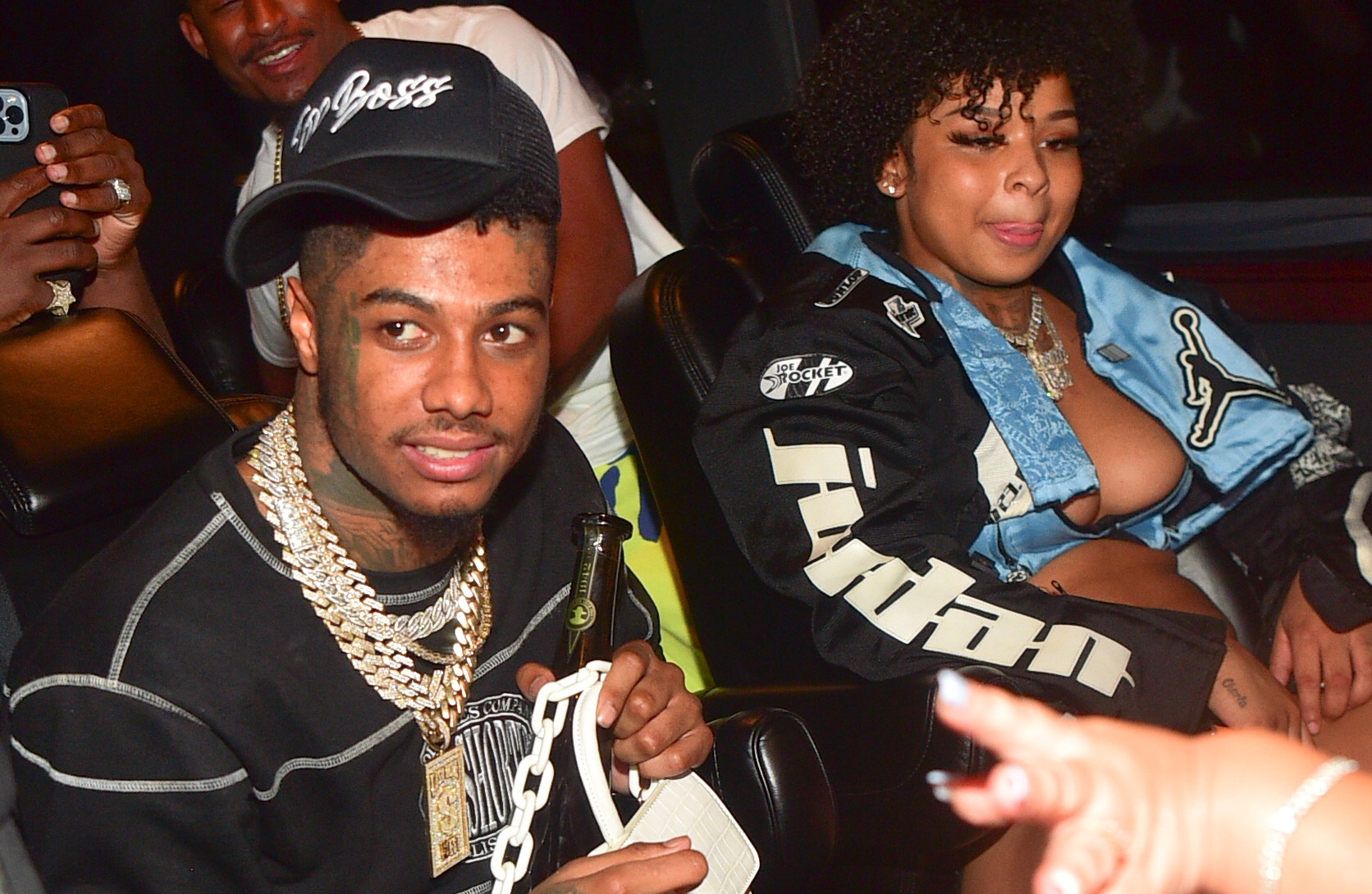 When: October 2022
Zeus Network dropped the trailer for Blueface and Rock's reality show, Crazy in Love, in October. A few of the clips included moments from their tumultuous relationship. A few days before the trailer dropped, Rock announced she was single.
"Y'all can have him. ChriseanRock is single. Chrisean you are enough," she tweeted. The reality star was spotted with the rapper a few days after her announcement.
Chrisean Rock's pregnancy announcement and fallout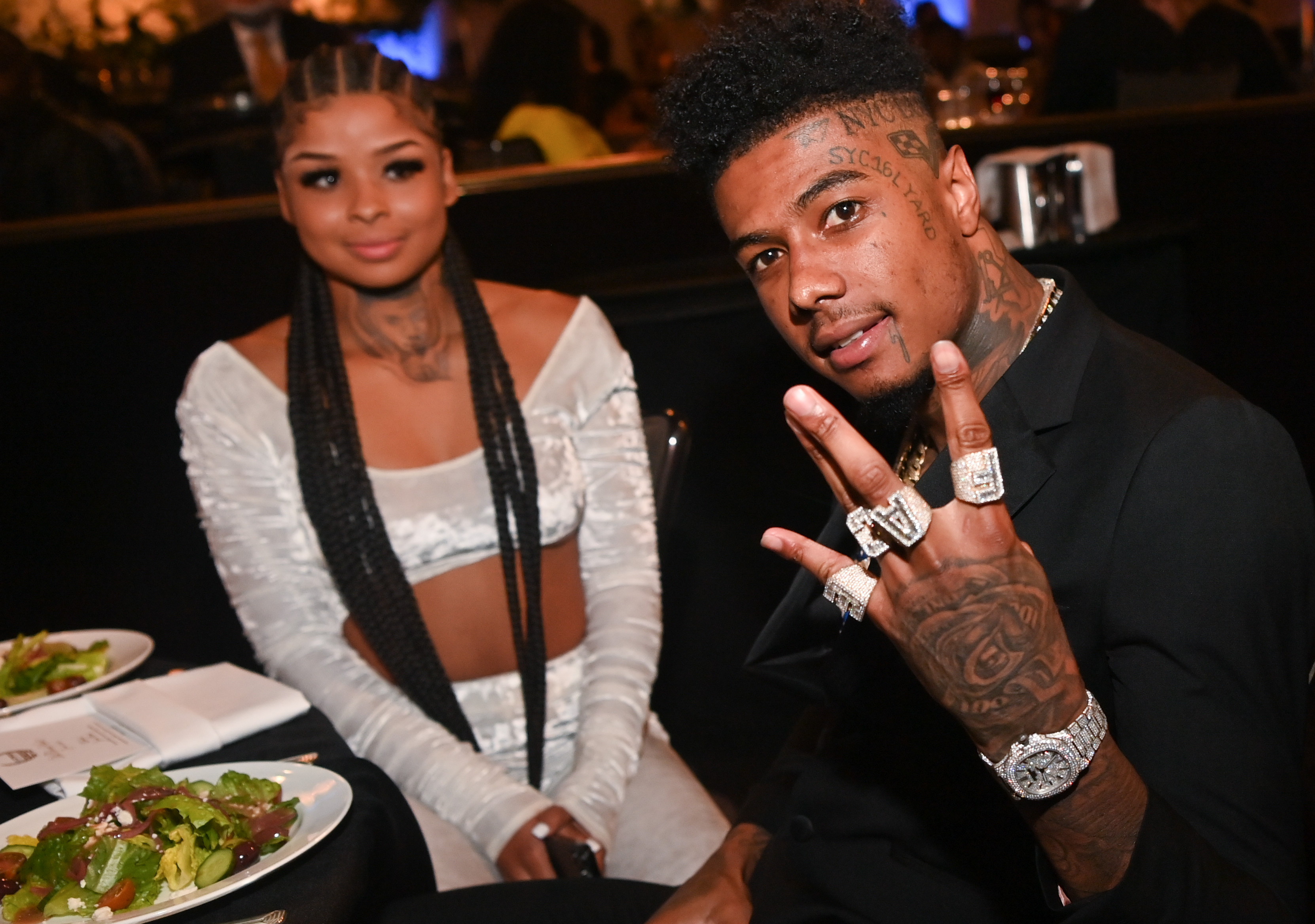 When: January 2023
Rock announced that she was pregnant with Blueface's child in January. After sharing the news, the Famous Cryp rapper denied that he was the father, and said he wanted a paternity test. He also alleged that Rock had been with 10 different men in the last year. During an interview with Complex a few days later, Rock addressed the entire situation. 
When asked if she wanted a boy or girl, Rock replied by saying that she'd like one of each. "Both, I hope it's twins or something," she said. "I'm the 11th out of 12 siblings. I like kids. I like a big family." 
Rock also claimed that Blueface's reaction to her pregnancy announcement was allegedly him lashing out about a previous situation. "He's just mad that I went to Baltimore and didn't tell him. I said I was in LA with my home girl Stunna [Girl] and I wasn't. I was in Baltimore with my family. I took a trip, and he's blowing up my phone like, 'Where you at? Where you at?' I ghosted him for a whole 24 hours, so he can't live with that. He didn't know if I was with a n—a or if I was really with my family, so he got to poppin' it like a little b—h. [laughs] The f–k?"
Chrisean Rock and Blueface drop new song "Lit"
Blueface and Chrisean Rock get married in music video for "Dear Rock"