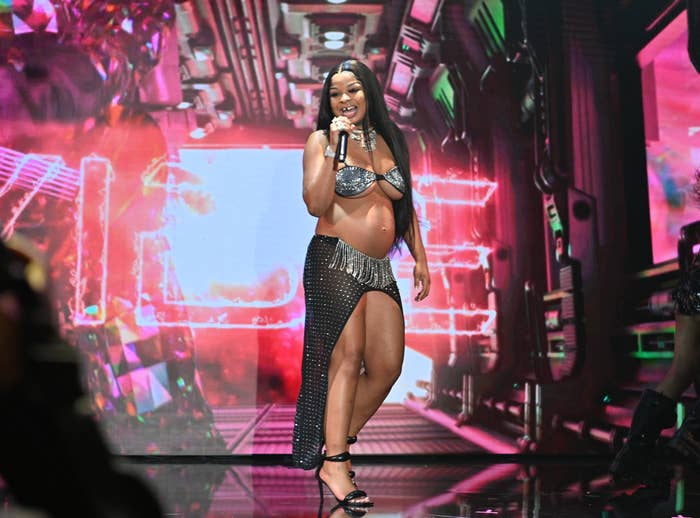 UPDATED 9/23, 11:33 a.m.: Blueface's mom has become aware of the viral video of Chrisean Rock's newborn son's head dangling while in a carrier in Walmart and has issued a response.
"Got my goddamn baby in the grocery store with the goddamn shit folded over, and he doing the backbend like he in goddamn gymnastics already," Karlissa Saffold said via social media earlier this week.
Blueface's mom also questioned Rock's choice to go to Walmart and suggested that if she had gone to Target instead, she might have received assistance rather than being recorded by bystanders.
"I don't know why my kids out here running around with goddamn weirdos...People who write on themselves is at the Walmart," she continued. "What was wrong with the Stater Bros. or Target? The muthafuckas who write on themselves wasn't gonna be in there and pull out the camera and make you look stupid."
See original story below.
Chrisean Rock is breaking her silence about a viral video of her with her newborn son.
In the clip, Rock is seen walking through a Walmart as her baby son's head is dangling while in a carrier. The child, whom she shares with Blueface, did not appear to have his head properly cradled and left some concerned on social media that the 23-year-old might be experiencing postpartum depression.
"I feel like instead of that lady recording me, she could've just helped me. I got a dog, two carts full of shit I need for my house. I'm calling my baby daddy, is he helping? No. So I don't know why he's chiming in either. This mommy shit is cool, but man your mind is racing 36… eight hours a day," she said on her Instagram Story uploaded on Friday, calling her experience "overwhelming."
"I'm still learning. I love my baby. He's a good baby. I'mma tighten up, straight up" she added. "Everybody makes mistakes."
At first Blueface seemingly replied to the incident yesterday on X (formerly known as Twitter) writing, "Trust me I'm just as surprised as y'all." But the "Thotiana" rapper has since clarified his vague post with new statements.
"My last tweet had none to do with the Walmart video my last tweet was about the apology an nice things she said about me on live as far as the Walmart video aye man she gone do her an I can't micromanage her an the baby yall said I was doing to much so I backed off she gone be ok," he wrote in a separate post.
Blueface continued, "I know she going thru some an it's not easy no hood harder then parent hood so I'm not gone be mean to her no more cuz her mental state determines how my son day goes let's just encourage her to be more accountable an responsible this time around come on rock we got this I'm here."
Their son, who's birth was streamed via Instagram Live, arrived on Sept. 3. At the time, Blueface did not acknowledge the birth of his child.
Last week, Blueface had been fielding "deadbeat" dad accusations from rapper Jaidyn Alexis, with whom he shares two children. He traded insults with Lil Baby on Tuesday over drama surrounding Rock.