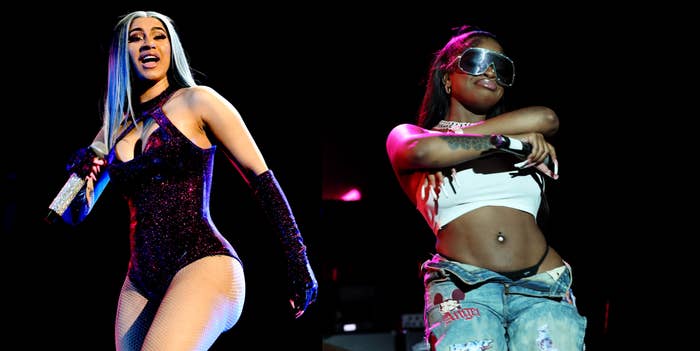 It's going down in the DMs and on the timeline for Cardi B and JT.
The Invasion of Privacy rapper and City Girls member—who worked together on the Florida group's 2018 single "Twerk"—exchanged a slew of tweets on Monday, beginning around the time Cardi celebrated GloRilla debuting at No. 9 on the Billboard Hot 100 with their collab "Tomorrow 2."
A user then came at JT on GloRilla and Cardi's behalf by referencing Nicki Minaj's "Queen Mix" of "Super Freaky Girl." The tweet—reading "JT Akbar, BIA & Katie bandz after seeing Glorilla get a top 10 hit without doing all the dick riding and extra shit"—drew the City Girl's attention.
"im not like that at alllll," she wrote. "I been doing remixes & never got credited ON A CHART BUT they get sung word for word and help push the original songs as intended unlike y'all well I can't even say y'all cause you don't rap, you TWEET! Congratulations Glo & stream FNF remix AND QUEENMIX."
Minutes later, coincidentally or not, Cardi retweeted Chart Data celebrating her nabbing a top 10 on the Hot 100 for six straight years.
"And my records live in the top ten," she wrote in all caps.
A Cardi fan chided JT for not mentioning the "Hot Shit" rapper when congratulating GloRilla, intimating JT is afraid Nicki Minaj "will get the whip." (It's worth mentioning Cardi had a similarly lengthy spat with "Queen Mix" contributor Akbar V last week.)
JT shot back, "NAH actually the tweet was too long! PLUS Cardi Been having top 10's I been congratulating her for years this is GLO first one, I've been ignoring y'all but y'all are hella annoying, move round & get off my DICK thank YOU!"
GloRilla also tapped JT, plus Latto, for last month's remix of her single with Hitkidd, "F.N.F (Let's Go)."
Along the way, another user told JT "Nicki put you up to this."
"NO NO NO & NO again!" JT answered. "See y'all wanna know so bad & be WRONG! I don't gossip with her about NOBODY all this because of FAN pages!"
Cardi eventually simply wrote "lapdog." JT caught the subtweet, hit her back with "wiener dog," and the back-and-forth escalated from there.
At this point both artists established they were DMing while also extending the argument for all to see, getting into writing skills, chart numbers, and label politics—including Cardi insinuating that Quality Control's Pierre "Pee" Thomas wasn't satisfied with JT's and/or City Girls' talent.
"No you wanted our [writing]!!!" JT retorted. "For our hooks for our sound cause you clearly have none! Ask ANY writer! I write my OWN shit!!! You know this."
Cardi claimed she "definitely didn't" want City Girls' talents and that Pee "wanted to put me in to your writers cause yall numbers make him penies."
Cardi complained JT had gone "mute" in their DMs but stayed "steady arguing" publicly. "Like I said, this shit is for show. OPPORTUNISTS."
JT replied, "Maybe both our timing off, but how am I an opportunist you called me a lapdog for no fucking reason make [sense]! But back to the dm's I go."
Cardi seemed ready to end the discussion, writing that "the DM's are getting more personal and it's way beyond this shit." Minutes later she made sure to call JT "prison pants" and say she hasn't had a big moment since "Act Up" in 2018/19.
JT moved on to some bigger-picture thoughts from there.
"The industry not even designed for girls like me to really win!" she wrote. "Let's be real all this shit is politics!!! Pee always told us get that shit out the MUD grind hard I lay down because I get discouraged from all these labels paying for every mother fucking thing. So don't talk to me about no charts! NONE OF YALL! I done been in rooms with the top writters & told them they shit wack the same writters that quick to drag female rappers oh I wrote this & that! This shit actually embarrassing & Sad."
Cardi opted not to engage with those words, instead quote-tweeting a clip showing Pee giving JT some Bardi-related advice in the booth.
Earlier in the dispute, she retweeted a fan's clip (below) of JT complimenting her as a "real bitch" and saying Cardi "opened the door for a lot of normal girls to feel like they can be rappers."
As it stands now, JT has ended things with a sigh.
And for everyone wondering what Yung Miami had to say after the dust cleared, the City Girl and Caresha Please host had three letters for everyone.
Neither Nicki nor GloRilla have waded into the drama, although Minaj evidently changed her avatar—briefly—to a photo of JT. Cardi changed hers to an image of known Nicki nemesis Remy Ma.