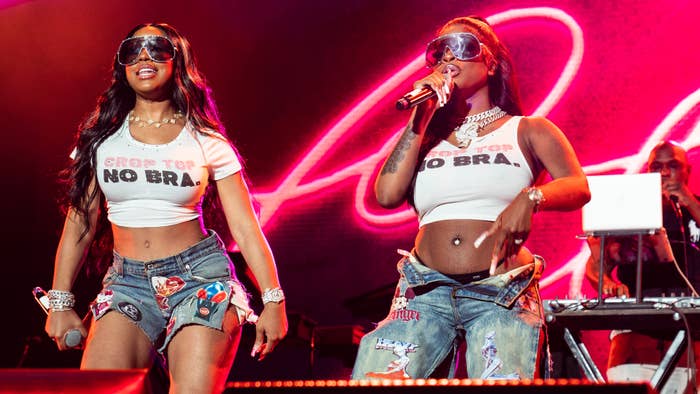 City Girls' Yung Miami and JT speak candidly about their respective relationships with Diddy and Lil Uzi Vert in a new cover story interview, out Monday.
Speaking with Pop Sugar, the duo reflected on their continually expanding presence on pop culture, including comments to writer Shelton Boyd-Griffith about their individual personal lives. On matters of Diddy, who earlier this year declared Miami's "Go Papi!" sign at the BET Awards "one of the sweetest things anyone's ever done for me," Miami struck a playful chord when it came to addressing speculation and assumptions surrounding their relationship, which she describes as a "really supportive" one.
"People don't know us," Miami said. "They don't know what the fuck we got goin' on. I'm in there like, 'Shut the fuck up. Y'all don't know what we have going on. Me and him gon' be married—boom!' No, I'm just saying."
JT and Uzi's relationship, of course, has also been a consistent source of headlines. In the new interview, JT opened up about having gone through a dark period in her life following a move to New York, all while trying to come to an internal understanding about the changes in her life. Noted in the feature is that JT now lives in the Calabasas area with Uzi, while the relationship itself is credited with having made her a "much better person" since it began.
"I feel like I found my home with him, my safe space. Once you find your safe space, you know," JT explained.
For the full piece, hit this link.
In August, City Girls linked with Latto for DJ Khaled's God Did highlight "Bills Paid." The duo is also among the executive producers behind the music-focused HBO Max comedy Rap Sh!t, created by Issa Rae. Following the conclusion of the show's inaugural season this month, HBO Max announced the series had been renewed for a second.