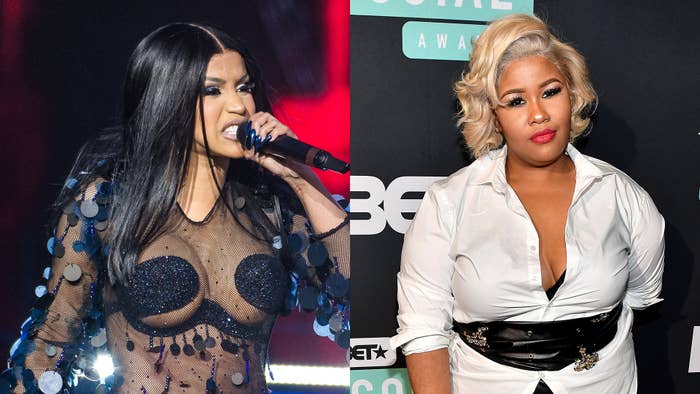 Cardi B and rapper Akbar V have started trading shots after they both shared a series of subliminal tweets. 
Word started to circulate on Twitter that Cardi's remix with GloRilla, "Tomorrow 2," had brought in some huge numbers following its release last week, but in a recent tweet Akbar appeared to doubt the success of the track.
"If @chartdata ain't say it we ain't believing the CAP," wrote Akbar V, who recently appeared on a remix of Nicki Minaj's No. 1 track "Super Freaky Girl" alongside JT of City Girls, BIA, Katie Got Bandz, and Maliibu Miitch.
Not long after, Cardi came through with a number of tweets seemingly directed at Akbar.
"Count all the times chart data posted u," she wrote. "I don't really like the internet games… My dms is open and also the streets!"
Someone then seemingly provided Cardi with Akbar's phone number, as the latter revealed on Twitter.
"Who gave this ho Cardi B my number…gotta be one of y'all weird ass hoes?"
"I don't gotta @ I can change a bitch life just by a mention," tweeted Cardi as it came to light that she had directly contacted Akbar. "AND YES I HIT THEM DIRECTLY, I don't do the internet!!"
Akbar responded in disbelief—and brought Nicki Minaj into it. 
"Bitch talking bout she can change my life. ho @NICKIMINAJ change my life I'm on a tape u produced and didn't know u produced it and showed love to ur dog face ass still cause we was cordial and u ain't take me number #1 so if u couldn't change my life with that u can't do it now. … @NICKIMINAJ is the #QueenOfRap and @iamcardib u are the peasant ho."
Cardi also asked why Akbar decided to run to the internet after they spoke over text and potentially a phone call.
"Been subtweeting me for months and now you wanna make it about another woman as a shield," Cardi wrote. "Stand on your shit!!!"
When Cardi wrote that she takes care of her kids, presumably accusing Akbar of neglecting her children, they began to reply to each other's tweets without dancing around the subject.
"See the difference between me and u I had n***as wanting to put babies in me while I was in the jungle but I said to myself I won't put my kids in the same hoodes I was raised in let alone ABANDONED THEM," she wrote in response to Akbar saying Cardi was known for "selling it to any man that ran up on u" before she was famous.
Akbar accused Cardi of not writing her own music, while Cardi continued to talk about parenting skills.
"I'm about to do something you never do…pick my kid up from school," she wrote. "You got 20 minutes to talk your shit cause after that my attention go to my kids the whole day."
Cardi wound up sharing a clip from Akbar's leaked sex tape, in which she said to the man she performed a sex act on, "Tell me you love me."
The tweet was deleted, but Akbar clearly saw it first. "Now my kids got to watch this again @iamcardib u dead wrong for uploading that porn stuff about me again u scoop so low but kool," tweeted Akbar. "U just threw me back into anxiety."
In response, Cardi wrote, "Unmmmm wasn't you bragging about it when the video first came out…talkin bout you got good head? Anyways imma respect your kids and take it down."
A fan pointed out, however, that Akbar previously used a screenshot from the leaked tape as the cover art for her song "Leaked."
"WAIT A DAMN MINUTE…she lied to me?" tweeted Cardi.
Cardi put an end to the discussion shortly after, and posted a video from her car in which she talked about the support for "Tomorrow 2."
"Tell me you love me," she said in the clip, referencing Akbar's leaked tape. "Tell me you love me Bardi gang."
Once Akbar brought Offset into things, saying he called her as well, the Migos rapper quickly got into the fray.
"Police ass hoe I ain't called you and If Any N***a played with me get blitzed ask around!!" Offset tweeted in response.
The back-and-forth continued into the early evening.