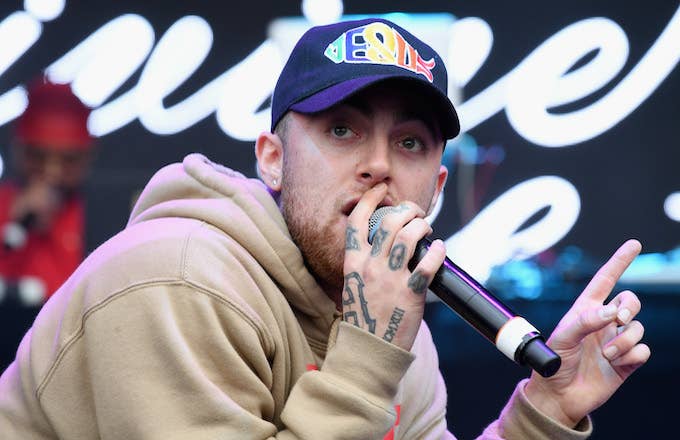 GoldLink took to IG to post a lengthy caption in which he addressed the death of Mac Miller and his relationship with the late rapper. The two artists previously toured together in support of Mac's GO:OD AM album.
"I'd be lying if I said I was surprised to hear that you died on us," GoldLink began the post. "Not because you were necessarily troubled, but because you were special and because of that, you were troubled." The DMV rapper continued by saying they "weren't always on the best terms." Despite saying he "didn't always have great things to say about" Mac, GoldLink went on to call him "family." GoldLink pointed to what he believes are similarities between Mac's 2016 album The Divine Feminine and his 2015 project And After That, We Didn't Talk as the source of tension between the two. "I always thought you drove yourself insane about your own music. So much that, you would adopt styles as homage to those around you that you loved. That's where our problem started," he wrote. "Divine Feminine was an actual blueprint of And After That, We Didn't Talk. Your single was called "Dang!" Ft. Anderson Paak...you had Souelction support you on the Divine Feminine tour and when I tried to contact you, about anything at all...you never hit me. A close mutual friend ended up just hittin' my DJ saying 'listen man, we love Link, but we just had to do what we had to do.'"
.Paak took issue with GoldLink's comments, and called them "disrespectful" in a since-deleted Instagram post. "Why would you do it? I can't even understand it," .Paak said in the since-removed post. "Maybe your belt was wrapped around your gotdamn waist too tight or maybe it was the choker cutting the circulation off to the brain, but since you felt it necessary to bring me up twice and my boy ain't here to respond, Ima say it like this. You ain't the first to make an album inspired by a relationship, you ain't the first to make a song featuring Anderson .Paak. But you are the first to disrespect my friend who is no longer here for absolutely no reason and I can't stand for that."
.Paak wasn't the only one slamming GoldLink, as people took to social media to say they thought that his post backhandedly came after the late Pittsburgh rapper and was in bad taste.
Goldlink might've just CREATED the Memorial Post Triple Crown. He simultaneously gave props to Mac Miller, spoke ill of him AND bragged about himself being the bigger person. That's otherworldly talent.
that "letter" to Mac Miller that GoldLink put up was wild weird and unnecessary .

do ppl really not have a pr team to proofread shit before they post? 🧐
Goldlink just wrote the most backhanded letter to Mac Miller and it's just tasteless to share it with the public. Mac is a beloved figure and goldlink sounds bitter even after his death. Smh
That Goldlink post on Mac Miller is wildly passive aggressive
Can't be the same person who was paying tribute in January now talking shit in November...
Goldlink 🤦🏾‍♂️... you gotta chill my brother.

You couldve wrote that in a journal...

Its Mfers not gon let that post slide like u thought they would...
Goldlink basically said "Hey man I'm sorry you died, but you remember when you took my idea without giving me credit that one time? But yeah R.I.P tho" HUH????
Check out GoldLink's post on Mac Miller below.
Previously, GoldLink took to IG to express his disappointment over the Grammys. "Honestly, its fuck Grammys til the day I die," GoldLink wrote. "I am no longer participating in that wild ass slave ass political ass cheating ass game any longer. The lack of relevance you have just solidified today is unbelievable. Tyler [The Creator] got one fuckin nomination in a category he didn't even participate in knowing damn well he deserved album of the year."