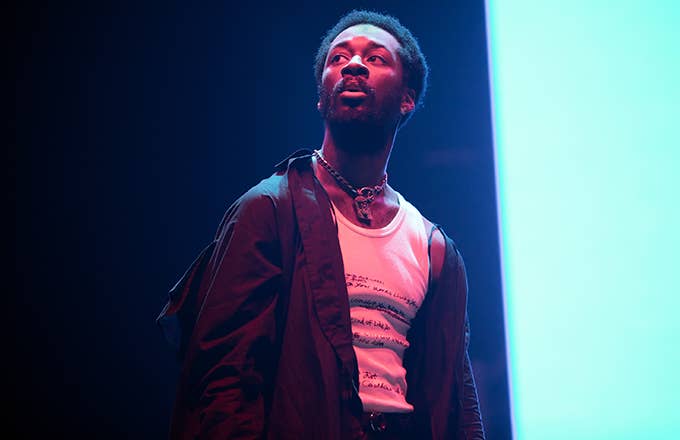 The list of 2020 Grammy nominations arrived on Wednesday, and the gripes have already begun. GoldLink didn't receive a nomination for his 2019 album Diaspora, but that was the least of his concerns in a post on Instagram that saw him putting the Grammys on blast. The rapper was previously nominated for "Crew" and his Christina Aguilera collaboration "Like I Do," but now he's indicated he won't be competing for a Grammy again.
"Honestly, its fuck Grammys til the day I die," GoldLink passionately wrote on Instagram. "I am no longer participating in that wild ass slave ass political ass cheating ass game any longer. The lack of relevance you have just solidified today is unbelievable. Tyler [The Creator] got one fuckin nomination in a category he didn't even participate in knowing damn well he deserved album of the year." 
He didn't stop there, either, highlighting the work of Burna Boy and Koffee. Like many fans on Twitter, Goldlink took issue with no Best New Artist recognition for "Suge" rapper DaBaby. "No nod to Solange for taking a risk pushing the boundaries when nobody else was brave enough to do so," he continued. "There's not even a category for internationally black artist at all. Wtf do you think these kids learn when you tell them there black art isn't good enough? Or isn't noticed at all? I've just gotten to a point after three years of being silent on this topic, that my value is much beyond what closed door establishments have been giving us. Even how our peers are voting against us. I cannot partake."
Noname, however, kept it simple. "Fuck the Grammys," she wrote, sharing a Twitter thread about why the award show doesn't matter quite as much as it used to. "The Grammys will get worse as music gets more democratized," the co-signed tweet reads. "Hundreds of albums come out in a year. Music consumption and production is at its all-time high in human history. 'Album of the year' or 'Best (insert genre here) song' don't even make sense anymore."
GoldLink and Noname aren't the first to bail on the Grammys in recent years, and they certainly won't be the last, either. Frank Ocean famously sat out the 2017 Grammys, calling it his "Colin Kaepernick moment" when he didn't submit Blonde for consideration.