Anderson .Paak has addressed GoldLink's widely panned comments on Mac Miller.
.Paak was notably mentioned by name in GoldLink's comments, which were shared seemingly out of nowhere on Tuesday. In his own post hours later, .Paak called the comments about Miller and his Divine Feminine era "disrespectful" and questioned why GoldLink would do such a thing.
"Why would you do it? I can't even understand it," .Paak said in the since-removed post. "Maybe your belt was wrapped around your gotdamn waist too tight or maybe it was the choker cutting the circulation off to the brain, but since you felt it necessary to bring me up twice and my boy ain't here to respond, Ima say it like this. You ain't the first to make an album inspired by a relationship, you ain't the first to make a song featuring Anderson .Paak. But you are the first to disrespect my friend who is no longer here for absolutely no reason and I can't stand for that."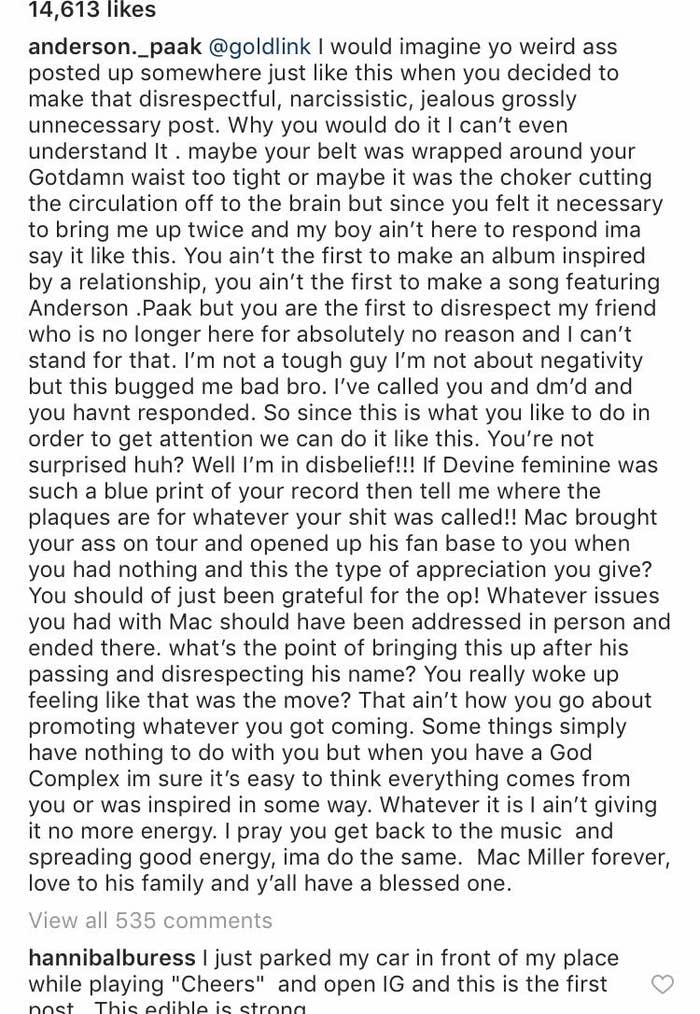 In GoldLink's original post, which remained live at the time of this writing, he called Miller's Divine Feminine album "an actual blueprint of" his own And After That, We Didn't Talk.  He also specifically mentioned the album's single "Dang!"—featuring .Paak—as well as his own "Unique," also featuring .Paak.
In the hours since GoldLink made the comments, he's been widely criticized by fans and other artists alike.