Uvalde School Shooting Survivors Seek $27 Billion in Class Action Lawsuit
Survivors of the Robb Elementary School shooting in Uvalde, Texas have filed a $27 billion lawsuit against several law enforcement agencies.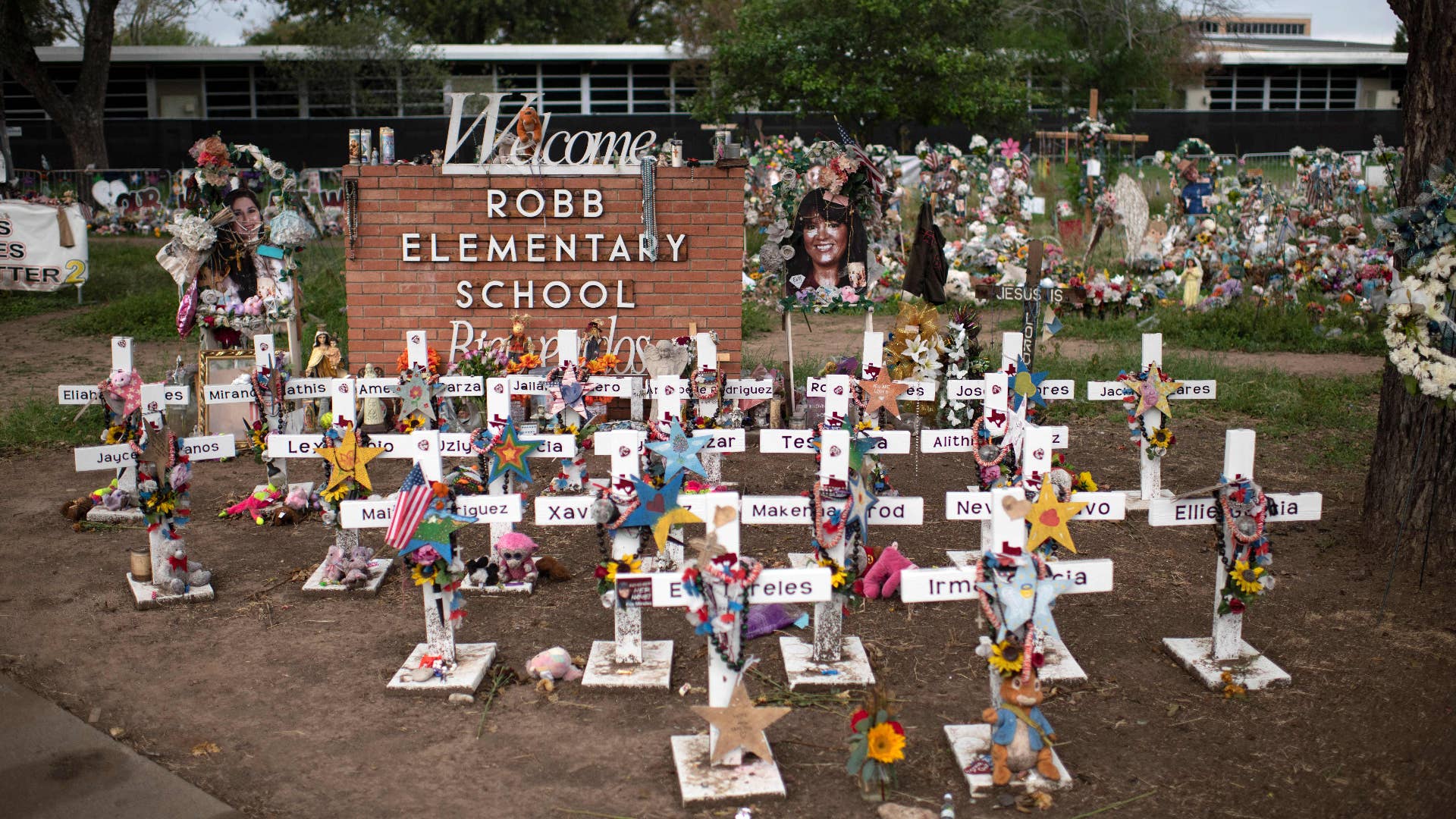 Getty
Crosses set up to honor those who lost their lives during the Robb Elementary School shooting in Uvalde, Texas.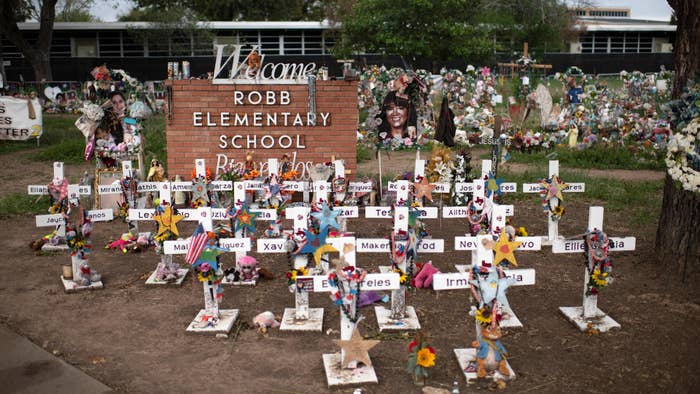 Survivors of the Uvalde shooting are seeking $27 billion in a class action lawsuit over the widely criticized response to the massacre at Robb Elementary School earlier this year, according to CNN.
The lawsuit has been filed against the Uvalde Consolidated Independent School District and the school district's police department, as well as the Uvalde Police Department and the Texas Department of Public Safety​​. The suit claims law enforcement officials "fundamentally strayed from conducting themselves in conformity with what they knew to be the well-established protocols and standards for responding to an active shooter." 
The school district hosted an all-day "active shooter response" training course two months prior to the shooting, which stressed the importance of a timely response and cautioned law enforcement officials that those who arrive at the scene first "will usually be required to place themselves in harm's way." 
Surveillance footage from inside the school shows several officers, who were armed and wearing protective gear, standing around in the hallway for over an hour as the 18-year-old shooter barricaded himself in a classroom with the children. The disturbing scene was punctuated by the sight of one officer reaching for the hand sanitizer dispenser, instead of responding to an active shooter. 
Texas Department of Public Safety director Steve McCraw called the law enforcement response an "abject failure," claiming that what took an hour and 14 minutes could have been resolved within three minutes. The Texas House investigative committee released a report which identified "systematic failures and egregious poor decision making" among the nearly 400 local and federal law enforcement officials that arrived at the scene.   
"Instead of swiftly implementing an organized and concerted response to an active school shooter who had breached the otherwise 'secured' school buildings at Robb Elementary school, the conduct of the three hundred and seventy-six (376) law enforcement officials who were on hand for the exhaustively torturous seventy-seven minutes of law enforcement indecision, dysfunction, and harm, fell exceedingly short of their duty bound standards," the suit alleges. 
Sandra Torres filed a lawsuit last month against Daniel Defense, the manufacturer of the gun that was used to kill her daughter Eliahna and 20 others, accusing the company of violating the Federal Trade Commission Act by peddling the firearm through "militaristic imagery to target vulnerable and violent young men."
Torres has also sued the store that sold the weapon to the shooter, Oasis Outback, for "providing him with an inordinate amount of guns, accessories, and ammunition that should have foreseeably raised significant flags of concern."