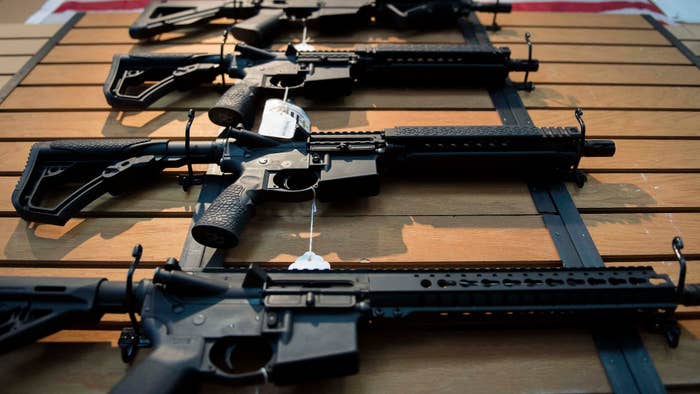 The manufacturer of the gun, which was used in the Uvalde shooting, has been hit with a lawsuit by the mother of a child who was killed in the incident.
CBS News reports that Sandra Torres and her family have sued almost two dozen people and organizations who are connected to the school shooting, which took place on May 24. Her 10-year-old daughter, Eliahna, 18 students, and two teachers were fatally shot during the incident.
In addition to the gun manufacturer, Daniel Defense, Torres is also suing the store Oasis Outback, which sold the gun to the 18-year-old shooter, and individual officers from the Uvalde Police Department and Uvalde Consolidated Independent School District Police Department who responded to the shooting.
"Eliahna loved her family, and she knew how much we loved her," Torres said in a release, commenting on the lawsuit. "I miss her every moment of every day. I've brought this lawsuit to seek accountability. No parent should ever go through what I have."
The lawsuit claims that Daniel Defense defied the Federal Trade Commission Act when marketing the gun, and "used militaristic imagery to target vulnerable and violent young men." The filing says that the company also marketed the gun through social media and emphasized its use in video games like Call of Duty.
As for Oasis Outback's part, Torres alleges that the store carelessly sold the gun to the shooter shortly after he turned 18. According to CNN, the shooter legally spent $3,000 on a Smith & Wesson AR-15-style rifle, a second AR-style rifle, and ammunition on May 17 and May 20 after he celebrated his 18th birthday on May 16. Additionally, the filing claims that the shooter showed many red flags, including him being in a "big hurry to acquire thousands of dollars of firearms and ammunition within days of turning 18."
Elsewhere, the lawsuit alleges that law enforcement wasn't properly trained for active shooter situations, and because of this, officers didn't sufficiently respond to the incident. Torres is seeking compensation and punitive damages, which will be decided in court.