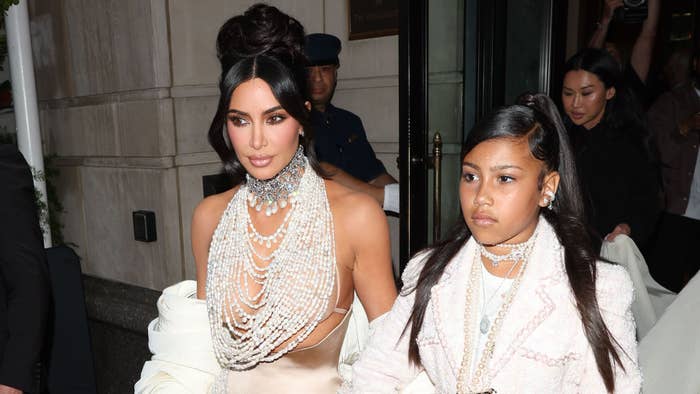 Kim Kardashian's daughter North West saved her from a major wardrobe malfunction at the 2023 Met Gala. 
The SKIMS mogul wore a custom Schiaparelli silhouette featuring 50,000 freshwater pearls, highlighting her curvy physique. The dress became faulty as numerous pearls fell off around her ankles. Luckily, the 9-year-old TikTok star was there to rescue her mom.
In a conversation with Vogue on the red carpet, the 42-year-old revealed the breakdown of her ensemble. "Some popped on the way, and I told my daughter to grab them all. They're real pearls, and she was putting them in her purse," she said.
On the way to the Met Gala, Kardashian and her daughter were pictured side-by-side walking out of the Ritz Hotel ahead of fashion's biggest night. 
North wore a vintage Chanel blazer paired with medium-washed denim straight-legged jeans and black Chelsea boots. finishing off the look with a conch shell clutch, per People. Attendees must be 18 or older to enter the Gala. 
As the mother of four made her way to the Gala steps, she revealed to reporters that North was "watching in the car." Sister Kylie Jenner also brought her 5-year-old daughter to NYC ahead of the prestigious social gathering. 
The Met Gala also saw a photo surface of Kardashian and ex-boyfriend Pete Davidson. The former pair were spotted conversing at the event alongside Usher. Davidson was all smiles, with seemingly no tension between the two. 
Kardashian is a familiar face at the Gala and a popular attendee ever since her debut appearance in 2013 as ex-husband Kanye West's plus one.