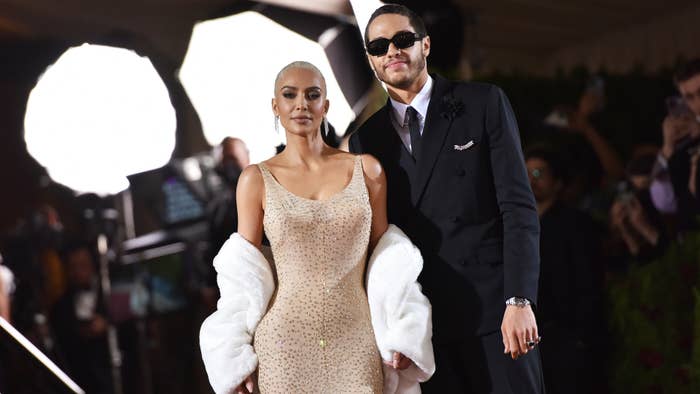 Kim Kardashian and ex Pete Davidson ran into each other at the Met Gala and there was seemingly no tension.
TMZ reports that the former couple were seen chatting with Usher at the Metropolitan Museum of Art on Monday night. Pictures show Davidson and Usher listening to Kim with rapt attention, while another photo shows Davidson smiling at the reality star.
This year, Kim was outfitted in a Schiaparelli gown with pearl necklaces and a choker around her neck. She attended last year's gala with then-boyfriend Davidson, where the pair shared a kiss on the museum steps. She wore Marilyn Monroe's "Happy Birthday, Mr. President" dress, which became a point of criticism when she changed her diet in order to fit into the dress.
"I tried it on and it didn't fit me," she previously said of the dress. "I said, 'Give me three weeks.' I had to lose 16 pounds down today. It was such a challenge. It was like a [movie] role. I was determined to fit [into] it. I haven't had carbs or sugar in about three weeks."
Kim has been attending the Met Gala since 2013 when she came as Kanye West's date and has since become a regular at the event.
Kim and Davidson began dating after they met on the set of Saturday Night Live in October 2021, when the mother of four was hosting an episode. They called it off after nine months, their busy schedules being a big contributing factor. Davidson is currently dating actress Chase Sui Wonders and Kim is single.