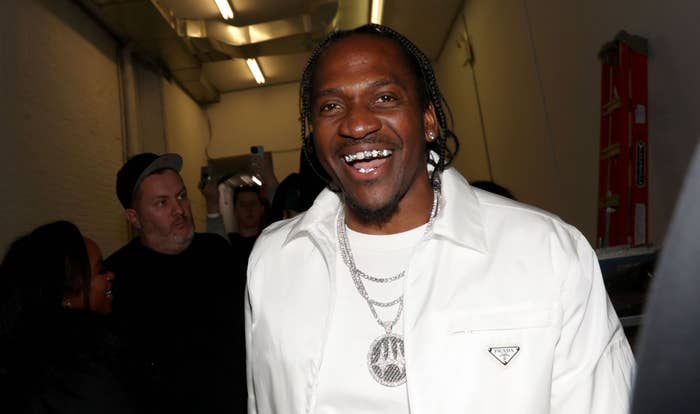 As Pusha T declared with Pharrell last month, the "Neck and wrist don't lie." As always, many of our favorite celebs flaunted exuberant amounts of wealth through some crazy jewelry purchases they made over the last four weeks. Although most of us were paying taxes and not even thinking of buying a chain worth the price of someone's entire salary, we can still sit here and admire the craftsmanship jewelers put into these incredible pieces. 
Whether you're a fan of iced out medallions or a pair of fly grills, there's definitely a piece of jewelry here that would leave you in awe. A Japanese boxer collaborated with a revered Japanese designer to produce a chain with Alex Moss. A beloved celebrity couple pulled out all the stops to make a chain for their seven-month-old son. And trust that Pusha-T picked up a crazy piece to celebrate the release of his newest album It's Almost Dry. 
Check out some of the biggest celebrity jewelry purchases from April below. 
Jeweler: Alex Moss
Tenshin Nasukawa, the famous Japanese kickboxer and mixed martial artist, tapped the Japanese designer Verdy to help design a chain made by the one and only Alex Moss. So, Verdy cooked up a dinosaur character that Moss turned into an iced-out pendant with a 14-karat solid white gold set flooded with 45.6 carats of VVS green diamonds. The pendant rested on a 14-karat white gold chain that was also covered with 43.89 carats of VVS diamonds and spelled out "Tenshin" in a font similar to the one used on Verdy's Girls Don't Cry merchandise.
Jeweler: Eliantte
Last month, Cardi B and Offset revealed photos of the newest member of their family, their 7-month old son named Wave Set Cephus. Naturally, with Cardi B and Offset being big jewelry enthusiasts, they did not skimp when it came to icing out their newborn. In some of the first photos shared of Wave, he can be seen wearing a giant chain embellished with diamonds that reads the word "Wave." The piece features a cute blue enamel shark riding an orange surfboard on water. According to TMZ, the chain costs $200,000. However, this wasn't the first time the couple balled out on jewelry for their kids. When their firstborn child, Kulture, turned 1, Cardi and Offset spent $100,000 on a diamond pendant and chain that boasted enamel characters from the Netflix series Word Party. And when Kulture turned three, she was blessed with a diamond necklace from Eliantte that featured an Hermès Birkin bag, Chanel logo, Minnie Mouse, a bow-wrapped heart, and the letter "K" as charms. 
Jeweler: Gabby Elan
King Push came into 2022 hungry. Of course, he had to satisfy his appetite by flexing a fresh new pair of grills from the one and only Gabby Elan. The jeweler told Complex that the rapper's newest set of grills was made in 14-karat white gold, boasts a total of 405 stones, and features VVS+ hearts with arrow-cut round diamonds. Additionally, there are even six VVS+ pear-shaped rose cut diamonds ranging from 0.80 carat to over 1 carat each. According to Elan, all the ice included in Pusha T's newest work adds up to a price of roughly six figures. When Pusha T posted a flick of the grills on Instagram he captioned the image with: "@gabbyelanjewelry been doing this for me since 99…It's the staggered big stones, paves, crowns and skip tooth like Jamaican Peter…the inspo…you had to be there. All love to those who lived thru the those times." In an interview with Complex on Gabby Elan's work, Pusha T revealed that he had been visiting the New York City-based jeweler ever since Gabby worked in Brooklyn's famous Albee Square Mall. The rapper revealed to Complex that he purchases a new set of teeth from the jeweler each album cycle and owns at least eight grills from him. 
"He's always been helpful even when it's not necessarily all for his business," Pusha T told Complex. "He cares about what's best for me regardless of how it lines his pocket, or doesn't."
Jeweler: Eliantte
Before Megan Thee Stallion headed out to the west coast to perform at Coachella for the first time ever this year, she picked up a new piece from Eliantte. Meg went for a classic look with her latest purchase by picking up a chain attached to a cross pendant. According to Eliantte, the piece boasts VVS GIA Certified 1-carat yellow diamonds that are cushion cuts onto an Infinity Link chain. On the pendant itself, there are 2-carat cushion cut yellow diamonds that flood out the cross. At Coachella, the Houston rapper unveiled a new song.
Jeweler: Avianne
While Riff Raff isn't the first rapper that comes to mind when thinking of exuberant jewelry purchases, we have to give it up for Jody Highroller for this recent piece he commissioned from Avianne. The pendant of the chain features an iced out character of Riff Raff, his beloved husky, and a moon made out of straight blue baguettes. The chain that the pendant rests on was made out of a custom lightning bolt baguette cuban with a two-tone gold pattern. It was further embellished with special blue, pink, and yellow round cut VS diamonds.