How Kim Jones Made Louis Vuitton Cool
Kim Jones, who's exiting Louis Vuitton after 7 years as men's artistic director, brought streetwear to the fashion house and made it one of the most important luxury labels today.
On Thursday, Kim Jones, one of the most important designers in menswear right now, took his final bow. It was announced earlier this week that he was leaving his post as artistic men's director at Louis Vuitton.
Since 2011, Jones has designed the French fashion house's menswear collections and solidified the label's place as a leader in the conversation on what's cool. Forging collaborations with brands like Supreme and Fragment Design, he opened up Louis Vuitton to a new loyal following of streetwear fans and, most notably, gave the label an identity that holds influence and relevance.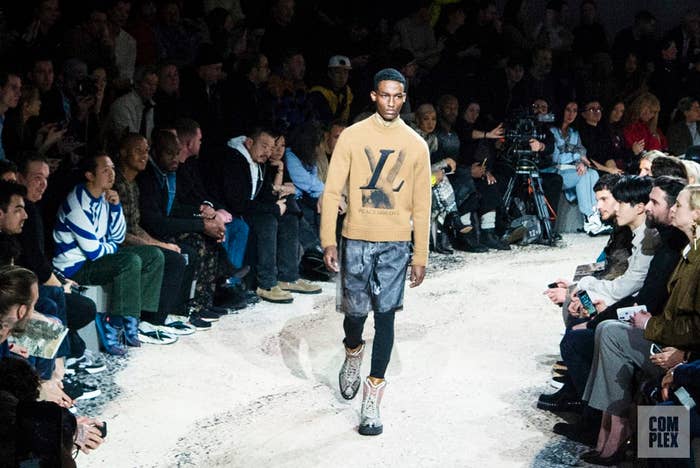 His final show, which took place at the Grand Palais, was the perfect display of his streetwear sensibility and knack for turning his exotic travels into beautiful garments. Models walked down the runway in cashmere Flankman-shorts typically worn by American rodeo pro-athletes, which he saw during a trip to Wyoming, several garments with textured prints from aerial shots he took while flying over Kenya, where he grew up, and a knit sweater with the Louis Vuitton logo reconfigured to read "Peace and Love"—perhaps his way of saying goodbye. Of course, he also paid homage to the legacy of Louis Vuitton and Marc Jacobs, who appointed Jones as style director in 2011 and artistic director of menswear after his departure, through Louis Vuitton-monogram trench coats modeled by Naomi Campbell and Kate Moss. "This was really a thank you and reference to @themarcjacobs early 2000s Vuitton and the fact that he was the one that gave me the opportunity to be @louisvuitton love you all xxx," he wrote on Instagram.
In 1997, Jacobs became the artistic director for Louis Vuitton and introduced the luxury brand's first ready-to-wear men's and women's collection. It would be the first time that Louis Vuitton, a 141-year-old fashion house that mostly catered to consumers who could afford $10,000 trunks, became synonymous with the words "innovative" and "cool." In 2011, Jacobs famously collaborated with artist and designer Stephen Sprouse on a collection of traditional monogram handbags covered in neon graffiti spelling out the brand's name. In a 2009 interview with The Guardian, Jacobs told reporter Sarah Mower his mindset behind rebelling: "I had been trying to follow the rules and do what everybody told me until it got to the point where I realized that's not why I was brought here. I'm here to do something to make this young and cool and contemporary and of the moment…. It had the credibility of the street, but also this sort of style of somebody who was a fashion designer."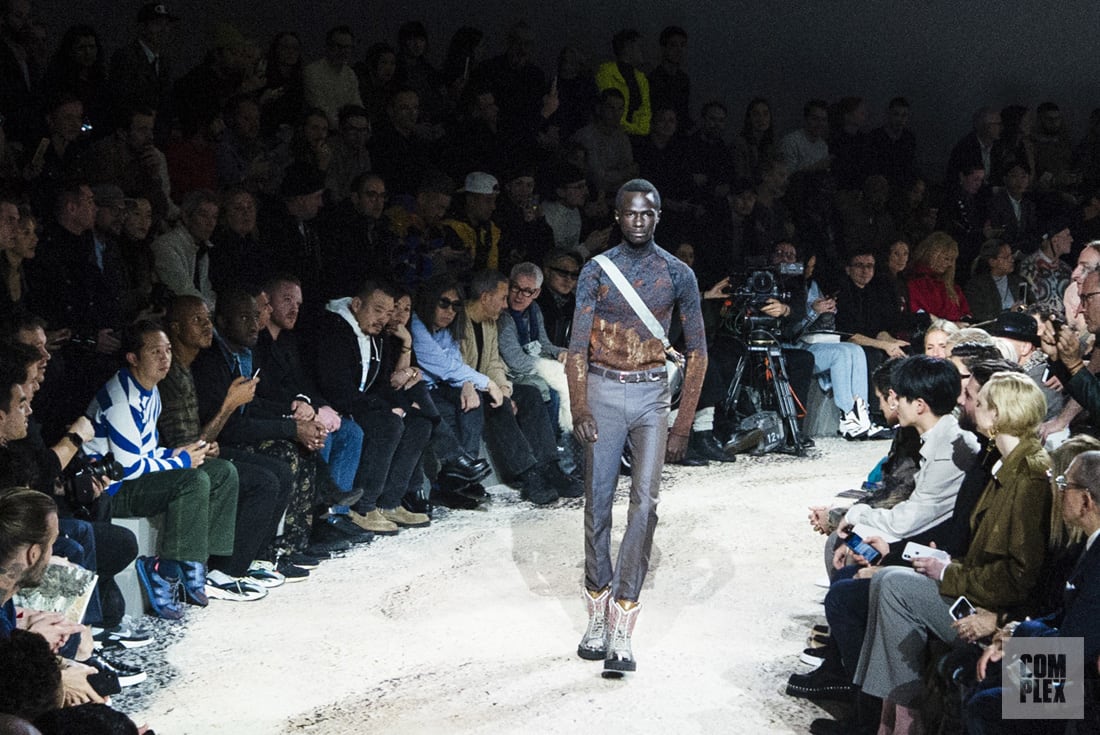 During his 16-year tenure at Louis Vuitton, Jacobs went on to work with artists Richard Prince, Takashi Murakami, and Yayoi Kusama. Through these collaborations, he authentically was able to tap into a younger customer base.
But if Jacobs paved the way for legacy brands to put art on the runways and in stores, Jones was responsible for bringing streetwear to the storied fashion house and, arguably, high-fashion. He sent models down the runway in denim designed in collaboration with Japanese label Kapital for Spring 2013. His Spring 2015 collection, which included a bright pink bomber jacket inspired by his travels to India. His Fall 2015 line was dedicated to his favorite designer, Christopher Nemeth, who also had a knack for mixing high-fashion with street. He also designed two insanely successful collaborations with Hiroshi Fujiwara's Fragment Design and Supreme.
The high-fashion industry might be accepting streetwear now and, in some cases, even borrowing from the culture but Louis Vuitton, under Jones, was a trailblazer in this. A genuine fan of streetwear himself, he has spoken about admiring not labels like just Helmut Lang and Alexander McQueen but also A Bathing Ape, Supreme, and Good Enough. While in college at Central Saint Martins, he worked at Gimme5, a company that introduced him to Japanese designers Jun Takahashi, Fujiwara, and Nigo. A decade before his stint at Vuitton, he mixed his love for streetwear with high-fashion fabrics on the runway for his own eponymous label from 2003 until 2008. At one point, he was even involved in Kanye's defunct clothing label Pastelle, which helped foster his friendships with West and Off-White's Virgil Abloh. "Some critics say that I'm just jumping on the bandwagon, but actually I'm not," he said about his connection to streetwear, specifically Supreme, in an interview with South China Morning Post. "It's always been part of my DNA."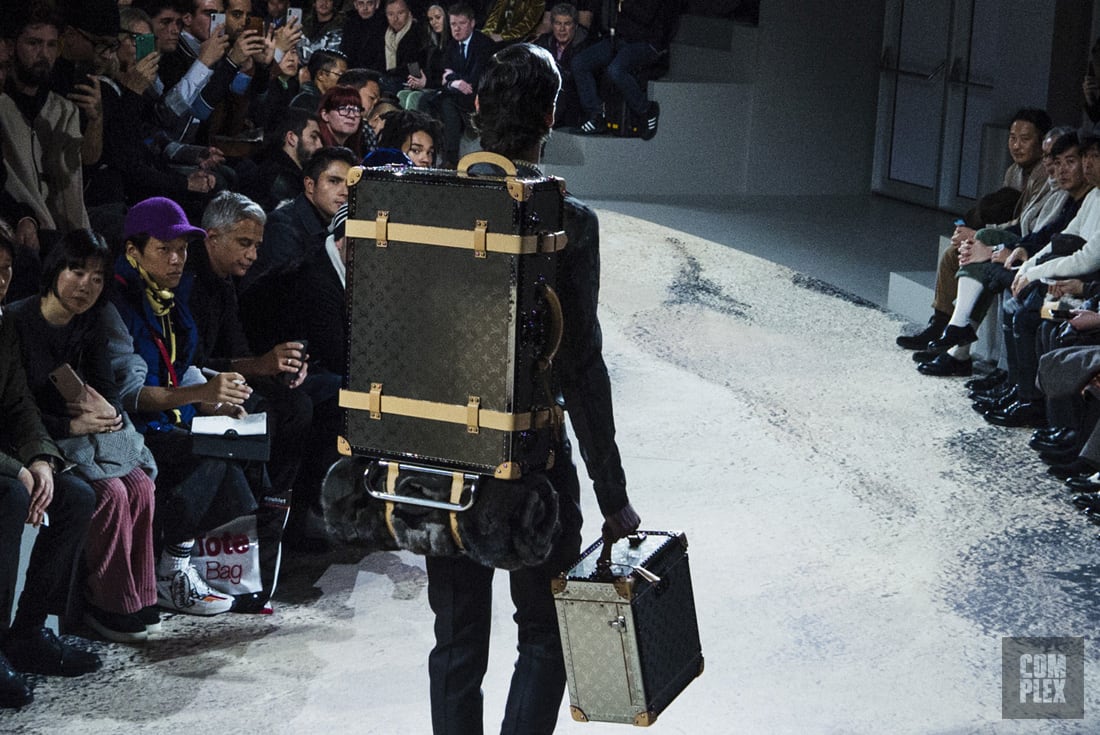 Jones' strength, in addition to his obvious talent and skill in design, has been being able to captivate young consumers—without alienating Louis Vuitton's older shoppers. According to Fashionista, LVMH's profit increased by 23% in the first half of 2017 largely due to Louis Vuitton's collaboration with Supreme. "We get lots of fashion kids, lots of classic men and some sort of older, cooler guys and some really traditional men, and I have to cover everybody," he toldEsquire. "There are three or four collections in the store at the same time. I'm aware that I have to dress someone who's either 16 or 60."
It's unclear where Jones will go next, though there are rumors he may potentially head to Burberry, which announced last October that its designer, Christopher Bailey, was exiting the brand. But it's undeniable that he re-invigorated Louis Vuitton's men's line for a younger generation. Louis Vuitton, under Jones' direction, disrupted what luxury menswear could look like.