'I Want to Be the Blueprint': The Raptors' Dalano Banton Is Making Rexdale Dream Big
The Raptors' first Canadian-born draft pick is inspiring inner-city youth in Toronto. He talks about his journey, Toronto rap, Rexdale food, and meeting Drake.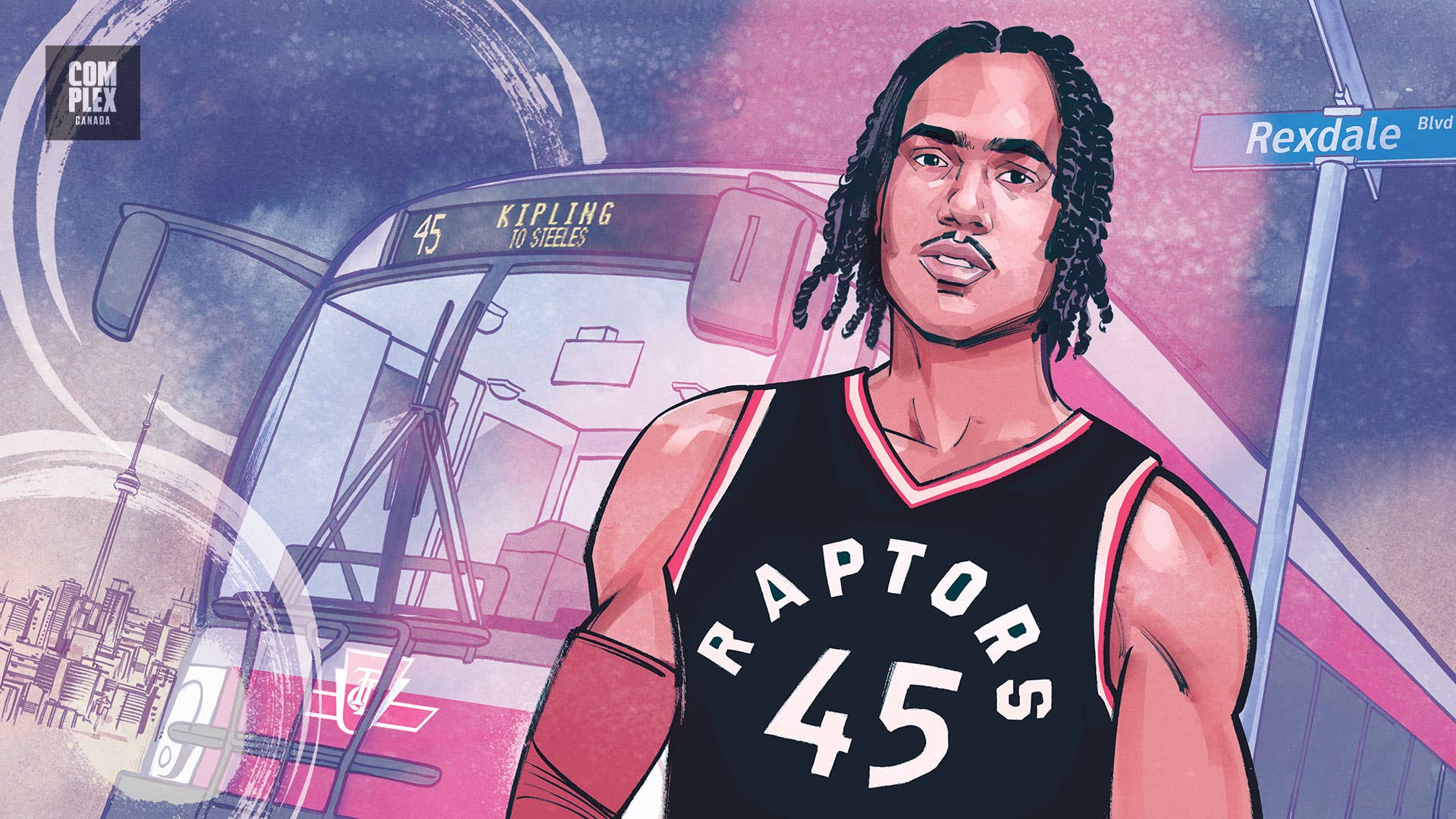 Complex Original
Image via Complex Original/Kagan McLeod
"Ah-ah-ah-ah-ah-ah-ah-ah-ah-ah-ah-ah-ah-AHHHHHH!!!"
Dalano Banton is flying high, doing his best Bobby Shmurda impression after hearing his name get called on NBA draft night in July. He's just been picked in the second round by the Toronto Raptors, the team he grew up cheering for, becoming the first Canadian-born player to be drafted by the franchise.
The 21-year-old stands up, beaming, giving hugs to the close friends and trainers who've congregated in the Chicago hotel room for the occasion. "Let's gooo!! Back to the city, boys!" he exclaims. "Back to the city!"
It's the dream scenario of every Toronto kid who's played NBA 2K MyCareer mode: starting your pro journey with the hometown team. Wishful thinking for most basketball fans from the 6ix. But for youth from Rexdale, the neighbourhood on Toronto's northwest edge that Banton hails from, it's a goal that, until now, seemed utterly unthinkable—something so beyond the realm of possibility it wasn't worth fantasizing about.
"I can't even explain it with words, the shit that I'm feeling inside," Banton tells me a couple months after draft night. "It's still crazy, waking up and going to practice with the Raptors. It's a dream come true every day.
"Being from Rexdale, it's hard to try to make something of yourself. So coming from that environment and being able to do something positive for myself, I feel like it'll open more doors for people to believe that it could happen for them."
The six-foot-nine point guard's history-making selection by the Raptors has sent ripples through Rexdale and other low-income communities like it across the Greater Toronto Area. Before even playing his first official NBA game, he's already become a beacon of hope for kids across the city. He's giving them a reason to dream.
"The smile on his face said it all," says Yoosrie Salhia, Banton's longtime mentor and coach who was with him on draft night. "He's the first Canadian to be drafted by the Raptors. And more importantly, he's a true inner-city kid. He's a real Toronto kid."
"There's a lot of guys where I'm from who never got to make it. So I'm living for them too."
For Banton, it all starts at "the Cage." That's what he and his friends called the outdoor basketball court they learned to play the game at, located near Kipling Avenue and Mount Olive Drive, the intersection in Rexdale where grew up. It had dilapidated rims and was enclosed by a rusting chain-link fence. "We never had a lot of access to gyms, so we had our court in the neighbourhood. "We were just there every single day as kids," he says. "For me, it was about finding places to play basketball, just to keep my time busy."
The son of a Jamaican immigrant father and white, born-and-raised Canadian mother, Banton was brought up in his paternal grandma's house, just across the street from the Cage. He's loved basketball for as long as he can remember. When he wasn't hooping outdoors, he was playing at the nearby North Kipling Community Centre and Rexdale Community Hub. Besides being passionate about the sport, he saw it as a way to stay off the streets, which he realized from a young age he wanted no part of.
"Growing up in low-income neighborhoods, you have to see a lot of things go on and just understand how to take yourself out of situations," Banton says. "I was big on learning from other people's mistakes. Just seeing people go down the wrong path, just understanding, before I learned from my own [experience], that I could see what you're doing wrong and learn from that. I know a lot of guys who played basketball that were really, really good, but they never even made it out of high school."
Early on, he resolved to aim higher for himself. In his Grade 8 yearbook, he filled in the "In the future I will ___" prompt accordingly: "Be in the NBA."
"Coming where we're from, you just have to have a positive mindset," Banton says. "If you don't dream bigger and live bigger and think you're going to do more for yourself, then you really won't and you'll be stuck. I know a lot of people who are stuck. I'm pretty sure you do too."
Living in Rexdale is kind of like living on a remote island. I grew up there and often felt as if downtown Toronto were in an entirely separate country. The region is nowhere near any main subway arteries, for one, and has significantly lower levels of government investment than the rest of the city, despite being designated a "priority neighbourhood" in 2014. In the media, Rexdale often gets used as shorthand for social problems and gang activity, with the National Post once describing it as "blighted and violence-plagued." You may also remember it as the area where former mayor Rob Ford once smoked crack in a drunken stupour. It's a place where opportunity feels scant, and where kids can feel stranded, both economically and within the bounds of the district.
"Rexdale is a unique place. In my opinion, it's the most isolated area of Toronto," says Salhia, who's worked with youth in the neighbourhood for years. "The expansion of the TTC has happened, but it has yet to happen in that area of the city. So the kids who are living there, they're usually there all the time. It's hard to get around, so they might feel they're stuck there." The neighbourhood's physical and social seclusion, coupled with its negative reputation, make it hard for its youth to envision many options for themselves. "Sometimes the stigma that's put on the area holds you down and you get wrapped up into it. So unfortunately, some youths decide to make wrong choices for various reasons and others don't. The [challenge] is trying to stay on the right path, regardless of how many things are against you."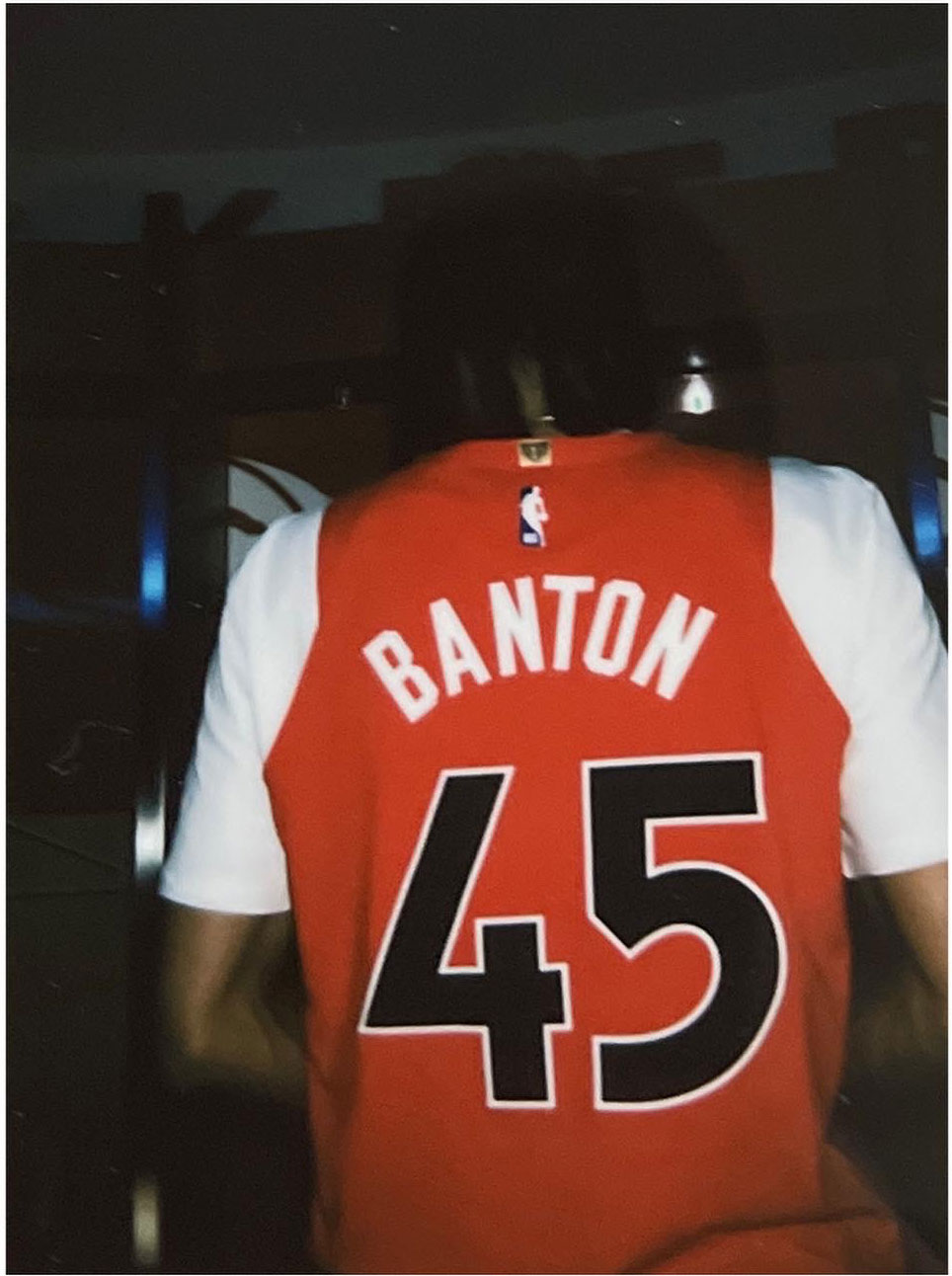 "I bump pretty much everyone from Toronto. A lot of people from America don't understand our music, but I like it."
Banton lists his favourite Rexdale restaurants like a litany: "Lucky Star, right in Rowntree Plaza. Double O Pizza. Taudos, that's a Jamaican restaurant at Islington and Rexdale, right at Bergamot Plaza. Definitely Peppers at Islington and Steeles. Oh, Big G's at Martin Grove."
He says he's been getting his Raptors teammates hip to the "good food spots" outside of Toronto's downtown core.
One thing about Dalano: he's immensely proud of where he came from, stigma be damned. Among the city's major immigrant landing pads, Rexdale has been one of the few areas accessible to Caribbean, African, and Indian newcomers in recent decades. The result is a wildly diverse neighbourhood with a one-of-a-kind culinary scene—one Banton is only too eager to promote.
That theme, of putting his hometown on, is a constant with him. For his gameday fits, he makes a point to rock threads by In Your City, a streetwear brand launched by his friends in Rexdale. The label's name is a motto they all live by. "I just always dreamed bigger, so I used to see myself being all around the world," says Banton. "It was something that me and my friends came up with: we started out here, but now we're in your city. It's about living bigger than your circumstances."
Then there's his jersey number, 45. It's an homage to the Kipling bus route, which many Rexdale residents rely on for their daily commutes. Banton used to take it to school early in the morning and back from practice late at night. Choosing the number is more than just a nod to his community; it's his way of bringing them along for the ride.
"Like I said, there's a lot of guys where I'm from who never got to make it. So I'm living for them too," he says. "I feel like when a lot of people see that number, it takes them with me. They might not be in that game, but they feel like they're there because I'm there representing where they're from."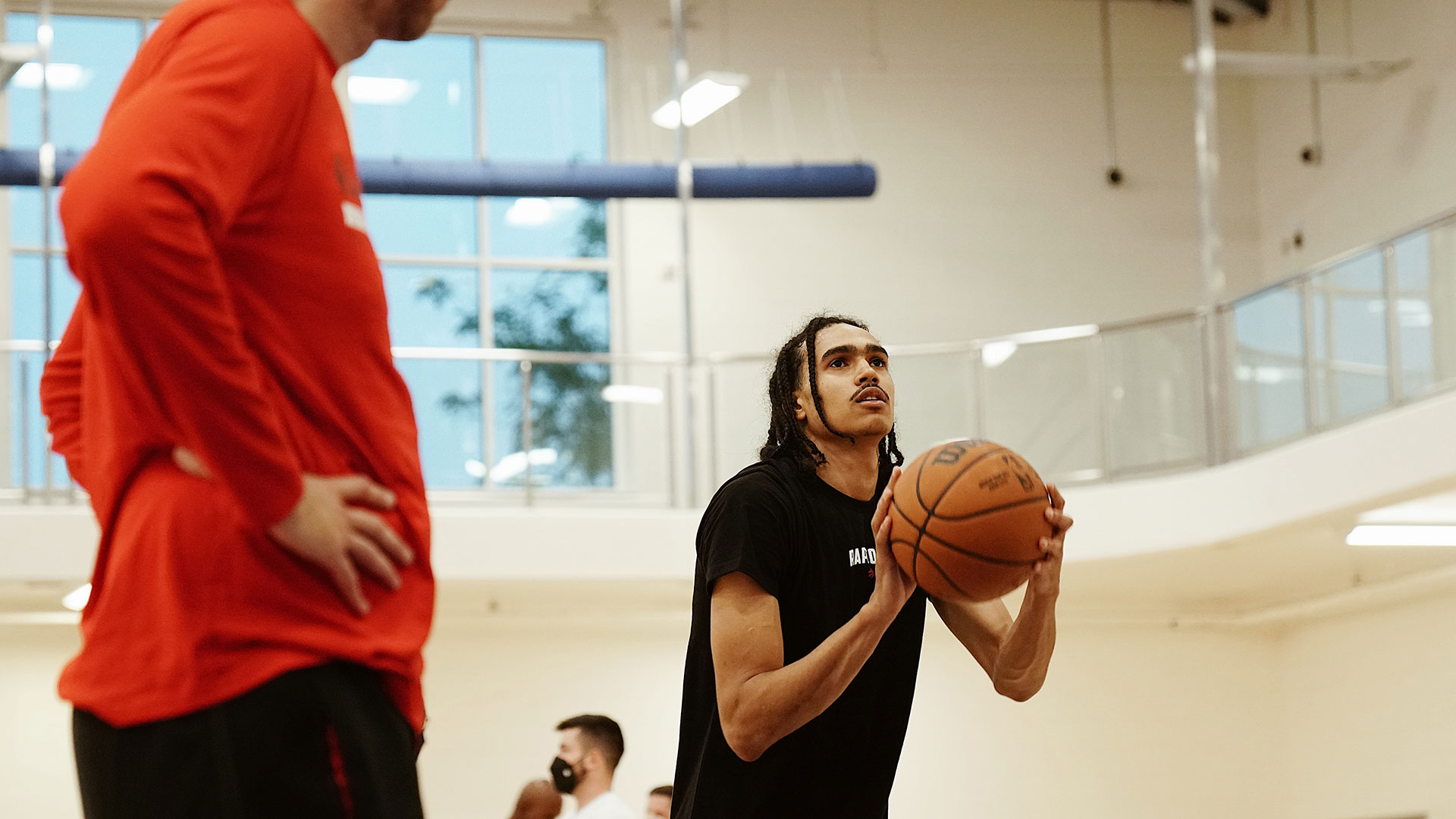 It was always the intangibles that set Banton apart. Salhia, who coached him at Central Toronto Academy (formerly Central Commerce), saw it early on. "There's a few things in the game you can't teach, and one of them is your natural feel for the game," he says. "How he could read the game, how he could see things coming, how he could anticipate—he always had that stuff from a young age."
Banton, who modelled his game after elite passer Rajon Rondo, would eventually play under Salhia at the Albion Boys and Girls Club's team—the ANS Warriors—at the Rexdale Community Hub. Given his court vision, he was a natural fit at point guard, and stayed at the position even after experiencing a freak growth spurt—from five-foot-nine in Grade 9 to six-foot-six in Grade 11.
A former college player himself, Salhia realized Banton's unique arsenal—a crafty floor general with Stretch Armstrong-esque length—could one day make him a threat at the pro level. So his senior year, he took him aside for a serious conversation. "I told him I believe he had what it takes to make it to [the NBA], as long as he committed himself to his craft and made the right sacrifices," Salhia says. "I thought he had the potential. There's not a lot of people in basketball, even in the States, at his size that have that skill set."
Banton says Salhia's support was life-altering. "Just him believing in me helped make me believe in myself, because I didn't think it was real. I didn't think I would make it to where I am today, if I'm being really honest."
"I want to continue to build not just Rexdale, but Toronto as a whole. I feel like I represent the whole city. I'm big on taking where I'm from with pride."
He decided to head southside for greater exposure, attending a couple prep schools in Massachusetts and starting his college career at Western Kentucky. Along the way, he'd sprout up to 6-foot 9. But he didn't truly hit his stride until getting transferred to the University of Nebraska. Under former Chicago Bulls coach Fred Hoiberg's faster-paced style, he flourished, averaging 9.6 points, 5.9 rebounds, and 3.9 assists in his final year.
You can see why the Raptors drafted Banton. The NBA has been trending towards positionless basketball for a while, and the team is clearly buying into the ethos. President and vice-chairman Masai Ujiri has built a roster stocked with guys who can play and defend multiple positions; see: long-limbed No. 4 overall pick Scottie Barnes, do-it-all forward Precious Achiuwa, ball-handling big man Pascal Siakam, two-way force OG Anunoby. Banton—who can get swats and boards, make acrobatic driving layups, and pass the ball with quarterback-like intuition—crushes the assignment.
"It's pretty cool that he races the ball up the floor at 6-9 and has a tremendous vision and then he blocks a shot and then grabs a big rebound at the other end," Raptors head coach Nick Nurse said about Banton after a pre-season game. "He plays big at the defensive end and we like that. [He's] versatile."
But there's the harder-to-quantify stuff too.
"I feel like my personality goes a long way," Banton says when asked why he thinks the Raptors drafted him. "Outside of basketball, people know I come from an environment like Rexdale, so I feel like that, with my character and upbringing, brings a lot to the table…. You have a bit more grit, coming from the bottom. You have that extra push to prove yourself every time you step out."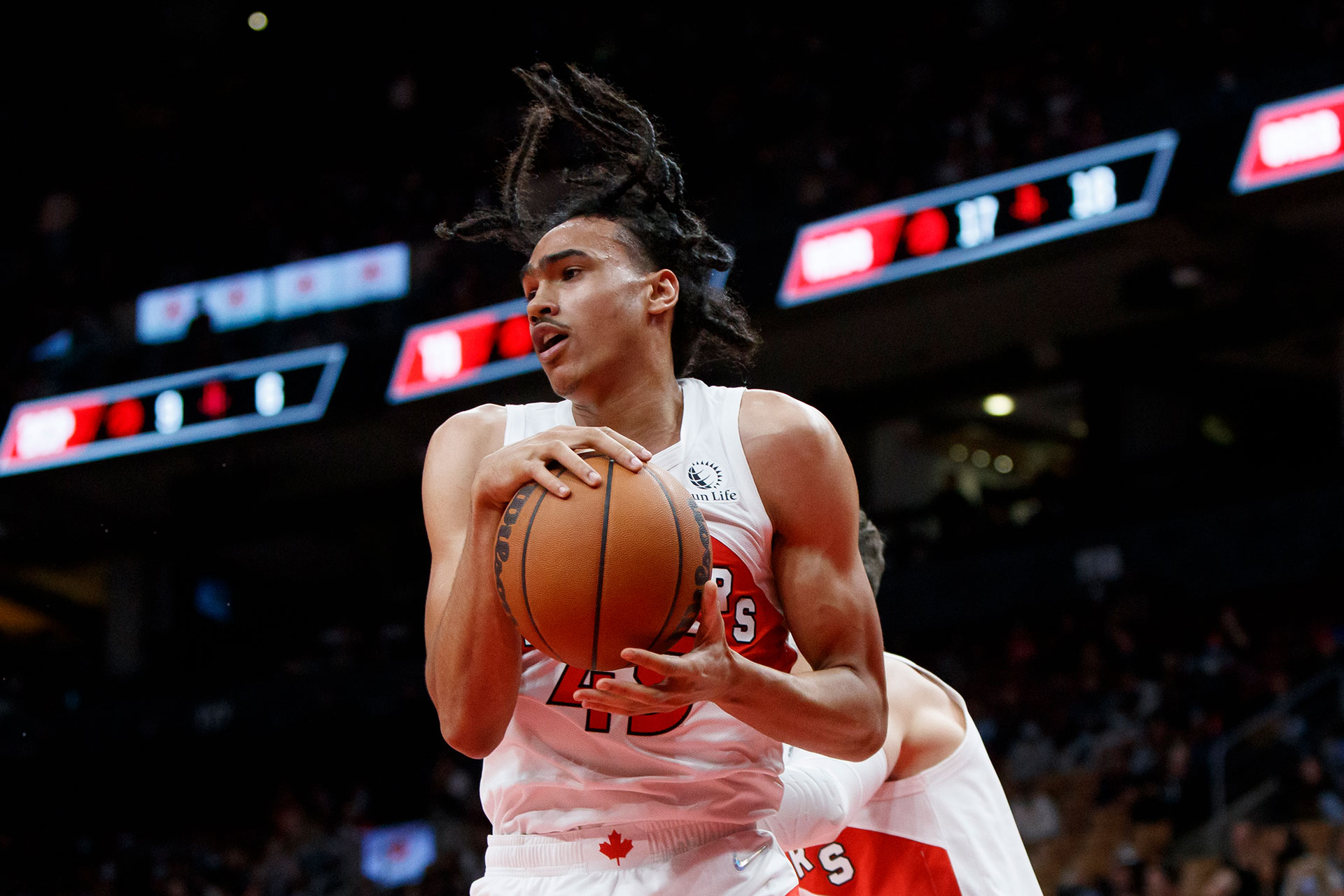 "Drake's house is huge."
Banton still can't believe he knows what the inside of the 6ix God's mansion looks like. Shortly after draft night, he and Barnes received an exclusive invitation from the Toronto rapper and Raptors global ambassador, who wanted to give the players a proper welcome to the team. It's a long way from Mount Olive to the Bridle Path.
"He talked to us about longevity," he says of Drake's advice to them. "You know, live in the moment, obviously, soak it up and be grateful for what you've accomplished, but also kinda worry about longevity and continuing to grind. He's a guy that's never satisfied regardless of how many hit songs he drops, so he was just preaching about never being satisfied. And said if I ever need anything, to hit him up."
Banton's NBA career officially starts at Wednesday's season opener in Toronto, but regardless of how things progress from there, his legacy might already be set in stone. He's the kid who clawed his way out of the Rex, put it on the map, made success seem tangible for kids across the city. Started from the bottom, now he's got The Boy on speed dial.
What's more, he may well be the most fully actualized Toronto man the Raptors have ever seen.
"Shriv, Mo Band$, Lil Bucky, Biig Slime, Northside Benji, Burna Bandz," Banton says, rattling off the underground rappers from the city he listens to regularly. "I bump pretty much everyone from Toronto. A lot of people from America don't understand our music, but I like it." He believes the 6ix's MCs get lost in translation with U.S. audiences. "People just think Canada's so nice and this and that, so I feel like they're not really understanding our culture, you know? And probably our accent—the way we talk and the words that people here use, they don't really understand. It's crazy, though, I feel like Toronto rap is blowing up, and it's going to continue to get bigger."
He's fluent in Toronto slang and makes a point of teaching it to his teammates—though Barnes is more advanced in it than he realized. "I've been teaching him some words, but he knows a lot! I was like, 'Whoa, who taught you that?'" says Banton. Of course, he isn't ignorant to the origins of the dialect. "Scottie is Jamaican too, and we use a lot of cultural slang like 'wa gwan' and stuff like that. It's not really just a Toronto thing. You know, Toronto soaks up all cultures easily, regardless of what ethnicity you are. We have Jamaican culture in the way we talk, so it's easy for him to understand."
I once asked Ujiri about the importance of people seeing their own kind succeed at things. The question was related to the Giants of Africa basketball camps the Raptors exec runs in his home continent every summer, but his answer could easily apply to youth anywhere in the world: "Kids have to see it. It has an impact. We have to be role models. They need to see someone and say, 'He's from here. He's from our place. If he can do it, maybe we can try to do it.' It's huge."
Banton is the hero Toronto's inner-city kids need right now—someone who looks like them, talks like them, and bumps the same tracks as them, doing the impossible. After all, you can't be what you can't see. And the rookie's ready to show us something.
"I want to be the blueprint of somebody who really made it out, made something of themselves, and took it to another level, not somebody who 'could have been.' I'm trying to change the narrative," he says. "Just having that chip on my shoulder, being from somewhere where people don't really come out of, I have to take it with me and put it on, so that everybody from there can follow in my footsteps. I want to continue to build not just Rexdale, but Toronto as a whole. I feel like I represent the whole city. I'm big on taking where I'm from with pride. I accept who I am and I love where I come from."