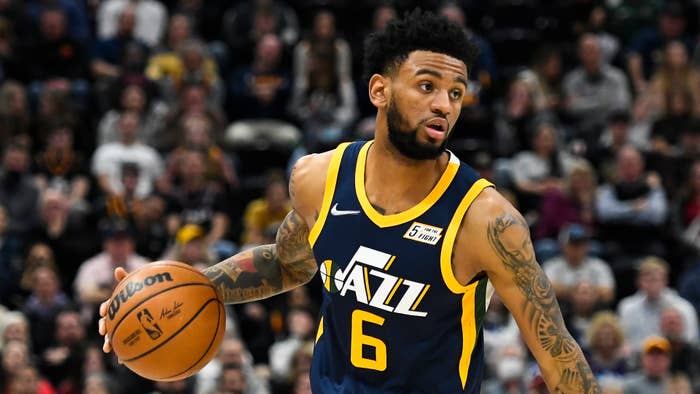 Before the AAU and prep basketball circuits swept through Canada in the late 2010s, high school basketball was everything. And in Canada's most populated province, the Ontario Federation of School Athletic Associations (OFSAA) AAAA year-end tournament was the biggest show of all. So, it's no wonder that it was there that Nickeil Alexander-Walker first turned some heads. 
The 23-year-old Utah Jazz and Team Canada combo guard from Scarborough, Ontario was a junior at Vaughan Secondary School in 2013-14, one of the best basketball programs in Canada at the time. In fact, 2022 NBA All-Star starter Andrew Wiggins had just left the school the year prior to Nickeil's arrival, when the program won back-to-back provincial championships in 2011 and 2012. 
After proving that he was too good for the junior team, dropping 50 points in a game against York Region rival Maple High School earlier that season, Nickeil was called up to join the senior team for their trip to OFSAA in March. And in his very first game at the senior level and in the highest level of competition in the province, Nickeil stepped in off the bench and delivered a 17-point performance in a tight win.
It didn't matter that Nickeil was the youngest player on the floor—and one of the youngest in the whole tournament—or that Vaughan was playing away from their home gym in a hostile environment in Mississauga, which was par for the course during an era of high school ball that was defined by fierce GTA rivalries and gyms consistently packed with rowdy students. Nickeil wasn't nervous and he wasn't thrown off by the moment. Rather, he was built for it.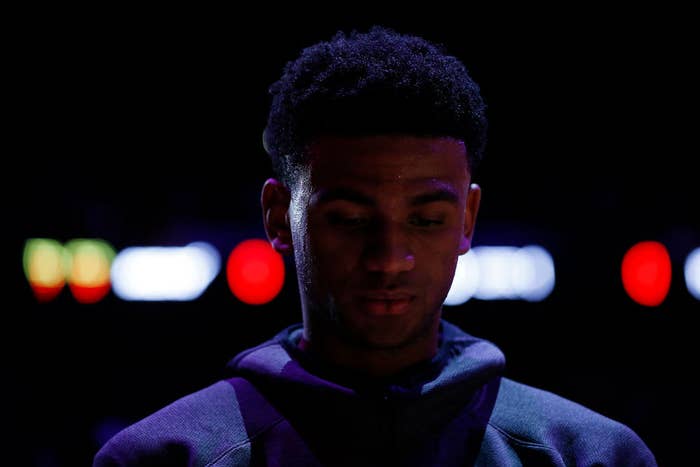 "He was able to thrive and he wasn't afraid of a challenge because he's a tough kid. He didn't have any issues with his nerves or being nervous or anything like that," Vaughan Secondary basketball head coach Gus Gymnopoulos says about Nickeil. "He's just a tough-minded kid and he was able to back it up because he was also a hard working guy and skilled.
"We always say that the harder you work, the less you want to lose, because there's more on the line. And he was like that. So, he wasn't afraid of any competition and he wasn't afraid to be in any sort of heated environments. He's just kind of built for it."
Nickeil got that mentality by being thrown into those sorts of tense environments from a very young age. In the GTA, where many courts are divided into two sides of differing skill levels—NBA and NCAA, as many called it—he had to claw his way up the ranks to play with the best. 
"I think it started young at the Scarborough YMCA that I went to. And just being one of the younger kids being picked on. They didn't care. It was cut throat with those guys," Alexander-Walker tells Complex Canada.
"I think it kind of made me mentally strong, playing against trash talk, elevating your game because that's all there was. You're earning the right to even play on that side of the court and hold my own. That's where I kind of got that mentality from."
Vaughan Secondary would fall short of winning the provincial championship that season, but Nickeil had already made his mark. He quickly became a legend at Vaughan Secondary and in the surrounding communities, with kids following in his footsteps to the school just like he did in Wiggins'. 
"To whom much is given, much will be required."
After two and a half seasons there, Nickeil moved to St. Louis Christian Academy and then Hamilton Heights Christian Academy in the United States before taking his talents to Virginia Tech University, where he played for head coach Buzz Williams for two seasons before being drafted 17th overall in the 2019 NBA draft—with stops at all levels of Canada Basketball along the way. 
His long-standing ability to put the ball in the hoop regardless of circumstances has taken Nickeil to the highest level of basketball, but that doesn't mean his path was an easy one or that he takes any of it for granted. As the deeply religious athlete tells me: "To whom much is given, much will be required" (Luke 12:48). And it's that philosophy that defines Nickeil's approach to basketball and life.  
Nickeil got his first Fisher Price basketball net at age two or three, when he started to play inside of his Scarborough home. His mother, Nicole Alexander, and his uncle, Vaughan Alexander, were two of his biggest influences in his early life, along with his six siblings. But it was Uncle Vaughan that pushed him to take basketball seriously, helping Nickeil understand that if basketball was something he loved, he was going to have to dedicate a lot of time, effort, and energy to the sport. And by all accounts, he did. 
When Nickeil was just a teenager, he traveled an hour from Scarborough to Vaughan for high school each day, hungry to take his game to the highest level. "Knowing that my mom was working two jobs to provide for me, that was all the incentive I needed," Nickeil says. 
Gymnopoulos, who coached Nickeil for two and a half seasons at Vaughan Secondary before he transferred to prep schools in the States, knew right away that he had the right combination of mental and physical skills to have a chance to make it to the NBA.
"My first impressions were I was super, super impressed with him, he was just so likable, lovable, he just had a passion and exuberance for the game. Even as a young guy, you could tell he wanted to get better," Gymnopoulos says. "And because he had that good character and because he was such a hard working kid, we kind of knew that it'll all come together for him because he had that sweet combination of mentality, work ethic, plus he was going to grow."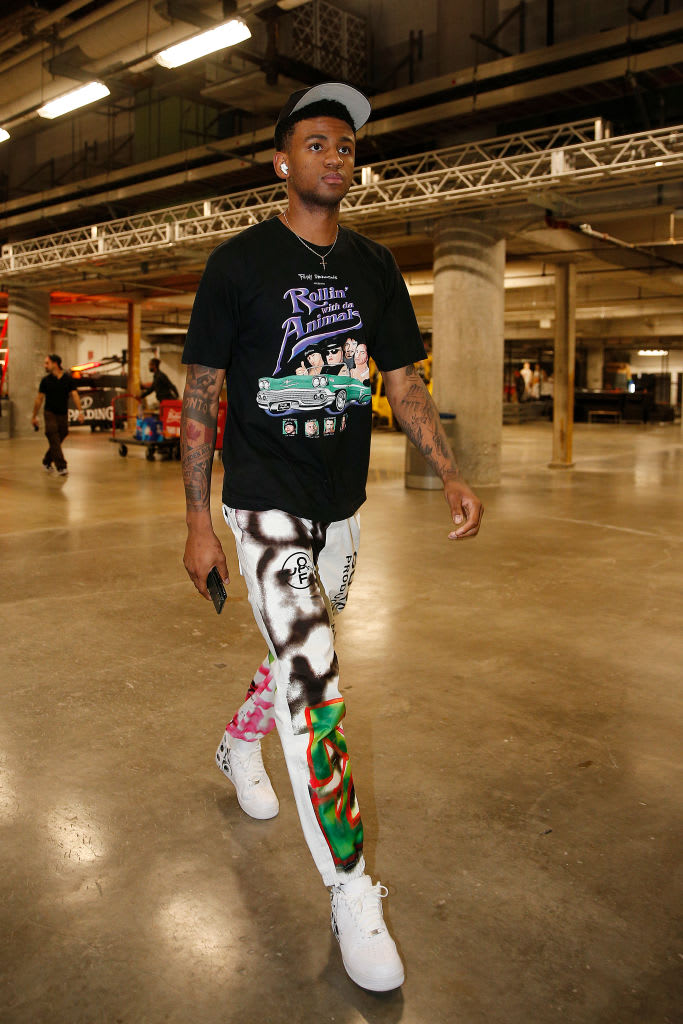 Nickeil did grow, blossoming from a skinny, average-looking high school teenager to the 6-foot-6, 205-pound athlete he is today. But it took much more than growth to make Nickeil into an NBA player. Gymnopoulos remembers walking in the Vaughan gym and watching Nickeil stay at the free throw line until he hit 100 free throws that skimmed the back of the rim and fell down the mesh towards him—back rim and down shooting, as they called it. Nickeil wouldn't be satisfied until his shooting touch was that precise.
But the story that stands out to Gymnopoulos is one that shows exactly why Nickeil was different from the other athletes his age who, despite also belonging to one of the best basketball programs in the country, never took the game quite as seriously as he did. 
"When he was in ninth grade, I found a backpack in the change room. And I didn't know who's backpack it was. And then I looked inside the backpack and there was a Michael Jordan book. So I went out into my class, and I said: 'Guys, I don't know whose backpack this… it has a Jordan book inside,'" Gymnopoulos, who taught at the school in addition to coaching the basketball program, explains. "And then everybody says, 'Sir, that's Nickeil's backpack.'
"They knew that it was Nickeil's backpack because of the Jordan book. And the reason he had a Jordan book in his backpack was because he wanted to learn from the best. So, when I say that he had that sort of drive from when he was a youngster, that's just an example. Like, what ninth grade kid has a book of probably the greatest basketball player of all time in his backpack? Nickeil did, because he wanted to emulate his game after him."
We often glamorize the stories of young athletes working on their bodies and on their games in their lead-up to success. In fact, athletes often take part in the glamorization themselves, posting workout videos to Instagram with music blaring in the background as they look like they're having the time of their lives lifting heavy weights. But Nickeil never showed off, taking a very blue collar approach to working on his body and his game, with everyone that I talked to saying that while Nickeil is as nice and humble as they get, he is equally thoughtful and intense when it comes to working on his craft. 
"He's really, really focused and driven. He wants to be really good, wants to be the best. And I think that he trains and works on his body and works on his game with that same focus. And so I think it boils over and he's really emotionally invested in the game, focused on trying to get the best out of himself, trying to get the best out of his team," Team Canada assistant coach Nathaniel Mitchell says about Nickeil, who he works out with during the summers in Toronto and coaches with the national program. 
"And I think he's done a really good job throughout his career of learning the game. Trying to get a feel for the game, watching film. I mean, the guy watches film nonstop. He watches games and tries to model his game off a lot of the best players that we see today. So, Nickeil is a really intense player and really focused and I really appreciated that about him."
"Ultimately, the reason why I started playing basketball was to try and be one of the best ever."
Mitchell recalls a story of Nickeil pulling up to an offseason workout in his car, but when he stepped out of the whip, he was already sweating and shirtless. Mitchell was confused, until he realized that Nickeil was just coming from a strength and conditioning workout with another trainer, and he drove straight from that workout to meet Mitchell at the gym. 
"He was already working and sweating and he's just coming right back in and doing it again," Mitchell explains. "And then after we're done he's like, 'OK, what time tonight?' And that's just how he is in terms of being focused and trying to work out. He doesn't skip any days."
At Virginia Tech University, where Nickeil was a five-star recruit and a standout player for two seasons between 2017 and 2019 before he declared for the NBA draft, he was always getting extra work in, relentlessly calling coaches to join him in the gym until he could find one that was available.
But more than that, he took a business-like approach to basketball, especially in his sophomore year when he began to wear a suit on every game day. As assistant coach Christian Webster explains:
"That's not something that coach Buzz Williams made the players do. He did it because that's what he wanted to do. He wanted to treat it like a job. So, he wore suits to every game and it was just like: Wow, this kid is really serious about this. It was pretty cool… And then it kind of trickled down to the rest of the team, when guys started dressing nice to go to games. And it wasn't something that the coaches said or did. It really started with Nickeil."
The other thing that stood out to Webster about Nickeil treating basketball like a job was his mass-consumption of food. As a kid with a naturally tall and lanky frame, Nickeil knew that he would have to put on a lot of weight and muscle in order to succeed in the NBA, allowing him to finish through contact and fight through screens. So, he ate and ate and kept on eating. 
"I saw him on campus all the time, eating three or four plates of pasta because he knew he needed to gain weight to be ready for the NBA," Webster explains. "That was just his discipline and his approach to everything was just phenomenal. It was incredible watching him work on a daily basis."
But the best story from his time at Virginia Tech comes from his teammate and roommate, Wabissa Bede. After helping recruit Bede to Virginia Tech when the two first met at the Adidas Nations tournament—when Nickeil "killed our team"—the two of them formed an immediate friendship. But Nickeil liked to work out alone regardless of who he was friends with. So, when one day Bede and another teammate of theirs had to crash Nickeil's workout session because it was the only time that they could get in the gym, Nickeil was not happy. 
"I knew deep down he didn't like working out with anybody, because he would always say: 'Kobe [Bryant] never worked out with anybody.' And when we all had to work out with each other that day, we just realized he was just so mad the whole time." 
Bede tried to explain to Nickeil that it was a one-time thing; that they understood that he preferred to work out alone, but that this was the only time they could get in the gym. Still, Nickeil was frustrated. And even after making it to the NBA and coming to terms with the fact that he sometimes has to work out with his teammates, Nickeil still prefers to workout alone. 
The reason? Aside from Bryant (along with Manu Ginobli and Deron Williams) being Nickeil's favourite player growing up and him trying to emulate the work that Kobe became famous for putting into his craft; it's because he wants all of the repetitions for himself. 
"He doesn't like working out with other people because he thinks of it like they are stealing his reps, you know? He wants to maximize his reps as much as he can," Bede explains. "If he does work out with somebody, and if that person looks away real quick, he will steal your reps, just to have done more than you."
Naturally, the question becomes: how did all of Nickeil's hard work translate to the basketball court? 
After starting all 33 games as a freshman at Virginia Tech, Nickeil helped the Hokies reach their first Sweet 16 since 1967 as a sophomore in 2019, where they ultimately fell to Duke. But Nickeil's decision to go back for a second year of school paid off, willing his way to becoming a first-round pick in the 2019 NBA draft, selected just outside the lottery at No. 17.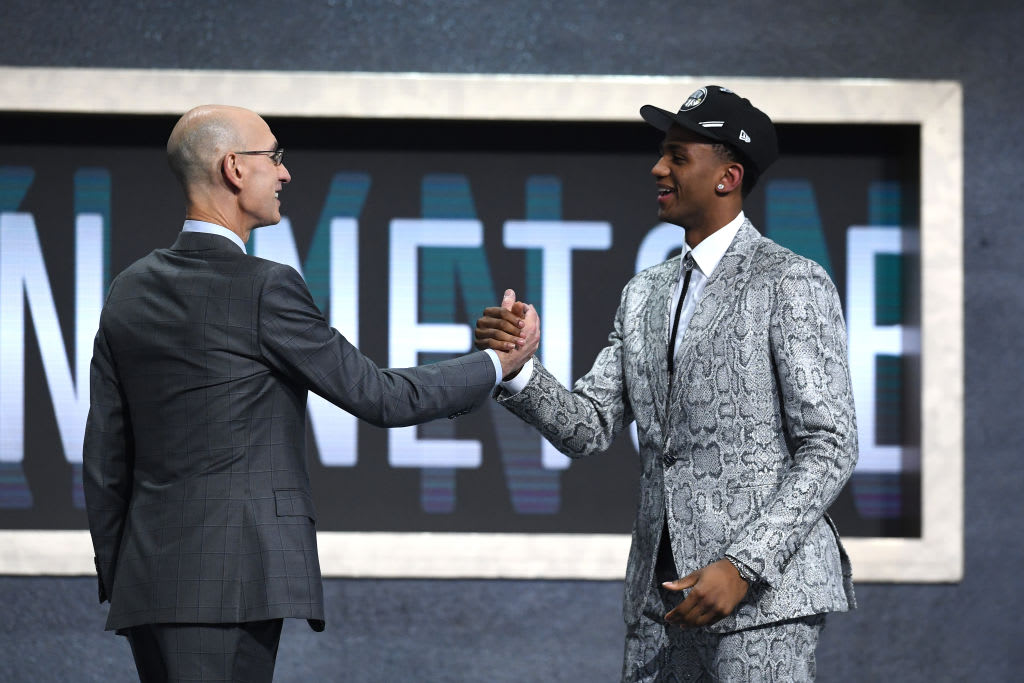 The guard has had an up-and-down two and a half seasons in the NBA, starting his journey in New Orleans—where the roster was in constant flux and he missed time with COVID-19 this season—before being traded to the Jazz at this year's trade deadline, where he will play for his fourth coach in less than three seasons. Still, Nickeil has shown flashes of his special scoring ability, including a 15-point performance against the Golden State Warriors in just his fourth NBA game and a career-high 37-point game against the L.A. Clippers last season. While the NBA is a hard league to carve out a role in, anybody paying close attention knows that Nickeil hasn't come close to reaching his potential. 
The most unique and unorthodox thing about Nickeil's game is that he is ambidextrous, comfortable dribbling, passing, and shooting with each of his hands. That ability to go both ways, along with his natural craftiness and shiftiness as a tall ball-handler—similar to his cousin Shai Gilgous-Alexander—makes him extremely difficult to scheme against, as teams can't simply force him one way or the other. 
"In the NBA, defensively as a coach you think about which way to push certain guys like, you want to force them left, you push them right in pick-and-roll situations. With Nickeil, you force him right and he can make jumpers going right, can pass going right. You force him left and he can throw the ball on a rope with his left hand, which you don't see a lot of guys do. I think that's where he's really skilled," Mitchell, who is also an assistant coach for the Toronto Raptors, explains. 
At 6-foot-6, Nickeil can play the two guard or the point guard, making him a versatile player that can impact the game in a number of ways. And while his first couple of seasons in the NBA might not have gone as smoothly as he may have envisioned, Nickeil has thrived with Team Canada, first at the FIBA Americans Under-18 Championship, where he led the team to a silver medal as the leading scorer in the tournament, averaging 17.4 points per game. And then with the senior team this past summer, where he came off the bench and oscillated between shooting guard and point guard, thriving on the biggest international stage as he averaged 16.7 points and 4.0 rebounds per game as the team's best bench player. 
While Team Canada would lose in the semi-final of that tournament in heartbreaking fashion and miss out on their chance to qualify for their first Olympic Games since 2000, Nickeil says that he "1000 percent got better" in Victoria, fighting through the mental battles of the more slow and physical FIBA game, and learning to balance his aggressive scoring with his playmaking. Most importantly, though, Nickeil says that he is committed to the program going forward and wants to be part of the next group of athletes that brings Canada their first Olympic medal since 1936.  
"As a kid you watch and you learn so much about basketball history, and you know that all the greats represented the country. And that's something I want to do: I want to be able to bring home a gold for my country," Nickeil says. "At the end of the day, it's a tremendous honor to be seen as kind of like those frontline guys that they're gonna send out to represent them, to make the people of Canada look good in the sport that no one really thought we really had business in."
Mitchell was impressed with Nickeil's play this summer and even more impressed that he was willing to sacrifice the offseason between his second and third year in the NBA, when most players on rookie deals focus on contract extension talks and setting themselves up for the future, making them less likely to play internationally. Nickeil, however, thought the opportunity to play for his country was too great to pass up. 
And that makes sense given how passionate Nickeil is about his Canadian roots. When I asked Bede, his roommate at Virginia Tech, about how often Nickeil used to talk about Scarborough, he responded:
"Not often. He always talked about Scarborough! Always saying he's from Scarborough and all that stuff… He's crazy, he loves Canada and he represents the country a lot. Don't worry about that. That boy can represent."
Despite all his success with the Canadian national team, Nickeil is still trying to find his role in the NBA. He will get the opportunity to do that with the Jazz, who traded for him at the trade deadline and plan on slowly easing him into their playoff-caliber rotation. 
And while the amount of roster chaos and coaching changes that Nickeil has gone through in two and a half seasons in the NBA would break some young players, everyone who knows him remains confident that he will not only succeed in the league, but eventually thrive. He has too much pride, too much natural skill, too good of a work ethic, and too mature of a mentality not to. 
"I think the NBA is a very, very tough environment. And I think that every player will find their own pathway. And it'll be undeniable that Nickeil will get to where he wants to go because of his work ethic and because of his personality," Gymnopoulos says. "A lot of these young guys should be given a little bit more time to adjust to that environment and he's built for it. He's got the mentality for it. He has the work ethic for it."
"He has a sense of self pride. He is really huge in terms of his mother, he really cares for his mother and wants to take care of her. I think just in general, the kid has an inner pride about himself of wanting to be the best," Mitchell adds. "His favourite player is Kobe Bryant, and if you have Kobe as one of your favourite player, you hear the stories about the amount of work that Kobe put in. So, in order to emulate that and try to match that as close to you as possible, you have to do the work… and I think Nickeil really does that."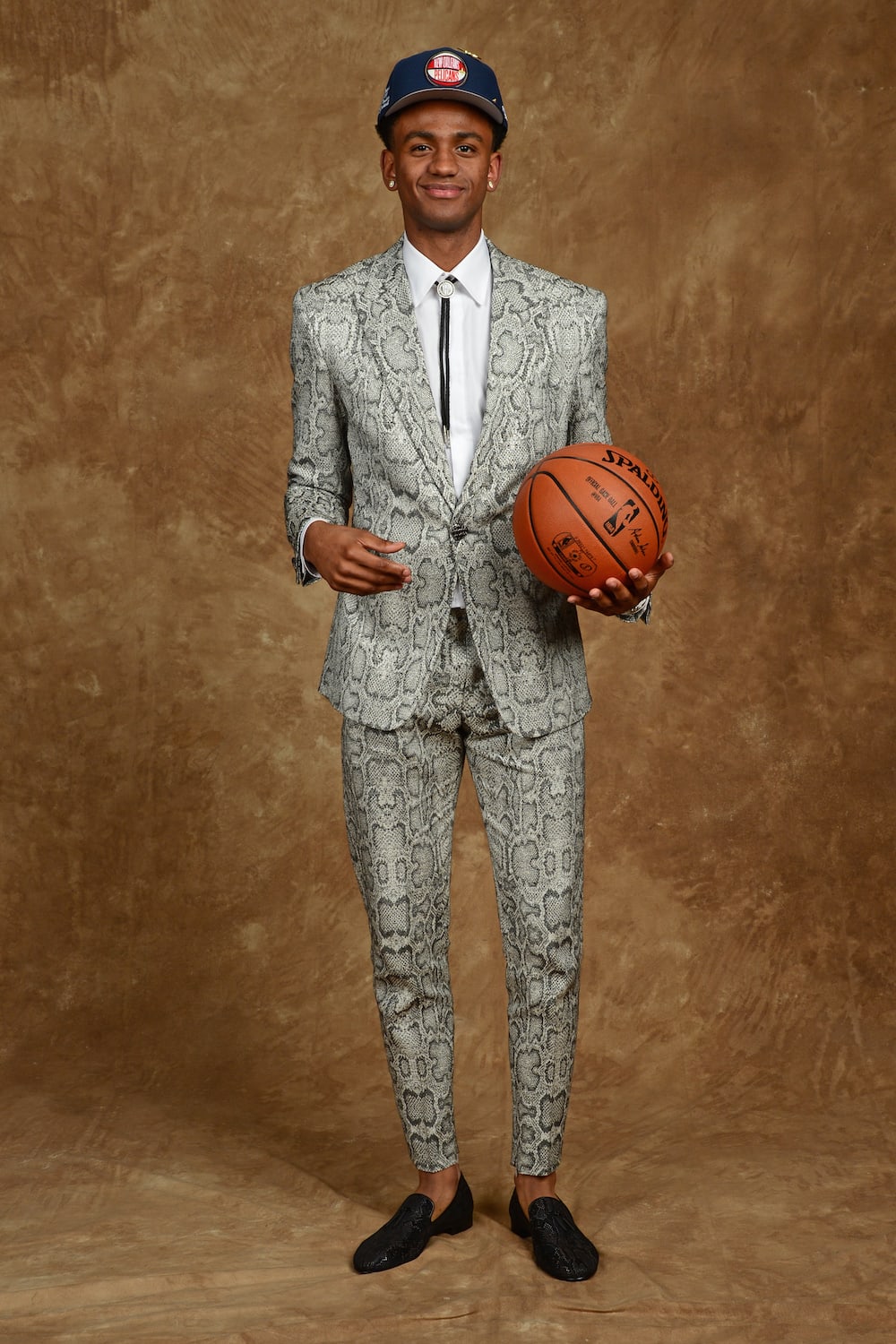 Nickeil, for what it's worth, feels blessed just to be in the NBA and playing for Team Canada. "As a kid, if you told me this is what I was going to be doing, I'd be excited, jumping for joy, smiling from here to ear," he says. And as much as Nickeil would eventually like a bigger role, he understands that nothing is handed to you in the NBA, and that he has to first take full advantage of whatever role he is in before he can look towards anything bigger. 
Maybe that will happen in Salt Lake City. Maybe it'll happen elsewhere. But Nickeil and everyone around him feel confident that it will eventually happen, because he isn't going to stop working until it does.  
"Ultimately, the reason why I started playing basketball was to try and be one of the best ever," Nickeil says. "And at the end of the day, that's definitely something I'm going to try to become." 
To whom much is given, much will be required.