The Best Sneakers in the NBA All-Star Game, Every Year Since 1988
The NBA All-Star Game is a place for players and brands to show off the newest sneakers. Here's a look at the best of the best.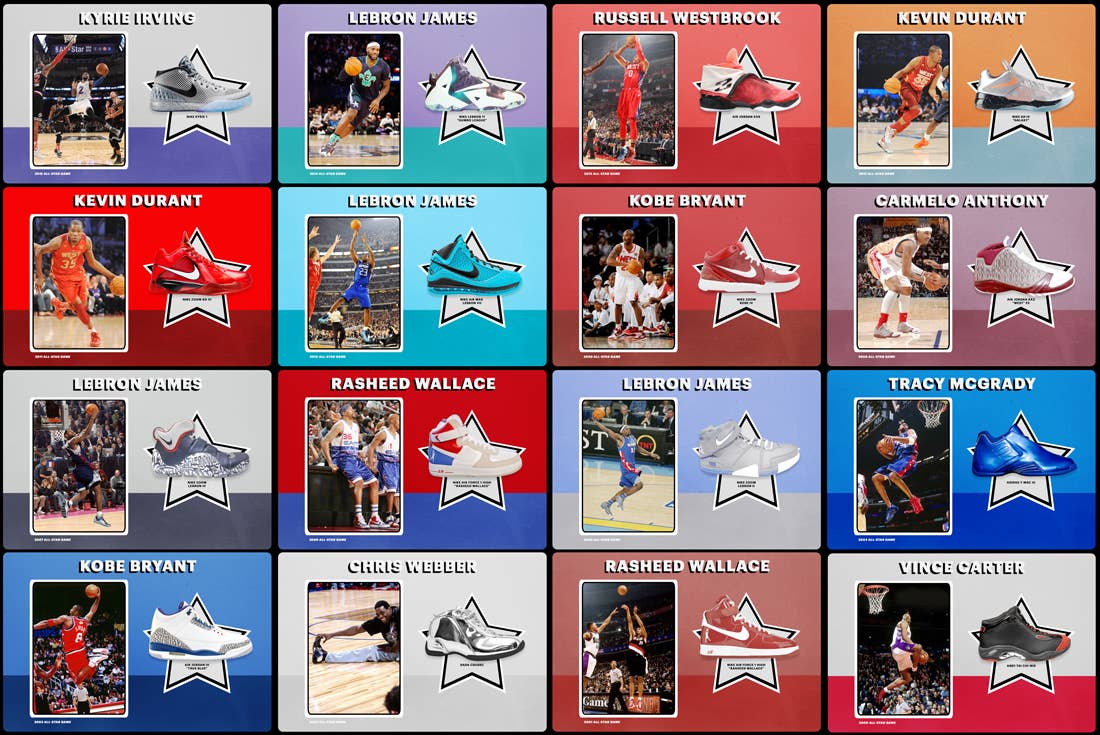 The NBA All-Star Game is one of sport's best annual events, but let's be honest—it's usually not because of the thrilling on-court action.
As cool as it is to see the biggest names in basketball team up for one night only, the magic often tends to fade somewhere right around the third or fourth uncontested alley-oop of the night. Still, that's not to say that the All-Star Game is completely without its share of memorable moments—especially in the footwear department.
The area where the All-Star Game truly shines is in its sneakers, and we're willing to bet that people are more likely to remember Kevin Durant's "Galaxy" Nike KD 4 in 2012 or MJ's "Columbia" Jordan XIs from the '96 game than they are the exact numbers that players put up. The All-Star Game isn't just a showcase for the NBA's best ballers, it's also a platform for sneaker brands to show off their latest designs and tech breakthroughs with the world watching.
Looking back on the last few decades of games, it's clear that sneakers have always been a focal point. Back in 1988, MJ laced up the "Black/Cement" Air Jordan III for the first time, a pair of kicks that have since earned GOAT status, much like the man himself. Years later, around the mid-2000s, brands began marketing their All-Star sneakers more aggressively, dropping special edition packs and colorways to coincide with the game.
With the 2016 All-Star Game just days away, we're looking back at the sneakers that have helped define the East vs. West showdown over the years. Before you hit up the comments section asking where your favorite pair is, keep in mind that this list pertains strictly to the game itself, not every event of All-Star Weekend like the Dunk Contest. These are The Best Sneakers in the NBA All-Star Game, Every Year Since 1988​. —Riley Jones
---
1988: Air Jordan III "Black/Cement"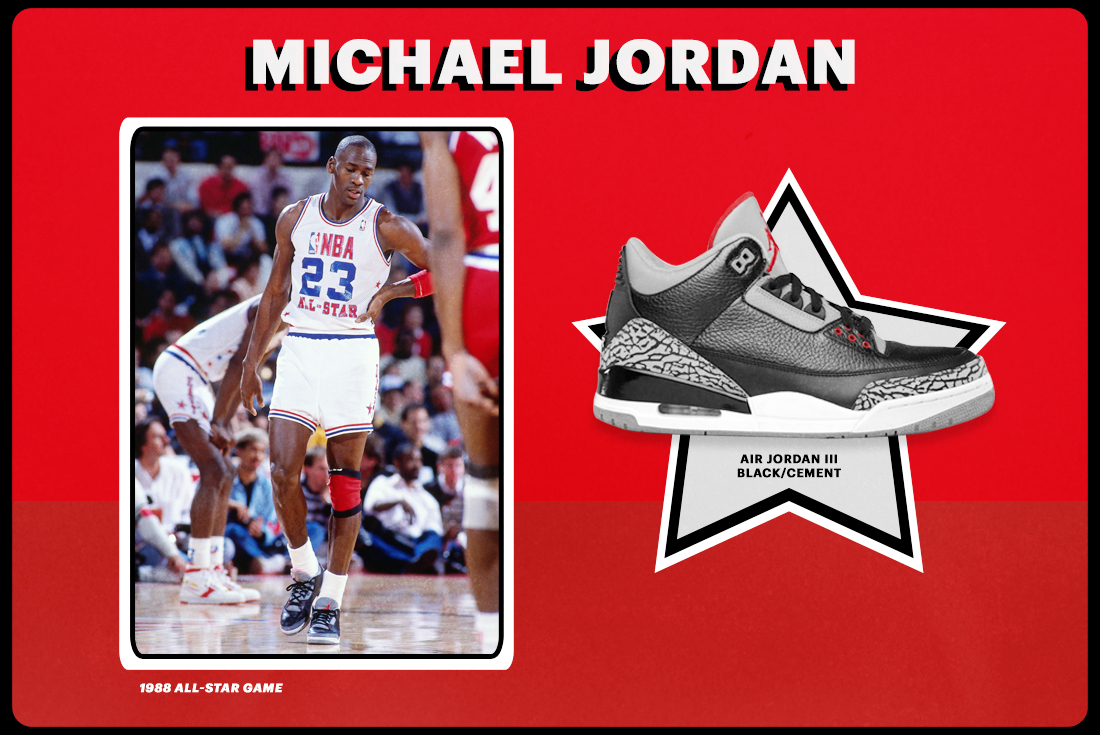 The Air Jordan III is recognized as one of the best sneakers made—​a must-have in any collection. But what exactly makes it so special? When legendary sneaker designer Tinker Hatfield took over the design process for the Air Jordan line, he ultimately saved Michael Jordan from leaving Nike for adidas. Out came the Air Jordan III—​a bold sneaker with elephant print on the toe and heel, and a large, in-your-face Jumpman logo on the tongue, neither of which had ever been used on Air Jordan sneakers. On February 7, 1988, a day after lacing up the "White Cement" Air Jordan IIIs and winning the Gatorade Slam Dunk Contest, he stepped back onto his home court wearing the "Black Cement" Air Jordan IIIs to make history once again. Leading the East to a 138-133 victory, Jordan put up a game-high 40 points and was awarded his first All-Star MVP. —​Amir Ismael
---
1989: Air Jordan IV "Black/Cement"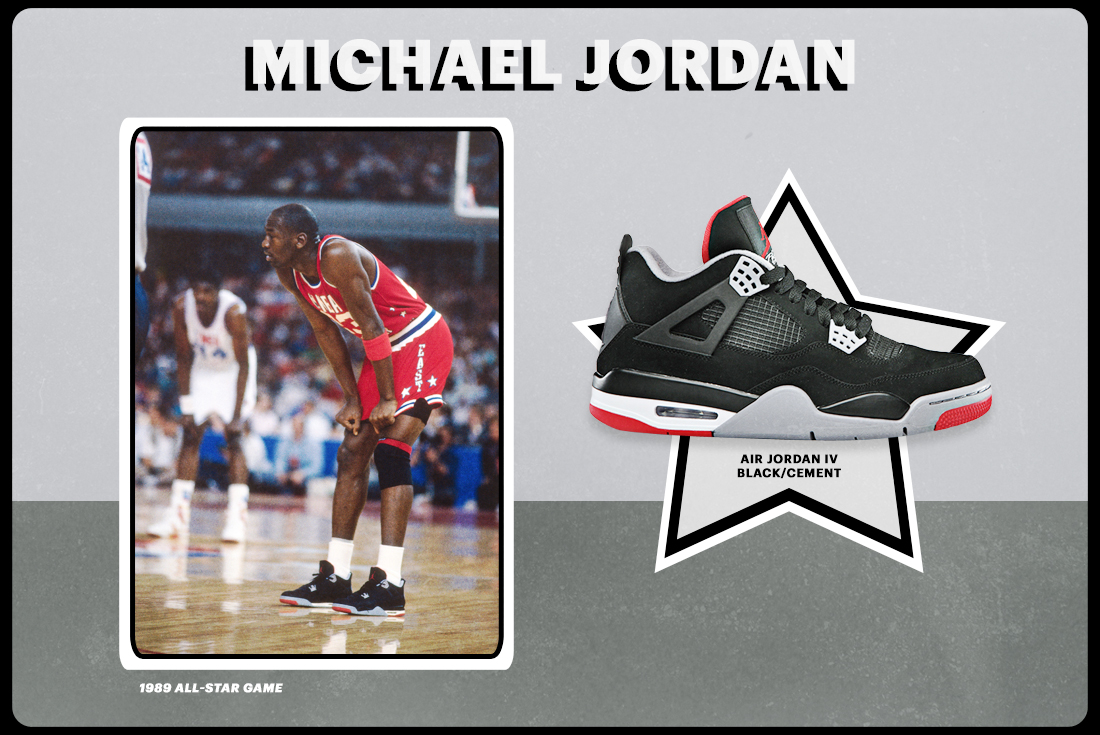 Mike went a milli as the leading All-Star vote getter and tied a game high with 28 points, but the East lost to the West that year, and Karl Malone got MVP honors. But The Mailman never rocked the kind of heat that MJ had—​not even close. The Jordan IV still rings out as a staple in any sneaker collection, and the black and cement joints, along with the red away unis, are still an iconic look today. Just hit up Mitchell and Ness and eBay, and you'll drop $600+ to duplicate a look that cost $150 a few decades earlier. —Brandon Edler
---
1990: Air Jordan V "Black/Metallic"
This time around, Jordan faced some competition in the All-Star voting from guards like Isiah Thomas, Jeff Malone, and Joe Dumars, but he still ended up getting more votes than any other player. In the end, Jordan led the East to a 130-113 win with a 17 point performance that was somewhat lackluster by MJ standards. However, his kicks were anything but—the GOAT debuted the "Black/Metallic" Air Jordan Vs with their iconic reflective silver tongue and black nubuck leather. After the All-Star break, this "Black/Metallic" colorway was put on ice until the Playoffs, where MJ led the Bulls to the Eastern Conference Finals before falling to the Detroit Pistons in Game 7. These days, sneakerheads are thirsty for a proper Retro with "Nike Air" branding, something that hasn't been seen since 1999. —Riley Jones
---
1991: Air Jordan VI "Black/Infrared"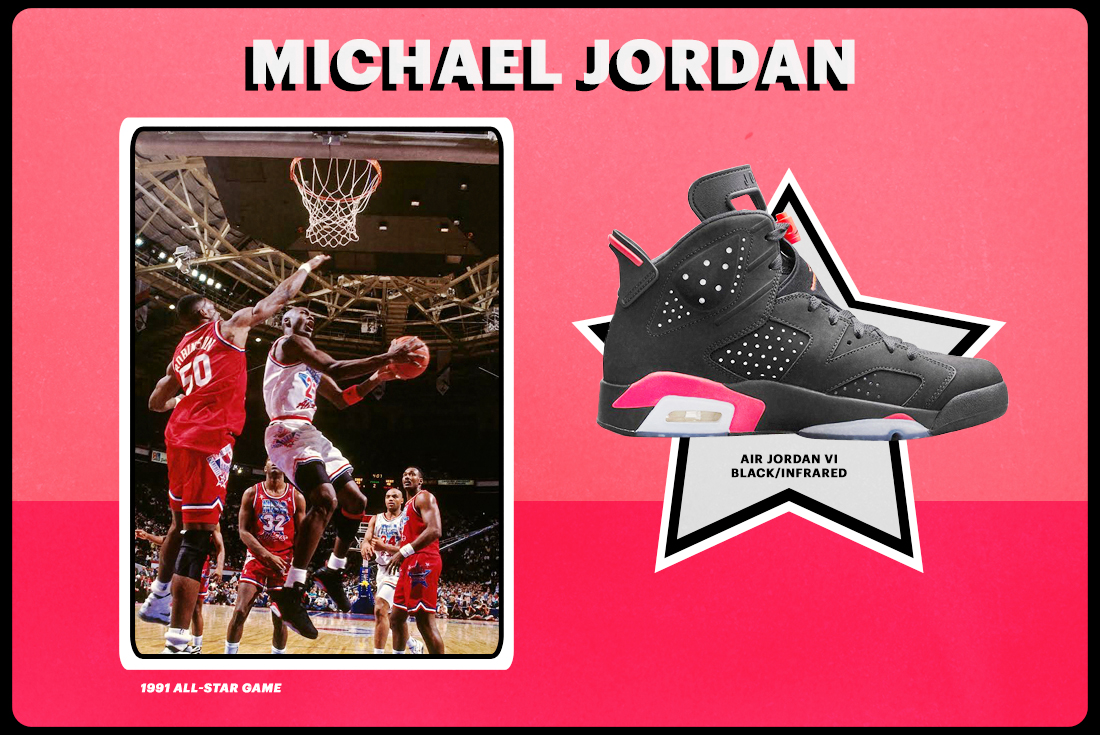 Between Mike and A Different World's Dwayne Wayne, the Infrareds will always take up a special place in my heart. My family couldn't afford to buy them for me back then, and the last crop of retros didn't do the OGs justice, so they continue to be grails for me. These particular models are significant in the basketball world because Jordan rocked them during his first title run, hit the Lakers with one of the greatest layups in history, and dismantled their dynasty to begin his own. Other than the IIIs and the XIs, the VIs are his most important models to date because His Airness became larger than life during this period. Now the All-Star Game he rocked these in: Charles Barkley took home the MVP for the East, due to his 17 points and 22 rebounds. MJ tried his best to snatch it, but his 26 points weren't enough. Turning the ball over 10 times didn't help his cause either. —Angel Diaz
---
1992: Air Jordan VII "Bordeaux"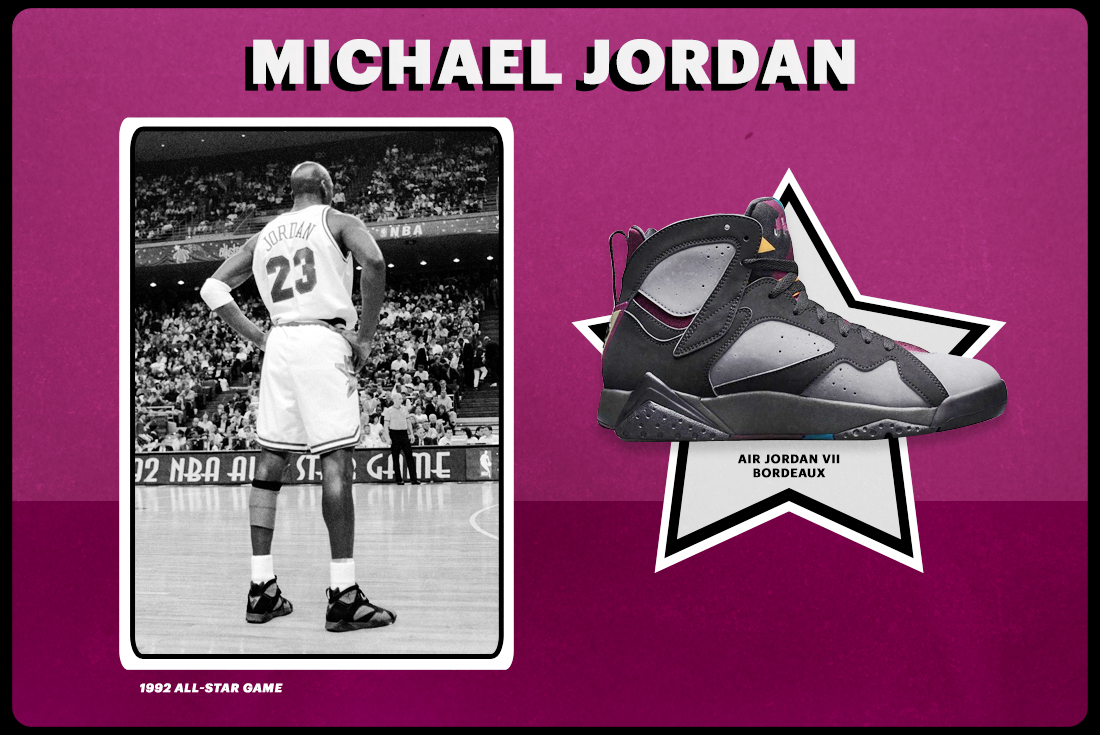 Although the 1992 All-Star Game wasn't Michael Jordan's best performance—​he scored only 18 points—​his "Bordeaux" Air Jordan VIIs stole the show compared to other sneakers on the court. Unlike most black and grey sneakers, the "Bordeaux" Air Jordan VII is far from boring, as it incorporated bold colors and geometric shapes, true to its West African tribal art inspiration. Also heavily influenced by Tinker Hatfield's 1991 Nike Air Huarache design, the Air Jordan VII features a similar inner bootie and breathable ankle. Straying away from the visible Air unit found in the heels of Air Jordans III-VI, the VII was the first Air Jordan designed by Hatfield that had a solid midsole. Beyond the All Star Game, MJ laced up the "Bordeaux" VII again for a 1-on-1 with the other MJ, Michael Jackson, in the 1992 music video "Jam." —​Amir Ismael
---
1993: Air Jordan VIII "Aqua"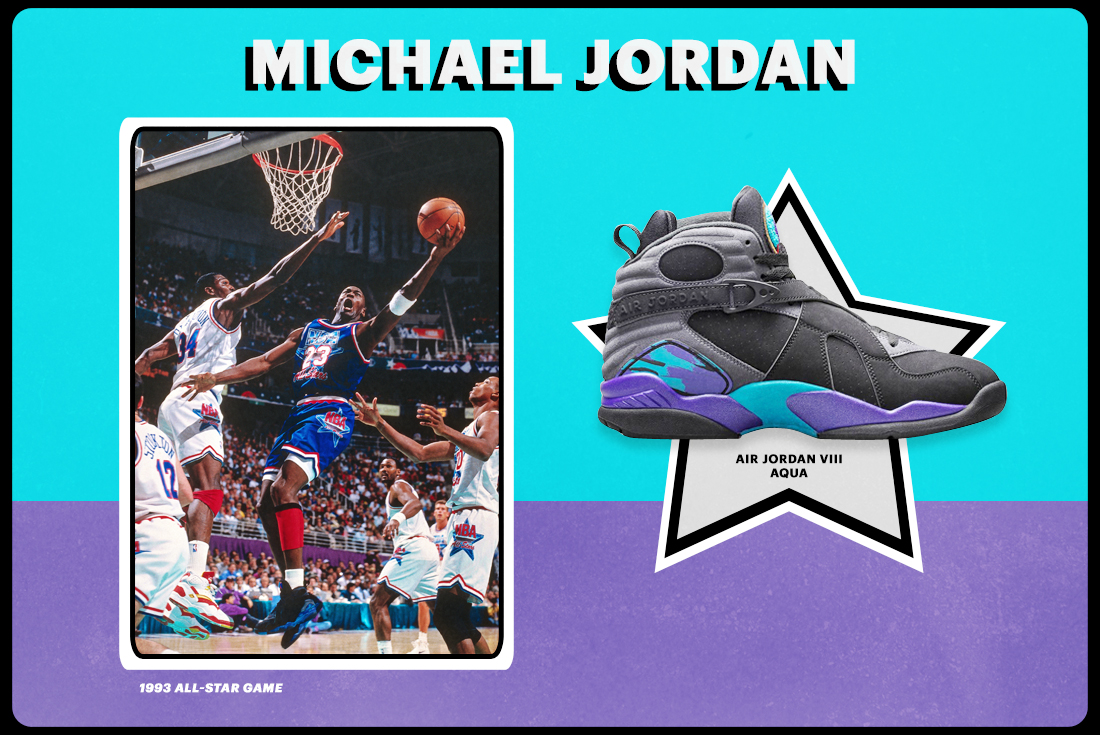 There were only three original Air Jordan VIII colorways, but the "Aqua" VIII is easily the standout for the silhouette. With the "Bugs Bunny" and "Playoff" VIIIs coming in simple "home" and "away" colorways, the All Star Game sneaker separated itself with its vibrant aqua blue and purple accents. Much like the Air Jordan VII, Tinker Hatfield continued to draw inspiration from his previous designs. The Air Jordan VIII featured crossed midfoot straps similar to the Nike Air Raid—​a first for an Air Jordan—​and also used a Huarache-like inner bootie. Despite losing 135-132 in Overtime to the West, Michael Jordan put up a cool 30 points. —​Amir Ismael
---
1994: Nike Air Maestro Flight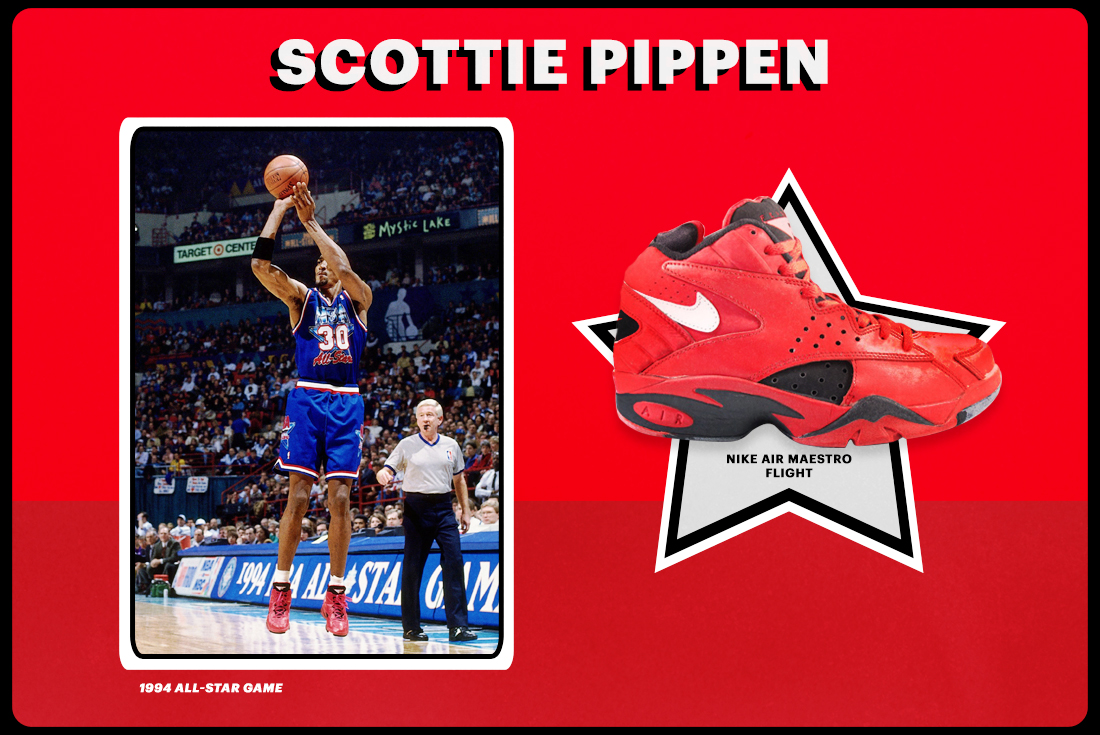 The 1994 NBA All-Star Game was Scottie Pippen's time to shine—the first All-Star Game he'd get to play in without big bro Michael Jordan—and did he ever. Wearing No. 30 thanks to Patrick Ewing's 33 seniority, Pippen scored a game-high 29, including 5-9 from three, en route to a 127-119 East victory. He also had the coldest shoes on an ice cold (February in Minnesota?) court, with some all-red Nike Air Maestros. The same shoes had actually been worn in the previous night's Dunk Contest by Blazer guard James Robinson, but he got bounced in the first round. As for Pip, he wound up the game's MVP, outshining the competition in every way possible. —Russ Bengtson
---
1995: Reebok Kamikaze 1 Low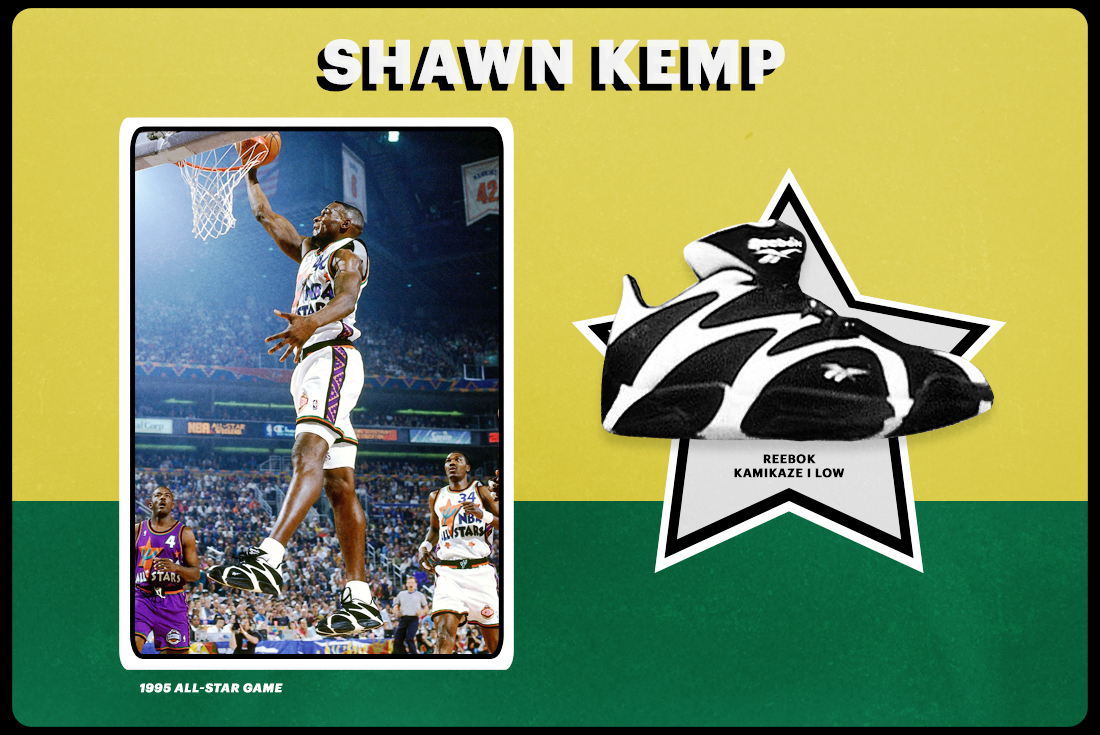 The 1995 All-Star Game had its share of fire footwear—Charles Barkley's Nike Air Max CB '94 and Shaquille O'Neal's Reebok Shaq Attaq 4 come to mind—but it was the "Reign Man" Shawn Kemp's Reebok Kamikaze I Lows that stole the show. Kemp did his thing in the paint with 13 points andtwo monster dunks, while the low top Kamikazes helped introduce the world to one of the best signature sneaker lines of the '90s. Unlike the Kamikaze II, a low top of the Kamikaze I never released​, giving these a little added mystique. —Riley Jones
---
1996: Air Jordan XI "Columbia"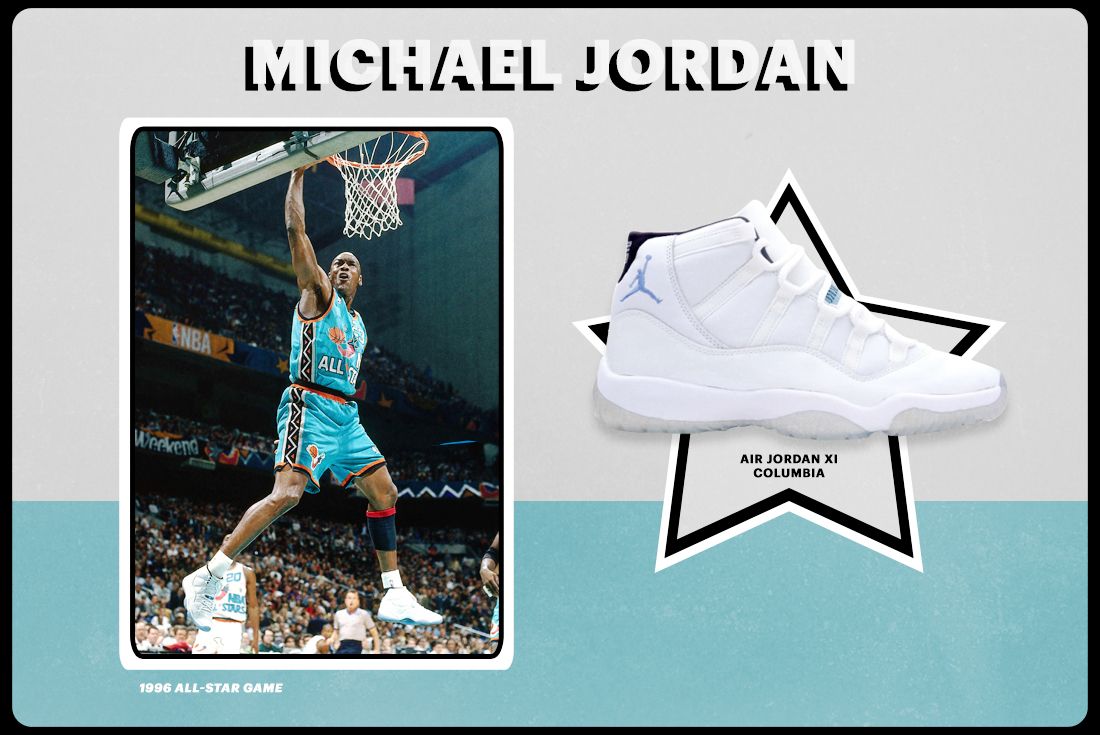 Being a Carolina fan, I'm pretty bummed about never owning a pair. But that's what happens when you grow up poor and then have to to tussle with hypebeasts and resellers online once you get a real job. Anyway, Mike dropped 20 points and won the All-Star MVP in these, even though a young Shaq had 25 points, 10 boards, and two blocks. The all-white colorway was clean and all, but it's all about the yellowing with these. The Columbias look better with age, like a catcher's mitt. You was the man in my hood if you had these joints on your feet, even more so if you played ball in them. The 11s are easily one of the most comfy sneakers ever created and arguably Tinker's greatest creation. I might just go ahead and wear them on my wedding day. —Angel Diaz
---
1997: Air Jordan XII "Playoff"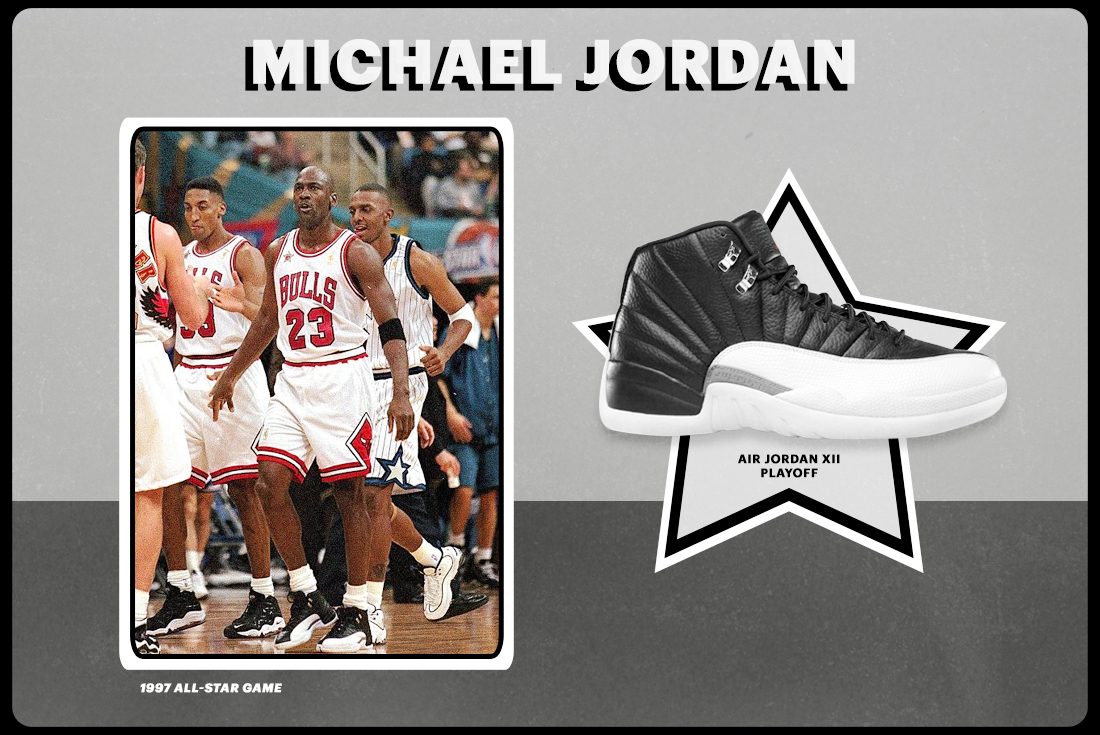 Hold up,"Playoff" XIIs in the All-Star Game? Here's the deal. Although these Jordan XIIs have become synonymous with MJ and the Bulls' 1997 postseason run, the sneakers actuallymade their debut during the '97 All-Star Game in Cleveland. The legendary kicks were accompanied by an equally legendary performance, which saw Jordan tally the first-ever triple-double in NBA All-Star Game history, with 14 points, 11 assists, and 11 boards. MJ ended up losing the MVP honors to teammate Glen Rice, who had 26 points off the bench, but we're not still talking abouthis sneakers today, are we? —Riley Jones
---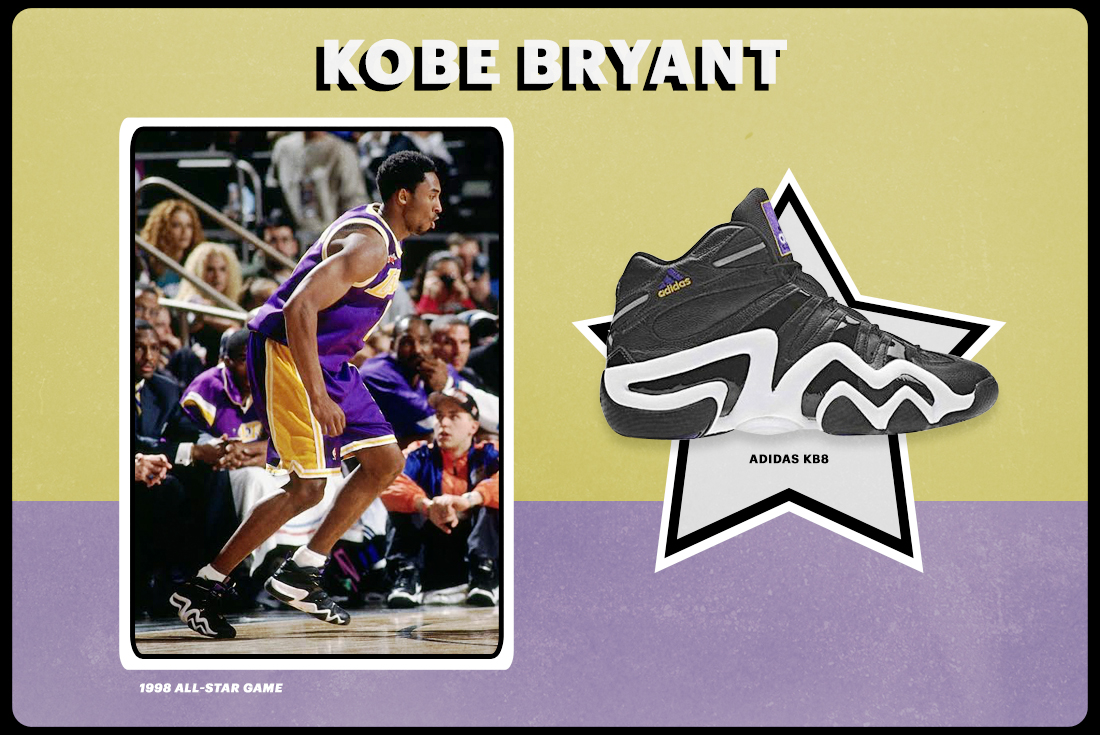 Kobe Bryant's first All-Star game was going to be a memorable one no matter what, but 1998 in New York City was a huge stage, even for him. Bryant's first was Jordan's last (as a Chicago Bull, anyway), and up to that point he'd only started six NBA games—​none in this, his second season. But he started the All-Star Game, played 22 minutes, and took it right at MJ at every opportunity, scoring 18 points on 16 shots (Jordan, for his part, would finish with 23, an East victory and the MVP). Bryant even waved off future teammate Karl Malone when he popped out to set a screen, putting the Mailman off All-Star games forever. Bryant did all of this in his first official-official signature shoe, the aggressively sculpted adidas KB8, which even took some of the shine from Mike's Jordans. At least Kobe got one W. —Russ Bengtson
---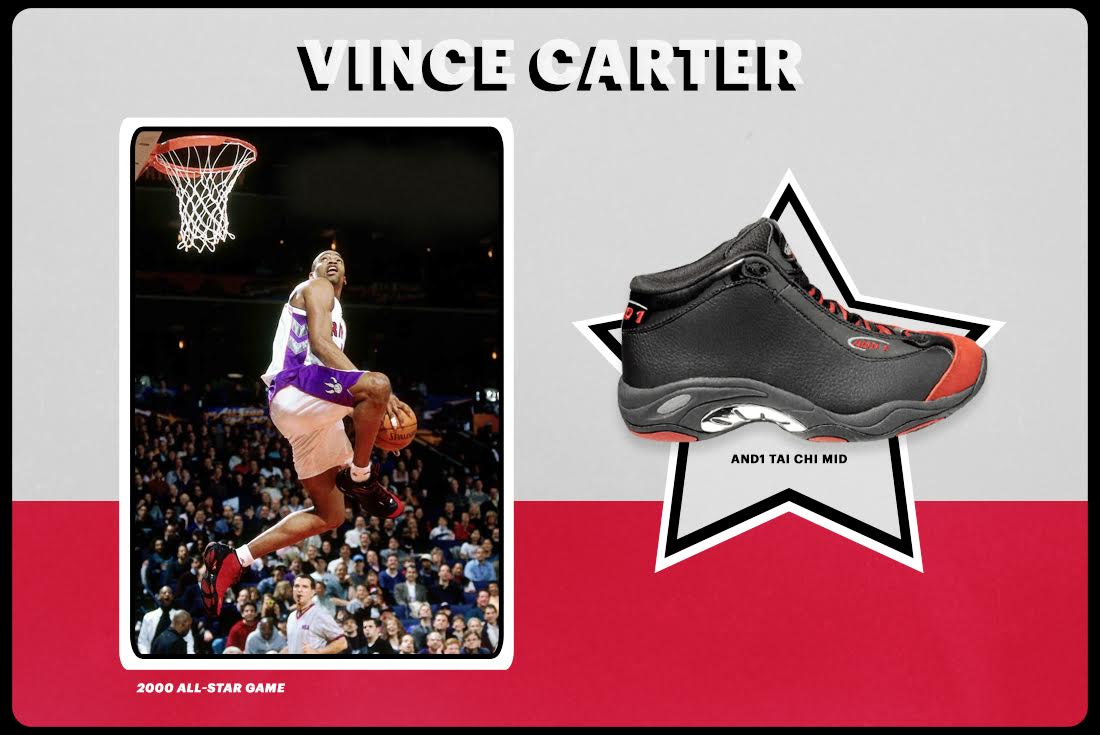 The popularity of the AND 1 Mixtape circuit was in full bloom, but the significance Vince Carter had on the brand during the 2000 NBA All-Star Weekend is unquestionable. The Raptors superstar was the leading All-Star vote-getter and finished the game with a forgettable 12 and 4, but let's be honest. You know what the deal is. Yeah, that's right. The 2000 NBA Slam Dunk Contest will forever be his greatest work of art. Him and his relatively unknown AND 1 Tai Chi Mid in a white and red colorway, pulled off one of - if not THE - most memorable dunk contest performance of all time. Reverse 360 Windmill. Arm all up in the rim. Between-the-Legs off the bounce, with the point to the sky and the infamous "it's over" cut to the camera. Three perfect score dunks. He revived a dying All-Star Weekend festivity in a one-hit wonder, but got DAMN did he make them hot off that The fact that he wore a similar pair in the actual All-Star Game makes it easy, strictly off nostalgia, to say that And 1 won this year. —Nick Grant
---
2001: Nike Air Force 1 High "Rasheed Wallace"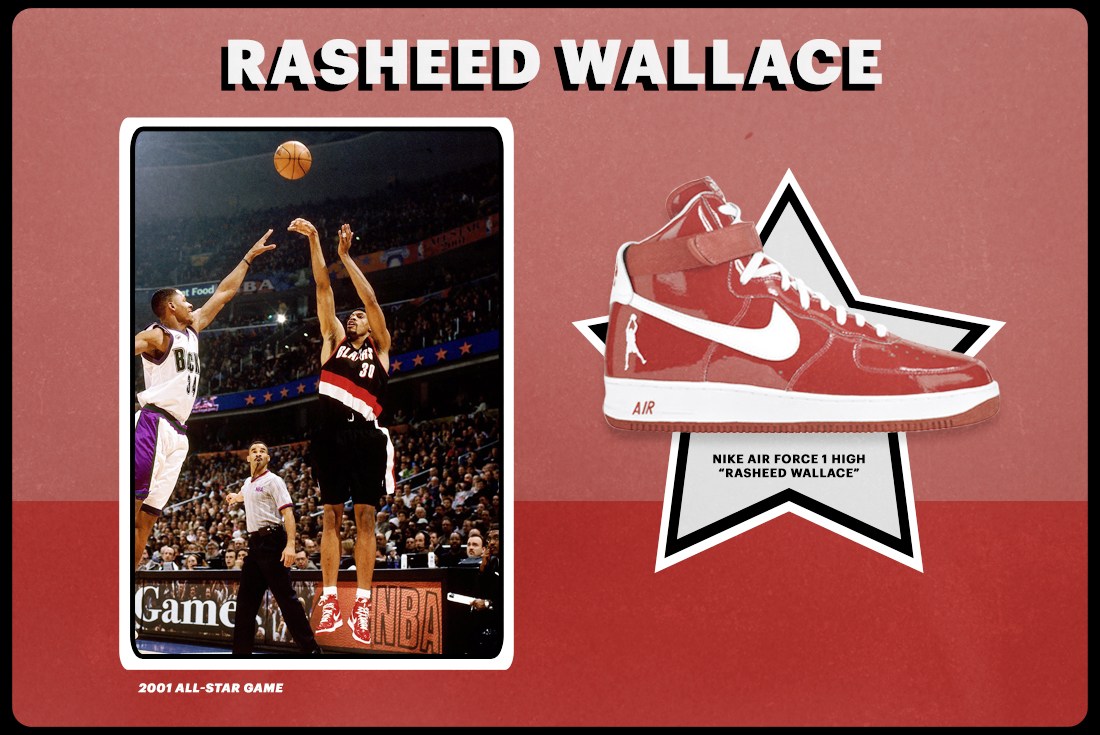 Rasheed Wallace's return to DC as an All-Star was a success for a whole mess of reasons—a man of the people, he actually walked back to the hotel following Saturday's practice, drawing a crowd of adoring fans. But the Air Force 1 king did his biggest work on the hardwood, with his red patent Air Force 1 Highs, No. 30-embroidered straps dragging off the back, creating literal shine. The Trail Blazers forward didn't do much in the game—two points on 1-7 shooting in a game that the East came back and won with a furious fourth-quarter rally led by fellow DMV native Allen Iverson—but Sheed's kicks would endure as a lasting memory of the weekend. One among many. —Russ Bengtson
---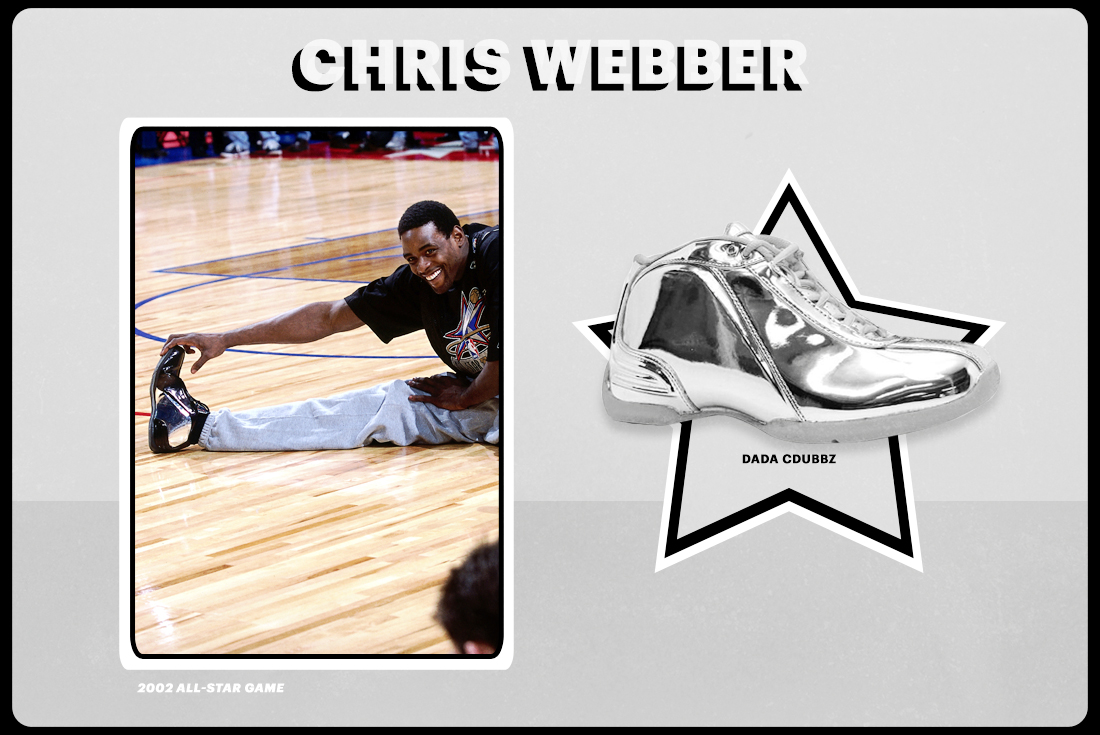 I have no clue if these were comfortable or not, but they sure were snazzy. The metallic colorway brought a lot of attention to the Dada brand, and they later outdid themselves with the Sprees, which came equipped with spinning rims on the ankle area. They must've not been all that, since Webber only scored eight points in 20 minutes of action. However, the West did beat the East 135-120 with Kobe taking home the MVP and getting booed in his hometown. These probably ruined C-Webb's knees. They were hot, though, and sometimes that's all that matters. You gotta get those fits off by any means necessary. —Angel Diaz
---
2003: Air Jordan III "True Blue"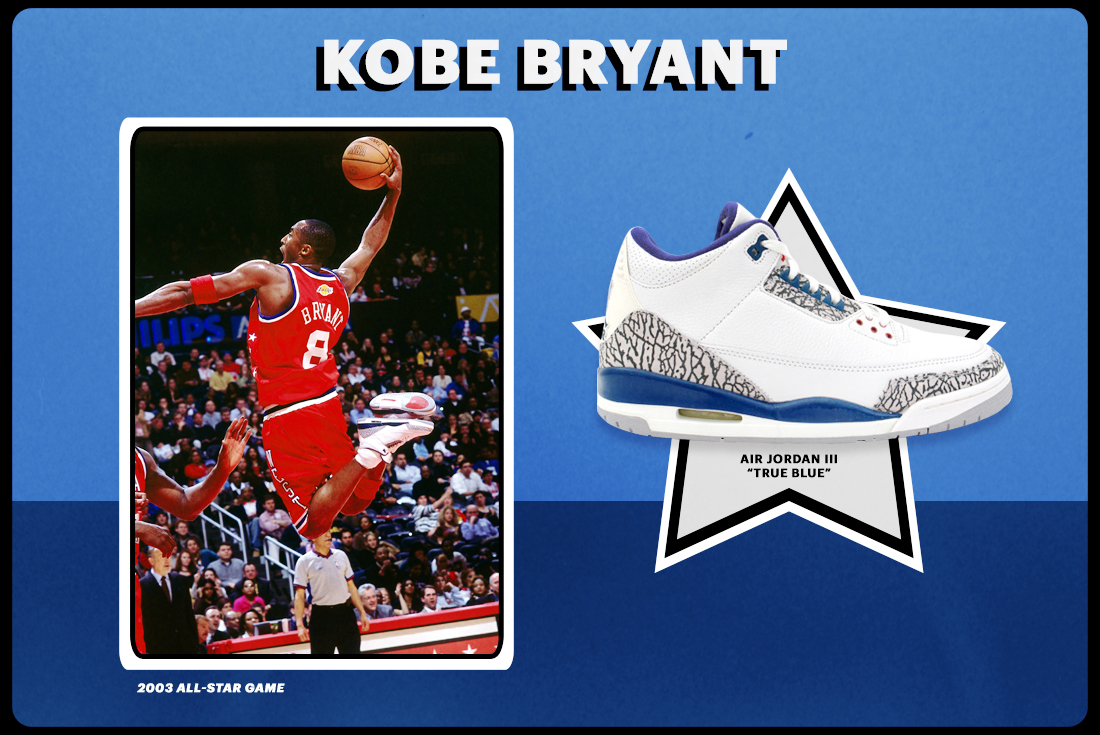 Before Kobe Bryant officially inked an endorsement deal with Nike during the summer of 2003, his one year of sneaker free agency included on-court moments in Reebok, Converse, And 1, Jordan Brand, and, of course, Nike. While this resulted in a bevy of Player Exclusives across multiple brands, Bryant's best moment during this period of uncertainty was the 2003 NBA All-Star game. A game that saw the West defeat the East in a double-overtime, high-scoring affair—​and Kevin Garnett earning MVP honors—​was overshadowed by the fact that it was Michael Jordan's final All-Star game. In appropriate fashion, Bryant took to the court in a retro pair of "True Blue" Air Jordan IIIs, while MJ himself broke out the Air Jordan XVIII. It wasn't the first time Bryant laced Jordans, nor would it be the last, but as a student of the game, it was a calculated move that couldn't have come at a better time. It was a grand gesture by Bryant, and one that further cemented the iconic history between the Air Jordan III and All-Star Weekend. —John Marcelo
---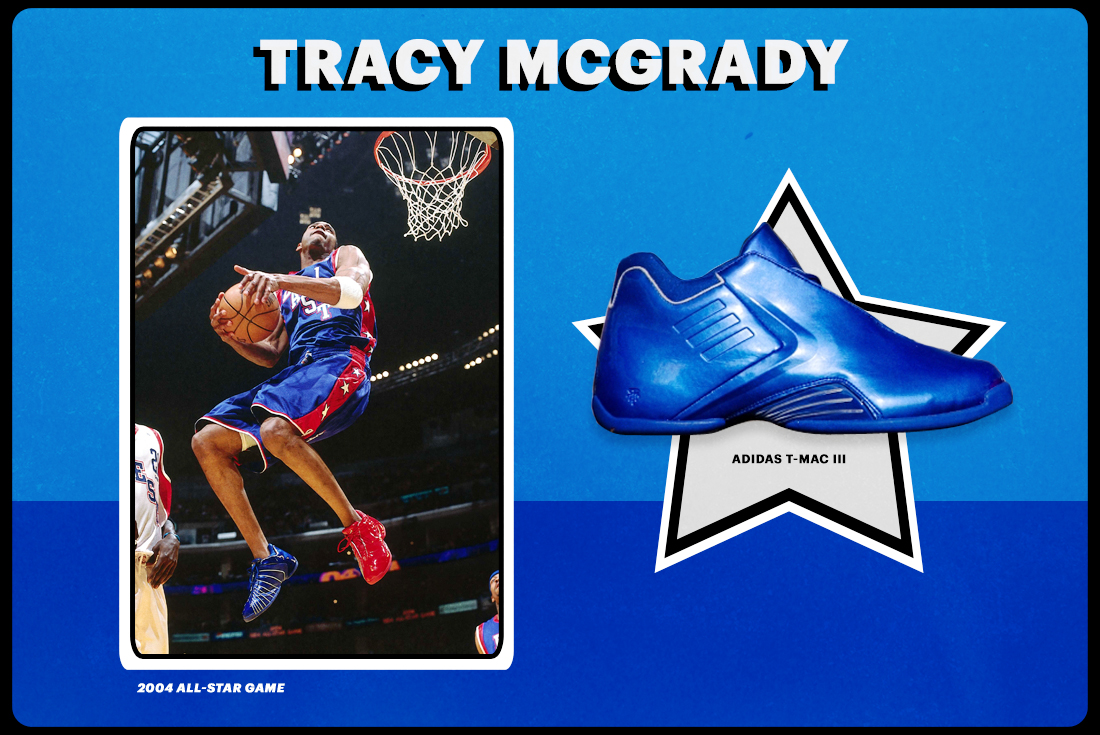 T-Mac was a beast on the court and had a run making up possibly the greatest adidas basketball signature line of all time. He also gave us one of the greatest on-court sneaker moments, period. Before social media and the faux online sneaker blog awards, McGrady broke out two different colorways of the T-Mac IIIs at the same damn time for the '04 All-Star Game in Cali. He didn't disappoint on the court either, flying through the lane and catching a few dunks that still get replays every year around this time, including his off the glass pass to himself for a jam. Fast forward a decade, and mismatching kicks is sort of a thing again on IG; you have to tip your fitted to T-Mac for setting the trend. —Brandon Edler
---
2005: Nike Zoom LeBron II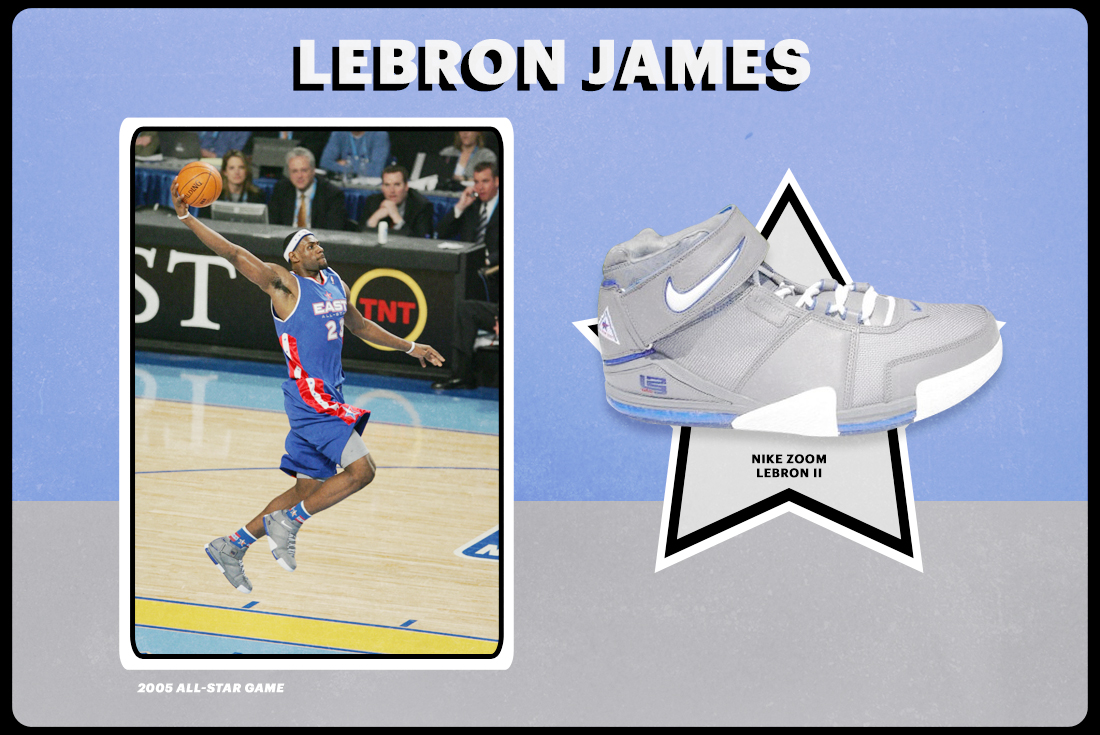 Before LeBron dropped a new colorway every week and had endless PEs, Nike only made up a few special drops for the biggest occasions like his birthday and earning starting honors in the NBA All Star Game. In his first official game and start, he donned the cool grey and blue double-stacked Zoom Air signature IIs. The kicks were built for a player who could run the point like Penny in a body like Karl Malone's—​Bron needed a little more cushion for the pushin'. AI may have run away with MVP honors in front of his former Mile High home crowd, but The King was already running the sneaker game, giving us a glimpse at what Nike was about to cook up for the next decade plus. —Brandon Edler
---
2006: Nike Air Force 1 High "Rasheed Wallace"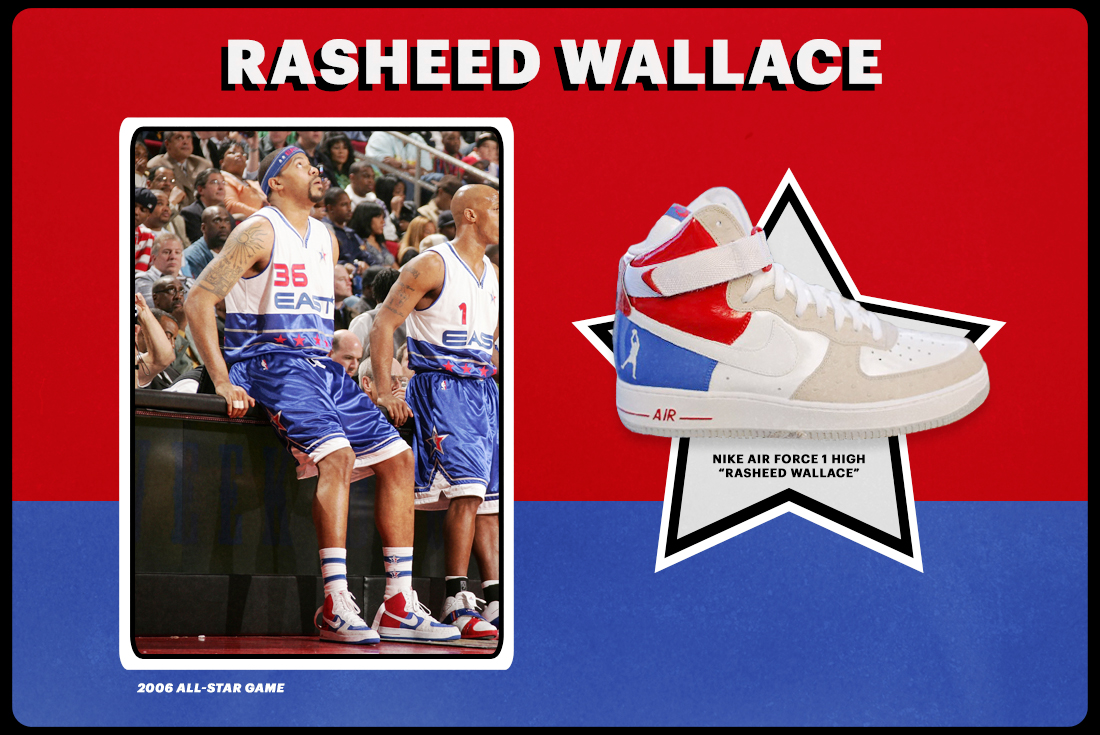 When it comes to sneakers worn by NBA players, the Nike Air Force 1 is almost synonymous with Rasheed Wallace. While words like "aggressive," "tough," and "passionate" describe Wallace's playing style—​he's got an all-time record high of 317 technical fouls to prove it—​his kick game is laid back, almost causal. Rocking the straps to the back, Bruce Kilgore's 1982 design was a go-to sneaker for Wallace on and off the court. In line with the host city of Houston, Sheed's 2006 All-Star Air Force 1's featured a red, white, and blue colorway with ostrich skin for a Texas cowboy feeling. Never straying from his roots, patent leather is incorporated on the heel, too. –Amir Ismael
---
2007: Nike Zoom LeBron IV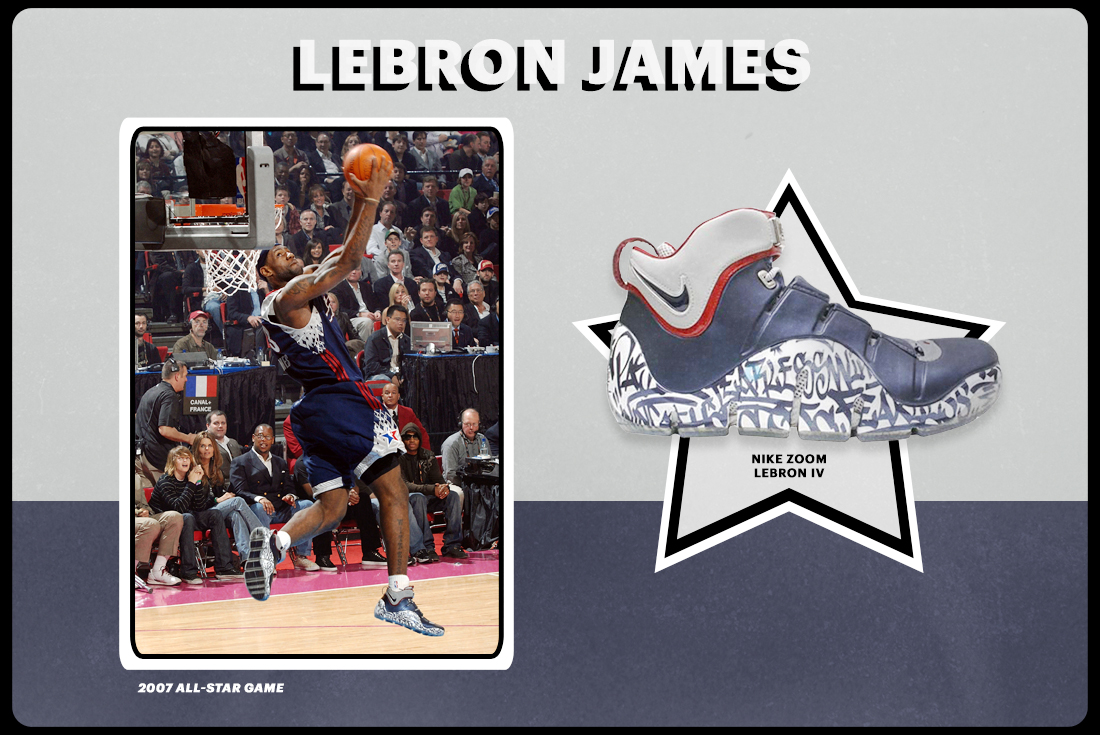 In LeBron's third All-Star Game, his Eastern Conference squad fell to the West and MVP Kobe Bryant. Despite catching the L, King James'Zoom LeBron IVs remain the night's most memorable kicks. These ultra-scarce PEs flipped another rare graffiti-covered LeBron, the"New York City" IVs, with a navy Foamposite base instead of white. Just 250 pairs of the "NYC" LeBron IVs were released during a November 2006 pop-up event in the city, but as for this navy All-Star version? Forget about it. They never released to the public in any form, making for one of the most sought-after PEs of all time. –Riley Jones
---
2008: Air Jordan XX3 "West" PE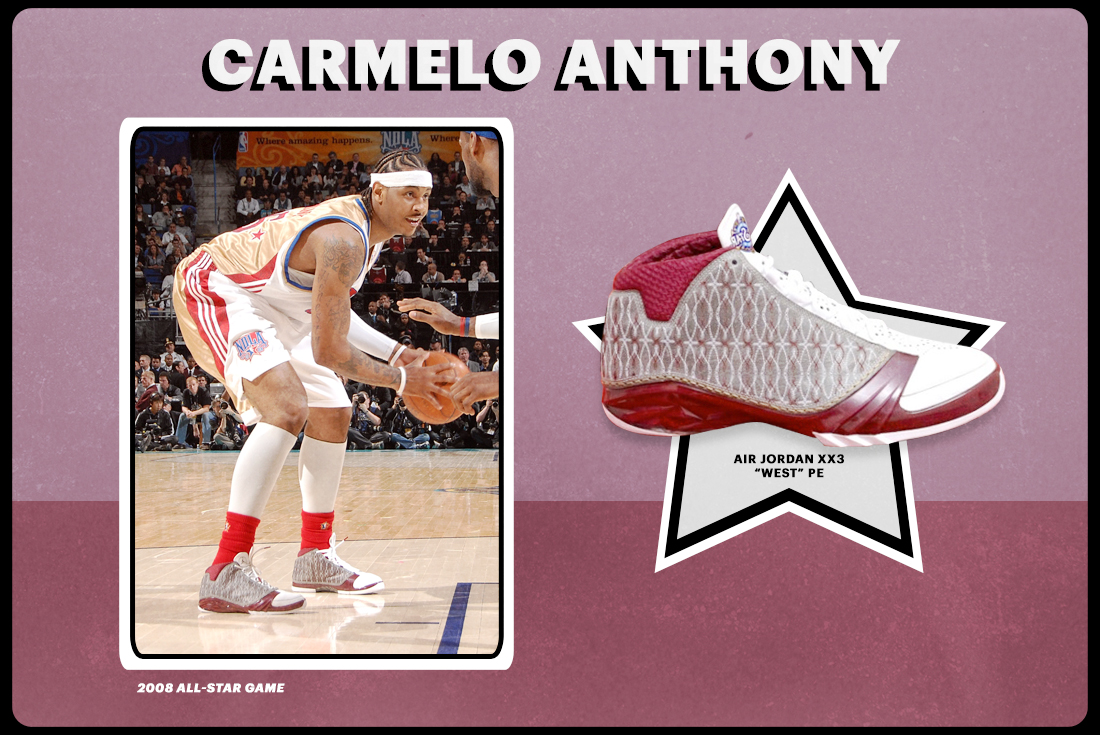 At the time of its release, the Air Jordan XX3 was thought to possibly be the last sneaker in the Air Jordan signature line, and Michael Jordan literally left his mark on it. The toe cap brandished his signature, the outsole resembled his thumbprint, and the stitching on the sides resembled DNA strands. A closer look reveals that it's actually the initials "MJ." Worn by Jordan Brand athletes on both teams, the Air Jordan XX3 dominated the court, but it was the "West" colorway that stood out the most. Chris Paul and Carmelo Anthony both wore a white, burgundy, and grey PE that had the 2008 NBA All-Star logo on the insoles and the left tongue. Even though the West lost 134-128, Jordan Brand definitely won. —Amir Ismael
---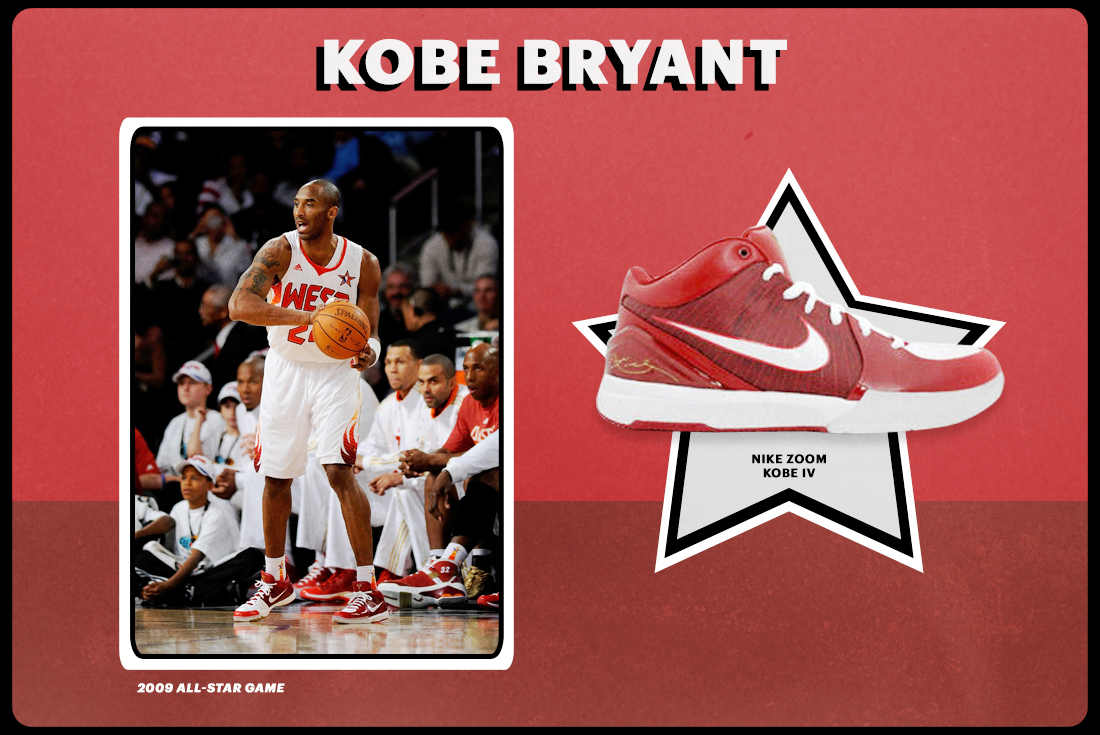 Who said you couldn't play basketball in low top sneakers? The Nike Zoom Kobe IV went completely left of the traditional high top basketball sneaker and changed the game at the same time. As an avid soccer fan, Kobe Bryant knew that low cleats were preferred for the aggressively fast pace and quick directional changes involved in that sport. With a similar style of play on the basketball court, the same idea was applied to the Nike Zoom Kobe IV. Weighing in at only 11.6 ounces, it was lighter than the current Nike Hyperdunk and became a blueprint for future signature Kobe sneakers. For the 2009 All-Star Game, Bryant wore a red, white, and gold pair to lead the West to a 146-119 win and take home the MVP award. Not bad at all for some low tops. —Amir Ismael
---
2010: Nike Air Max LeBron VII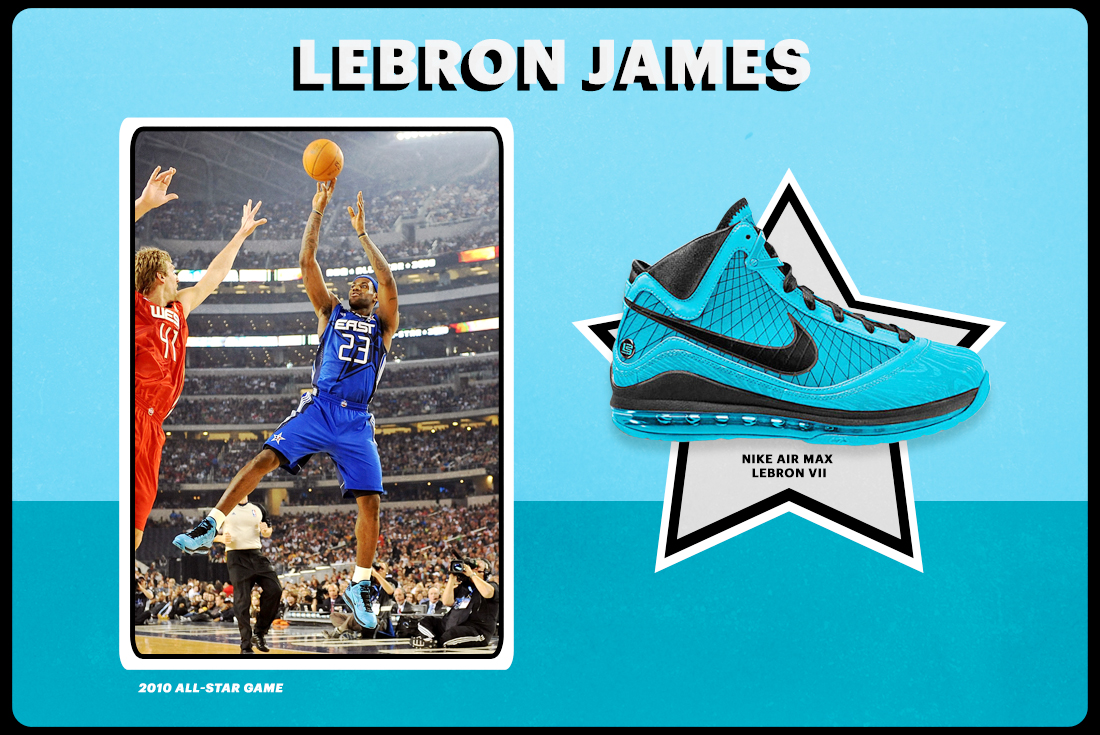 In front of a record crowd of over 108,000, it wasn't hard to see what Bron-Bron wore even if you were in the nosebleeds. LeBron ended the game with 25 points, only to be outdone by his future teammate and game MVP, Dwyane Wade. We also got a few glimpses at the kind of dunks that he could put down if he ever entered into the Dunk Contest. The LeBron VII still might be King James' best lifestyle sneaker to date, and the Chlorine Blue hue is arguably his illest colorway, pre- or post- him taking his talents to South Beach and Complex's first 10 years of existence. —Brandon Edler
---
It's seems unfatomable now that the Kevin Durant line for Nike was conceived as a pricepoint-conscious alternative to more expensive basketball shoes on the market, but the Nike KD III was just that. Coming in at just $88, it's hard to believe that Nike had a signature sneaker sold at under $100 in recent memory. It didn't have all the bells and whistles like KD's new sneakers, but it was the first sneaker in Durant's collection to use Flywire technology. Despite the KD III's economical restraints, Nike did the most with the model, and it holds a special place amongst footwear connoisseurs. The model that Durant wore during the game came in an all-red version, and it allowed him to score 23 points, only three less than the game's MVP, Kobe Bryant. Not bad for wearing a sub-$100 sneaker. —Matt Welty
---
2012: Nike KD IV "Galaxy"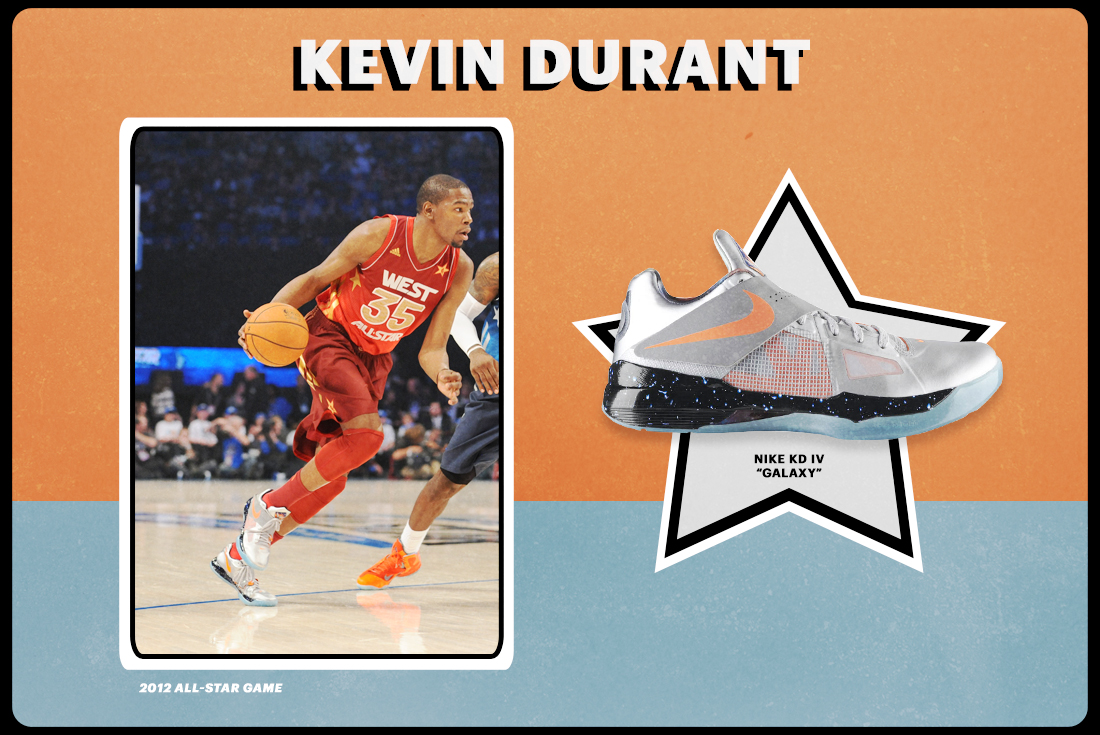 Nike's 2012 All-Star pack is still considered one of the best collections to celebrate the game's greatest players. From top to bottom, the entire offering, which takes inspiration from space exploration, is easily the strongest All-Star lineup. The collection's ultra hyped Nike Air Foamposite One dominated headlines during All-Star Weekend, but it was Kevin Durant's KD IV "Galaxy" that was the standout pair in the actual game. Designed as a low-profile silhouette with a mid-foot strap, Durant's fourth signature model was already a favorite in the sneaker community before the NBA's All-Star festivities. The "Galaxy" colorway only added to the hype surrounding the sneaker. Its metallic silver upper and black and orange accents resulted in a perfect color combination that could easily be transitioned from the court to casual wear. With a glow-in-the-dark outsole and a retail price of under $100, it was a no-brainer. Durant ended up having a monster 36-point game and earned himself the MVP award—proof enough that it's gotta be the shoes. —John Marcelo
---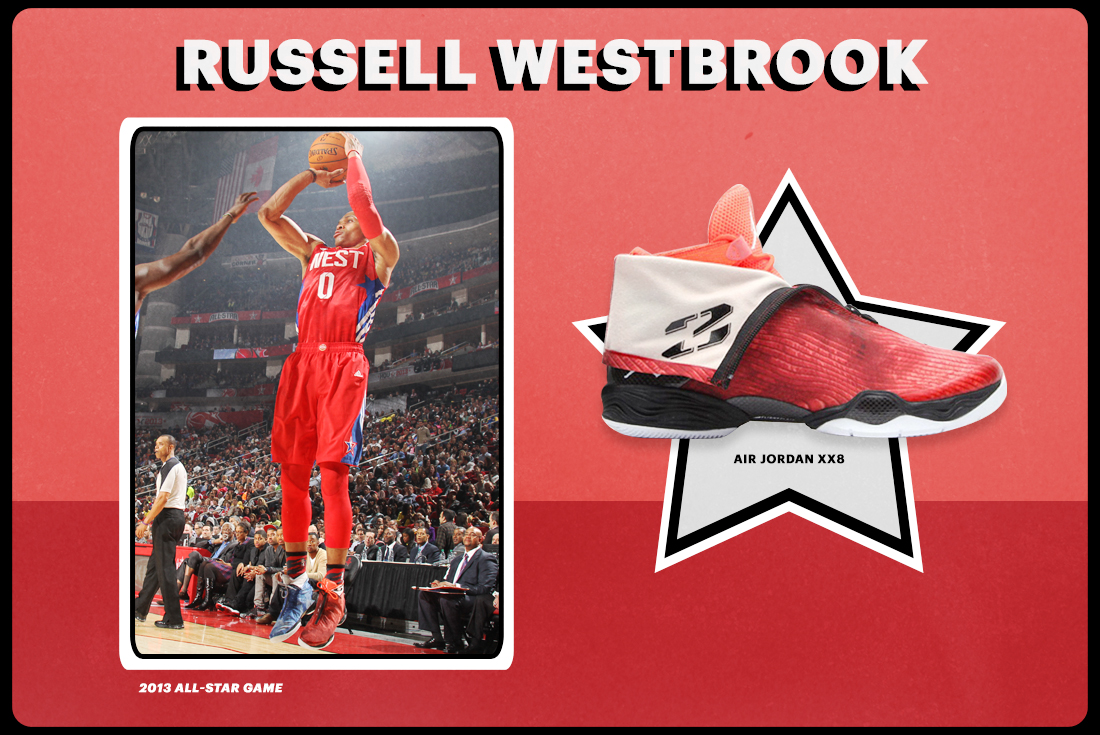 The Air Jordan line has gotten increasingly weirder as time goes on, and there's no NBA personality to better represent the brand as its flagship athlete than Russell Westbrook. The Air Jordan XX8, with its shroud-covered upper, is the one of the most eccentric shoes the company has produced, and Westbrook took things up another level at the 2013 All-Star Game by wearing two different colors of the sneaker—one red, one blue—to perfectly match the Western Conference squad's uniforms that year. —Matt Welty
---
2014: Nike LeBron 11 "Gumbo League"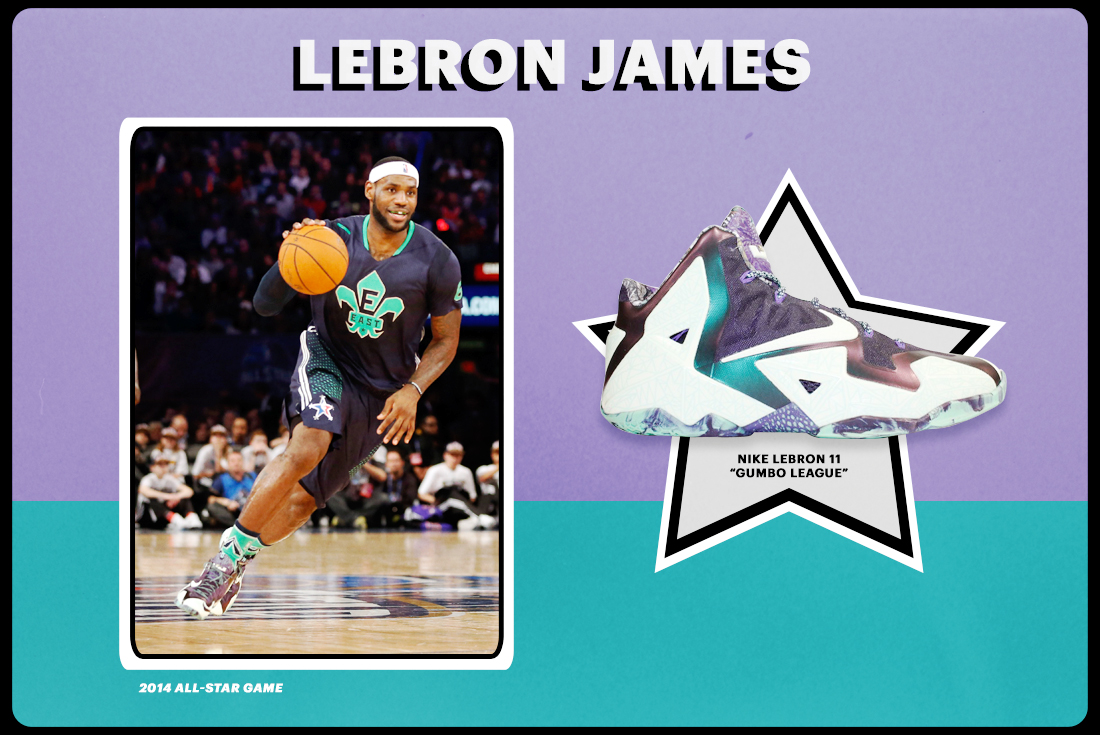 The Nike LeBron XI was one of the most technical sneakers Nike had ever produced, especially for basketball. It featured Armorposite, Flywire, and Zoom Air to make it a beast, just like LeBron James. The 2014 All-Star Game will be best remembered for the week that was spent down in New Orleans, where Michael Jordan himself made an appearance, but LeBron James put on a show in the actual game, too, tallying 22 points and 7 rebounds. His sneakers made for the game were also top notch, featuring a glow-in-the-dark Foamposite upper, which was as vibrant as New Orleans itself. —Matt Welty
---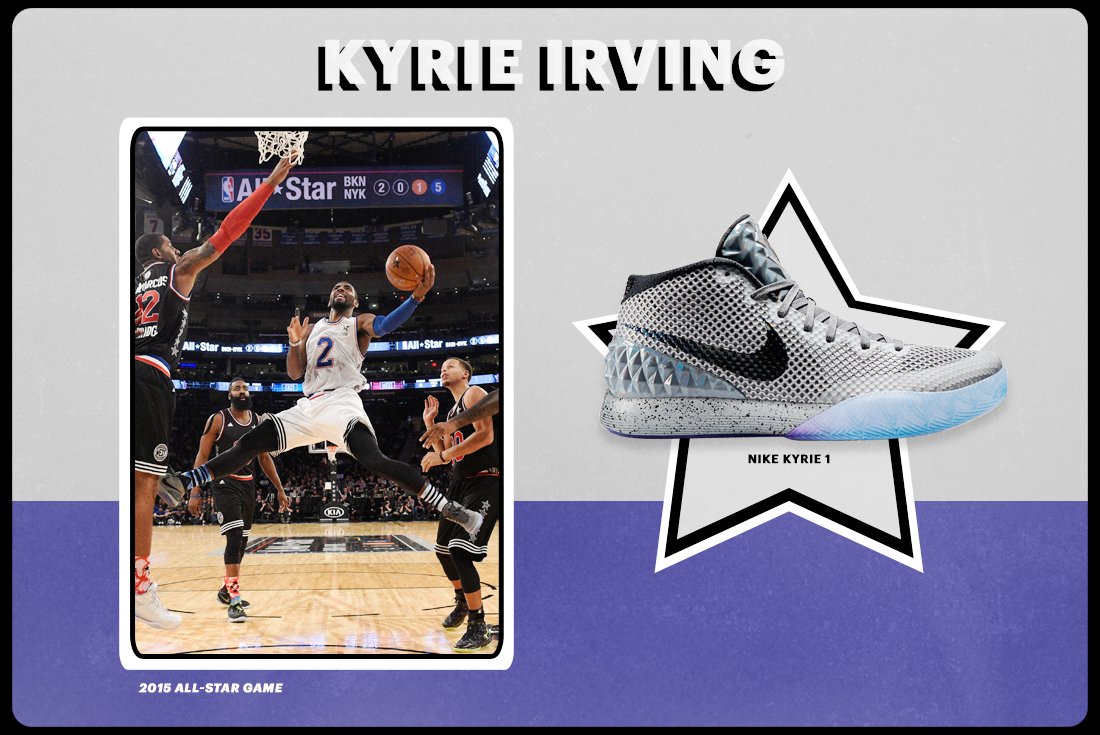 Nike finally decided to give Kyrie Irving his first signature sneaker at the end of 2014, and he joined a prestige family of NBA players, including Kobe Bryant, LeBron James, and Kevin Durant. It turns out that Nike ended up giving Irving one of the best signature shoes in recent history, too. 2015 wasn't the first year he made the All-Star Game, but it was the first time he had the best sneakers on during the game. What better stage for Irving to wear the special makeup of his shoes, with that grey upper and icey sole, than at Madison Square Garden in New York City? He had won the MVP in the 2014, and it begged people to ask when Irving would get his own shoe. Nike did him good for 2015. —Matt Welty
---
2016: Air Jordan XXX "Cosmos"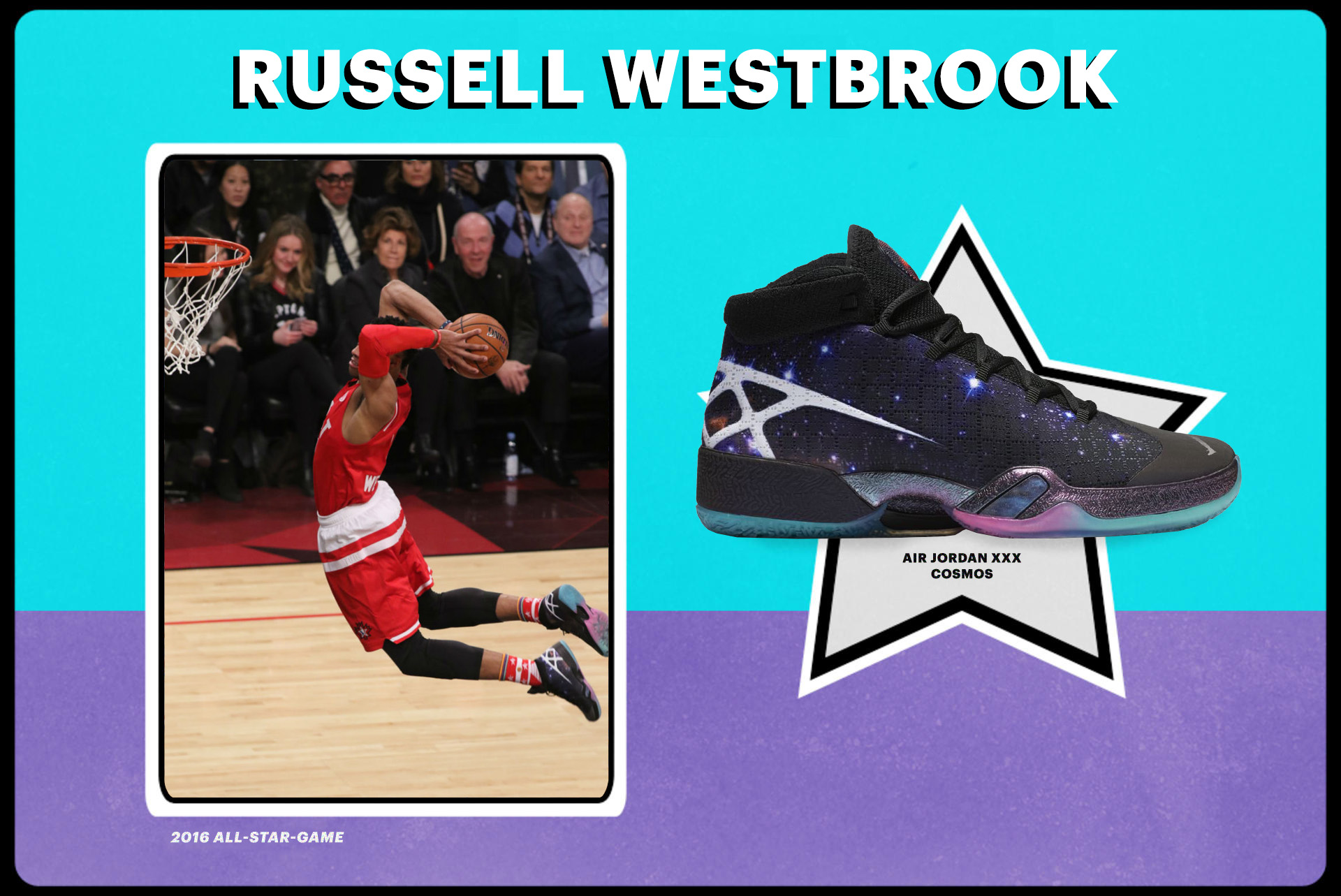 Russell Westbrook isn't everyone's cup of tea. Some think he's one of the most talented players in the NBA, while others think his ball-dominant playing style will never win him anything in the NBA. They might both right. But the All-Star Game, where none of that matters, is the perfect venue for him to show out. Don't pass the ball? Who cares. Chuck up 50 shots? Go ahead. Try and score 115 points? Be my guest. In the 2016 game, Westbrook scored 31 points, claimed back-to-back MVP awards, and wore a pair of Air Jordan XXXs in a colorway inspired by the cosmos and deepest regions of space. While the way Westbrook dresses off the court might be as polarizing as his playing style, his on-court footwear has been consistently interesting, and this is another solid example. —Matt Welty
2017: Trophy Room x Air Jordan XVI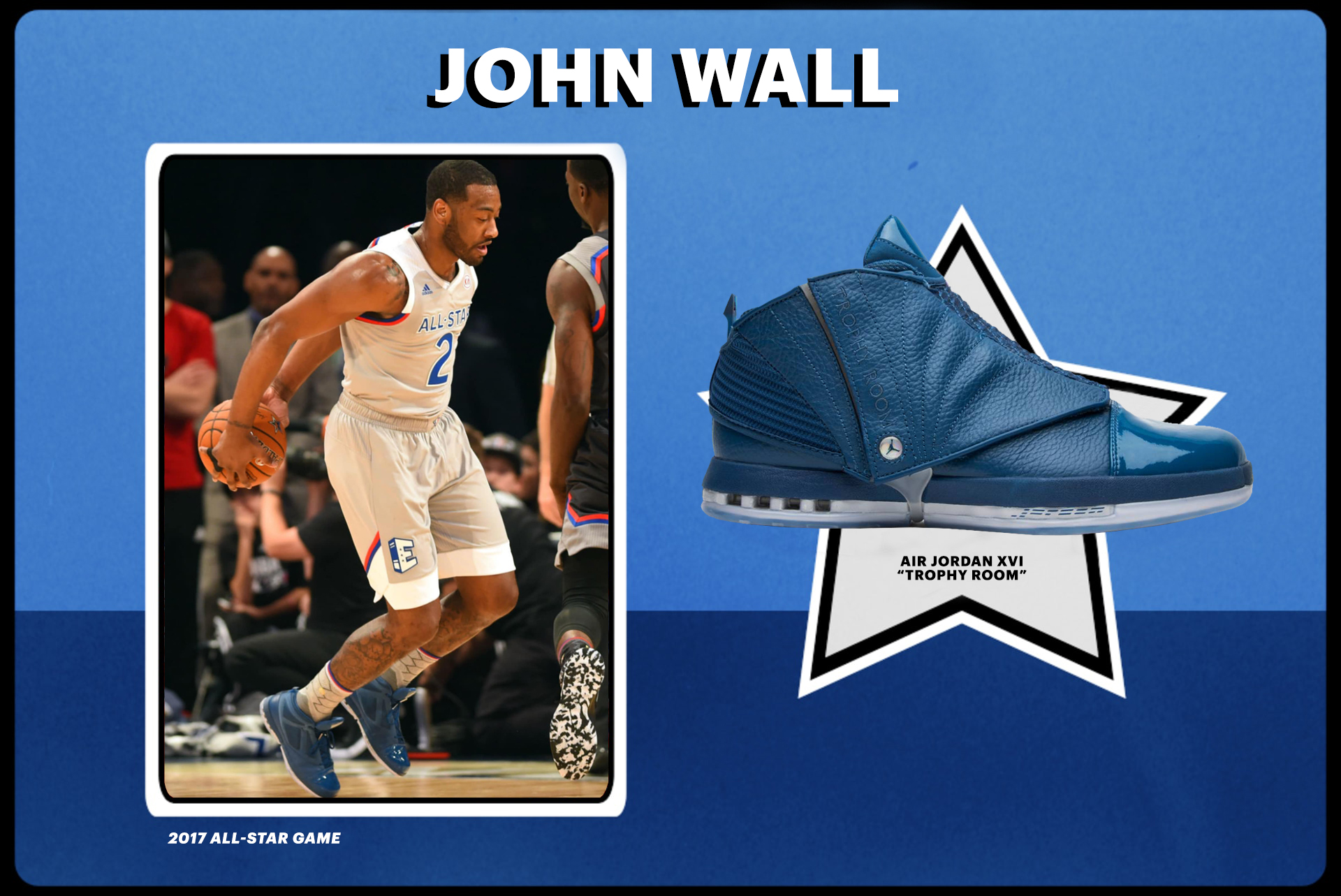 The 2017 All-Star Game will go down in history, not because of what happened on the court, but because of the social forces outside of the game that forced the venue to be moved from Charlotte to New Orleans. The last minute change stemmed from backlash against the North Carolina's bathroom bill that required transgender people to use the bathroom that aligned with their sex at birth. Politics aside, this wasn't enough time for the brands to make special footwear to tie into the game, so most players wore sneakers from their footwear company's Black History Month collections. The most interesting shoes that year, though, went to recent footwear free agent John Wall, who laced up a pair of Air Jordan XVIs that were made in collaboration with Trophy Room, the store owned by Michael Jordan's son, Marcus Jordan. Wall chipped in 12 points. —Matt Welty
2018: Kith x Nike LeBron 15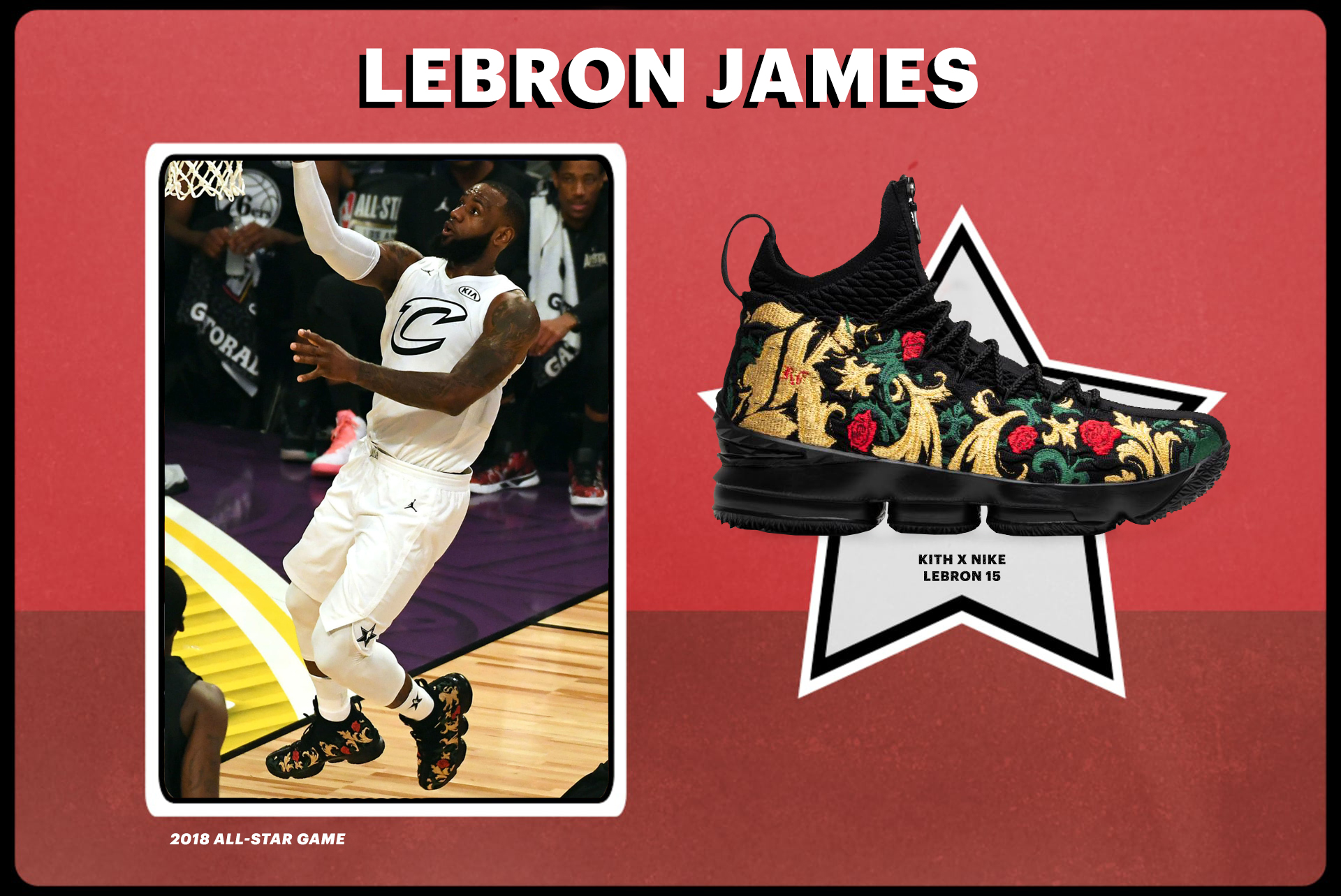 2018 was an important All-Star Weekend when it came to sneakers. Not only did Nike and Adidas go head to head to prove who's the king (no matter what people may have told you, Nike won), but it was also the 30th anniversary of the 1988 All-Star Weekend where Michael Jordan dunked from the free-throw line in Air Jordan IIIs. Nike also re-released the "Black/Cement" pair that weekend complete with the Nike Air logo on the back. LeBron James was looking to reinvent his slumping signature shoe line that had been derailed for a few seasons. Part of this plan was to collaborate with Ronnie Fieg's Kith and completely rework the LeBron 15 into two different versions: One for lifestyle and one for performance. James opted for the black embroidered pair made for performance, and perform he did, nearly putting up a triple double and getting MVP honors. —Matt Welty
2019: Nike LeBron 16 "Watch the Throne"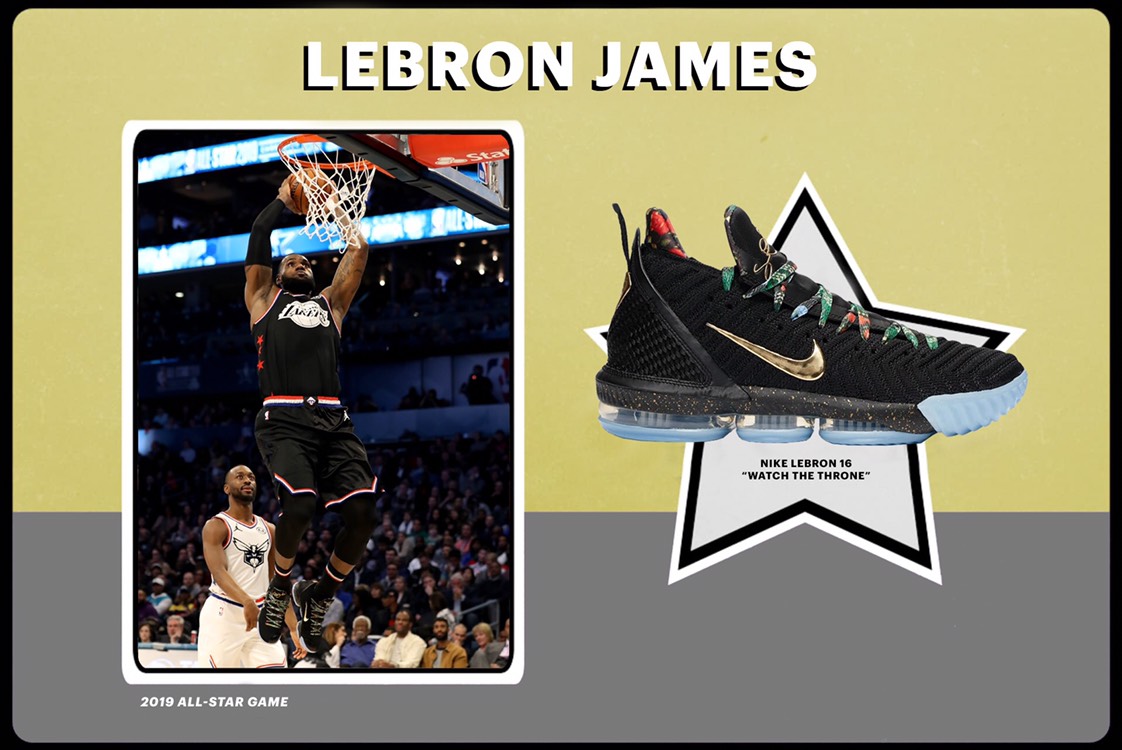 One of the most legendary sneakers to never release was the Nike LeBron 9 that took inspiration from JAY-Z and Kanye West's collaborative 2011 album, Watch the Throne. Flash forward eight years and it's unlikely we'll see a second version of the album, but Nike remixed the LeBron 16 into this familiar color scheme for the 2019 NBA All-Star Game. James' squad won the game, although he failed to win MVP honors, as Kevin Durant took home the trophy. Nike actually released the sneakers this time, too. —Matt Welty
2020: Nike LeBron 17 "Mr. Swackhammer"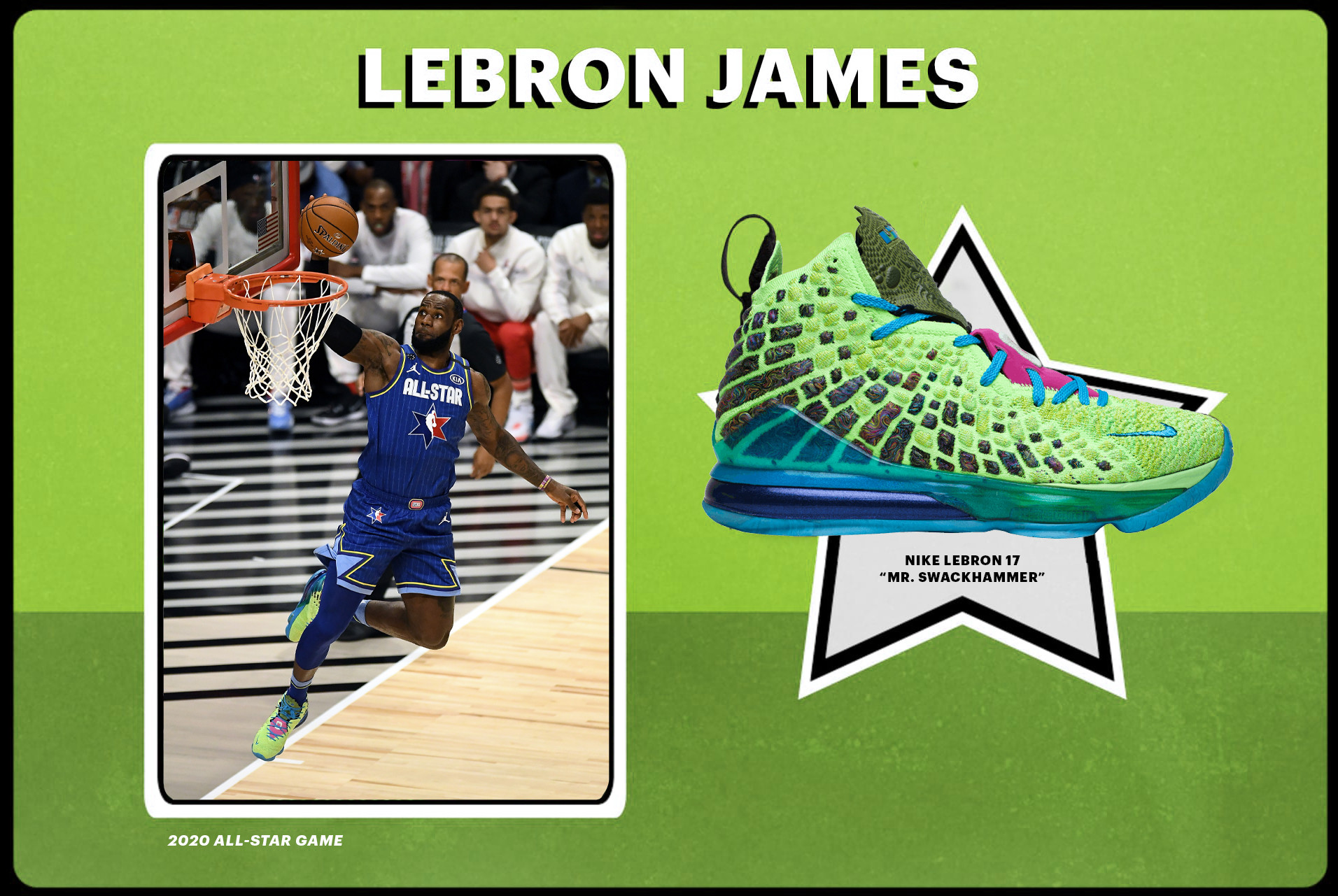 Back in February 2020, who would have thought that Chicago's NBA All-Star Weekend festivities would be one of the last times that the world felt normal? Less than a month later, the NBA shut down, as did most of the world, in an effort to combat the spread of Covid-19. The game was a memorable one, thanks to the league's various measures to honor the tragic death of Kobe Bryant and his daughter Gianna just a few weeks prior including a pregame tribute, players on each team wearing either "24" or "2" (Kobe and Gianna's respective jersey numbers), and a new scoring format. LeBron James' footwear also became a point of conversation when he came out for the second half in a never-before-seen colorway of the LeBron 17. He had swapped out a purple Monstars-themed pair he had worn in he first half. The neon green design was inspired by Space Jam antagonist Mr. Swackhammer, a nice nod to Michael Jordan in the Windy City ahead of the release of 2021's James-led Space Jam 2. The pair dropped in limited quantities on SNKRS following the debut. No MVP honors for LeBron this year, but the team he captained did take home the W. —Mike DeStefano
2021: Nike Zoom Kobe 6 Protro "All-Star"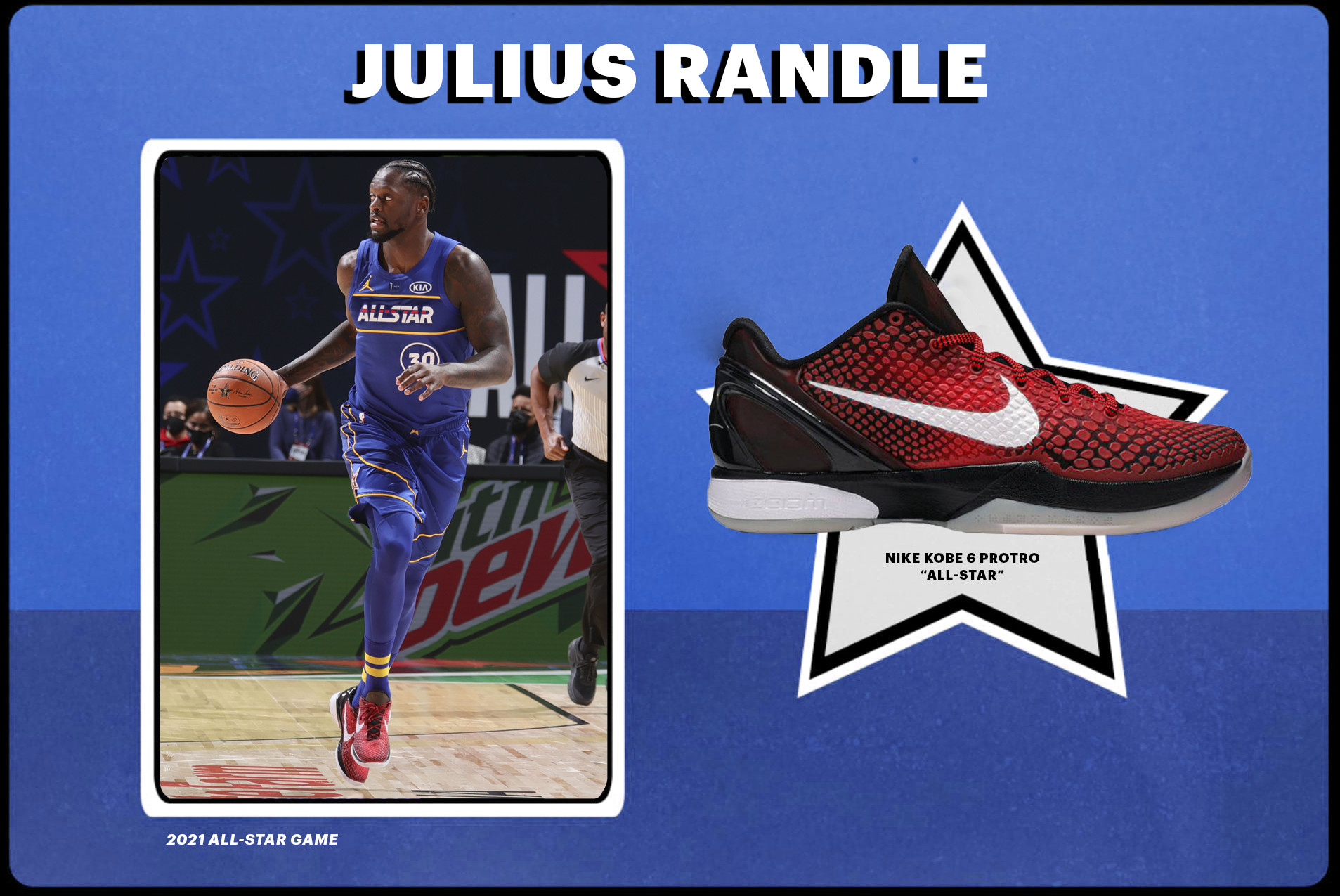 There was nothing normal about the 2021 NBA All-Star game, so it seems fitting that our pick for its best sneaker would be one that doesn't fit the standard mold. Julius Randle's 13 minutes of court time was rather forgettable, and his "All-Star" Zoom Kobe 6 Protro may have lacked in the glitz and exclusivity found in much of this list, but it was made up for with a deeper meaning. As different as the Covid-restricted 2021 contest was, it was actually the NBA's second straight "not normal" All-Star game, with 2020's coming just weeks after the tragic passing of Kobe Bryant and his daughter Gianna. We may not have picked the shoe when it made its All-Star debut in 2011 on the feet of the man himself during an MVP-winning performance, but seeing the red and black colorway of what many fans consider to be Bryant's best model on the court for another All-Star Game was a fitting tribute to the late legend made better when you realize it is how Randle chose to represent himself for his first-ever All-Star appearance. —Zac Dubasik
2022: Nike LeBron 9 Low "Reverse LeBronald Palmer"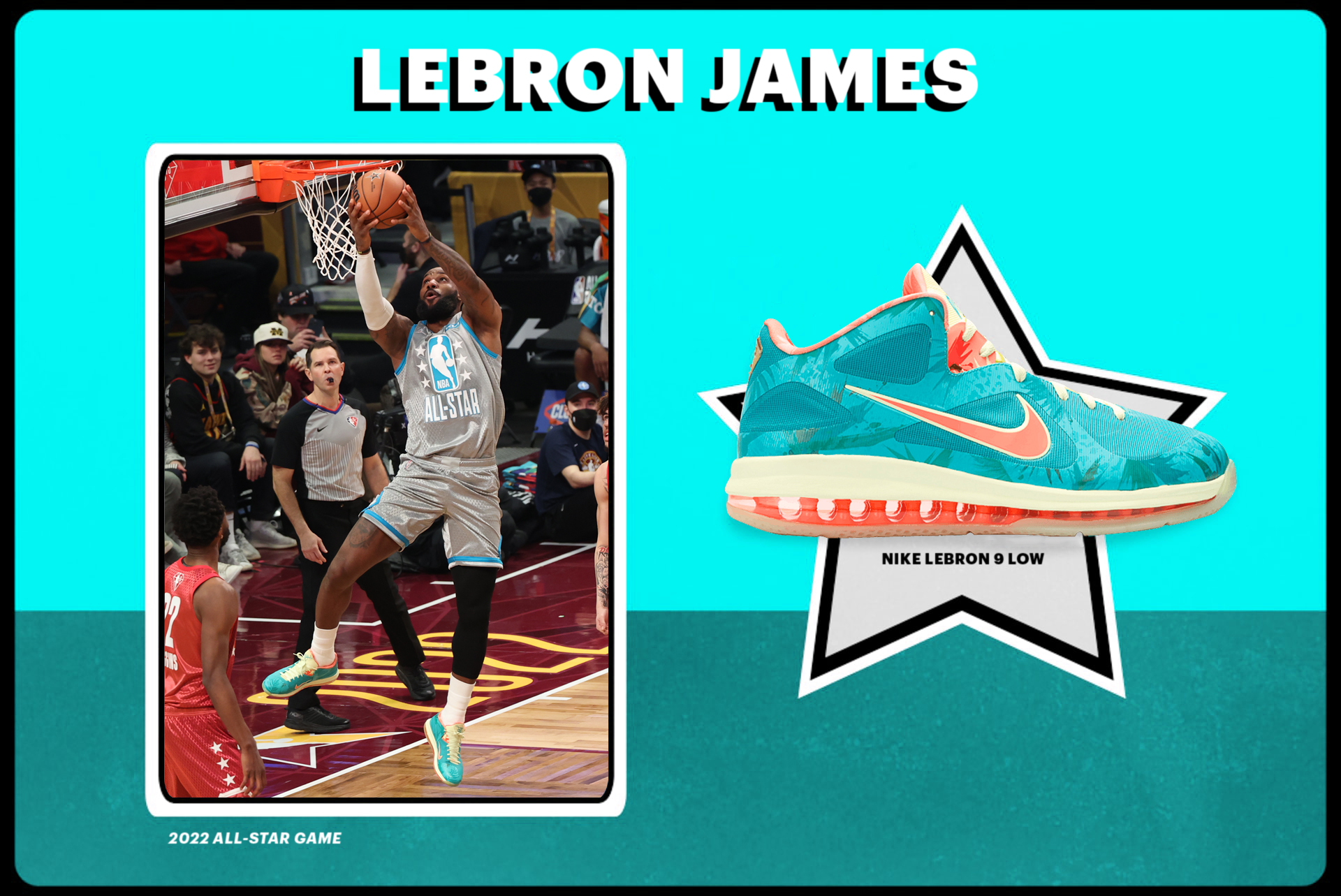 It's only right that LeBron James came to impress for his Cleveland homecoming. Having a signature line with Nike that spans three decades is no small feat, and there are surely plenty of never-before-seen samples laying around LeBron's closet that we may never see. But when he decides to show them off, it always makes for a big moment. Sunday at the Rocket Mortgage FieldHouse was no different. Ironically, the pair of sneakers that shined the most was an unreleased gem from his days in Miami. The team captain played the first half in a sample pair of LeBron 9 Lows. The reverse LeBronald Palmer colorway perfectly matched the grey and blue jerseys of Team LeBron with its striking blue upper. His second half footwear was just as impressive. He broke out the recently-retroed "Big Bang" LeBron 9, one of the more memorable All-Star colorways of all time. Stephen Curry's god-level shooting ability may have stolen the show, but we have to give credit where credit's due. LeBron's sneakers (and his game-winning jumper to lock in Team LeBron's fifth straight All-Star victory) made for a poetic coming home party for King James. —Mike DeStefano
2023: Jordan Tatum 1 "Pink Lemonade"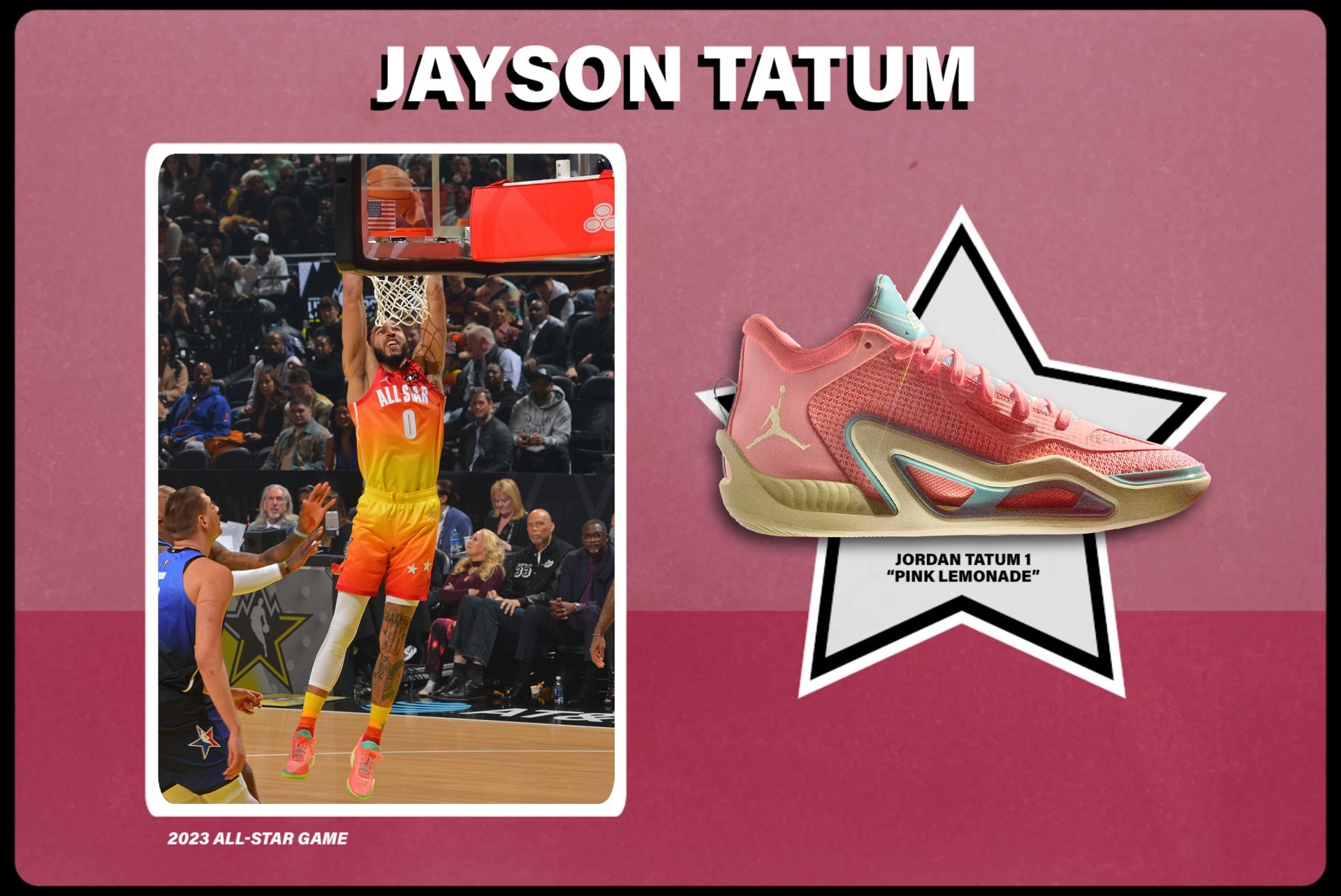 An apprentice of Kobe Bryant, Boston Celtics forward Jayson Tatum has ascended into the ranks of the NBA's elite. Now in his sixth season, Tatum is not only a legit MVP candidate—he's also a newly anointed signature athlete, with Jordan Brand officially unveiling the Jordan Tatum 1 ahead of the 2023 NBA All-Star Game. So it's only fitting that Tatum gave the shoe its first on-court action for the game, in which he was chosen to play for Giannis Antetokounmpo's team. He began the game in the "Pink Lemonade" colorway, inspired by his favorite drink. For the second half, he switched into the "Zoo" version of the shoe inspired by he and his son's trips to the zoo, but it was the "Pink Lemonade" pair that truly stood out. Tatum gave his new signature shoe a proper debut, lighting up Team LeBron for a game-high 55 points, including a memorable duel against Celtics teammate Jaylen Brown to close the third quarter. He took home MVP honors in Team Giannis' 184-175 victory. — Brandon Richard