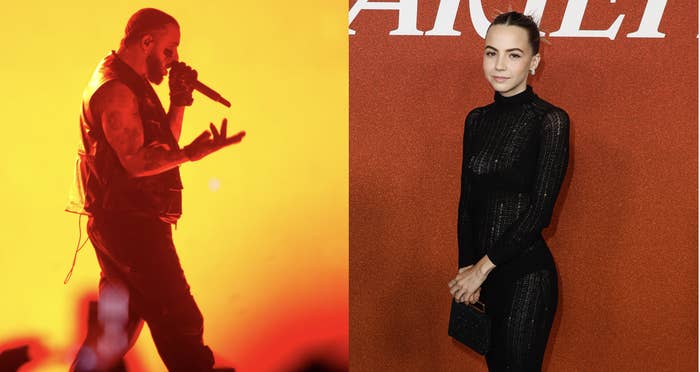 Bobbi Althoff took a minute on Wednesday to dismantle any whispers that she hooked up with the subject of her recently deleted interview, Drake.
In a screenshot of DMs between herself and Dave Portnoy, Althoff was asked by Barstool Sports' newly returned owner, "My girlfriend says you hooked up with Drake and got divorced. I am saying that is not true."
Althoff—who guested on Portnoy's BFFs podcast last week—replied, "I am not commenting publicly but off the record, you're right that is not true."
Bobbi opened the Instagram Stories post in question by writing, "I did not want to do this podcast in the first place, and now so much negativity is coming from it. I'm going to leave it alone after this but this is the uncensored dm between Dave and I."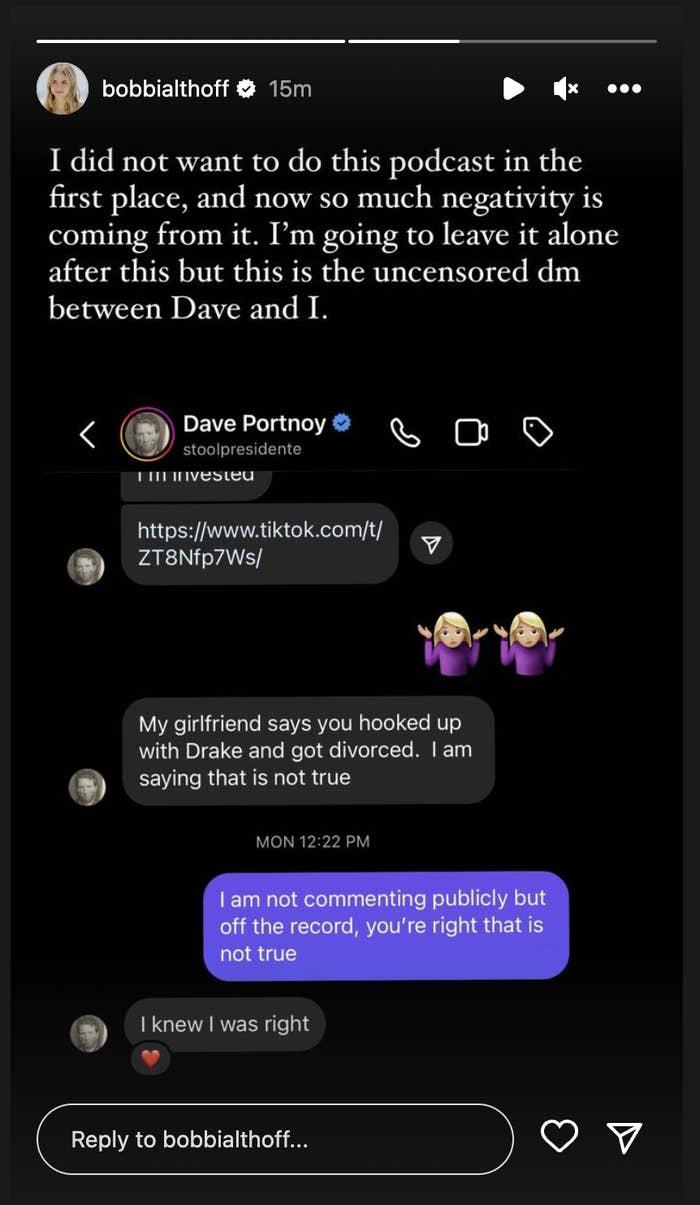 A clip has been making the rounds showing Portnoy recounting the exchange while recording a show, seemingly misleading his audience. "I asked her. I DMed Bobbi. ... She's like, I'm not commenting on that publicly," Portnoy says before his words are bleeped.
Co-host Josh Richards asks, "Wait, so you just outed her? You just outed her not-public comment?"
Althoff's Drake interview, which had amassed over 10 million views on YouTube, was taken down earlier this week. Around the same time, fans discovered that Drake and Bobbi stopped following each other on Instagram, where they originally booked the interview through DMs.
"He sent me his touring schedule, and I knew that I needed to make it happen fast, so my friend and I flew to Memphis two days after the original DM was sent to record the episode," Althoff recently told Cosmopolitan.
Though neither party has commented on the unfollowing or the interview's disappearance, speculation quickly bubbled up that Althoff's Aug. 10 BFFs appearance upset Drake. A viral segment (below) saw Bobbi making fairly innocuous remarks about the awkwardness of showing up to an aloof Yachty's house.
Portnoy told her of the Let's Start Here artist, "He was our worst interview we ever had." Richards and fellow co-host Bri Chickenfry backed up his claim.
On Sunday, Althoff posted a clip of herself looking characteristically unimpressed at Drake's It's All a Blur Tour with 21 Savage, writing, "Really in my element here @ this guys concert."