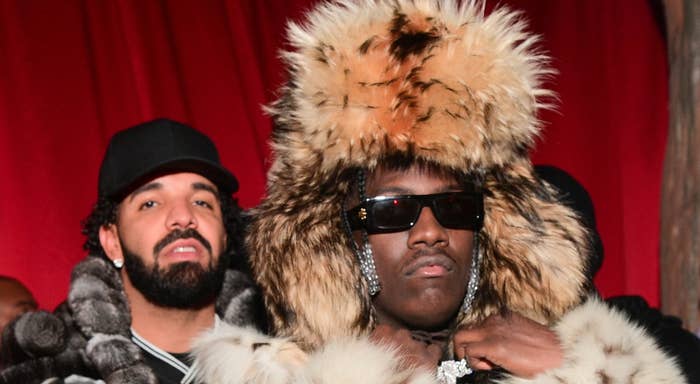 Drake and Lil Yachty sent friendly shots on social media Friday, with Lil Boat hopping on the comments section of a post in which Drizzy is pictured braiding his son Adonis' hair.
"It's no way your sitting here acting like your braiding his hair for the internet," Yachty wrote.
Drake responded by clarifying that he was actually unbraiding Adonis' hair. He then made a joke about a son Yachty doesn't seem to have, all while advising the Atlanta rapper that the mentioned child would require 'Jordans and a backpack for school.'
"I was unbraiding it bitch," Drake replied. "Your son said you ain't hit him in 6 months on his finsta he said he need some Jordans and a backpack for school."
During an interview with Zane Lowe earlier this year, Yachty shed light on his collaborative friendship with Drake
After appearing on Yachty's 2020 single "Oprah's Bank Account," Drizzy enlisted Lil Boat for his and 21 Savage's 2022 joint album Her Loss. The hit record included writing credits from Yachty on standout tracks such as "Jumbotron Shit Poppin," "Pussy & Millions," and "Privileged Rappers," among others.
"I love him to death," Yachty said of Drake. "Yeah, that's my guy, man…our relationship has just grown. I had a conversation with him after and I was just telling him, 'Man, this music that you made over this time period has affected so many people.'"
He continued, "At this point I feel so close to him. I feel like whatever he does, I did it. If he wins something, I feel like I just won. He's really, really smart. No matter how much he'll act like he's oblivious to his career and the things that he's done, he knows what certain things and certain moments in his career mean to people."