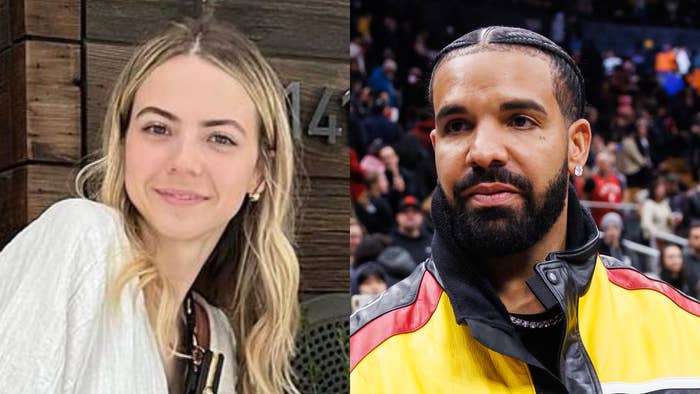 Bobbi Althoff has revealed how she locked in an interview with Drake four months after launching her show The Really Good Podcast.
In her new interview with Cosmopolitan that was published on Wednesday, the 26-year-old reflected on her come-up and addressed all the industry plant claims she's been hit with by the public. In only her fourth episode, Althoff sat down with Drake for a viral interview that blew up on social media.
It didn't take long for people to assume Althoff is an industry plant, but according to the mother of two, that couldn't be any farther from the truth. As Althoff explained to Cosmopolitan, the way she got guests on her podcast was pretty simple.
Althoff said she made a TikTok video saying she would pay someone $300 to "successfully connect" her to a celebrity for an episode on her podcast. Her first guest was comedian Rick Glassman after someone tagged him in her post. She sent the $300 to the random person, and Althoff had her first episode in the books.
She did the same thing for her next guest Funny Marco, and Drake saw a clip from that interview and liked it on social media while also following Althoff on Instagram. Althoff decided to hit up the 6 God and see if he would be down for an episode.
"I decided to just go for it and shoot my shot," she said. "I DMed Drake and asked if he wanted to be on my podcast, and he said yes. He sent me his touring schedule, and I knew that I needed to make it happen fast, so my friend and I flew to Memphis two days after the original DM was sent to record the episode."
Drizzy's appearance on The Really Good Podcast drew polarizing reactions from the public. Many found it hilarious, while others criticized the rapper for doing an interview with a white woman and not giving that same time to Black platforms such as Million Dollaz Worth of Game, Drink Champs or The Joe Budden Podcast. It's widely documented that the Toronto megastar rarely does interviews, but when he does, it's not the typical outlet that many expect him to do.
One of Drake's last serious interviews came in 2019 with the Rap Radar Podcast and was noted for how in-depth the conversation was. He also did an interview in 2020 with Architectural Digest about his Toronto mansion.
The interviews were still scarce post-pandemic when Drake released three albums in two years, but he did manage to have a beachside conversation with one of his best friends Lil Yachty in February 2023.
Hip-hop journalist and Rap Radar Podcast host Elliott Wilson criticized Drizzy's conversation with Lil Yachty on Twitter and questioned why The Boy hadn't done a serious interview in years.
"Moment of clarity: No disrespect to Lil Boat," Wilson said in a tweet referencing Lil Yachty and Drake's one-on-one. "Yachty's convo with The Boy was comfy and had some cool moments. I was more so clowning the comedy shenanigans with outsiders to our culture. It would be great to hear Drake speak to us again. Even if it ain't me."
Drake caught wind of Wilson's tweet and dragged him for doing on-the-ground interviews at Rolling Loud Miami in July and being out of touch with the youth.
"Lol man shits on not coming to his platform for a second time and now Elliott 10 toes doing Yes Julz run up interviews at Rolling Loud," Drake wrote in an emoji-filled comment on the post. "[J]ust admit the youth took over big dog."