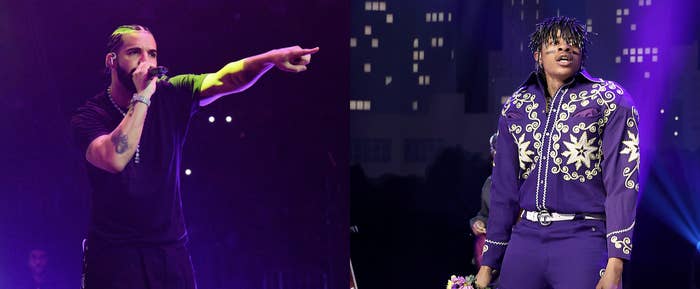 UPDATED 8/16, 10 p.m. ET: Teezo Touchdown accompanied Drake as he made his way through the crowd to the stage at the Kia Forum in Los Angeles Tuesday. He also showed up in several of the 6 God's Instagram photos from the night's festivities.
Teezo showed up again tonight during opener Zack Bia's set.
Teezo's back-to-back appearances on the It's All a Blur Tour come after Drake hyped up his upcoming debut album How Do You Sleep at Night?, calling it "some of the best music ever."
Touchdown also posted a photo on Instagram Stories of Drake wearing a post-it note reading, "Teezy just played me his first album."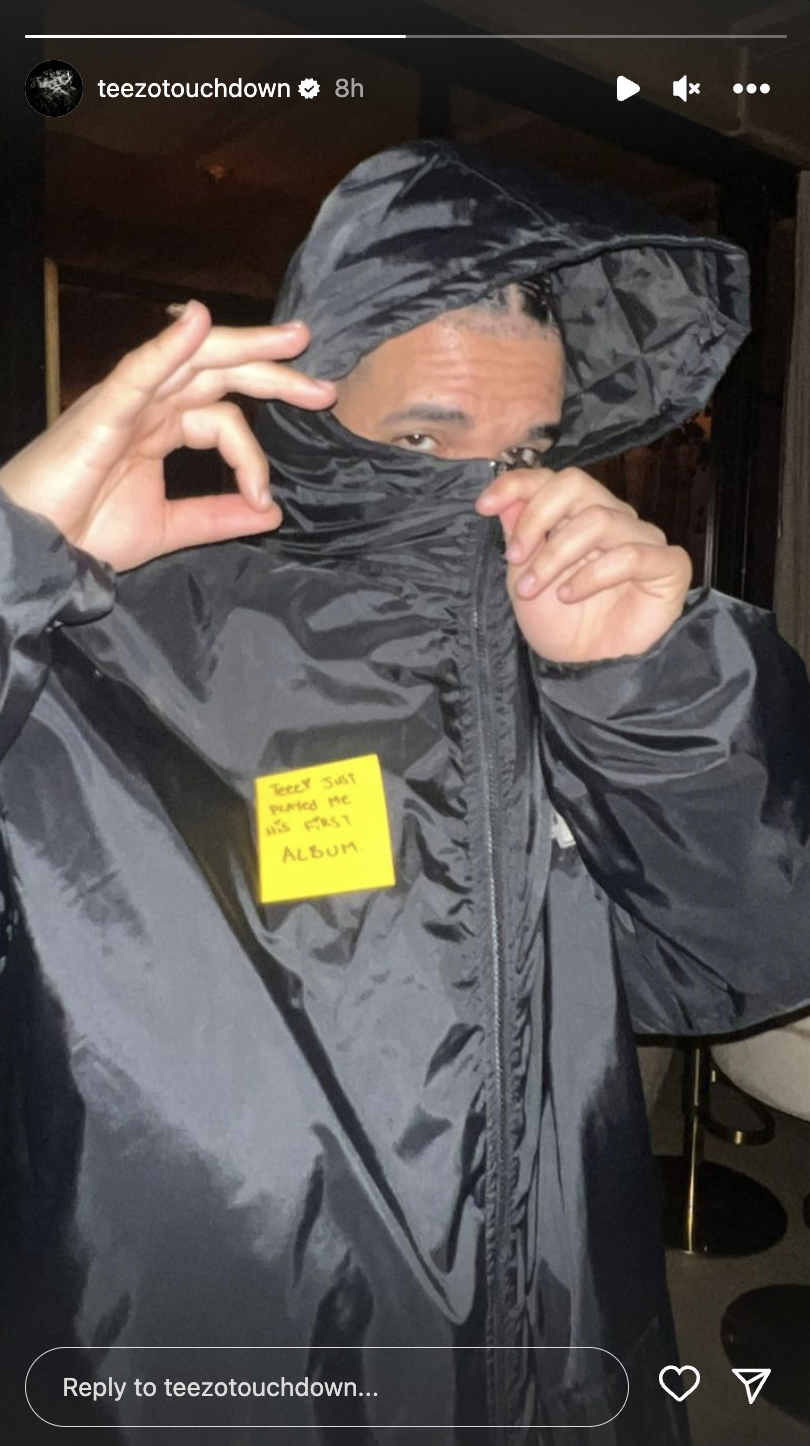 See original story below.
Drake has delivered his latest co-sign, as the 6 God blessed Teezo Touchdown ahead of the rising Texas artist's debut album.
On Tuesday, Drizzy hopped on Instagram to tease How Do You Sleep at Night?—Teezo's full-length offering due out Sept. 8.
"Usually it's a cut throat cryptic caption for the ones that turned on the gang members but tonight I just heard some of the best music ever so I am happy and I will spare you little birdies thanks to [Teezo Touchdown]." Drake captioned a set of photos, with a couple of them featuring him and Teezo together.
Tyler, the Creator and Lil Yachty subsequently hopped in the comments section of Drake's post to hype Teezo.
"YAY," wrote Tyler, who recruited Teezo for Call Me If You Get Lost. Yachty added, "It's your time brother."
Teezo's debut will arrive five years after he showcased his potential with a pair of 2018 mixtapes, The Example and Cover Boy. Since the top of the year, the Beaumont, Texas native has established hype for his debut by delivering numerous guest appearances on songs from Lil Yachty ("The Ride"), Don Toliver ("Luckily I'm Having"), and Travis Scott ("Modern Jam"), among others.
Janelle Monáe has been hyping How Do You Sleep at Night? as well, posting a photo of herself with a Post-It over her mouth reading "I heard Teezo's album first." See the project's cover art below.