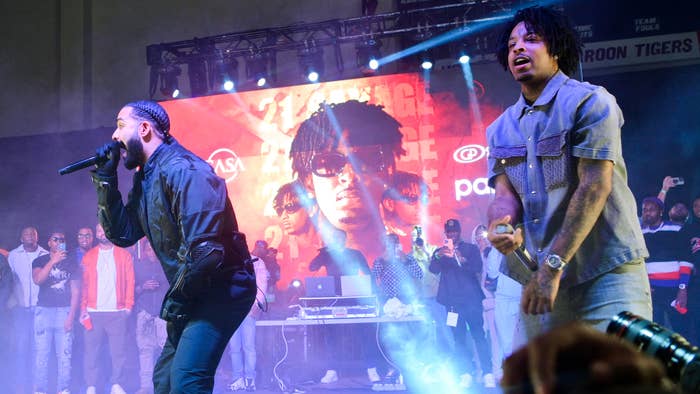 After an undeniably creative rollout, Drake and 21 Savage's Her Loss has arrived.
For Drake, the 16-track collab project marks his second new album of the year following the release of the "Summer Games"-y (and 21-featuring) Honestly, Nevermind in June. 21, meanwhile, last unveiled a project back in May with the Spiral: From the Book of Saw Soundtrack EP.
As should always be the case with new albums, a key facet of the inaugural listening experience is the chance to marvel at the creators behind each song. In that spirit, see the full list of production credits for Her Loss below.
Tay Keith and Lil Yachty both bag multiple credits, with the latter among those assembled for the Travis Scott-featuring "Pussy & Millions." Metro Boomin, Noah "40" Shebib, Boi-1da, and more also contributed production to the album.
"Rich Flex"
Vinylz, Tay Keith, FNZ, BoogzDaBeast
"Major Distribution"
"On BS"
"BackOutsideBoyz"
Rio Leyva, Dez Wright, Taz Taylor, Lil Yachty
"Privileged Rappers"
Earl on the Beat, GENT, Lil Yachty, Noah "40" Shebib
"Spin Bout U"
Banbwoi, Noah "40" Shebib
"Hours in Silence"
nyan, Mcevoy, Noah "40" Shebib, Noel Cadastre, Daniel East
"Treacherous Twins"
"Circo Loco"
"Pussy & Millions"
Cheeze Beatz, Go Grizzly, Squat Beatz, B100, Lil Yachty
"Broke Boys"
Wheezy, Tay Keith, Jack Uriah, Anthem
"Middle of the Ocean"
OZ, Noel Cadastre, Nik D, Sucuki, Loof
"Jumbotron Shit Poppin"
F1lthy, Cubeatz, Sad Pony, Oogie Mane, Lil Yachty, Noah "40" Shebib, Klimperboy, Danno, Dilara
"More M's"
Metro Boomin, DAVID x ELI
"3am on Glenwood"
OZ, Peter Iskander, Noah "40" Shebib
"I Guess It's Fuck Me"
As touched on above, the Her Loss rollout has truly been one for the ages. For a recap of the week's proceedings, including (but not limited to) a Tiny Desk invitation, hit this link.