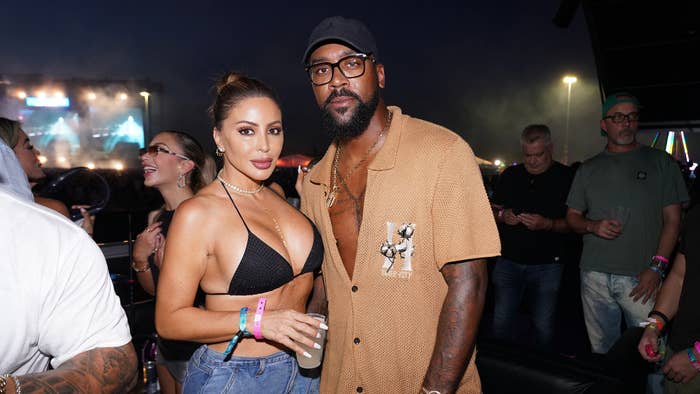 Marcus Jordan and Larsa Pippen have shot down rumors they're engaged after she was seen with a ring and he appeared to suggest they were looking for a wedding venue.
"First topic is: Marcus is looking for a wedding venue," Jordan said in a new episode of their podcast Separation Anxiety, referring to him telling paparazzi that they're "looking for a location" for their wedding earlier this month. "Obviously, we were at dinner the other night, and paparazzi got us leaving the restaurant and asked us if there were wedding plans in the works, and so, I think I responded in a cheeky way."
While he admitted that he did, in fact, say a wedding ceremony was "in the works," Jordan added that they're not quite there yet. "I had a hundred calls and text messages of people congratulating us," said Pippen. They confirmed they're "not engaged," at least not yet. "But you did give me a promise ring," she added. "Yeah, I definitely gave you a promise ring," he replied. While they've openly discussed the possibility of marriage, there are no firm plans right now.
Last month, Jordan's father, Michael Jordan, suggested that he did not approve of his 32-year-old son's relationship with Pippen, who finalized her divorce from his Chicago Bulls teammate Scottie Pippen last year. On the Separation Anxiety podcast, Pippen said she was "traumatized" and "embarrassed" by MJ's comments. "You thought it was funny," Pippen told Jordan on the episode. "I didn't think it was funny. There is nothing funny about it.… I kinda felt like it went everywhere, and I was kind of embarrassed."
Check out the full episode of the Separation Anxiety episode here.