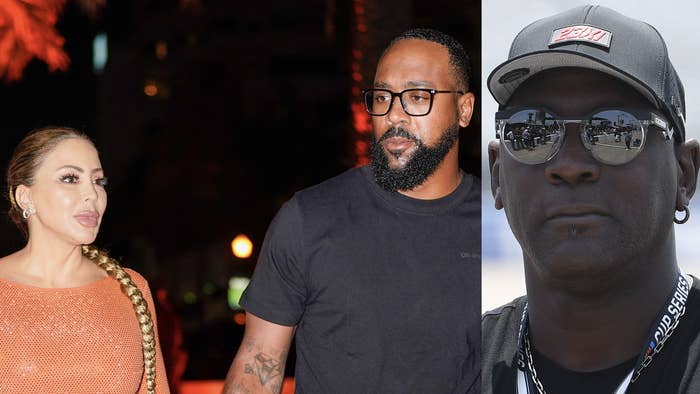 Michael Jordan has chimed in on his son Marcus' relationship with Larsa Pippen.
Per TMZ, MJ was recently asked by paparazzi if he approves of his 32-year-old dating 48-year-old Larsa Pippen, who finalized her divorce with Jordan's former Chicago Bulls teammate Scottie Pippen last year. When he was first asked the question, he laughed. But when pressed for more, he replied, "No!" He later shook his head when he was asked another time.
Larsa and Marcus' relationship has raised some eyebrows for some time now, but it's not because of the 16-year age gap. Michael Jordan has a complicated history with Scottie Pippen, with whom he led the Bulls to several NBA championship victories during their time on the team. Over the years, however, they've had a falling out and no longer see eye-to-eye.
As recently as last year, Larsa and Marcus were spotted together but they downplayed any rumors of a romance. "We're friends," she said in an interview with Andy Cohen, during which she also said that she didn't know Marcus when he was a child.
"I never really knew Marcus' mom or them; I just recently met them a couple of years ago," she said. Less than a month later, they were spotted kissing in public. They've gone Instagram public since and they've even got a podcast together called Separation Anxiety. The couple has offered some further insight into their romance on the podcast and even spoke about why they kept it from the public for so long.
On a recent episode of the podcast, Larsa revealed that during the early days of dating, she gave Marcus an alias in her phone. "I could never really put you under your name in my phone," she said. "So I had you under Marc Jacob. ... I didn't want anyone to know when you called me." She's also indicated that she would change her name if she ever got married to him.
Marcus Jordan has said that there have been conversations about having kids, too. "When we go and we meet people, or I'm introducing you to some of my friends, or you introduce me to some of your friends I feel like it gets brought up," he shared. "But I feel like we've never had a one-on-one, private conversation about having children. It's one of those things where I think time will tell, you know?"
Scottie Pippen has yet to publicly comment on the relationship.