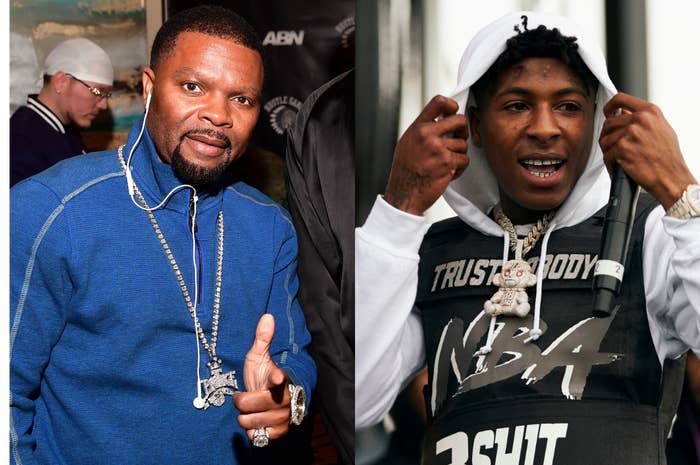 J. Prince is looking to play peacekeeper again.
Taking to his Instagram on Wednesday, Prince shared a photo of himself and Birdman with YoungBoy Never Broke Again, who referenced both of them on last week's shots-filled "Fuck the Industry Pt. 2." He also targeted Drake on the Richest Opp track.
Prince said he enjoyed their time together and had some follow-up notes. "On behalf of the lil Homie YB, me and my brother Birdman were able to have a real conversation face to face," he wrote. "We talked about the past, the present, and the future. But most importantly, we left each other with a mutual respect moving forward. Even though I wasn't there for a meeting with bird man I must say the lord works in mysterious ways. With that being said, I must address the song where my name and Drake's name were mentioned."
The song in question sees YoungBoy slam Drake right off the top, followed by J. Cole, and Lil Yachty. The 23-year-old proudly posted the lyrics just before dropping the album last Friday. As far as Prince and Birdman, YB rapped, "N***a, bring your bold ass to Salt Lake, you a gangster, n***a/Go ask J. Prince, I'll kill your daddy, bitch, I ain't worried, n***a/I got Stunna with me and, bitch, I got Fee, that's to get money with me."
Prince got YoungBoy and Drake on FaceTime with hopes of creating some positivity, only to see them move "backwards." His new IG caption continues, "To the lil homie, as I said to you privately, I say to you publicly that Drake is my son, he roll with me. Therefore, I think it's a good idea to take him off your enemy list because the truth of the matter is that we got nothing but love for Durk and your accomplishments. When I put Drake on that facetime call with you, my intent was for y'all to move forward, not backwards. Two things we get every day is a chance and a choice. The choices we make determine our destination."
J. Prince and YoungBoy Never Broke Again had some intense back-and-forth in 2020. Reflecting on it toward the end of the year, Prince said, "Since then, the lil homie reached out to me and we had a conversation. It was a disconnect, come to find out. ... Ultimately, we agree and it's all good. It's all good moving forward."
Though Drake was targeted on Richest Opp, the album itself was announced to go up against rival Lil Durk's Almost Healed. Durk ended up delaying his J. Cole-featuring project at the last minute.
"You pushed back, you better not ever try it again," YoungBoy taunted. "Don't play with me."