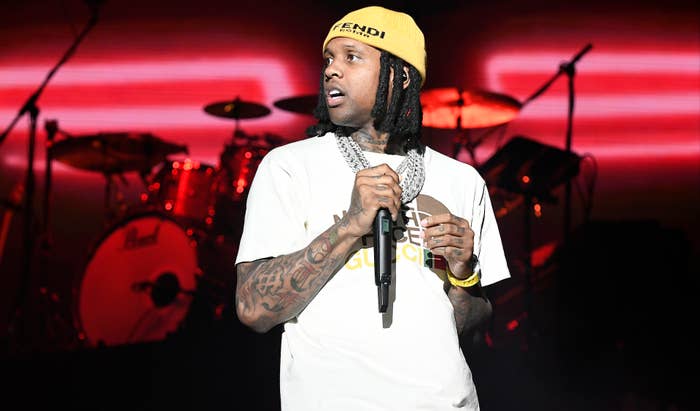 Fresh off allegedly squashing his longstanding beef with YoungBoy Never Broke Again, fellow superstar Lil Durk is essentially committing to a "no comment" stance.
DJ Akademiks revealed on a livestream this month that Durk and YoungBoy ending their feud. "That beef is squashed. You ain't hear?" Ak said on his stream. "I'm serious. … Durk and YoungBoy don't have beef no more."
Durkio did in fact like Akademiks' video on Twitter, seemingly confirming Ak was accurate.
In a more recent encounter with TMZ, Lil Durk didn't exactly confirm he and YoungBoy are on good terms.
"What beef?" Durk responded in the above clip when a reporter made a hard pivot from wellness questions to gossip. 
"Oh, so there's no beef?" they pressed.
"Beef with who?" the rapper answered.
When the person filming reiterated "NBA YoungBoy," Durk gave a shoutout to collaborator Morgan Wallen and left it at that.
Perhaps Durk's recent pivot to therapy has provided him with a more peaceful understanding of his feud with YoungBoy. In a recent interview with XXL, Durk revealed that he started seeing a professional to cope with stress. 
"I got a therapist so I cope different," the 30-year-old shared. "You know, it don't just gotta be I'm finna go take all these drugs, or I'm finna go get my feelings like this. I got my family, I got my girl, I got a therapist, I got my kids and I got the studio."
Durk is scheduled to drop his new album Almost Healed this Friday, May 12.