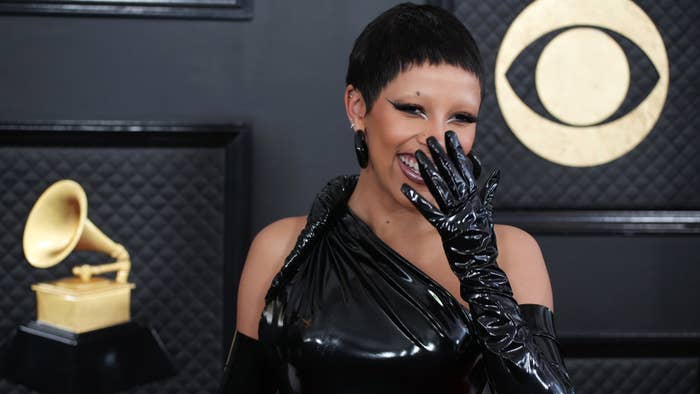 Doja Cat enjoys goading idiots, as we all should.
In a series of tweets this week, Doja pointed specifically to those who adhere to brainless illuminati conspiracy theories and constantly try to make nonexistent connections between and among various celebrities. 
"[P]laying with people's ignorance and stupidity for my own happiness and personal gain >," she wrote in one tweet. Doja followed that one up minutes later with a vow to intentionally embark on a journey of "weird ass shit" just to bring (admittedly hilarious) discomfort to those aforementioned idiots.
"This illuminati shit is so funny to me," she said. "I'm gonna keep doing deliberate weird ass shit just to make those people uncomfortable. I've fr found a new outlet of joy."
When one fan suggested "the illuminati symbol" as a potential tattoo idea, Doja expressed enthusiasm about the possibility.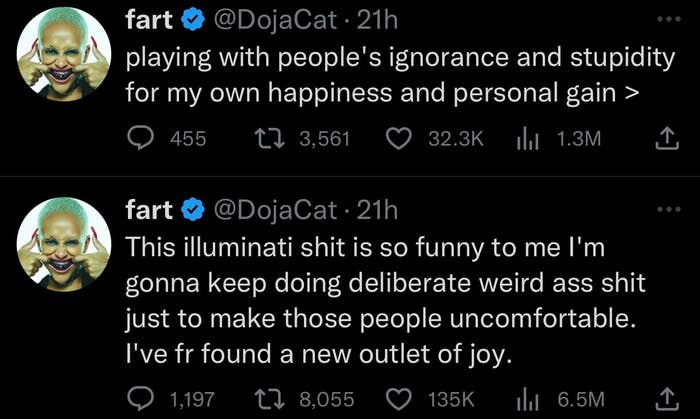 Doja, who last week said that Earth-visiting aliens would likely select her to visit their planet due to her humor and "nice clavicle," recently detailed to Varietyher desire to musically explore "hardcore punk," although she noted such explorations may not make it on the final version of her next album.
"But not pop-punk," she clarified in the interview. "I feel like we have enough pop-punk artists right now. And if there needs to be more, then let there be more, but I don't think I'm the one to do it. I want to explore more of a raw, unfiltered, hardcore punk sort of thing."
Of course, one of Doja's earlier releases—the RIAA gold-certified 2019 single "Bottom Bitch"—incorporated the riff from seminal pop-punk band blink-182's 1999 hit "What's My Age Again?" All three members of the recently reunited trio are credited on the track.