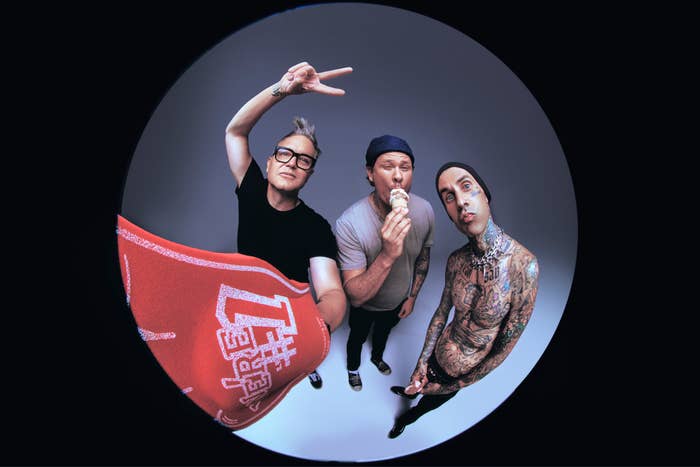 On Tuesday, as fans have been expecting for several days now, blink-182 announced the return of its classic lineup. The quintessential pop-punk band will hit the road for a massive tour of equally massive venues in 2023 and 2024, while a new album is set to be unveiled next year.
In contrast to the last time the band's classic lineup reunited, this new era boasts the swift release of new music together, as a new song fittingly titled "Edging" is slated to be unveiled this Friday. A clip of the track, producers and related personnel behind which are unknown at this time, is featured in a gleefully ejaculatory announcement video shared by the Monday early Tuesday morning.
Tom DeLonge, Mark Hoppus, and Travis Barker last released a full-length together in 2011 with their long-gestating reunion album Neighborhoods. This was followed in December 2012 with the (severely underrated) EP Dogs Eating Dogs, which the group co-produced together with Chris Holmes.
By 2015, however, DeLonge had exited the band for a second time. He went on to release new solo music, as well as several Angels & Airwaves projects, including last year's well-received Lifeforms album. But the bulk of DeLonge-centered updates in recent years have focused on his longstanding work regarding UAPs, including the release of later-declassified footage through his To the Stars company showing unexplained aerial events. Later this year, DeLonge is set to roll out his feature-length directorial debut, Monsters of California.
Blink's most recent albums, 2016's California and 2019's Nine, saw Alkaline Trio's Matt Skiba filling DeLonge's role as co-vocalist/guitarist. The former debuted at No. 1 on the Billboard 200 albums chart, knocking Drake from the top spot in the process, and was later nominated for a Grammy.
The classic blink lineup's return arrives at a pivotal moment not only for the band's legacy, but also for each member of the celebrated harbingers of suburban existentialism. Hoppus told fans last September he was "cancer free" after previously (accidentally) going public with his stage 4 lymphoma diagnosis, and more recently revealed he was working on a memoir. Barker, meanwhile, is newly married to Kourtney Kardashian and has remained a prolific presence behind the kit (and the boards) for a pair of chart-topping Machine Gun Kelly albums and much more in recent years.
Tickets for the global blink trek, which is being billed as the band's "biggest tour ever," are set to go on sale on Oct. 17 at 10 a.m. local time at this link. In the meantime, revisit an oft-cited mini-documentary from MTV below on the band's untitled album, which is widely pointed to as blink's masterpiece. The album, featuring the yead-initiating megahit "I Miss You," turns 20 next year.