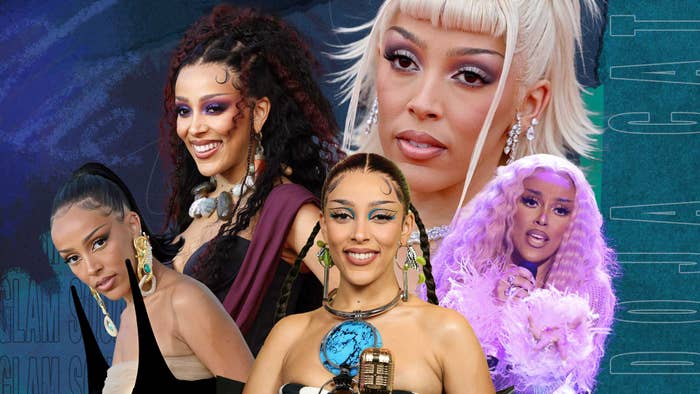 Doja Cat has firmly established herself as a glam girl, but not in the traditional sense. She's carved out a space for herself with innovative and edgy looks by collaborating with Ernesto Casillas, her makeup artist, and JStayReady, her hairstylist. They both started working with Doja by happenstance. A makeup artist was really busy so referred Casillas to take on Doja, and a hairstylist couldn't do the "Say So" video so JStayReady stepped in. They collaborate with Doja's stylist, Brett Alan Nelson, to help turn Doja's vision into a reality. 
"We have this group chat called  "pretty kitty committee" and Brett, her stylist, will send ideas, sketches, outfits, and then J will start throwing around his ideas," says Casillas. "But a lot of times it's a matter showing up to set, coming with ideas and then seeing what Doja herself is feeling like. Is she feeling sexy? Is she feeling creative? And so I'll just bite off of what J and Brett are doing and what Doja is feeling."
They work together seamlessly and each bring their gifts to the table, but Doja pushes them to step outside of the box.
"She told me early on, you can't be iconic doing what everyone else does," says JStayReady. "She's taught me to look at beauty in a non-traditional way."
Here we speak to Casillas and JStayReady on what it's like working with Doja, their research process, and the stories behind some of her most memorable looks.
VMAs (2021)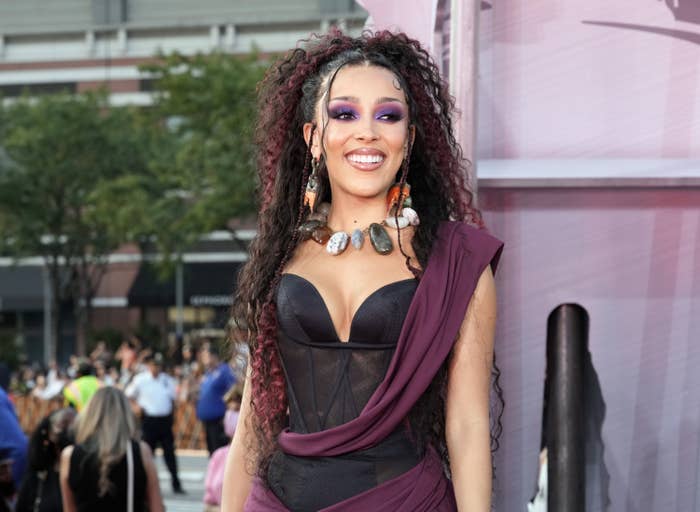 EC: We had a great team of special effects makeup artists working on that. And so they were able to do prosthetics and I just worked on top of that. I think we had to keep the look a little more simple. It was mostly about a brow, a lip, and an eye because she already had those prosthetics and that beautiful blue, green skin tone. That was fun! 
JSR: She said she was gonna be an alien. And they told us that we really only had time to do one wig that we could kind of switch up. I just knew she was gonna have a lot going on with her outfit and her makeup. Like she was saying, "I'm getting prosthetics, I'm gonna be green." And I'm just like, girl, that is a lot going on! Again, with our team, we're really good at knowing who's playing point for whatever it is. Sometimes it's Brett with the outfits. Sometimes it's makeup, sometimes it's hair. And I really didn't want to take away from all the other beautiful things that are being created in that video with the wardrobe and the set and the makeup and all of that. So I was just like, girl, it's giving little buns!
Billboard Music Awards (2021)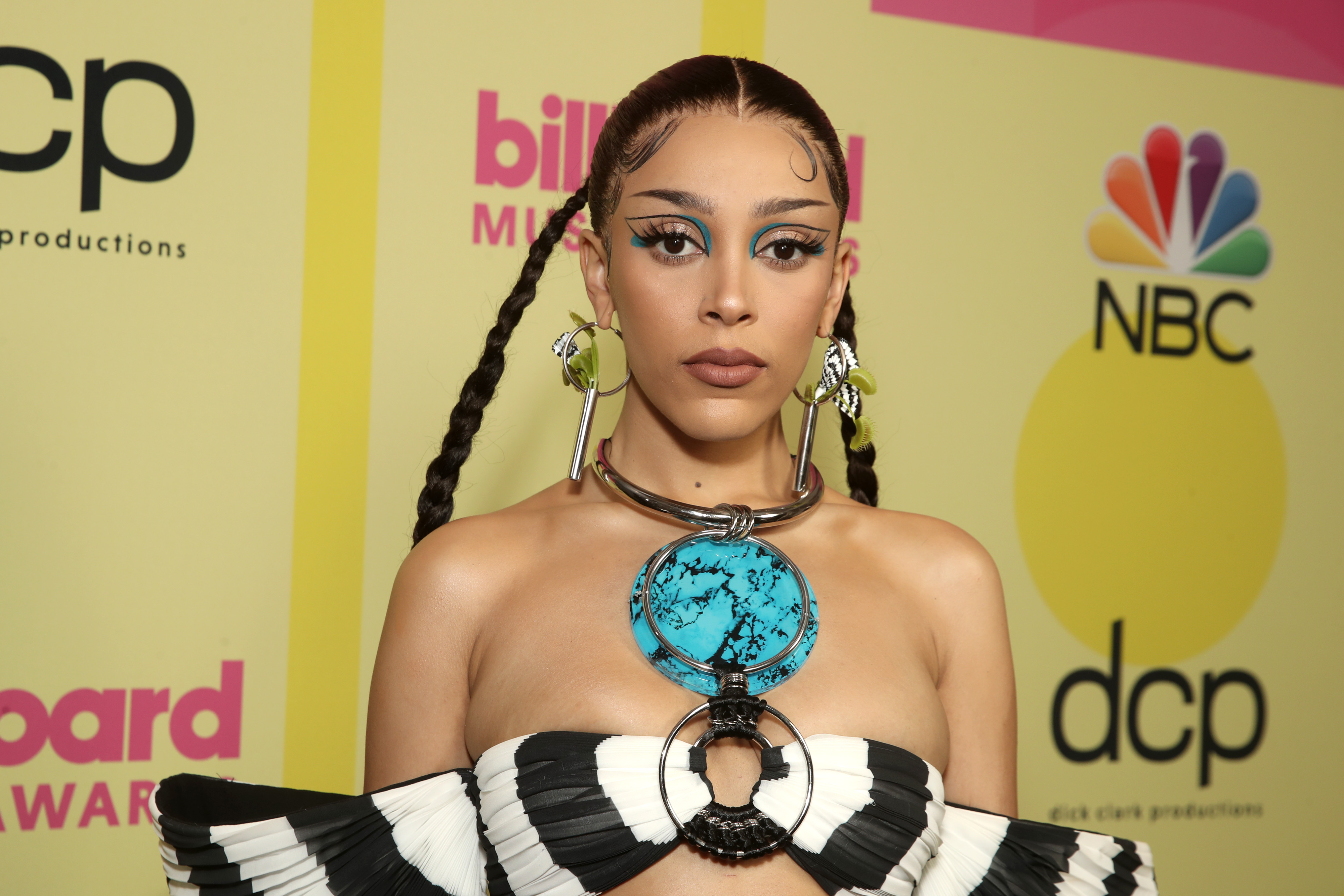 EC: For this particular look, I just wanted something that was sexy and smoldering. A smokey eye, which I do a lot, but in this particular instance she wanted contrasting colors–we've got oranges, we've got blues. And so we just took a look at what she was wearing and put that on the eyes.
JSR: I love our outlandish crazy hairstyles that we do, but nothing makes my soul happy like a good traditional glam. I was just like, you know, this is your biggest performance you've ever done. I knew there were gonna be lots of outfit changes. I was already kind of nervous because mama dances and performs and she keeps a wig on and, you know, wig glue, heat, dancing, sweat. I was just like, girl, the last thing I want is your wig to go flying! So I was like, we gotta play it a little safe for this. I wanted her to have a Britney [Spears] or Christina [Aguilera] moment! I think we did jet black the first week and then a caramel brown.
Grammys (2022)
Billboard Music Awards (2022)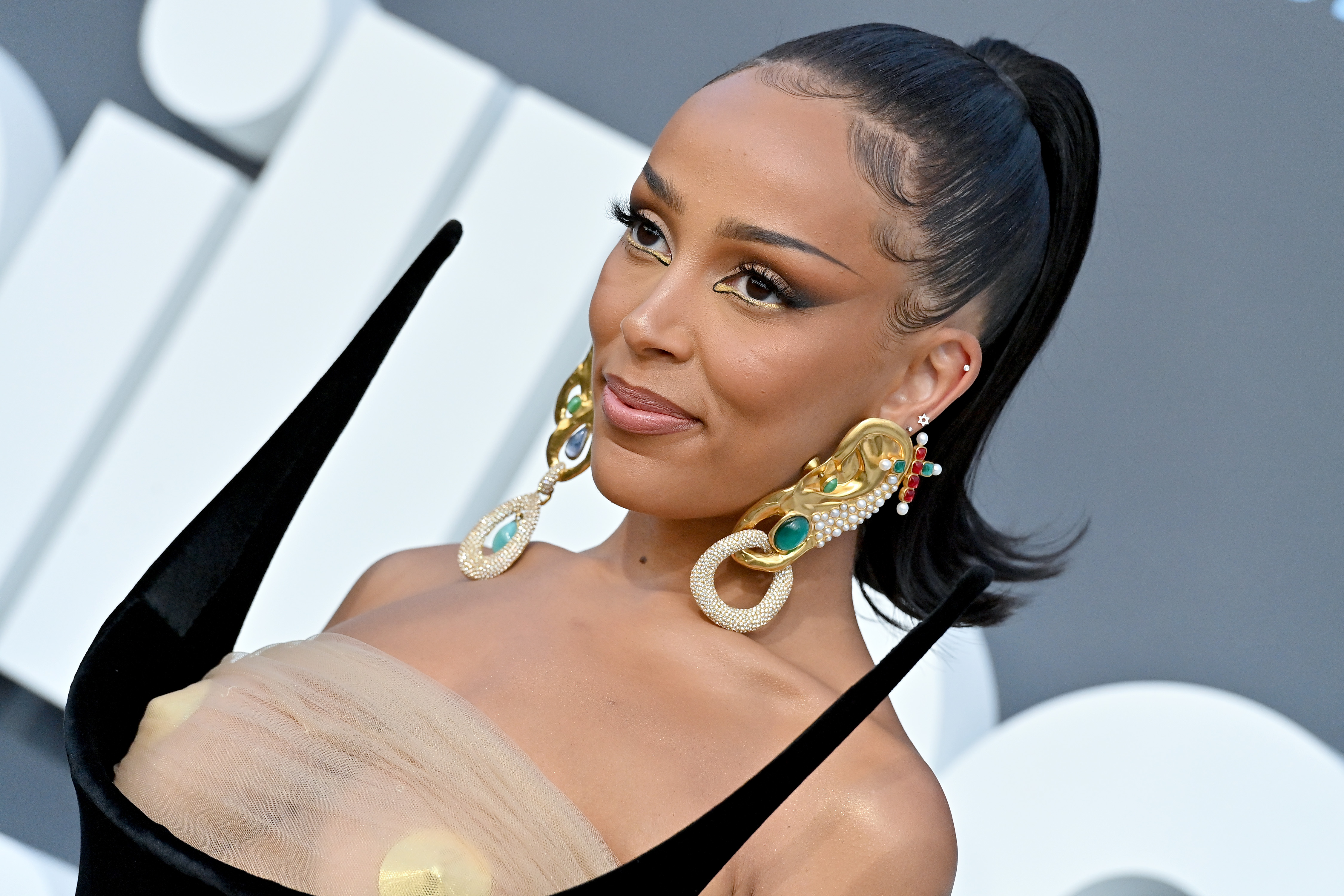 EC: I have to tell you I was petrified because wow. I'm not somebody that plays a lot with bright colors or anything like that. But this came and I got creative notes from the directors, Los Perez, they're incredible directors, and they explained what they wanted. They wanted swatches of color that were saturated, but at the same time felt kind of worn out and diffused. And so the challenge for me was to come up with the combination of colors to complement each other but they could also stand out on their own. 
JSR: Yeah, so she was a clown. So, this was low key my version of like shade towards Wendy's cuz you know, ole girl has the red pigtails. I'm thinking this is the Super Bowl, so let's do Taco Bell purple and put you in pigtails like Wendy, but it'll be soft shade.
EC: I think we were all excited for this one because it's such a fun song and we know we're gonna have fun looks. So I hired an illustrator to make me a Doja Cat face chart 'cause, you know, I've seen face charts out there, but I wanted one that kind of looked more like her that I could draw on. And at this time we were playing around a lot with graphic liner. So I wanted to do something where we brought the liner down instead of up. So when we did that, we got so excited. People were like, wait this makes your eyes look bigger. It just opens it up. This is the moment that inspired the Billboard 2022 eye look, but instead of white, I added gold. 
JSR: I was very excited when they were doing this and I remember they showed us the treatments. And if you notice the setup it's shot very much like a 2000s Hype Williams type of vibe with the fisheye lens. So of course I was like, okay, so this is already kind of giving throwback music video vibes, which are my favorite. That was like when I got into celebrity hairstyling, especially when I moved to LA. 

I saw that her outfit was really white. And so I was like, "You're in this Planet Her era, but there's another vibe. So I was just researching. I knew I wanted to do something short and I actually came upon a picture of T-Boz from the "No Scrubs" video. She had like a  reddish, pinkish, shortcut T-Boz situation. And then I kind of integrated it. Instead of doing that exact style, I just decided to do a traditional boy band cut. I think it was a very BTS vibe going on. It was the fusion of the two and it ended up being one of my favorite looks. I don't think either one of us wanted her to take that wig off!
EC: That was in South America and we were feeling our late 90s, early 2000s fantasy. And I had this ordinary palette of like 16 blue shadows and I was like, let's just go for it. Just go super frosty, and really commit to that book. That was fun!
JSR: So that was really quite random. If you recall from earlier, I told you a lot of times when we don't know what we want to do, we go back to old faithful, which is just a variation of our little, twisty Y2K hairstyle with the twist that you saw at the Grammys or the "Get Into It (Yuh)" video. I think a show or two before that she wanted the little, bang type situation that we had done. She was like, "Why don't we do our natural, but let's slap a bang on it." And she was like, "I've got these jeans and this shirt that are very like '90s, '2000s. Do you have any clips or something like that?" And I had some butterfly clips and that's just pretty much how that happened.
What was it about her that made you want to be a part of her team?

EC: Everything! She's rare. I'm very blessed because Doja is a very, very sweet and thoughtful person. She's very passionate and she's super talented. And, you know, as far as glam goes, she knows her ground. It's a process that takes time, but she's somebody that will give us like four hours for glam, which is so necessary when we create unique looks. And so that's something I really appreciate about her aside from her just being an amazing human. 
JSR: What I really liked about working with her was just that she's so artistic and she was so different. She still is so different from a lot of other artists. She has her own thing, her own niche and she's never afraid to try and experiment. I tell people all the time that Doja is the artist that I've always wanted, but never knew that I actually needed. My person, my girl, you know. Like Chris Appleton has Kim [Kardashian], Kellon [Deryck] has Megan thee Stallion, Tokyo Stylez has Cardi. Everybody has their muse. 
But what I didn't know I was gonna get with Doja was somebody that was gonna challenge my traditional way of hair styling and challenge me to think out of the box and try things that scare me. I would've never in a million years put somebody in a mullet on the Grammys red carpet. I would've never thought to make somebody's hair into the Libra sign for a music video, but it's like, she pushes and challenges me on what we can do. She told me early on that you can't be iconic doing what everyone else does. And that spoke volumes for me. And I remember thinking we gotta stick together because we can really create some dope moments out here and really change and influence pop culture. 
What is the collaboration process for the both of you?

EC: We always make sure we prep ahead of time. So we have this group chat called  "pretty kitty committee" and Brett, her stylist, will send ideas, sketches, outfits, and then Jay will start throwing around his ideas. But a lot of times it's a matter of showing up to set, coming with ideas and then seeing what Doja herself is feeling like. Is she feeling sexy? Is she feeling creative? And so I'll just bite off of what Jay and Brett are doing and what Doja is feeling. 
JSR: Oh my gosh, Ernesto is my glam husband! Well we call each other glam husband because we see each other more than almost anyone else, more than probably our real partners. But it's really, really dope. I was so happy when Ernesto came on 'cause she found me first and she was still kind of trying out different makeup artists. I remember when he first did her makeup, she was just like, "Wow. I feel so beautiful! But I still feel like myself. I feel like he just enhanced me." I love creating with Ernesto because he just gets it, especially when it comes to Black women. For him to not be Black, but turning out all these Black queens like that. It just blows my mind. 
We've worked so much together now that it's just pretty much seamless.  And we can play off of each other very well. We just know off rip if she's going to do a crazy eye look today with graphic liner then I'm gonna tone it down a little bit with the hair and let this art that you did today shine. Or if he sees me over here making a stop sign at the top of her head, he's gonna be like, you know what, let me pull back a little bit on the makeup today. Real easy and fun. We get in there and we create magic every time.
What's the most off-the-wall thing Doja's ever asked you to do in terms of creating a look?

EC: Oh my goodness. There's been so many things we've done that are kind of off the wall, very out there, which is something I appreciate about her because she likes to play and she likes to take risks and she knows that it's not always gonna pay off but she doesn't let that phase her. If it didn't work out, it didn't work out. And that's okay. Just recently, she was like, "Ernesto, come over. Let's bleach my brows." I was like, "Let's do it." That was the last thing she asked for that was a little out there, but it was great. Bleaching the brows makes for a more versatile canvas you can really redraw the brow and you see if you want or just go browless, really. 
JSR: I would definitely have to say it was the Libra sign in the "You Right" video. I remember we were prepping for that and I had like come up with like a board of looks and things that like, 'cause it really all depends. But usually for videos, you know, one thing also that I love about her is that she's very creative and she pretty much writes her all her own treatments. And she knows exactly what she kind of wants to look like. She still gives me and Ernesto a lot of artistic freedom, but as long as it fits the overall vibe of what she wants. 
What does your research process look like?

EC: That's a great question. Honestly it changes, but I definitely like to go online and I just kind of binge makeup looks just to kind of get inspired. I really try not to look at other references so much because I wanted it to feel original to her. And so usually I'm really just going off of what she's wearing and what I know works for her. And so we'll play around a lot, based on what she's wearing and that would be flattering for her, for her face. 
JSR: It really depends on the vibe, on the shoot, on what it is that we're doing. I definitely love Pinterest. Just because I'm a creature of habit. Saweetie put me onto Pinterest when I first started working with her back in the day. I also tend to look at a lot of hair stylists that I have grown up either looking at or admiring their work. Like a lot of times it's really dope to just kind of go back and see what some of the greats have done, especially like, you know, the great Black hair stylists of my day. I love them and I love being able to take things that they've done and add my own little JStayReady flavor. But even then, research is really fickle because nine times out of 10, most of the crazy stuff with Doja is so far-fetched. Some of it ain't even been done before. So I'm left to just having to figure it out myself. it just all depends. 
What is it like to do makeup on someone who is already really great at doing their own face?

EC: She's incredible. What I like about her is that she's always learning and she's always trying to get better. And so I noticed when we're doing glam, she studies every thing straight in the mirror and she sees everything I do. I think that's so great because sometimes a makeup artist will have to rush through glam or we're so stressed out that maybe we'll miss something like maybe one brow won't be symmetrical. Because she knows makeup and she knows how makeup works, we're able to collaborate on these things and she'll be able to point things out like, "Hey. You think maybe we need more contour for the stage?" So it's really a benefit to me that we both know how to do make-up because she doesn't have any unrealistic expectations. She knows how it works. 
How do you keep your ideas so fresh?

JSR: Honestly, it's me–but it's Doja as well. She's really really weird. People don't understand how off her mind is sometimes. She's taught me to look at beauty in a non-traditional way. So most hairstylists and glam people, when they're looking for inspiration, they're looking for the things that are traditionally seen and deemed as beautiful, you know? That's long flowy hair. That's curls, that's crimps. With her and I, we're looking at what people probably deemed as weird, crazy, not cute. Even right now to this day, she'll send me something and I'm just like, this is the ugliest thing I've ever seen. I don't want to do this. And she thinks it's pretty, it's so beautiful. And she'll say, I promise it's gonna be so pretty when we do it. And you know, nine times outta 10, I probably still think it's ugly. But she works it. 
Do either of you have a dream look that you haven't been able to create for Doja just yet?

EC: Just clean almost no makeup makeup. No brow. I feel like we try so many things. I would like to do an editorial or something where it just looks like very minimal makeup and go with that. Beautiful, dewy, hydrated skin. It's just something we don't really do for carpets because red carpet lighting can be unforgiving and natural, dewey skin is not gonna last properly. But that's something we'll do more for video work or photography.
JSR: I want to do 100 percent straight up glammy girl. Like Valley girl highlights, blonde, classic glam. I want her to just look like a pretty bad bitch. We've done that a little bit here and there, but like, I wanna go full throttle. I want her to look like she's from Calabasas and she's just shopping on Rodeo Drive. We do color and stuff, but we don't do the chunky highlights and natural stuff. I want it to be just naturally pretty.
How would you describe your artistry on Doja?

ES: I think I always come from a place of beauty. I feel like my thing is always complexion on it's I'm just making that person look beautiful. But with Doja I see somebody that's creative and so I would describe my work on her as beauty, but experimental. 
JSR: I would describe my artistry as non-traditional glam. It's a glam that's very beautiful but in its own way.