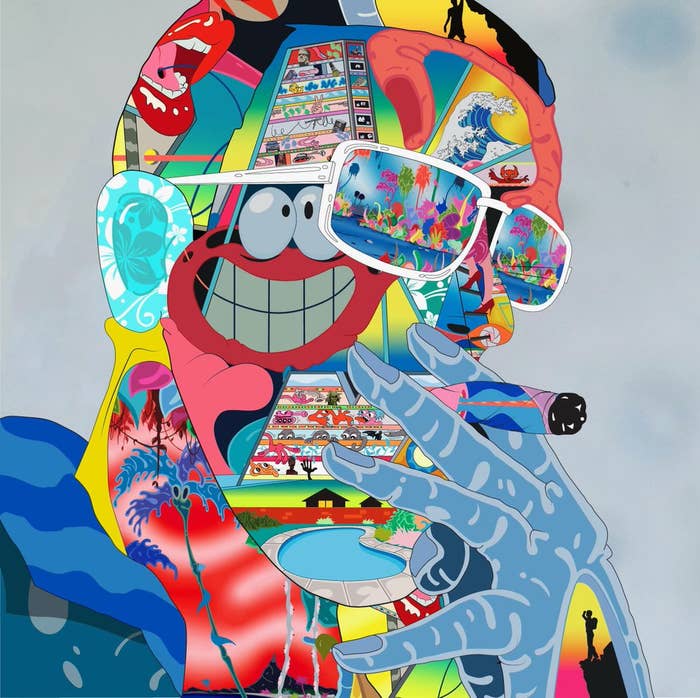 Nav has returned with his new album Demons Protected by Angels, which comes loaded with appearances from Lil Baby. Travis Scott, Lil Durk, Gunna, Future, Bryson Tiller, Don Toliver, Realest K, and Babyface Ray. Lil Uzi Vert shows up twice, on "Dead Shot" and "Interstellar."
Featuring striking cover art by NYC-based, German-born artist Erik Parker, Demons serves as the XO signee's first project since 2020's Emergency Tsunami, which debuted at No. 6 on the Billboard 200. Nav announced the new 19-track album on Twitter in June, and in the months since has rolled out the singles "Never Sleep" with Travis and Baby, and "Wrong Decisions."
After dropping off a music video for the latter, the Good Intentions polymath sat down for an interview with Complex to discuss Demons Protected by Angels and said he learned a lot about himself both musically and otherwise while trapped inside his home during quarantine.
"Musically, I've learned a lot of things," he said. "But I think the most important thing that I learned was outside of music. Being inside the house, it kind of humbled me, because I was always on tour and people were always in my face and screaming for me. It just humbled me and made me deal with a lot of issues that I didn't know I had. And that helps the music and the content."
Nav continued by speaking about the LP's title, which he said was inspired by a piece of clothing his friend crafted.
"The album title was inspired by a sweater that my friend had made," he said. "And I've begged him to get the sweater. I was like, 'Yo, I wanna wear your shit and support my friend's stuff.' So he brought it out and it had that on the back of the sweater. And it was very meaningful to me, because he came up with that himself when his mom passed away about a year ago. So I was like, 'Wow, that's even better.' Like, it actually has a good meeting. So that's why we came up with it."
Listen to Nav's Demons Protected by Angels featuring Uzi, Lil Baby. Travis Scott, Future, Lil Durk, and more below.