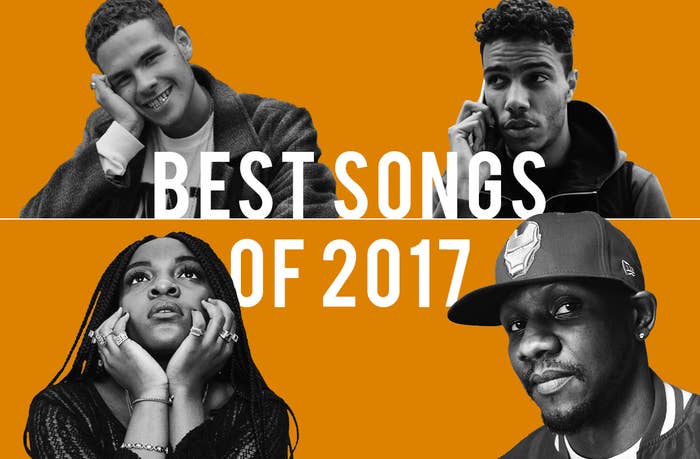 We can all agree that 2017 has been very kind to us on the music front, but maybe this is where the agreement ends, because there are definitely levels to this music thing.
Whatever your tastes may be, we have strived for balance with a list charting the best songs to have blessed us throughout the last 365, ranging from the hardest grime and UK rap to the most melodic pop, Afrobeats and R&B that we're able to do this is proof of the current powers of the UK music scene. Fans in this country find themselves in a fortunate position now, as a number of new players and trendsetters have emerged to inject balance, diversity, and fun to proceedings.
Think about the breakout hits that put young kings such as Not3s, Hardy Caprio, Kojo Funds and AJ Tracey on the map, or on the other side of the spectrum, some of the most memorable tracks from the seasoned veterans that let you know they were doing some of their best work this year—Giggs, Dizzee Rascal, Wiley and co. Whether you've been perfecting your streaming skills on Spotify or witnessing the power of such tunes in the rave, the reach of some of our favourite tracks have transcended their respective scenes, giving fresh new faces to British mainstream music.
Much like our albums list, we won't be focusing too much on the other side of the pond, instead celebrating the greatness we—the Brits—have musically produced this year. Scroll down and check out our carefully curated playlist of all the cuts we were bumping the most this year.
30. t q d - "A Letter To EZ"
29. Chip f/ Ella Mai - "Hit Me Up"
28. Malek Berry - "Let Me Know"
27. Mount Kimbie f/ James Blake - "We Go Home Together"
26. Big Zuu f/ Capo Lee - "No Restarts"
25. A2 - "Trade Places"
24. Mahalia - "Sober"
23. AJ Tracey - "False 9"
22. Slowthai - "Round & Round"
21. Carns Hill f/ Youngs Teflon, K-Trap, 67 - "Check Dis"
20. CB - "Take That Risk"
19. Mist - "Hot Property"
18. C Biz - "Buzz" 
17. King Krule - "Czech One"
16. Nines f/ J Hus - "High Roller"
15. Ray BLK - "Patience (Freestyle)"
14. Belly Squad & Section Boyz - "Sun Goes Down"
13. Giggs f/ Donae'O - "Linguo"
12. Kojey Radical - "After Winter"
11. Skepta - "Still"
10. Stormzy - "Cold"
9. Hardy Caprio f/ One Acen - "Unsigned"
8. Fredo - "Change"
7. Kojo Funds - "Warning"
6. IAMDDB - "Shade"
5. J Hus - "Spirit"
4. Not3s - "Aladdin"
3. Mabel f/ Kojo Funds - "Finders Keepers"
2. Dave & MoStack - "No Words"
1. Jorja Smith x Preditah - "On My Mind"