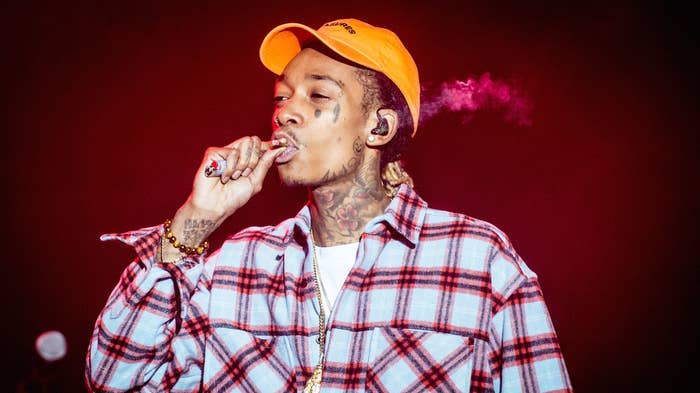 The quarantine has people stuck in the house searching for ways to interact with their friends. While some people are using social distancing to challenge their friends to do push-ups, rappers have decided to put their own twist on things. 
On Sunday, Gillie da King (f/k/a Gillie da Kid) took to Instagram where he introduced the "Kush Up Challenge." Per the Philadelphia rapper, the objective of the challenge is to take 10 pulls of weed and not let out any smoke until the pulls are completed.
Gillie went first and, as expected, the number of consistent pulls left him teary-eyed and coughing. In his comments, Gillie challenged other known weed connoisseurs including G Herbo, Jim Jones, Wiz Khalifa, and Snoop Dogg.
G Herbo was unable to get all 10 of his hits done, but Jim Jones took things to another level. Jones recalled a game that Bay Area rapper, B-Legit, used to play called "10 for 20." Per Jones, the objective of that game is to take 10 hits and hold the smoke in for 20 seconds. Jones was able to do this despite his long-term girlfriend, Chrissy Lampkin, yelling that he was going to "pass out" in the background. 
Of course, this challenge was slight work for Snoop Dogg. Not only did he give Gillie 10 straight hits, but holding hin the smoke didn't bother him at all. After explaining that he could do this challenge "all night long," he gave Gillie another set just to show how easy the challenge was for him. 
From the opposite side of the state, Pittsburgh legend Wiz Khalifa also jump in on the challenge. Like Snoop, doing ten pulls in a row didn't really faze him. In fact, he still had enough breath to promote his new single, "Contact," once he was done. 
After Gillie's initial burst, a lot of artists decided to either jump in or support the "Kush Up Challenge."
Days later, Wiz and Tyga dropped the official "Contact" video. Catch that below